Florence in Italy is the birthplace of the Renaissance, romantic, charming and unbelievably beautiful. Feast on world-class art, dine on gourmet Tuscan food and sleep in some of the country's more exquisite luxury hotels. Here is the TLE pic of the best in the city.
Hotel Lungarno
Hotel Lungarno, a part of the high-end Salvatore Ferragamo family, is a must-visit holiday refuge. It is situated right on the Arno River, with its lobby overlooking the medieval Ponte Vecchio Bridge. The hotel was renovated recently and currently features a bold style with nautical furnishings. From the living room, one can catch a glimpse of the water flowing below. Visitors get to enjoy a serene atmosphere created by the blue and white accents on the leather surfaces within the premises.
The rooms and suites are furnished with antique furniture and more than 450 pieces of art, including Picasso's art, Tuscan artisanship, and works from renowned Italian artists. Historic galleries and fancy shopping malls are a stone's throw away from the hotel. Word class cuisines are served at the Michelin-starred Borgo San Jacopo restaurant located within its vicinity.
Four Seasons Hotel Firenze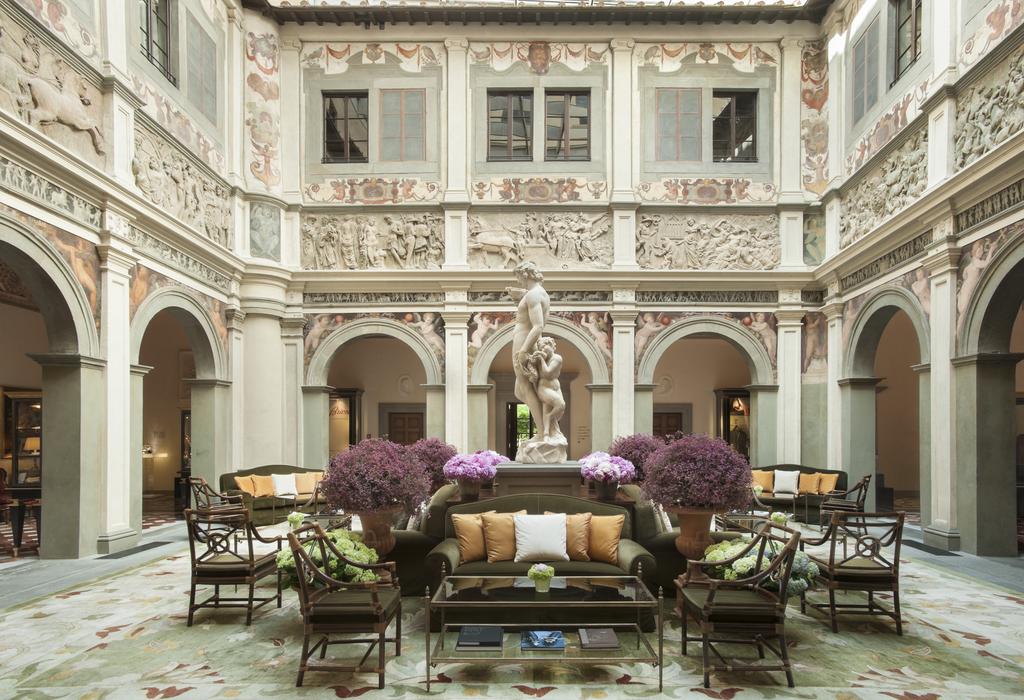 Four seasons gives travellers a chance to experience the magic of some of the oldest yet most fascinating cities in the world. It is located in the northern stretch, right at the nexus between the Old Florence suburbs of the nineteenth century and those of the twentieth century. While sitting on the vast tranquil garden, you get to enjoy a panoramic view of numerous historic buildings in Florence. As you step into the stucco-decorated lobby, you are welcomed into a modern and upscale abode furnished with extravagant silk, velvet, marble, and antique décor. The suites are elegantly decorated in Renaissance style. Other luxurious amenities offered here include a state-of-the-art spa with 10 treatment rooms, a pool, steam room and fitness centre for health enthusiasts. For a taste of some of the world's best cuisines, you can visit the Michelin-starred Il Palagio found within the premise.
The St. Regis Florence
The St. Regis, which is located at the south end of Santa Maria Novella, has been the destination for most travellers in Florence since the eighteenth century. This historic five-star hotel is a true reflection of the rich Florentine heritage. This is evident from its Renaissance-style furnishings mixed stylishly with antique decor native to the region. There are 81 spacious rooms and 19 unique suites, all of which are embellished with coloured velvets, bespoke frescos, spectacular Murano chandeliers, and painted coffered ceilings. The customer service at this Hotel is tip-top – a culture that is innate in the St Regis family. A private Guest Experience Manager is provided to help visitors plan their dream getaway. With the presence of amenities such as sizeable fitness centre, spa, and art gallery, guests won't run out of fun activities. The hotel also boasts a Michelin starred restaurant and Winter Garden, which serves splendid dishes of Tuscan.
The Westin Excelsior
This majestic Westin Excelsior hotel is established in a 14th-century palace and is one of the time-honoured five-star hotels in Florence. It doesn't cease to amaze with its opulent interior, outstanding service, and a host of luxury amenities. The property still dons the original rustic furnishings including terracotta floors, coffered ceilings, and massive stained glass windows. However, there have been refurbishments to add a touch of modernity without compromising its contemporary character. Located in the northern bank of Arno, Westin Excelsior hotel is adjacent to a series of high-end fashion boutiques along Via Tornabuoni Street. You can also access the infamous Domenico Ghirlandaio's workshop displaying his masterpiece fresco, 'The Last Supper'. Guests occupying the three top floor suites get to enjoy a hot tub, massive terraces, and a magnificent view of the city. The has 171 rooms, each supplied with the hotel's signature 'Heavenly Bed', whose comfort is hard to beat. The rooftop Sesto bar & restaurant is a game changer. Besides its great food, it also offers a 360-degree view of the city, which couldn't be more magical, especially at sunset.
Il Salviatino
Il Salviatino is a striking five-star hotel reclaimed from a 15th-century villa located in the hillside of Fiesole. Being situated at a relatively high altitude, it offers a spectacular view of Florence and its undulating landscape. It boasts a museum-like styling with antique paintings and marble fireplaces. This hotel offers an unmatched concierge service. Guests are assigned personal advisors who offer invaluable advice regarding perfect restaurants, sightseeing destinations, and upcoming events. There is a luxurious spa that ideal for the entire family (even kids). Five-star standard cuisines of Mediterranean and Tuscan culture are served in the formal restaurant in this villa. This would be the perfect destination for guests looking for a stately home experience.
Relais Santa Croce
This historic property is located in the eastern part of Centro Storico. It was initially one of Florence's oldest townhouses built by the Pope's treasurer in the 19th century. The hotel is currently a five-star hotel with 24 chic rooms decorated with original frescos and antique furnishings. Relais Santa Croce delivers a perfect blend of both contemporary styling and modern luxury and comfort. The rooms are spacious and graceful offering amenities such as room service, spa, laundry, and Wi-Fi. Guelfi e Ghibellini, a three-star Michelin restaurant located within its vicinity, offers delicious menus. Its strategic location offers quick access to the Santa Croce church and the Duomo.
Belmond Villa San Michele
Belmond Villa San Michele is one of the priciest five-star hotels in Florence located in a serene woody hillside near the village of Fiesole. The hotel is established on a building that was once a Franciscan Monastery. Its currently weathered portico and imposing terrace are said to have been sculpted by the infamous Michelangelo. The peaceful gardens, as well as the massive pool bordered by a lush lawn, are perfect spots to unwind. Being a historical building, the rooms sport vaulted ceilings, bottle glass windows, and some rustic bedsteads. The main restaurant is designed with a veranda that offers a magnificent view of the city. The menu consists mainly of Tuscan dishes prepared by competent chefs.