A Beacon For Scotland
The name of the restaurant pays tribute to the ship's former life; built in 1963, it was originally a lighthouse tender, used to service lighthouses around Scotland's coast, on behalf of the former Northern Lighthouse Board. This was followed by a period in Cornwall, following her transfer back to Scotland in 2014, when she was transformed into a luxury floating hotel and restaurant to the tune of £5 million, before opening in 2019 to guests.
A Peak Around The Ship
Prior to dining, we were offered a tour around the ship, exploring the engine room and up to the Bridge, both of which have been meticulously restored and give a fascinating glimpse into Fingal's former life.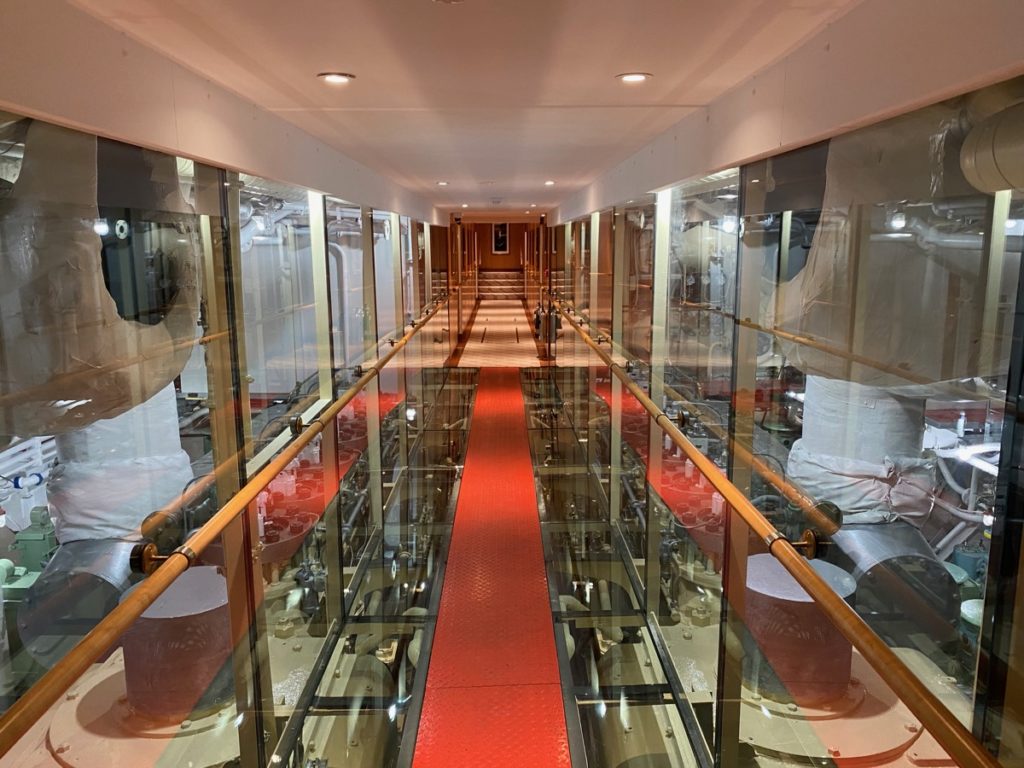 If you are looking for the ultimate private dining experience the Lighthouse offers private dining up on the Bridge, which can accommodate up to 10 guests.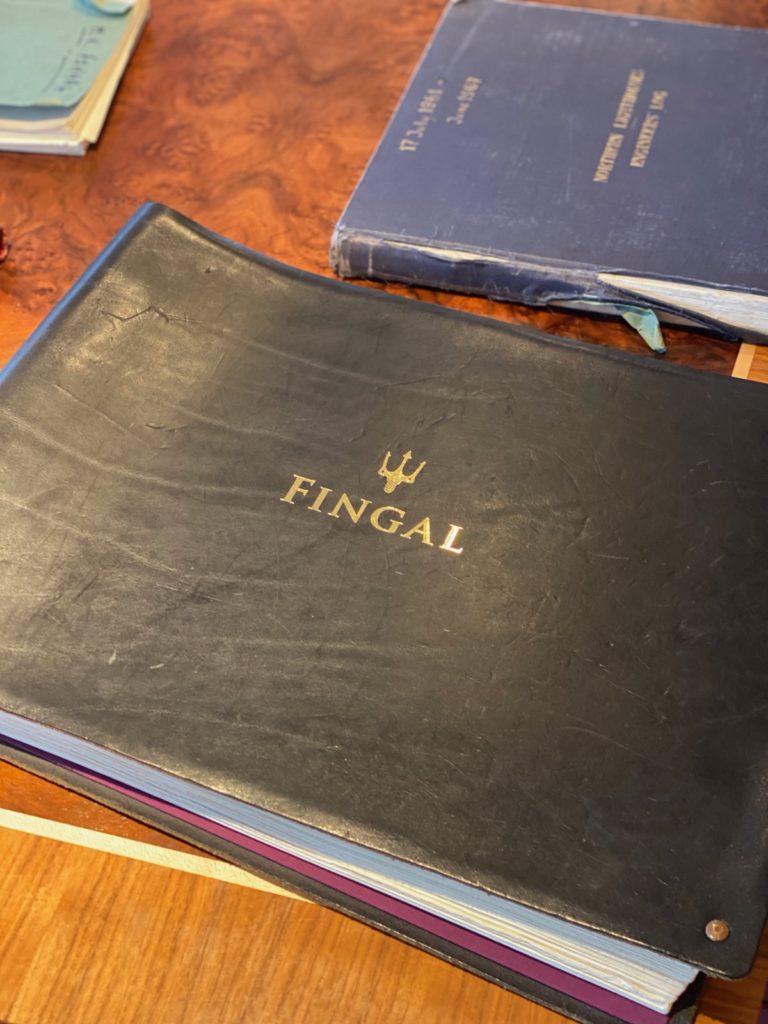 Rooms and Suites
Whilst we were there just for dinner, it is worth touching on the rooms and suites of the hotel. Each is named after Stevenson lighthouses, the 23 luxurious cabins are inspired by Fingal's rich maritime heritage and are an indulgent experience like no other, your own private sanctuary. Little details such as headboards with map contours, Davy lamps and heavy brass taps, make for a stay that will continue to inspire, long after you've left. The magnificent Skerryvore Suite, offers its own separate sitting room, with the option of dining in the suite, and its own private deck.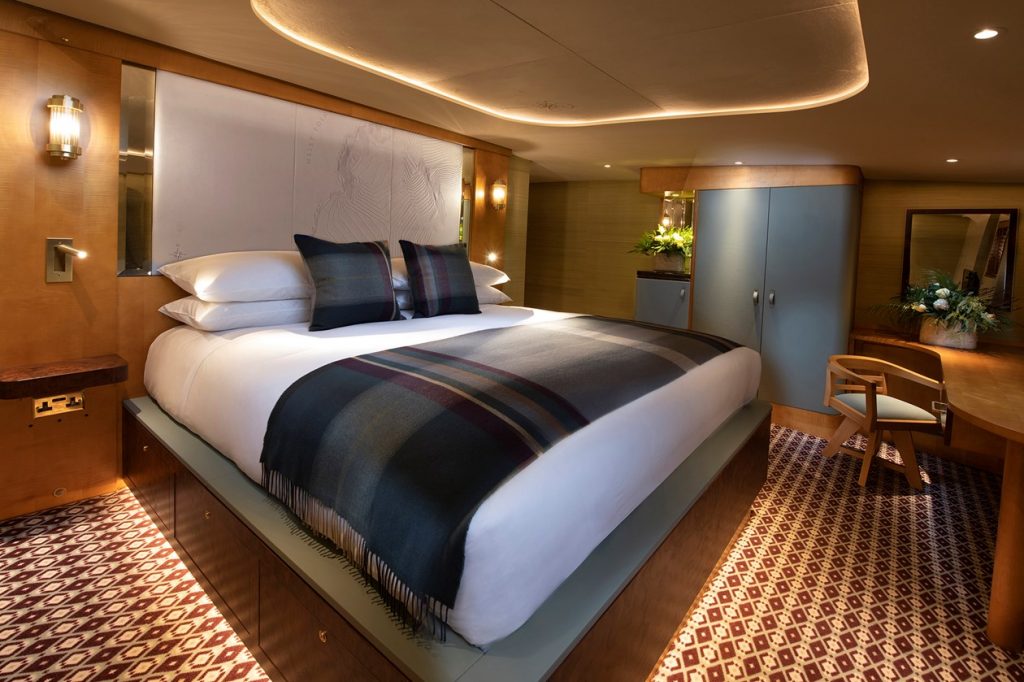 Honouring Fingal's Seafaring Past
The Lighthouse's interior complements the ship's Art Deco design, with a shimmering hammered copper effect ceiling and large windows helping to bounce the light around. Booth seating creates a feeling of privacy, with porthole-style glass windows topping each section. And do look out for the top half of the original funnel in the bar area. On a nice day, patrons can drink and dine on the ship's deck, ideal for the five-course afternoon tea or some cocktails. The restaurant also serves a sumptuous breakfast and refined dinners that celebrate ingredients from the northernmost parts of the British Isles.
Drinks With A Nautical Twist
Open to non-residents from noon to 10 pm, The Lighthouse Bar boasts an extensive wine list, with a carefully curated selection of Scottish, British and international bottles. Matty Tomaszewski Head Barman & Sommelier is on hand to help you select the perfect wine to accompany each course.
Image by Helen Pugh Photography
Cocktails
The drinks menu provides playful nods to Fingal's heritage, with cocktails such as Yard No. 140 (the name Fingal was given when she was first commissioned), a blend of Sea Wolf White Rum from the Strathearn Distillery in Perth, pineapple wine, aloe vera syrup, lime juice and peach bitters served in a julep cup.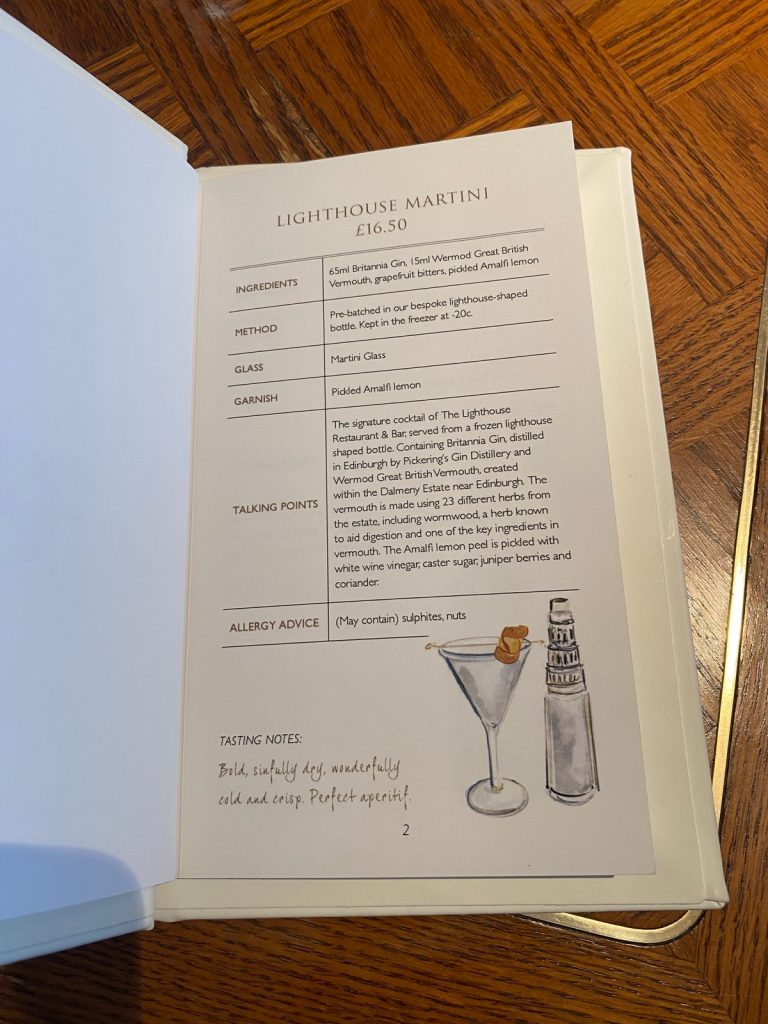 There is a great selection of bespoke cocktails, and if you want a classic, just let them know. We opted for a Vodka Martini and Margari to start the evening off which we enjoyed on the sofas prior to moving over to our table.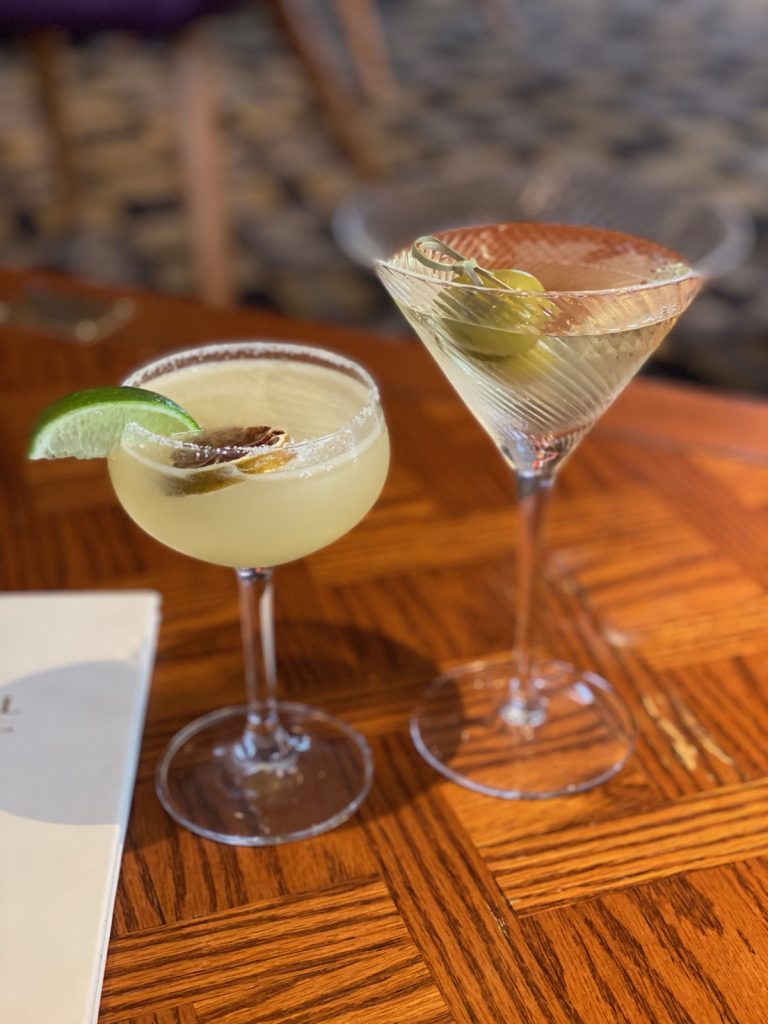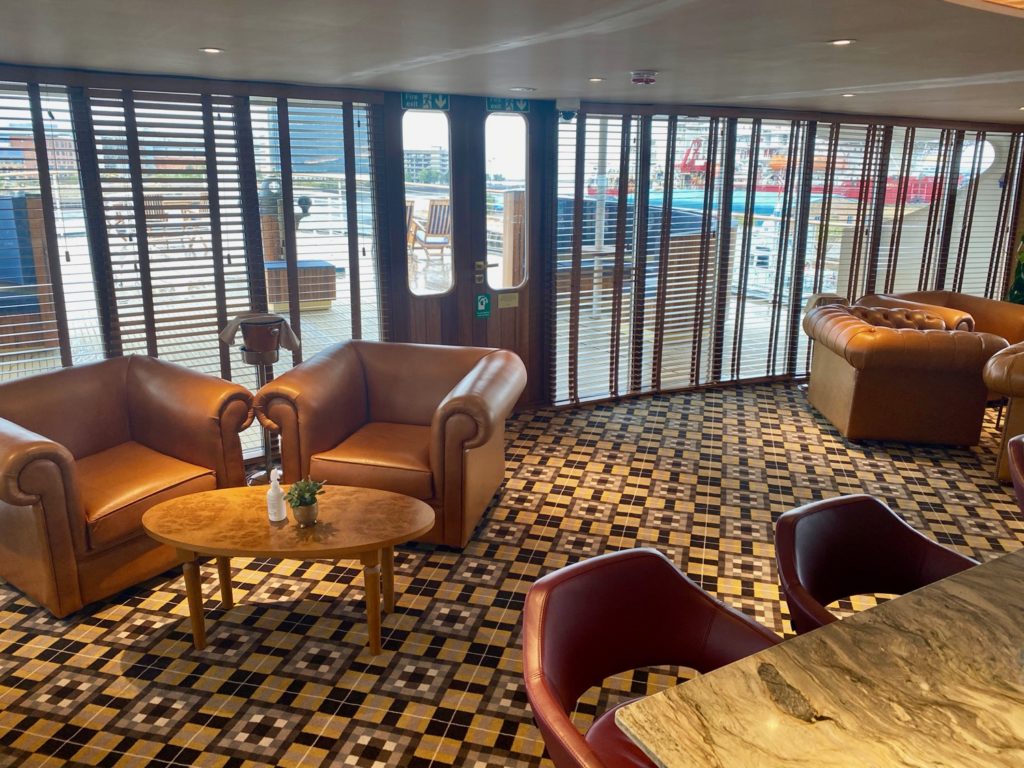 Culinary Excellence From The Galley
Begin your meal with Fingal's hot smoked salmon, served with cucumber, lemon, dill yoghurt labneh and pickled celery; the salmon is smoked on board. Mains include the likes of hake fillet, harissa roast celeriac and roe deer. Order a side of roast Jersey Royal potatoes and butter that's infused with freshly picked herbs from the ship's own quayside garden. Then finish with a lemon and Douglas fir posset, with rhubarb, pistachios, brioche crouton and burnt white chocolate, or a selection of artisan cheeses.
If you want to be guided with your wine – opt for the matching wines, with each glass tailored to the course and dish you are having.
Our Dining Experience
Starters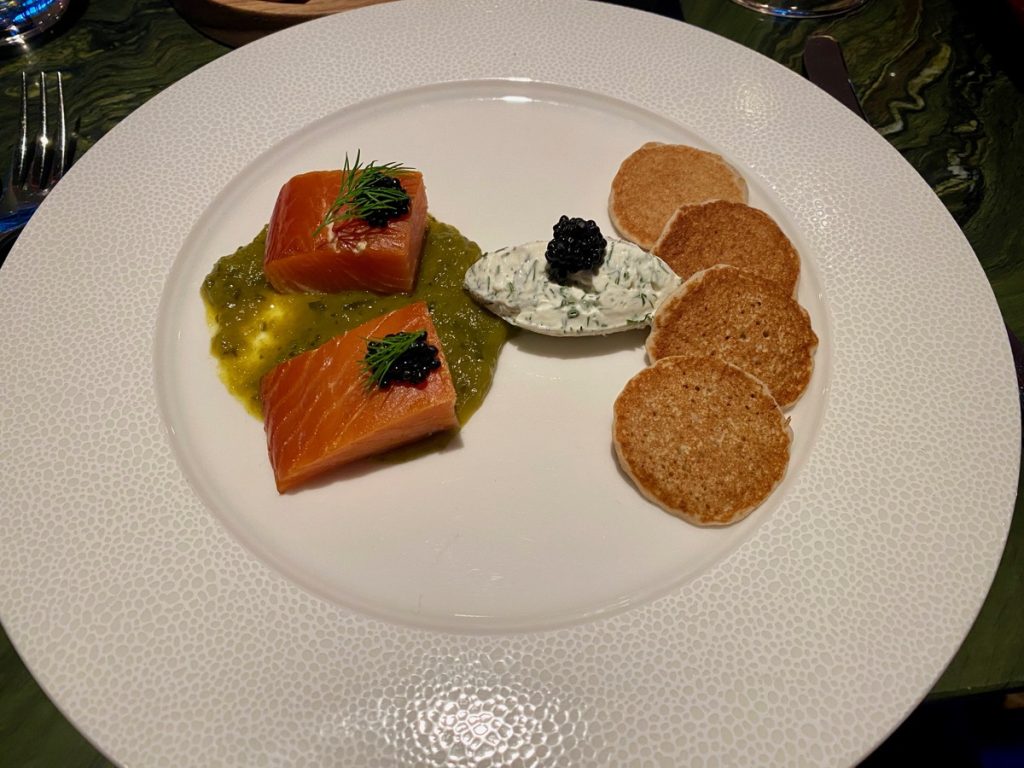 Mains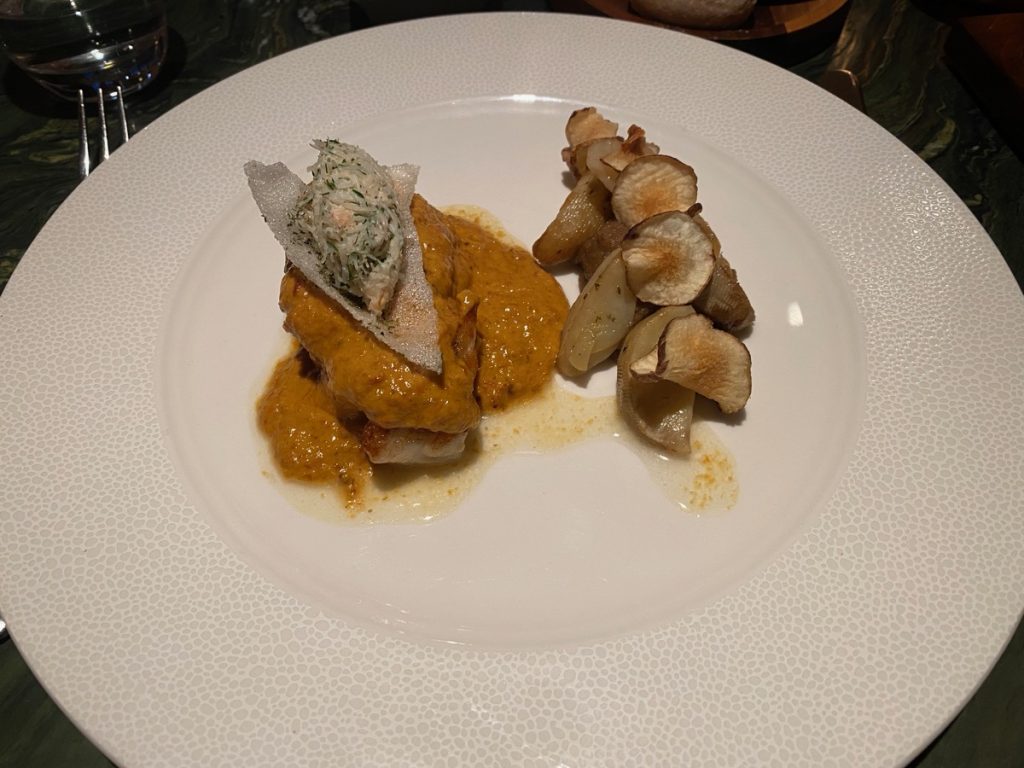 Dessert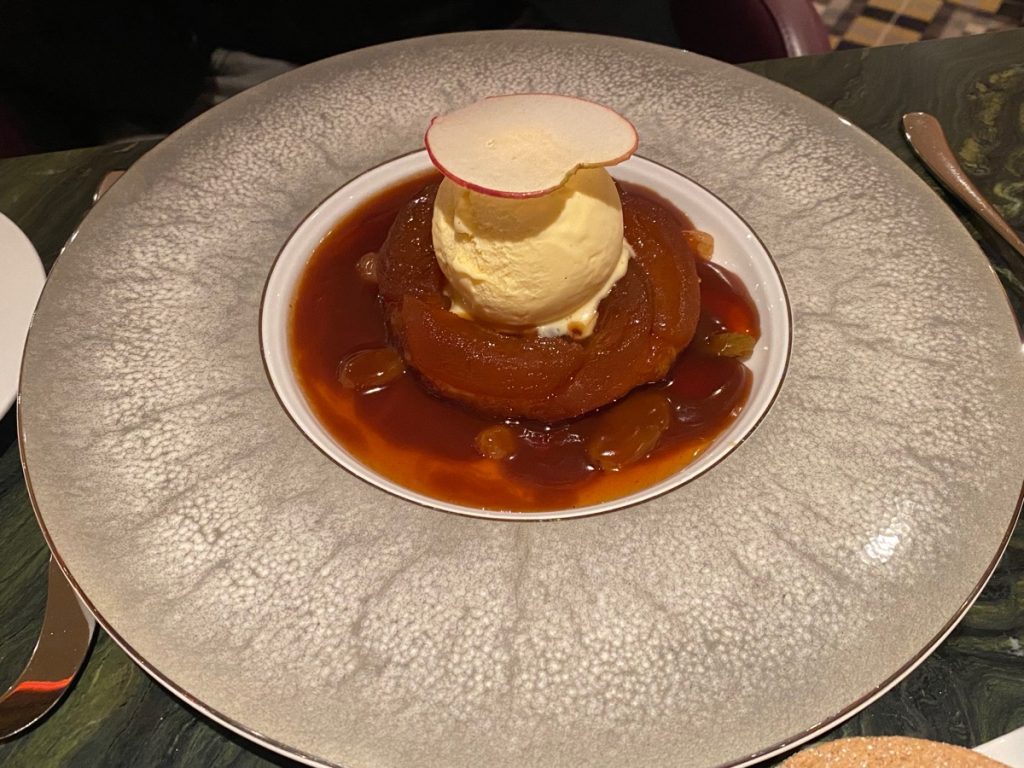 For the Summer Months
For a truly unique cocktail experience book drinks on the deck with the vessel's signature martini in hand offering a one-of-a-kind treat.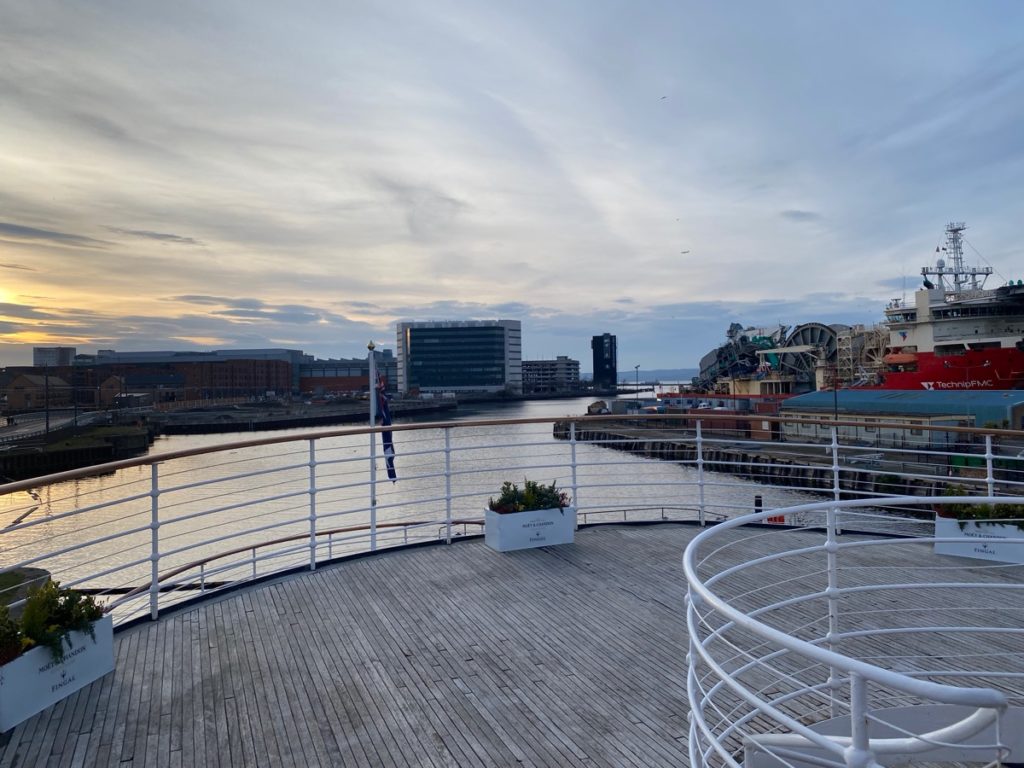 Final Thoughts
Dinner aboard this floating fine-dining restaurant is a truly unforgettable experience, with flawless service, culinary excellence and panoramic views of the surrounding skyline, Shore and harbour area. Step onto Fingal for a few hours at The Lighthouse and you'll feel your cares float away.
The Lighthouse is included in our guide to the best restaurants in Edinburgh, and Fingal is included in our guide to the best hotels in Edinburgh.