As you know here at TLE we love nothing more than finding hidden gems; from slick city luxury or laid back country luxury and the latter is exactly what we found when the wedding of some very close friends lead us to Harome, a little village close to the market town of Helmsley, in the beautifully picturesque North Yorkshire Moors.
The wedding itself was hosted at The Star Inn, an award winning and Michelin-starred Inn which is believed to date back to the 14th Century. The wedding reception was hosted in a majestic tepee in the grounds of the Star so I didn't really have much opportunity to explore and do the TLE once over – a good excuse to go back for another review perhaps!!
However, just around the corner from The Star is another sparkling gem; The Pheasant Hotel and this is where many of the hotel guests stayed and the establishment we'd like to introduce you all to. Originally a blacksmith's shop and barns it has been cleverly converted into a pretty hotel which overlooks the village duck pond.
At first glance you'd be forgiven if you thought that this was a (sizeable) private residence with all 16 rooms and the swimming pool built around the beautiful courtyard of fruit trees.
Check-In
Walking past a line-up of Hunter wellie's (all there for guests use should the rain make an appearance) the reception area of the hotel is situated in the hall way of the main building– small and friendly you immediately feel at home here. A quick and easy check-in with an actual key to open your room door (I love old fashioned keys!) and each room / suite has a name which is either a place nearby or related to the outlook of the room (i.e. Mallard with a view to the duck pond!)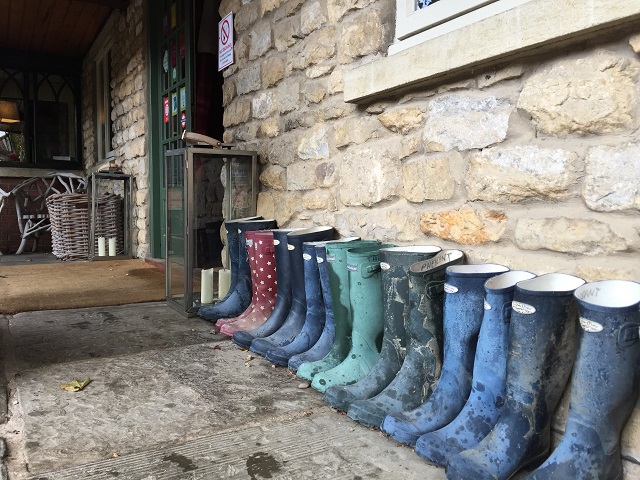 The Room
We stayed in the Harland suite which was extremely spacious and extremely comfortable. The décor is stylish traditional country, and this theme runs throughout the entire hotel; highly appropriate and in keeping with the beautiful country location.
As you all know we're quite big bathroom fiends at TLE, this one was perfectly fine – just like a good quality bathroom in a home. No flashy hotel novelties, however the bathroom products were all Cowshed which I thought was a perfect fit given our location. Cosy his and hers bathrobes were provided.
Another nod to the country setting was the safe hidden away in the wardrobe. Forget locking away your laptop in here, nope this bad boy was kitted out to keep your rifle in. Love it!
An honesty box with some local products (the best ginger biscuits ever!!) and standard midnight feast treats was also presented along with some reading material if you fancy a quiet moment to yourself.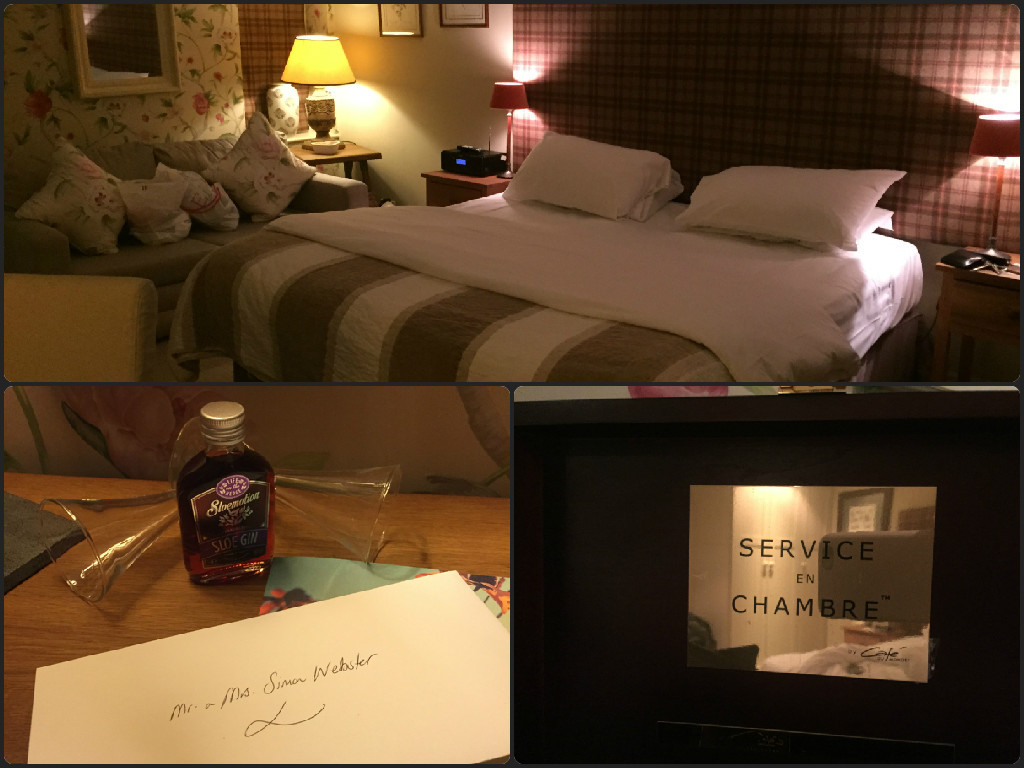 TLE Touches
A personalised welcome letter was set on the table with two glasses and a small bottle of handmade Sloe Gin from Sloemotion. Again regular readers will know how much we love our coffee and I loved the fact that, again in perfect keeping with the surrounds, there was a cafetiere along with freshly ground coffee beans (Nespresso who??!!) in a beautifully traditional Service en Chambre wooden box. Within this there was also complimentary biscuits and a selection of teas.
Facilities
Unfortunately we didn't really have time to make best use of the facilities. However, I did have a peak at the indoor heated pool which was very well maintained and looked very 'spa-like' – not one for a vigorous work out just a tranquil place to chill out.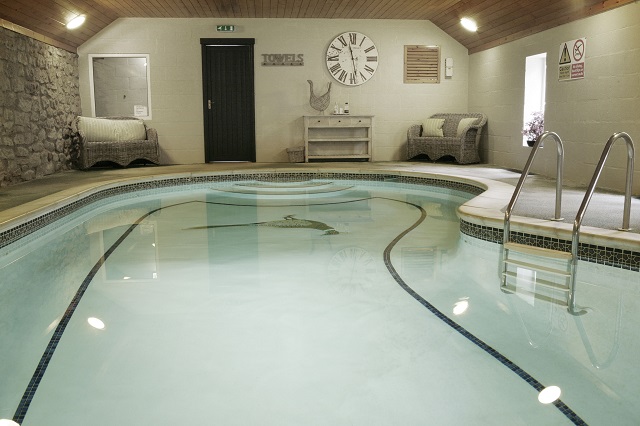 The restaurant is open to both hotel residents and non-residents and presents seating options in the main building, terrace overlooking the village duck pond or the conservatory. There is also a country cosy bar and lounge area with a big open fire which I imagine is just ideal in the winter months.
We only sampled breakfast here and there was a good selection of hot and cold options. All ingredients were high quality and with an allotment onsite many were home grown – tomatoes and eggs were clearly organic and simply delicious!! The Chef at The Pheasant is also part owner and before this worked at The Star and then did a stint at Hibiscus for Claude Boisi in London. You'll note that there are many framed restaurant menus adorning the walls of the hotel. These are a collection from places the owners have visited and also the menus of the owner's friend who is also well travelled Chef.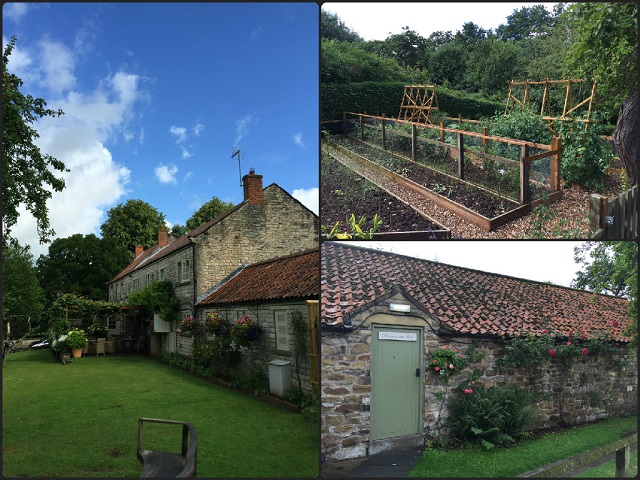 Summary
Overall a great experience in a very picturesque location. It is a shame we only had one night here as I could have definitely stayed for longer!
Costs
From £160 B&B (per night based on double occupancy).
Rates vary according to room and dining options.
Dogs and children welcome!
Contact Details
W: http://www.thepheasanthotel.com/
T: 01439 771241
E: reservations@thepheasanthotel.com