TAG Heuer has launched a new version of its popular golf watch, the TAG Heuer Connected Watch Calibre E4 – Golf Edition. The upgraded piece features exciting technical improvements including a new automated shot-tracker, redesigned golf software and a magnetic ball marker built into the strap.
A leader in the golf luxury smartwatch sector
Just weeks after TAG Heuer launched a new generation of its Connected Watch, the TAG Heuer Calibre E4 arrived with two new models in 42mm and 45mm, built to deliver ultimate elegance and sporting performance, wellness apps and elegant watch faces. Its first edition launched in 2018 and has been a standout success for the luxury watchmaker, building on TAG Heuer's renowned reputation in the sporting world — the brand is beloved by the golf community.
Frederic Arnault, CEO of TAG Heuer says: "Our customers play golf more than any other sport, and golf has become an important pillar of the Connected watch: the new Calibre E4 is built to be a watch that wearers don't take off when they leave the golf course."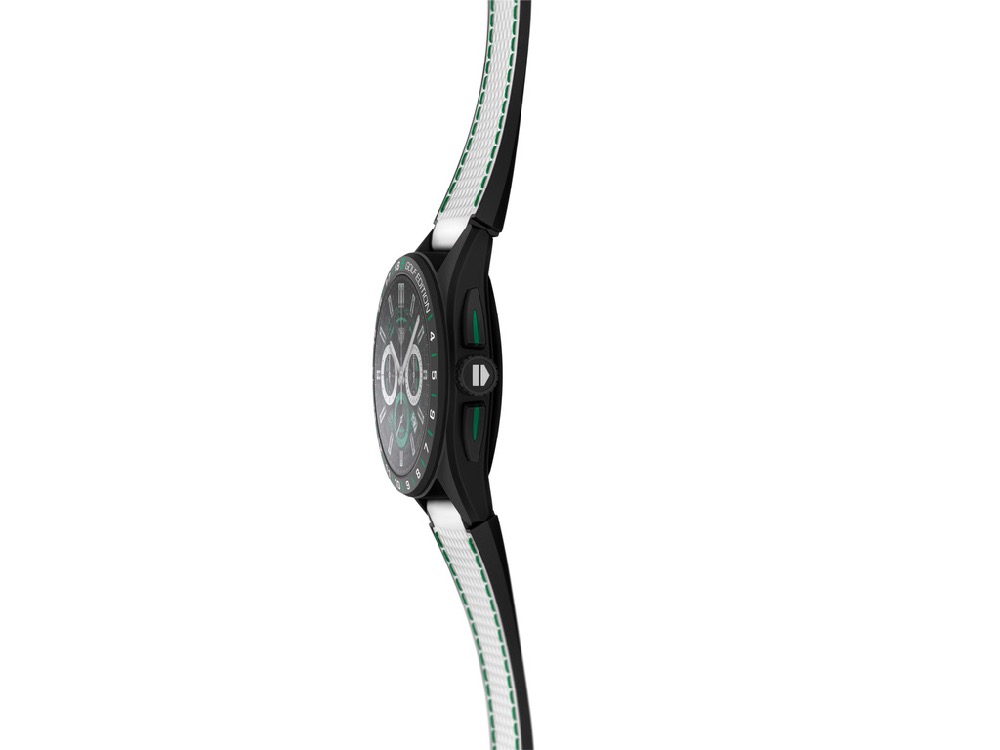 Allowing wearers to improve their game
A redesigned buckle has a built-in magnetic ball marker. As these are a must-have for putting, having one incorporated into the watch buckle means one less thing to carry onto the course. Designed to slide from the wrist easily and emblazoned with a distinctive TAG Heuer logo in bright, contrasting colours, the marker offers improved visibility but can be popped out simply in one movement and reattached with similar ease.
Automatic swing detection allows users to track their performance in the app without having to activate the function by hand. The Connected Watch's accelerometer and gyroscope begin tracking the first shot o each hole, stopping when the watch identifies the swing to hit a second stroke. Golfers no longer have to track their drive, as the data is captured automatically.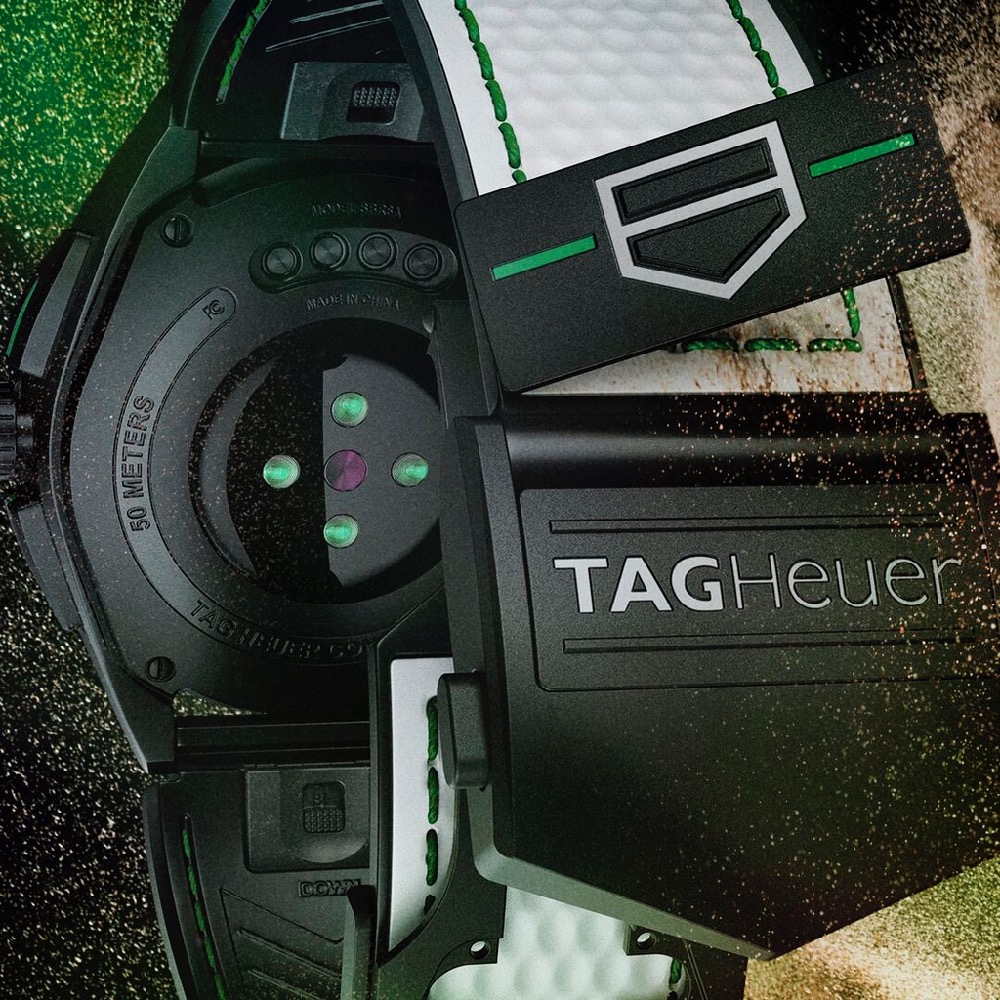 A Driving Range feature provides the app with more data (as it's activated automatically), with a 'heat map' for every hole, showing where shots landed on previous rounds. This allows golfers to build an overview of the strategies which work for them, helping to pick the perfect club and the perfect route to each hole. And with 3D mapping technology, the iOS app generates a beautiful video you can share with your friends.
A new sporty look in a 45mm watch
The watch itself has undergone a full redesign as part of the new generation of Connected Watches; the crown (used to scroll the map in TAG Heuer's built-in golf app) has a large diameter and stands out from the watch, so it can be controlled by fingertip while playing.
The 45mm model has a sporting design and a powerful ceramic 18 holes bezel reminiscent of a traditional high-end timepiece. This serves as an immediate scorecard during a round, with colour coded segments showing on each hole if you are above, on or below par. The watch's pushers have been given a mechanical look, reflecting TAG Heuer's 160 years of heritage. As the watch slopes inwards, it feels lighter on the wrist than in previous generations of the Connected Golf Edition. And unique 2D mapping allows golfers to track hazards and distances on no less than 40,000 golf courses around the globe.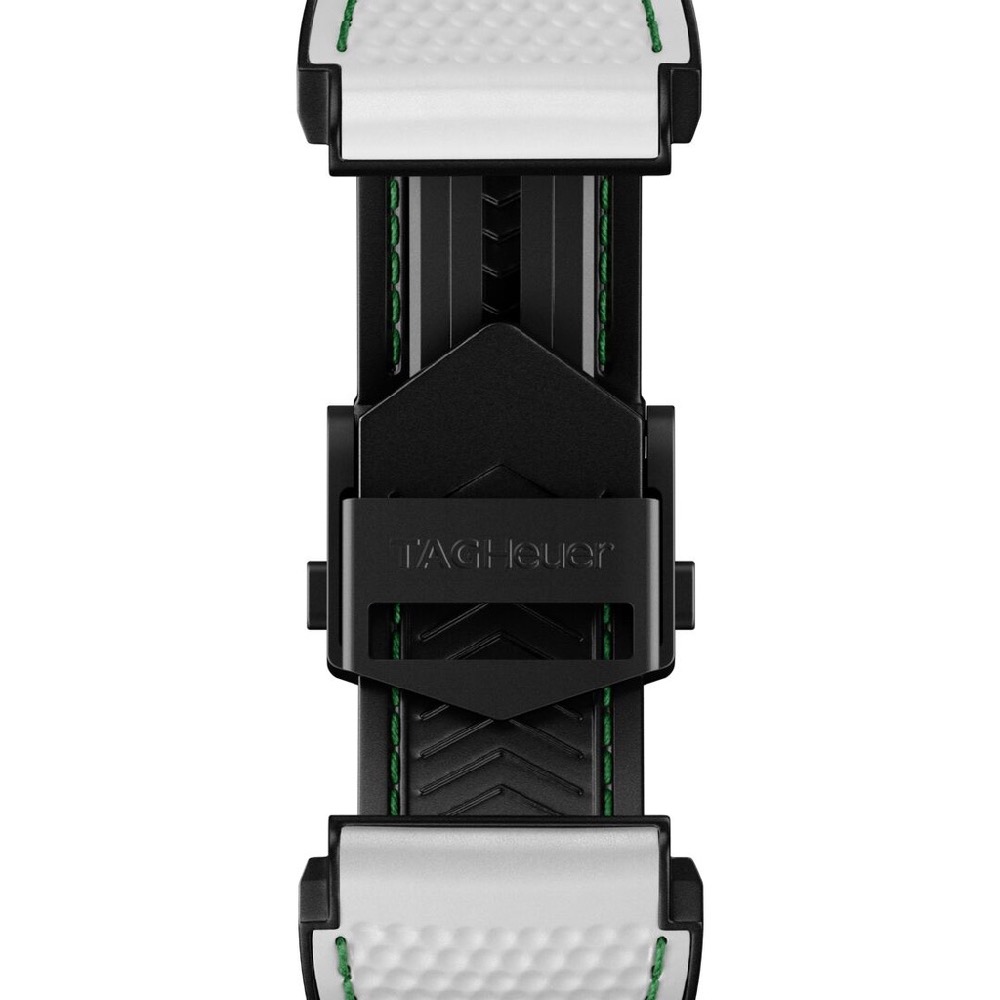 Industry-leading quality and contrast ensuring that maps, scores, and statistics can be viewed even in strong sunlight. While a battery life that's 30% longer than previous Connected models, ensures golfers have a full day of battery life on each charge, even after five hours of using golf functions.
Exclusive watch faces inspired by golf
Featuring the brand's trademark green colour, the new Golf watch face offers a simple, beautiful design recalling the dimples of a golf ball (and matching the watch's trademark strap, so it appears to 'continue' into the screen). The watch also comes with an additional black strap — both are easily interchangeable, allowing wearers to pair the watch to the occasion.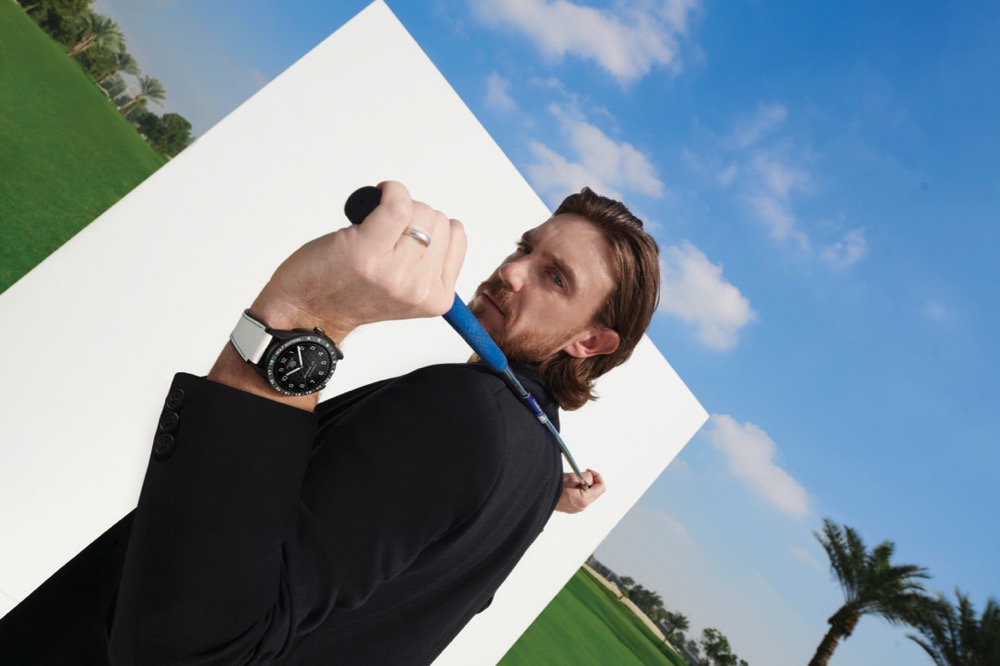 Professional golfer and TAG Heuer ambassador Tommy Fleetwood will wear the new watch, which also offers exclusive golf-themed watch faces, only available on the TAG Heuer Connected Watch Calibre E4 – Golf Edition. Fleetwood says: "TAG Heuer Golf Edition allows golfers of every level to improve their game. The new Drive shot tracking helps you track your most important shot and the integrated ball marker is so easy to use and store away."
Finally, the watch comes packed with a few little extras; a white soft-touch finish, and three extra Titleist balls, a spare ball marker and a metallized QR code (this opens a web page helping users to set up and pair the watch with a phone for the first time).