The leading operator of passenger ships on the North Atlantic, since 1840, the Cunard line has recently announced the upcoming launch of its fourth vessel, Queen Anne, entering service in early 2024.
The next in a regal line of vessels
Queen Mary 2, Queen Elizabeth and Queen Victoria are the three Cunard ships in operation and the arrival of a fourth is significant. This investment is part of the company's future global plans and will mark the first time this millennium that Cunard will have four ships in simultaneous service.
The new Queen Anne will offer guests complete freedom of choice. Grand venues will create the perfect backdrop for sophisticated socialising, with calmer spaces offering the perfect opportunity to switch off, as well as amenities to enable passengers to engage in more active pursuits (both inside and on deck). There will be a total of fifteen restaurants onboard, each with its own personality. Guests will be able to experience a variety of cuisines, ambience and décor from the striking interior of the Britannia Restaurant to the relaxed atmosphere of Cunard's popular Golden Lion pub. From laid back light bites and indulgent treats to the ultimate in fine dining, guests choose when and where (including indoors or alfresco) to eat.
An elevated travel experience
Designers David Collins Studio, Richmond International and Sybille de Margerie are working with the Creative Director Adam D. Tihany to collaborate on an extraordinary and thoughtful design. The trailblazing results will provide a new way to travel by sea. Having been immersed in the Cunard archives, the talents, whose portfolios include luxury hotels, bars, restaurants, high-end yachts, and private grand residences, are endowing Queen Anne with a classic Cunard style, alongside fresh touches.
Queen Anne's breath-taking interiors take inspiration from the shipping line's heritage and the golden era of travel. It celebrates the art deco style finishes and attention to detail for which the brand is renowned, as well as looking to the future of ocean voyaging. The ship will also feature displays of inspirational art created by both established and emerging young artists.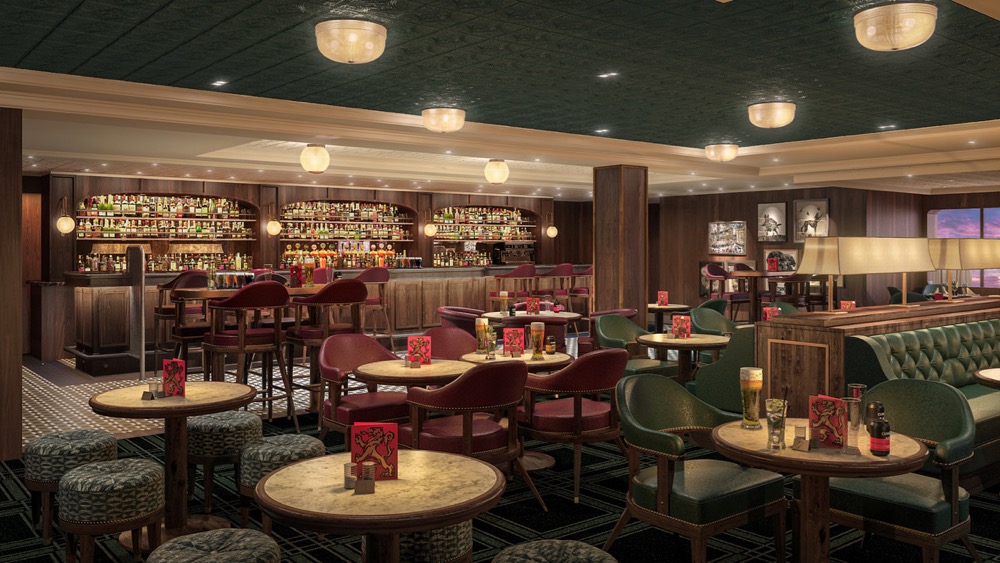 Queens Grill Grand Suites
Guests will be able to book private residences with an extra level of exclusivity, where each finish has been carefully curated. These Grand Suites represent the epitome of luxury, from a dedicated dining room with an adjacent butler's pantry, to walk-in wardrobes, marble-finished bathrooms with views out to sea, a spacious bedroom and the largest balconies onboard.
The Princess Grill Suites, have been designed by Sybille de Margerie to be warm and inviting with bespoke furnishings including a dressing table and bar area with a feature wall panel. Britannia Balcony staterooms provide cosy sofa seating areas looking out to sea, and light, bright bathrooms with glass walk-in showers for a more relaxed, yet luxury experience.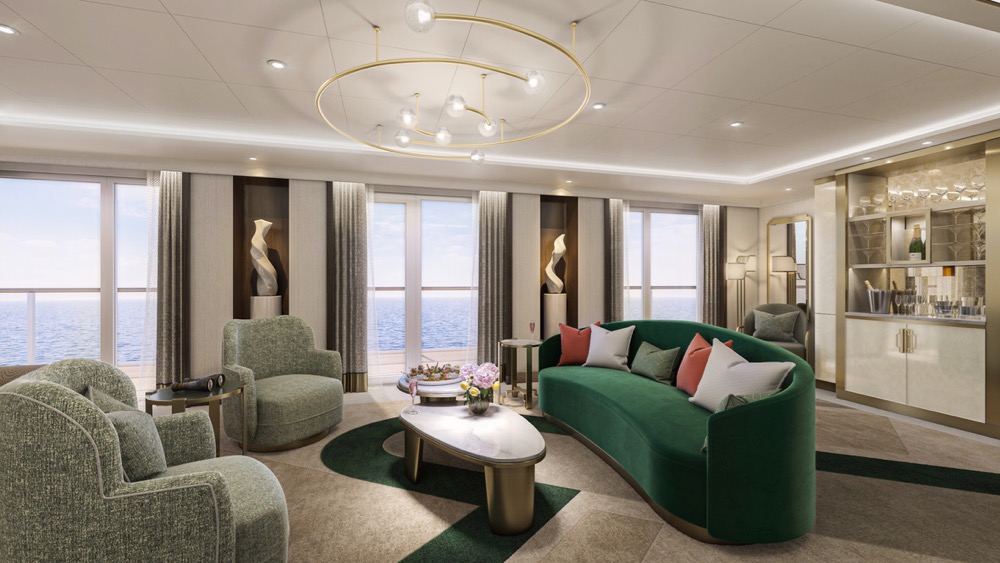 Recreation on board
Entertainment on board will be suitably lavish; Queen Anne will include the flagship Royal Court Theatre, a two-deck 825 seater auditorium, showcasing a wide variety of musicals, celebrity headliners and fascinating speakers. The Queens Room will host glittering events and Gala Evenings, while further venues (yet to be revealed) will provide space for further entertainment forms.
Queen Anne will accommodate the widest selection of fitness, beauty, thermal and spa facilities as yet seen on any of Cunard's vessels. The brand's Mareel Wellness & Beauty will have venues across the ship, with treatment rooms, a private spa suite and an awe-inspiring new top-deck wellness studio.
The next chapter for ocean travel
Lee Powell, Cunard Brand Vice President said of the recent announcement, 'Queen Anne represents the next chapter for the Cunard brand. She embodies all the characteristics that make this brand so well-loved and at the same time reimagines the complete ship experience extending the Cunard Line for future generations. She will be the finest ship of her era'.
Carnival UK President, Sture Myrmell commented, 'I'm delighted and immensely proud to welcome Queen Anne to the Cunard fleet. This marks one of the most significant periods of growth in the company's history and the addition of Queen Anne adds exciting opportunities across our iconic fleet. With a fourth ship in the fleet, guests can see more of the world on Cunard, with Queen Anne introducing new concepts and reimagining the definitive experience of ocean travel. We are sure our loyal Cunard guests, and those we will welcome for the first time, will love the Queen Anne experience.'
Queen Anne's maiden voyage will take place in early 2024, with her inaugural season programme available to book from May 2022.