Located above Westbourne Park in the north end of Notting Hill, lies the super trendy West Thirty Six bar and restaurant.
Proprietor Robert Newmark, owner of multiple successful bars across London, has created an eating and drinking space with a heady mix of innovative food, contemporary dining spaces and just the right dollop (big dollop actually) of hipster appeal that has been keeping West Thirty Six packed with customers since it opened earlier this year.
And on our latest trip to London TLE decided to check out what all the fuss is about.
The Ambiance
Set across a corner three floor townhouse, which was formerly a rather dindgy pub, the huge space has been transformed into something quite incredible. The ground floor is home to a more traditional bistro dining experience; an open plan kitchen attached to a metal topped riveted bar and white butcher style tiled walls immediately greets you when you enter with space for eating squeezed in around the rest of this open plan space.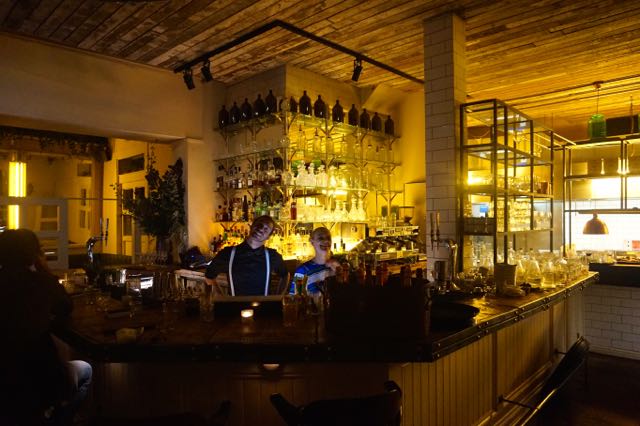 The first floor on the left is a cozy and moodily lit bar with an interconnecting lounge room coming off it. Think shabby chic 1960's décor – a touch of the Abigail's Party to it (which I actually love so it was right up my street).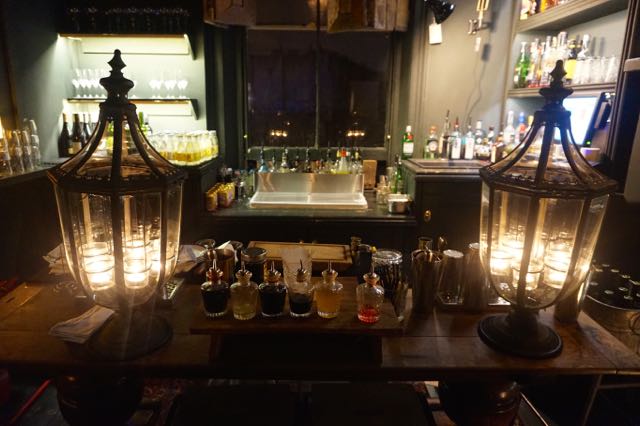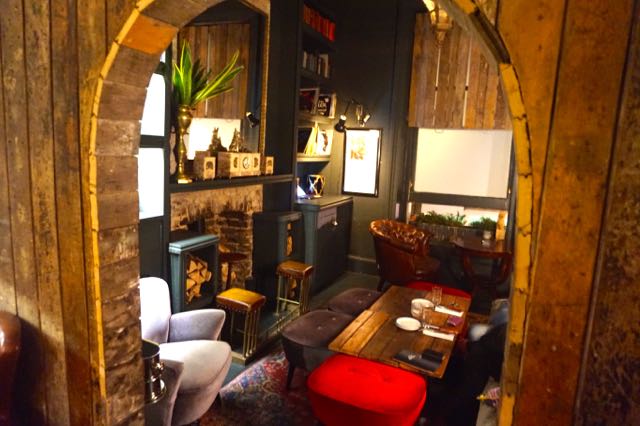 Up another flight of stairs and you are into the dining room/drawing-room, out are traditional restaurant tables and in are Chesterfield sofas and low coffee tables. The room is dressed with bookshelves filled with period books and a whole host of 60's objets d'art. The room is connected to an outside dining and drinking terrace.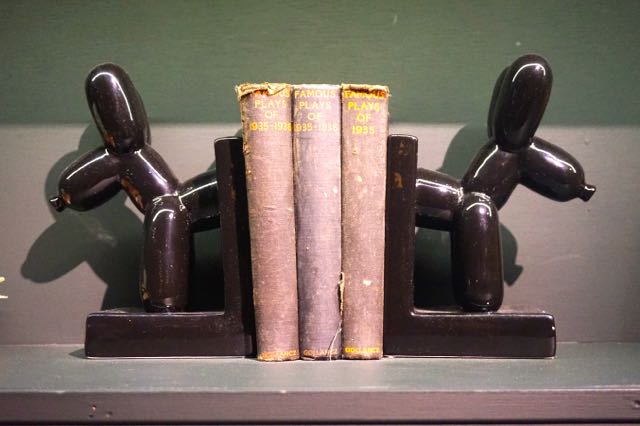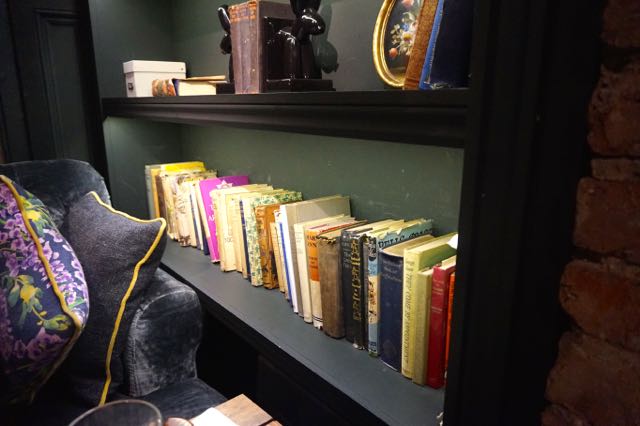 The Food and Drink
After squeezing through the throng of people in the ground floor we were taken up stairs into the dining area by the maitre de. There had been some confusion about the table we booked, but it all worked out fine in the end and we parked ourselves in a corner against the bookshelf and the rather delightful huge picture of a naked woman in catalogue style pose.
The menu created by head chef Jon Pollard (Soho House) follows a grill house format with steaks at the centre of the menu. Favourites, from what I saw and was told, were the prime cuts of organic Hereford aged beef, spit roasted Norfolk grey chicken and the oak smoked racks of lamb.
For vegetarians (like me) there are lots to eat so you are not left out, I wouldn't say there was really a 'steak' equivalent dish to eat, but a large creative veggie section and plenty of innovative starters and salads will keep any veggie happy.
We started off with a couple of cocktails, I chose the Whisky Sour which really hit the mark and then in no time our starters came out.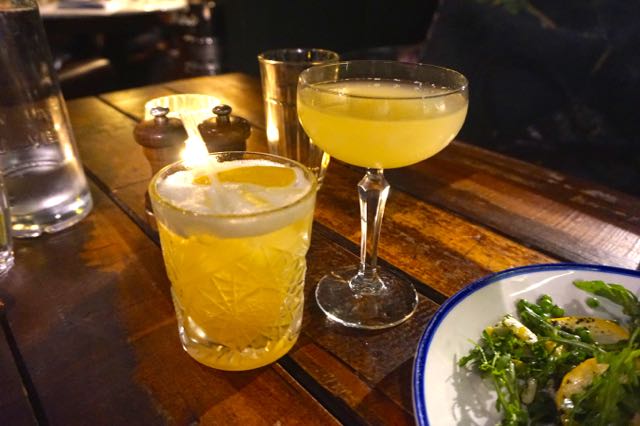 Our waiter who was a cute Spanish guy complete with the hipster top knot and beard recommended the Beetroot tahini, radishes, whipped goat's curd (£12.50) and we paired it up with a salad of Courgette, pea, rocket, parmesan (also £12.50). The dips were some of the best I have ever had, a mountain of goats cheese paired up with the guacamole style dip was so moreish and spread on the homemade crackers, I could have eaten it all night. The salad was incredibly tasty and fresh- perhaps a tad excessively priced for a salad but it was delicious all the same.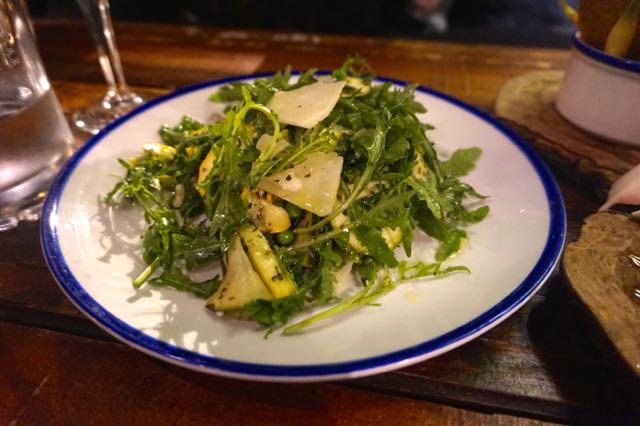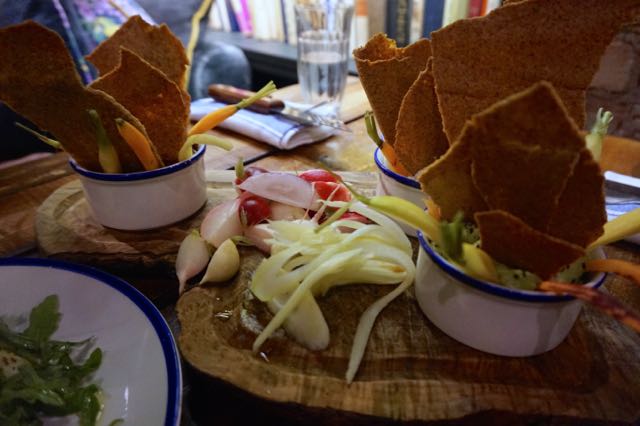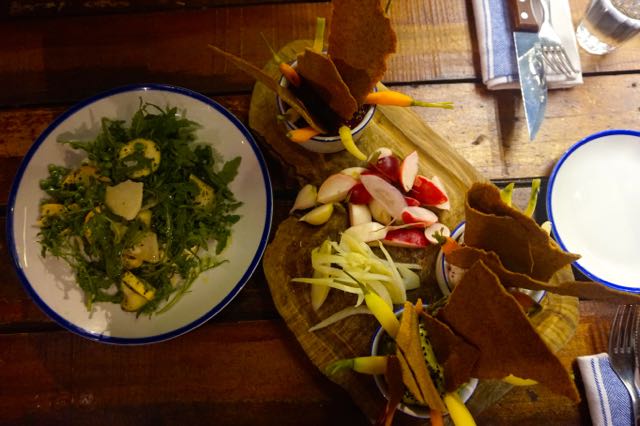 It's at moments like this when eating out that I curse myself for being vegetarian as the steaks I spied on the next table looked like giant hunks of meat, I am not sure how anyone can finish them.
For mains we opted for a couple of the veggie dishes and a side of slaw to share. We paired everything up with a bottle of Pinot Grigio. The dishes were outrageously tasty! The smoked baby aubergine, chickpeas, mint yogurt (£9.50) was virtually orgasmic, the yogurt worked very well with the chickpea turmeric flavoured curry and the Roasted Cauliflower, Pomegranate, Hazelnut (£9.50) dish was just perfect.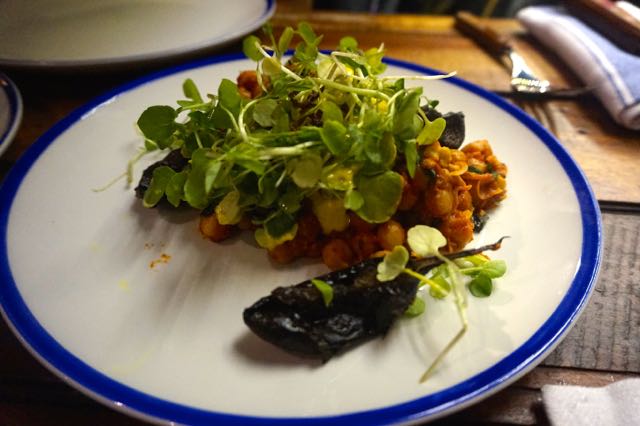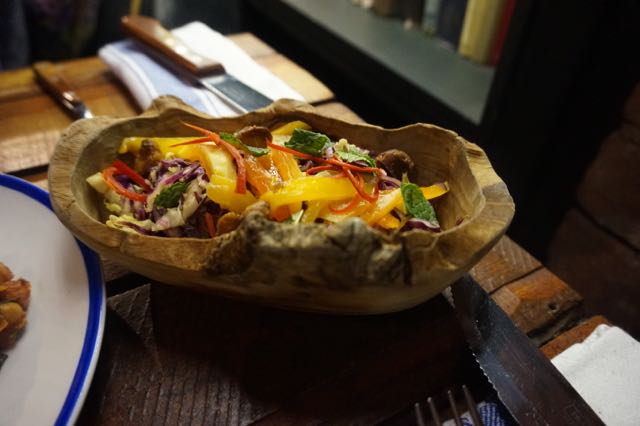 Like many a restaurant veggie option they are fabulously tasty but lack a protein element to the dish so you do end up still feeling hungry, but don't let that put you off the dishes were incredibly tasty.
After two courses, cocktails and a bottle of wine we were starting to slide into our sofas – (maybe eating on a sofa wasn't as impractical after all) so we opted for dessert.
Now I have a sweet tooth after a meal and this dessert menu was the jackpot. The Chocolate Bar, Peanut Crunch (£9.00) was perhaps the most indulgent desert I have had in a while. A think slice of incredibly rich chocolate and peanut butter is served with an even richer chocolate ice cream topped with chocolate mud… and the make your own Sundae (£10) expensive for an ice cream but worth the money. Choose 4 different balls of ice cream and top it with 4 different types of toppings, marshmallows, chocolate sauce, chocolate mud, the list goes on and on and its indulgent to say the least!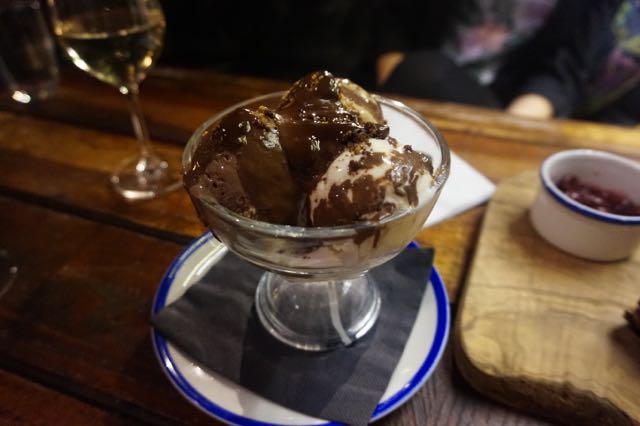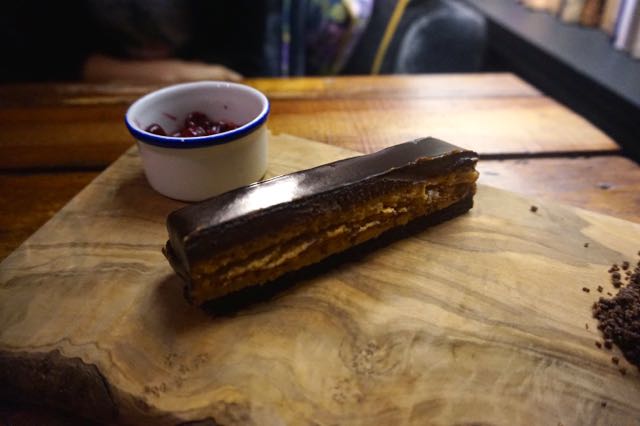 Some Little Tips 
Reserve in advance, the restaurant will be packed out guaranteed
The dips starter are a must to try one between two is more than enough
Try a cocktail and the dessert sundae is essential
Explore the whole building, the upstairs area is fascinating
Seating is pretty packed in tight so if you like space between you and the next dining table take a deep breath in
The Damage and Details
West Thirty Six is bloody cool! Staff are friendly and the buzz of trendy customers gives it a great atmosphere. Whilst the restaurant seating is possibly not the most practical and the prices for some menu items a tad extreme I would still definitely recommend a visit, you will love it!!!
Our bill was £130 for 2 including – cocktails, starters, mains, dessert and wine + tip.
Address: 36 Golborne Rd, London W10 5NR
Phone: 020 3752 0530
Web: www.w36.co.uk