Summer is almost endless in Marbella. Yet don´t leave it too long to visit this chic Andalucian seaside town on the shores of the Mediterranean, or you'll miss the city's best summer pop-up, 'Nobu by the Beach', writes Andrew Forbes (The Luxury Editor).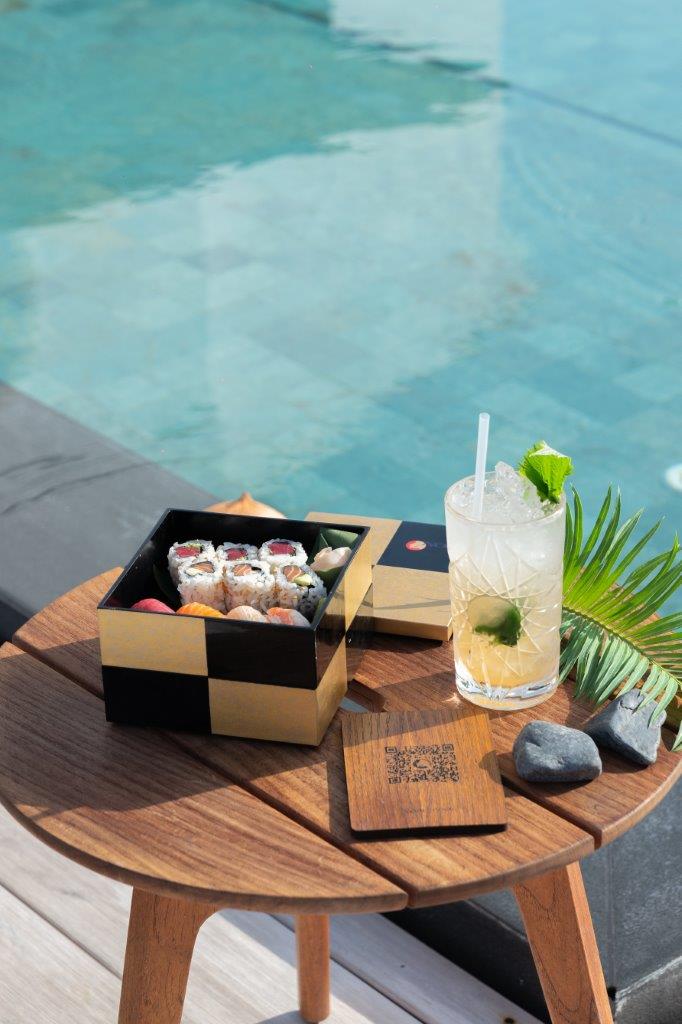 Created by Nobu Marbella Executive Chef Eleni Manousou and her talented team, this new venue is just steps from the beach, near to Nobu Marbella Hotel, on the prestigious Puente Romano property, rich in sub-tropical gardens, which is renowned for its gastronomic offering for guests and visitors.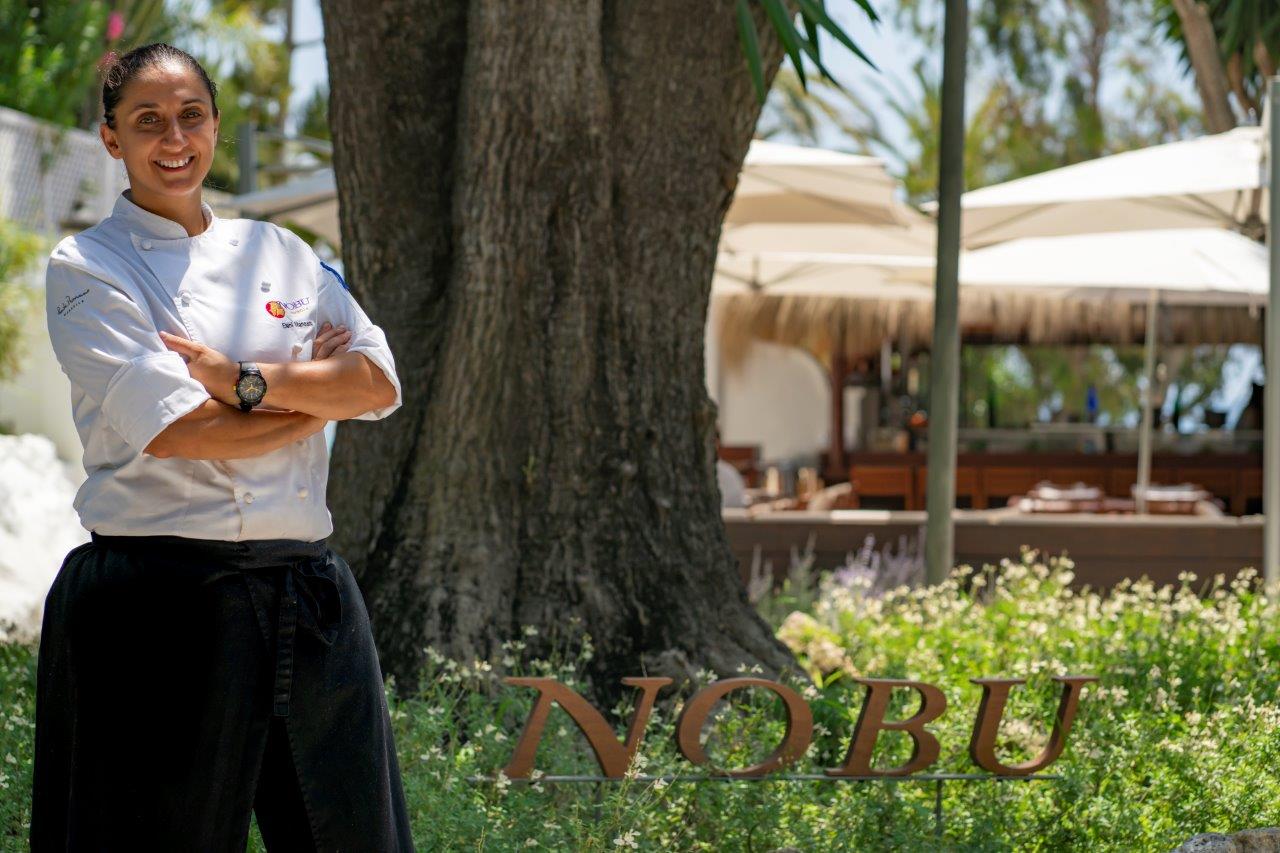 ¡Irasshaimase!
Summer never tasted so fresh!  No need to wait 'till dinner to enjoy Nobu's signature dishes. Now one can tuck into beautifully hand crafted nigiri, sashimi, maki and cut rolls for lunch. Book a table in the shade over-looking Marbella's iconic Paseo Maritimo and to the sea beyond, or order to-go and enjoy Nobu on the beach, at home or on the terrace of your suite.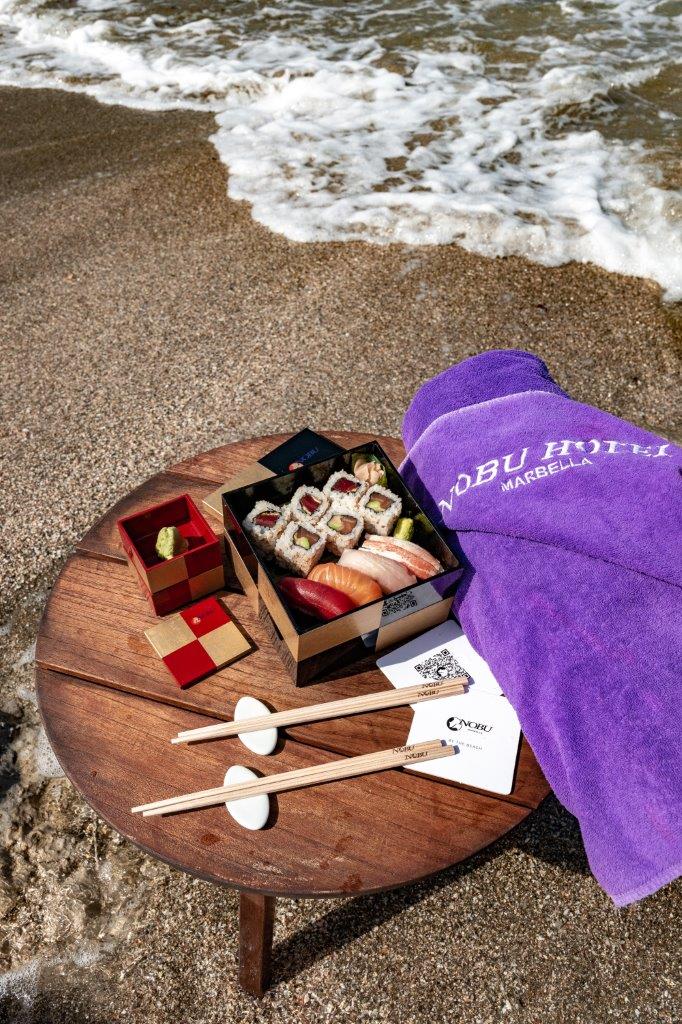 Signature favourites are there including the renowned Yellowtail Jalapeño – a enticing dish of finely cut tuna with garlic, jalapeño chili and yuzu dressing. The fresh coriander adds another layer of freshness to this iconic dish that is just perfect for a summer lunch.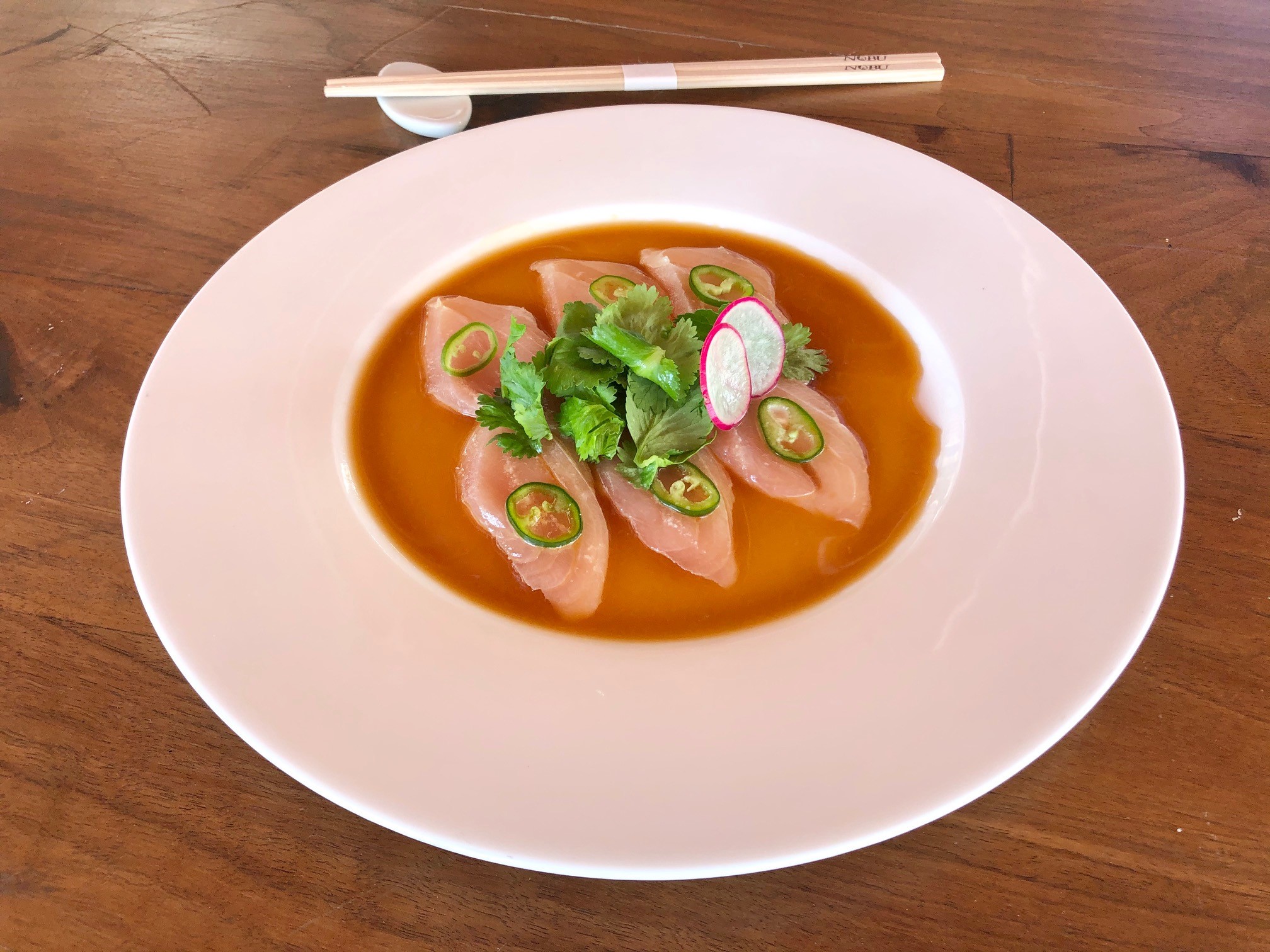 The menu means you will be spoilt for choice.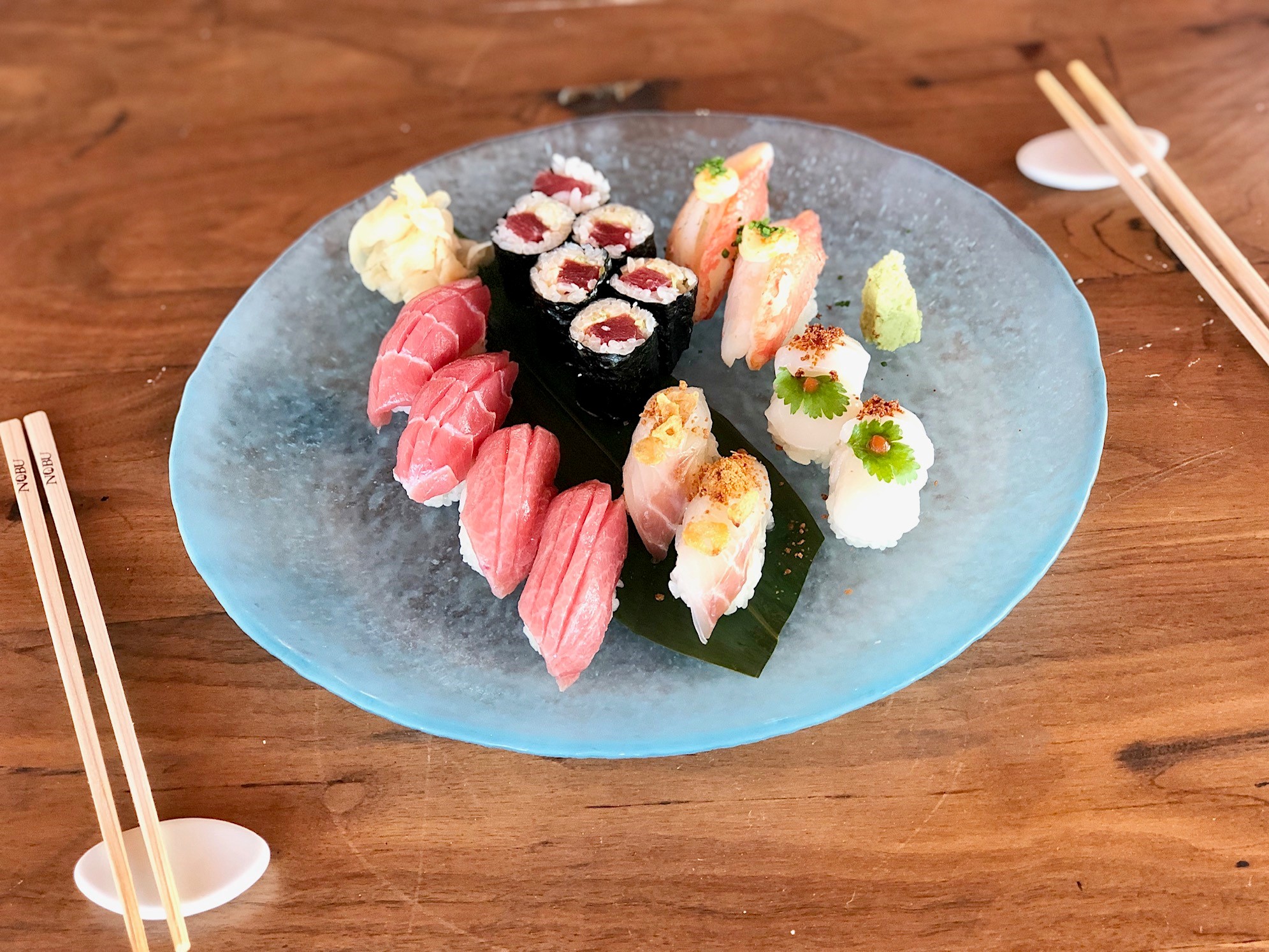 I decided to invite an expert to guide me, and asked Chef Hideaki Mizushima (Head Sushi Chef at Nobu Marbella since 2019) to prepare a selection of pieces. What a great choice! From local Almadraba tuna, to delicately flavoured scallops, to fine salmon as well as the super tasty Tataki of salmon with Karashi su miso.
Each piece allows the subtle flavours of the fresh fish to sing. Not over-powered by soy, wasabi or spices – instead a tantalising balance of fresh herbs, some chili and the best fresh fish.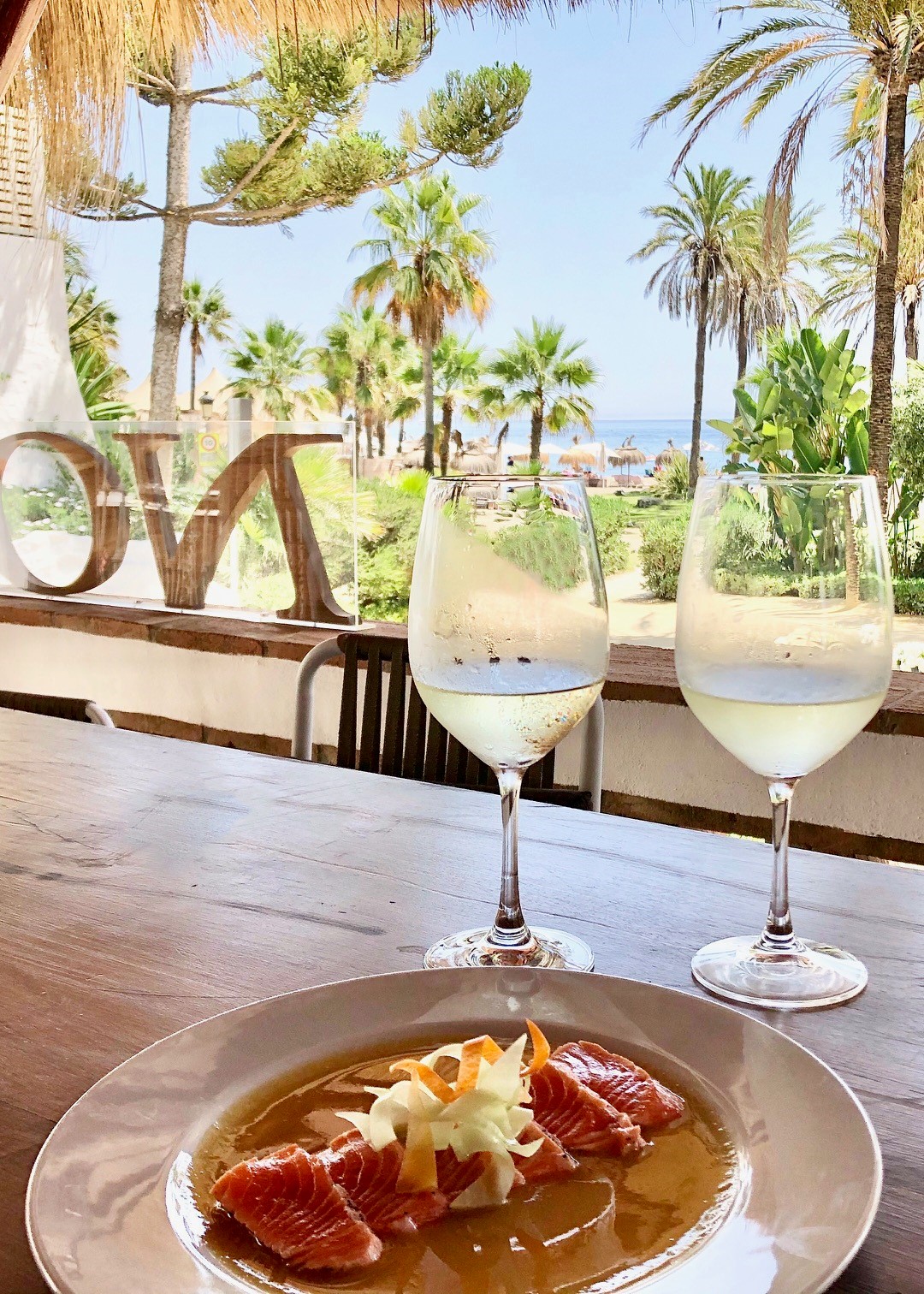 Paired with a refreshing and light sauvignon blanc, I was in heaven!
Nobu for Lunch
The menu at Nobu by the Beach is more limited than the evening restaurant, as there are no hot dishes available By the Beach. At lunchtime, each item is prepared to order in the beachside open kitchen by expert Nobu chefs under the direction of Executive Chef Eleni Manousou, the first female executive chef to be named by Chef Nobu Matsuhisa.
Fresh & Local
The beauty of Nobu cuisine is not only the innovative dishes, bringing together ancient traditions with modern international influences, but also the wonderful freshness of all the ingredients. Southern Spain is renowned for its produce, especially the abundance of fresh fish and seafood from the Mediterranean and Atlantic. This is reflected in the menu. Greek born Executive Chef Eleni truly showcases the quality of the ingredients here and also introduces her own style to many dishes that reflect the sun-kissed Mediterranean that she so loves.
Master Class
Nobu Marbella also offer private masterclass sessions with Chef Eleni, to take guests behind the scenes of the Marbella restaurant. Learn insider secrets of fine-dining Japanese Nobu cuisine, unique flavours and special ingredients used – not just Nobu's legendary signature dishes such as the black cod but gain an insight into the locally-sourced recipes created by Manousou and inspired by Andalucía's abundant produce.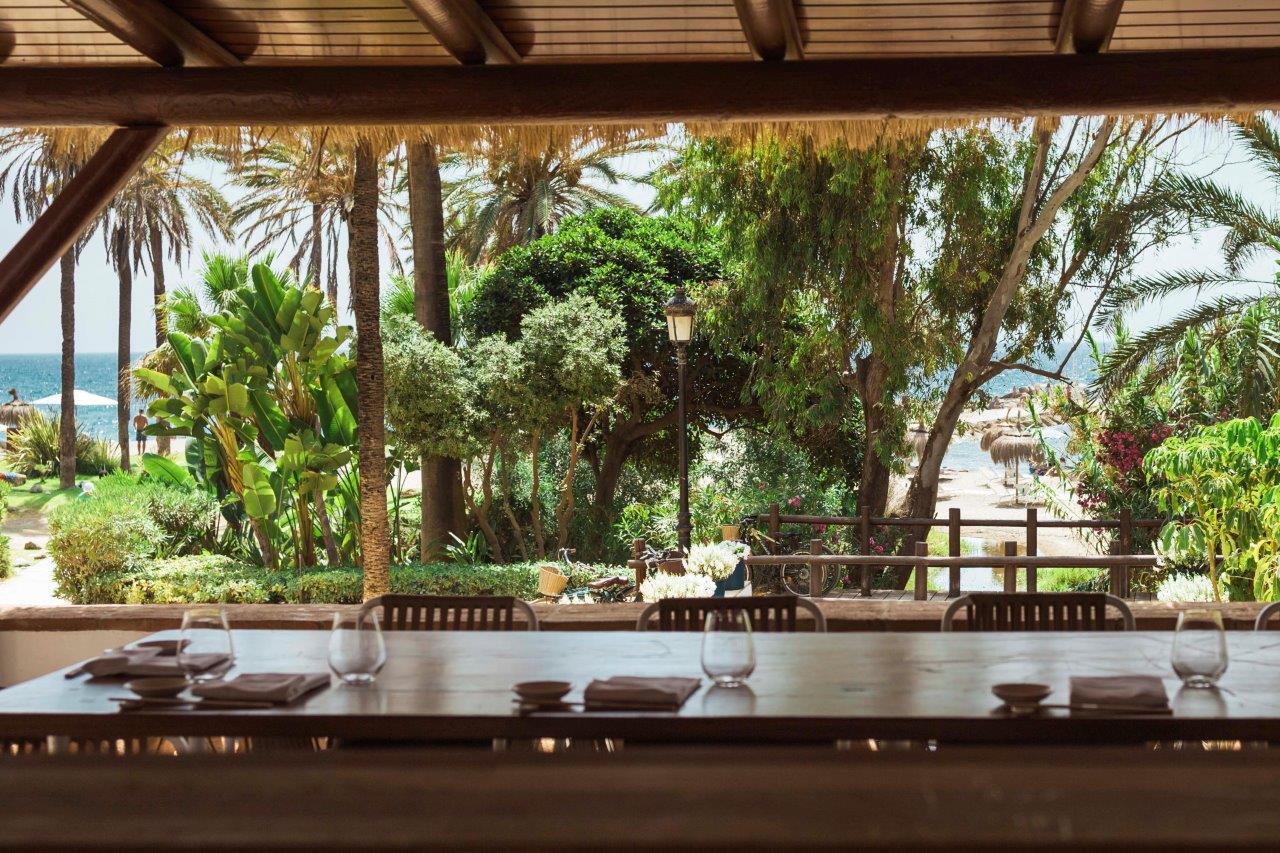 Executive Chef Eleni Manousou – Nobu Marbella
Originally from the Greek island of Kythira, Chef Eleni was inspired to cook by spending time with her mother and grandmother. Nobu cuisine is perfectly suited to Chef Eleni's style of respecting tradition and classic styles whilst always wanted to find new and creative ways to work with fresh ingredients. Chef Eleni has refined her expert Nobu cuisine skills over the past decade at leading Nobu locations.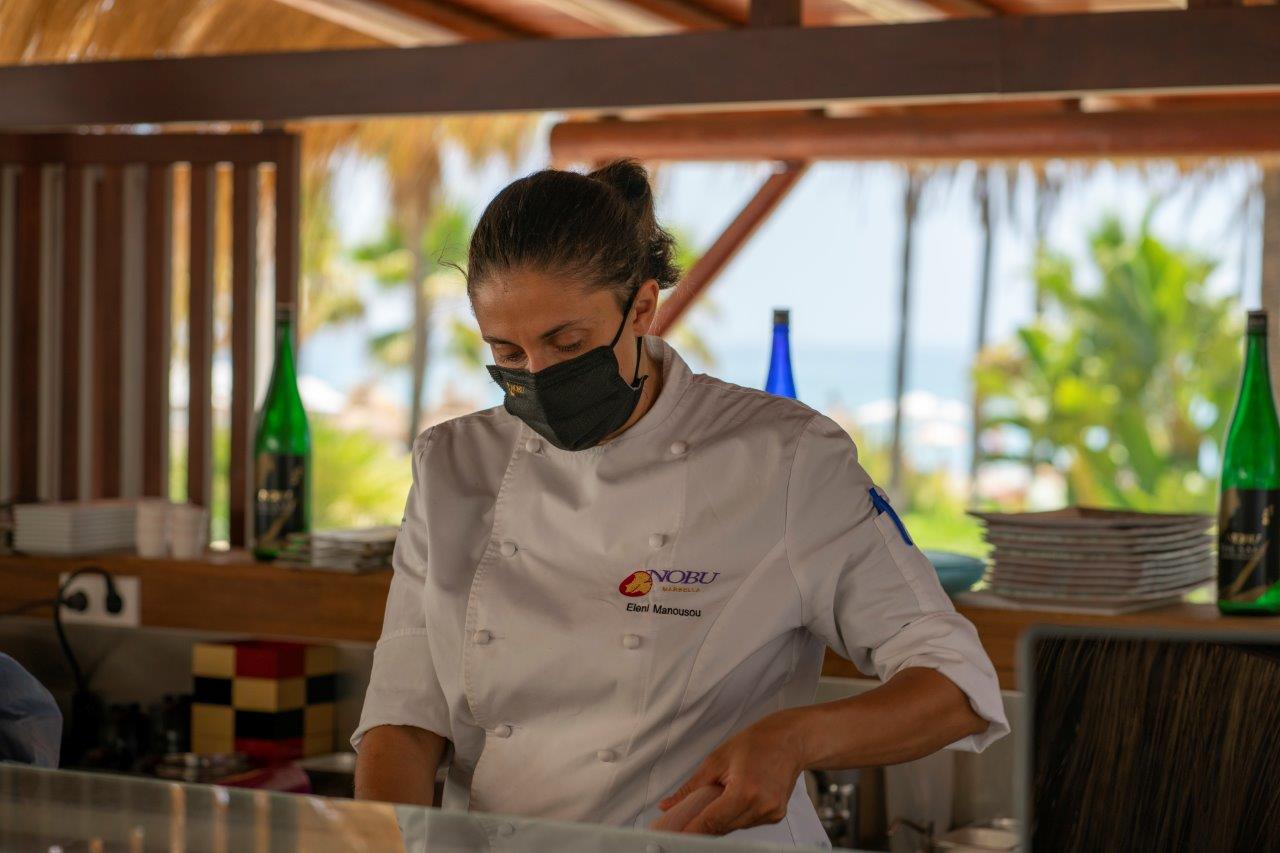 This year, Chef Eleni marks her 10-year anniversary working with Nobu and to celebrate her milestone, she has created a range of limited-edition dishes inspired by Marbella's amazing local produce. Eleni works with local fisherman in Southern Spain and chooses the best catch of the day which will then influence and shape the menu of the day.
Chef Hideaki Mizushima – Nobu Marbella
Chef Mizushima came to Nobu Marbella from the flagship Nobu London restaurant following years of training in his home country of Japan as well as in Hawaii where he was first introduced to the unique cuisine created by Nobuyuki "Nobu" Matsuhisa.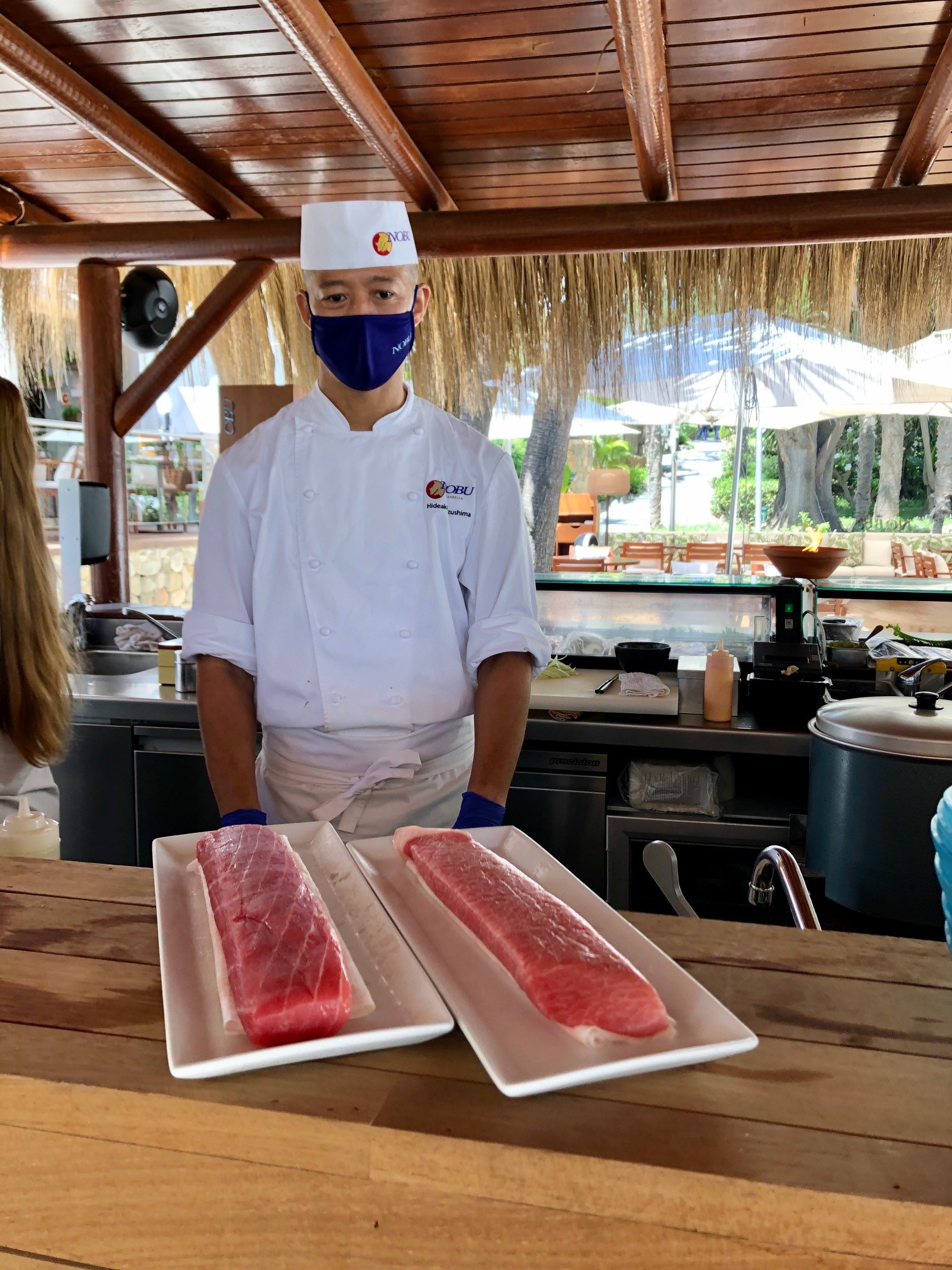 Mizushima tried Nobu's interpretation of sashimi back in 2007 and became a fan. "Nobu food is revolutionary" he says. There started Chef Mizushima's journey with Nobu that has brought him to Nobu Marbella.
Information
Nobu By the Beach
Open every day: 13.30h – 19.00h
Address: Bulevar Principe Alfonso von Hohenlohe s/n 29602, Marbella – Spain
Tel: +34 952 77 86 86
Website: marbella.nobuhotels.com/dining/
The Mobu Marbella is included in our guide to the best luxury hotels in Marbella