In Venice there are many hotels that fit within the luxury bracket, but those that have the kudos of 'truly luxurious', well there are only a few….
Located on the Grand Canal, the Bauer Hotel, easily falls into the bracket of being truly palatial. Actually two hotels in one, hotelier Francesca Bortolotto Possati took over the Bauer from her grandfather who built the Venetian brand into an international success story. Francesca split the hotel into two properties; Bauer's L'Hotel and Bauer's Il Palazzo which offers two different experiences to guests.
The Bauer L'Hotel housed in an 18th century palazzo presents a more contemporary offering to Bauer Il Palazzo. With Art Deco touches and an urban vibe and finished in that slightly over the top opulence that you would expect in this city; rich colours, textures and fabrics line the communal areas and original art works complete the look exquisitely – this hotel is truly Venetian!
The Bauer Hotel features in our best luxury hotels in Venice edit.
Restaurant De Pisis
De Pisis is the hotel's restaurant and what a restaurant it is; headed up by executive chef Hiraki Masakazu who brings a dash of Asian influence to Mediterranean and Venetian cooking. With an indoor dining room and outdoor terrace, the terrace sits flush with the Grand Canal, directly across the water is the Chiesa di Santa Maria della Salute and in between it gondolas and boats go about their daily duties, magical and simply too romantic.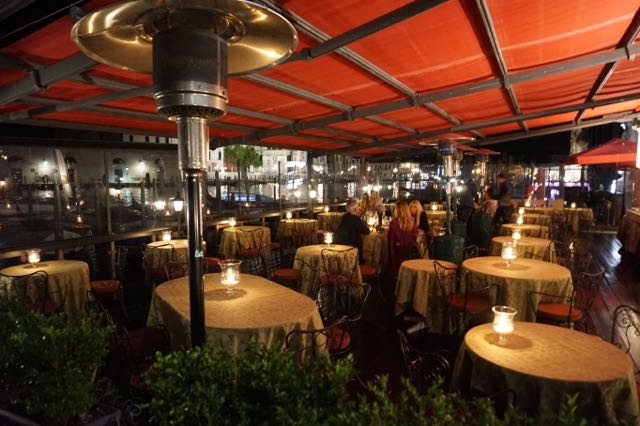 When you are invited to come and dine at the De Pisis, it's an offer you simply cannot refuse and after walking the length and breadth of Venice in a day we were famished and certainly ready to enjoy this fine culinary experience.
Before I start telling you about the food let me set the scene. Is there anything more romantic than this scenario… Our water taxi takes us across Venice and docks at San Marco just in time for the sun setting. By day-time San Marco is packed with tourists but by night it transforms into a calming area with just a few buskers and tourists wandering about.
Walking through St Marks square and just in time for another quick photo, and then through Salita S Moise passing by the cities most expensive shops, think Prada, Mui Mui, we found ourselves in Campo San Moise with the Bauer directly across from us.
We stopped outside the entrance to the Bauer to take in the 1940's facade before we entered through the revolving door to the entrance foyer.
Walking through the foyer is a treat to the senses, rich gold finishes, laquered wood, marble floors, and chandeliers adorn the space. It is like stepping back in time to a bygone era of hospitality.

De Pisis is located at the far end of the hotel, passing through the bar which has a lively young atmosphere and a DJ playing house music, the hotel is anything but stuffy.
The Meal
De Pisis is divided into an indoor dining room and an outdoor terrace. We were seated out in the terrace and I think we possibly had the best seat in the house! Right in the corner with uninterrupted views looking directly out to the Grand Canal.
The Menu – is split into Appetizers, First Courses, Meat, Fish and Vegetarian and Desserts. For convenience you can chose from a 4 course tasting menu €115 or a 6 course blow out €155.  Read the menu here
Wine – There is an extensive wine and drinks menu, we stuck with a firm favourite, Pinot Grigio, we are in Italy after all!
Food – The one thing I would like to get across about De Pisis is that they are not mean with the portion sizes. With many fine dining experiences you can sometimes come away still feeling hungry, but we were completely stuffed. Read on to see what we ate.
Bread – Complementary fresh breads that were made that day were served with curls of freshly made butter, salt and deep fried vegetable crisps.
Surprise Dish – To get us ready for the appetizer we had a fish dish which was mackerel and I had a refreshing little radish salad.
Appetizer – For pre starters Gillian my dining partner enjoyed a beautiful melt in the mouth tuna steak served with a smoked eggplant – the tuna got 10/10. I had an exquisitely presented dish of a vegetarian scotch egg, asparagus, on a bed of risotto. It was actually one of my favourite dishes! You can see the Asian touches in the presentation of this dish.
First Course – My first course was a vegetable Minestrone, not my favourite off all the courses, but a good pacer dish as there was still a lot to eat. Gillian had curls of Cod pate on toasts with dill.
Mains – For mains, and I really loved this dish, I had the Eggplant rolls with fondant tomato and pesto sauce. I could have had two helpings, they were so moreish. Gillian had wild salmon that had been lightly cooked with a crust top and caviar on the bottom and finished with cute mini vegetable balls.
Dessert – Now anyone that knows me knows I love cheese and if it is on a dessert menu I will always pick it, so that evening was no exception. Tallegio, Gorgonzola, Monte Veronese, Pecorino and Asiago with homemade crackers, and fruit jams to complement the cheese and it was a healthy sized portion! Gillian had the Azuki beans chocolate bar, with raspberry ice cream (and I had some too…. couldn't resist) it was delicious.
Final Thoughts
The Bauer and De Pisis are truly extravagant and a meal in the restaurant is something that you will remember for ever. It's the perfect place for a couple to go, and enjoy everything an evening in Venice by the grand Canal has to offer.
The Finances
A meal for two including wine is approx £200 at De Pisis
A room is approx £240 per night.
Contact Details
Address: S. Marco, 1459, 30124 Venezia VE, Italy
Tel: +39 041 520 7022
Web: www.bauervenezia.com