The county of Hampshire lies on the southeastern coast of the UK. Most of the country's cruises depart from the port town of Southampton and the area has a rich maritime history. Inland, visitors can explore the huge New Forest National Park with its free-roaming Shetland ponies, deer, open moors, idyllic woodland and great pubs. Make your stay in Hampshire, even more, inviting by booking one of these hotels.
Lime Wood
Found in the beautiful little Forest town of Lyndhurst, The Lime Wood was once a mediaeval hunting lodge. It belonged to the Duke of Clarence in the 1700s and is now an extravagantly decorated 32 roomed boutique hotel. The Herb House Spa and heated outdoor pool epitomises country chic. The main dining room, Hartnett, Holder & Co, serves foraged foods and hand-reared meats that have been smoked on-site. Velvet couches and funky Tracy Emin artworks adorn the walls. Guests can also dine at Raw & Cured or The Courtyard for lighter bites.
Lainston House
Stay just outside the bijou city of Winchester in a 17th-century hotel with its own cookery and falconry schools. The hotel has retained its period feel with plenty of velvet textiles and antiques. Some of the 50 opulent rooms have four-poster beds, double showers and freestanding tubs. 63 acres of land provides plenty of outdoor activity, including archery, croquet, tennis and fishing. Menus in the wood-panelled restaurant Avenue, are created by Chef Andrew Birch and include local delicacies.
Four Seasons Hotel Hampshire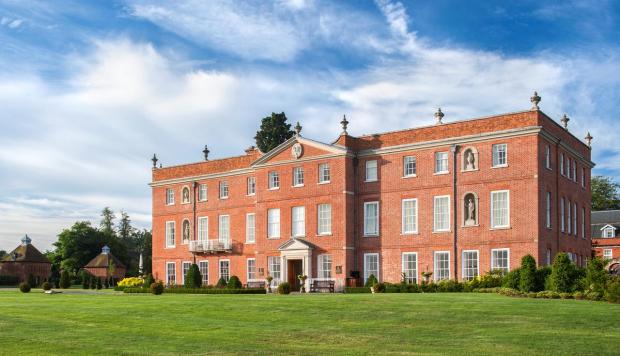 Hotels in the Four Seasons group promise a reliably luxurious standard of living, as well as great food. This one in Dogmersfield encompasses 500 acres of land, with accommodation varying from a Grand Manor Room with estate views, through to an elite two bedroomed Royal Suite. The decor reflects its countryside locale, as does the culinary offer. Meals can be taken at Wild Carrot, Cafe Sante, in the Library, the bar, or Fox Hollow (the latter providing private dining for groups). The hotel is very child and pet friendly, ideal for a family break.
The Pig
The Pig is another superb New Forest hotel, found in the village of Brockenhurst. Rooms are a mix of lodges, huts and forest hideaways with wood stoves, This trendy new brand is where luxe meets rustic, with earthy interiors, organic local produce, home comforts and family-style dining. It's committed to 25-mile menus and many ingredients come from the kitchen garden. Head past the beehives, take the bridge over the lake and you'll come to the charming spa housed in a Potting Shed and Shepherd's Hut.
Tylney Hall Hotel & Gardens
Located in Hook close to the town of Basingstoke, Tylney Hall is a Grade II listed building in sweeping landscaped grounds with carefully tended gardens and an 18-hole golf course. There's a welcoming classic country feel to the place, with florals, artwork and lavish marble bathrooms. It houses 113 rooms, health suite, indoor and outdoor pools, a wood-panelled Oak Room Restaurant and a fancy lounge for sumptuous afternoon teas.