The Italian capital offers romance, history and a hot-blooded culture. After over 3000 years of inhabitancy, Rome's cityscape is exciting and rich. From Roman wonders like the Colosseum, the Forum and the Pantheon to the stunning monuments of the Catholic Church such as St Peter's Basilica, Rome is packed full of historical treasures. Amongst these behemoths are hidden gems of elegant piazzas and incredible fountains, each a baroque showcase around every corner. Any discussion of Rome wouldn't be complete without a mention of one of the Roman's greatest pleasures – feasting. Those in search of fine wine and succulent food will be falling over incredible lively pizzerias and trattorias and there is always the opportunity to dine alfresco. Discover our favourite luxury accommodation in the city of love.
Hotel d'Inghilterra Roma – Starhotels Collezione
A stroll away from the Spanish Steps, the Trevi Fountain and the Roman Pantheon, this five-star residence occupies a 16th-century mansion house just off the Via Condotti. The interiors showcase classic Italian style, with ornate gilt mirrors, oversized oil paintings, polished wood antiques, panelled rooms and tactile velvet textiles. Its Roman rooms and suites, now refurbished, previously hosted the likes of Mark Twain, Elizabeth Taylor, Gregory Peck and Henry James. Cafe Romano, the in-house restaurant spills onto the streetside during the warmer months. The hotel bar is one of the oldest in the city, having served customers since 1845.
The Rome EDITION
Conceived and brought to life by entrepreneur Ian Schrager and executed by the Statuto Group, the Rome EDITION hotel redefines luxury in the Eternal City. Boasting 91 intimate rooms and situated near Via Veneto, one of Rome's most coveted streets, the hotel combines sophistication, meticulous attention to detail, refined aesthetics, and high design to create a meeting place for both locals and travellers. Housed in a magnificent building from the 1940s, the hotel retains its original features, including stunning courtyards, statues, and lamps. The Rome EDITION offers three unique bars, a rooftop lounge with a pool, a show-kitchen restaurant led by renowned Roman Chef Paola Colucci, and an urban wellness space. Chef Colucci, known for her emotional approach to cooking, presents a menu of traditional Italian dishes with a modern twist at the signature restaurant, Anima. The hotel's expansive garden serves as both a piazza and a dining space, surrounded by lush greenery and featuring a relaxed all-day terrace. The Lobby, with its grand ceilings and travertine floors, sets the social tone, while the Punch Room and Jade Bar provide unique mixology experiences. The seventh-floor rooftop, The Roof, offers panoramic views of Rome and a place to enjoy Chef Colucci's Mediterranean-inspired cuisine and regional cocktails. The guestrooms showcase EDITION's signature design elements with an Italian touch, featuring custom furniture, Italian artwork, and luxurious amenities.
InterContinental Rome Ambasciatori Palace
Experience La Dolce Vita in the Eternal City. The new Ambasciatori Palace is InterContinental's latest lifestyle resort, a grand, early 20th-century building once used to house visiting ambassadors. Found on Via Veneto, it exudes elevated Italian elegance, along with international influences, such as its Scarpetta NYC restaurant. Charlies' rooftop is the place to hang out long into the night, with live music, DJ sets and mixology along with epic views, plus there's the Anite Lounge & Bar in the lobby. With accessible rooms, a nanny service, notary services and fitness trainers onsite, this hotel tends to your every need.
Six Senses Rome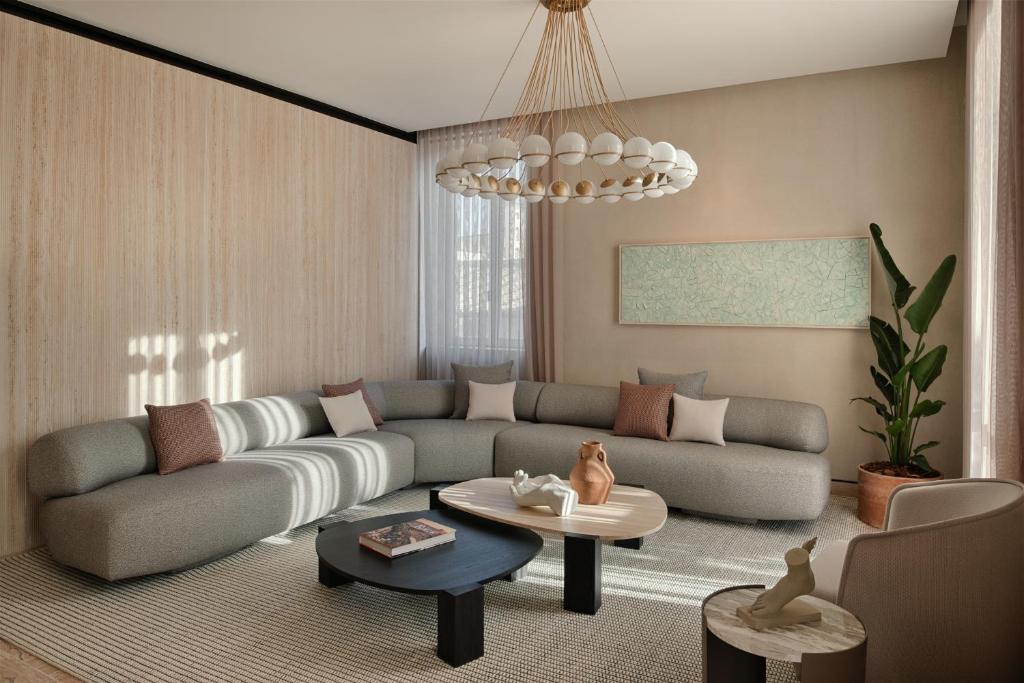 Marking the brand's first urban resort, Six Sense Rome brings its eco-friendly and wellness-forward approach to what can often be a hectic metropolis. Lashings of interior foliage and planting help create this sense of city-centre oasis that belies its super central location on one of Rome's busiest roads. The building chosen for the group's venture into the Roman market is the 18th-century Palazzo Salviati Cesi Mellini, which briefly moonlighted as a bank. But it received a full makeover with two restaurants by Sicilian chef Nadia Frisina, a new spa complementing its pre-existing Roman baths and bedrooms designed by the famed Patricia Uriquiola.
H10 Palazzo Galla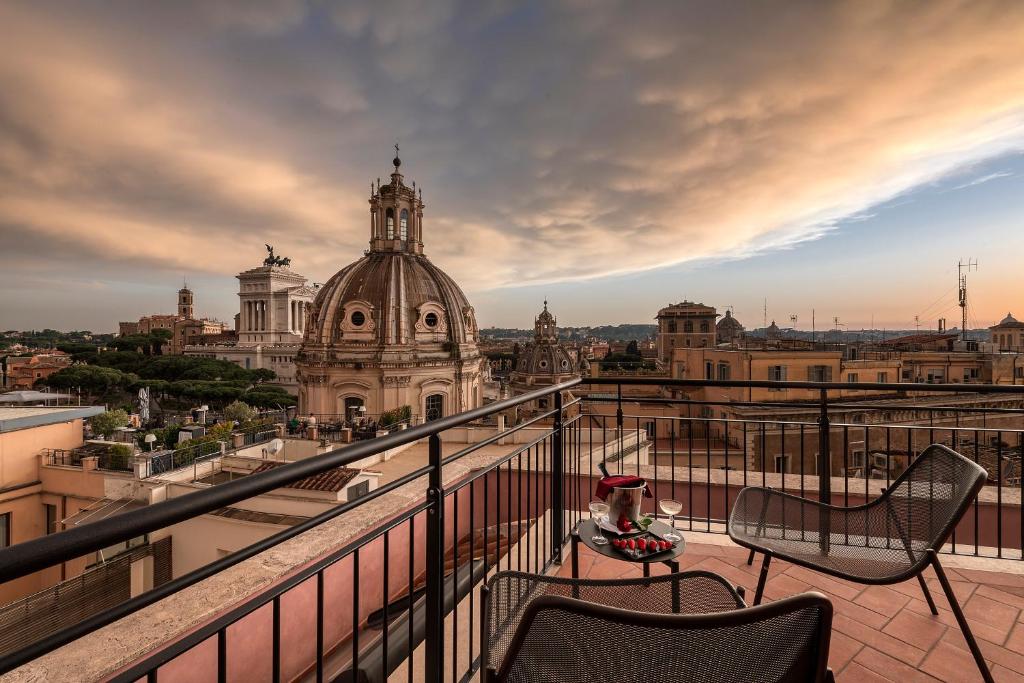 A boutique hotel housed in a restored 14th-century palace, the H10 Palazzo Galla is steeped in history. Built in a classic Roman style, with modern amenities and elegant decor, the property is within walking distance of the city's iconic attractions (the Trevi Fountain and Roman Forum are fewer than 500 metres away and can be seen from the rooftop). 43 bedrooms have a vintage flair and are equipped with coffee machines and bathrobes. The best views can be enjoyed from the sunny terrace, but there's also a bar and lounge area and a restaurant that serves traditional Italian cuisine.
Sina Bernini Bristol, Autograph Collection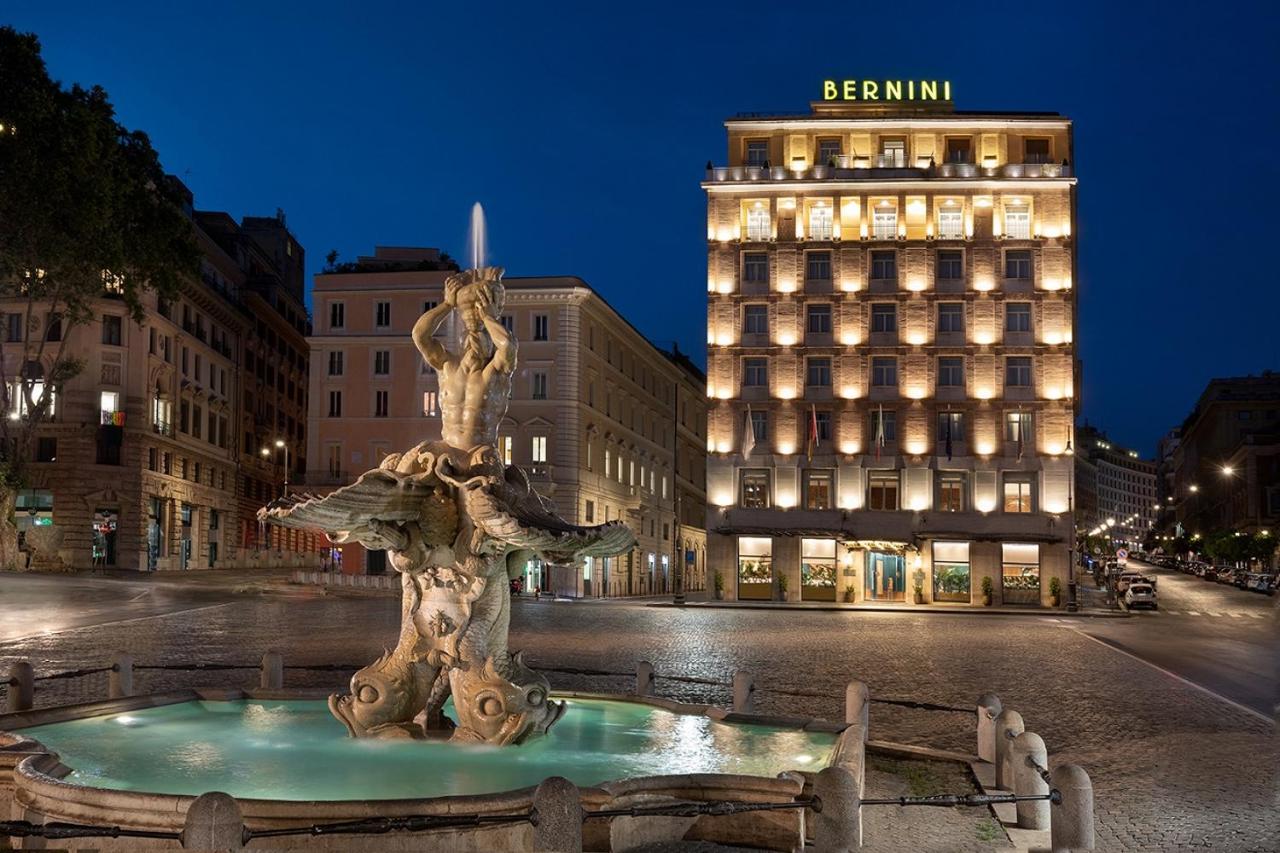 Built in 1874 and fully renovated in 2022, the Sina Bernini Bristol stands proudly overlooking the Piazza Barberini and its ornate Triton Fountain. This period grandeur continues inside, with Murano chandeliers, frescoes, silk textiles, travertine marble, damask and brocade. 166 bedrooms have a generous spread of bright colours — notably those in the contemporary Signature category. Relax at the WellBe spa and thermal suite, or over a slow meal at The Flair, the rooftop restaurant with dishes by Chef Alessandro Caputo. A second dining room is found on the first floor, enjoying views over the piazza.
W Rome
The youthful W brand has made its first foray into Italian territory with a Roman property, which opened at the end of 2021. Two historic palazzos a stone's throw from the Spanish steps were combined to create W's 162 bedroom flagship hotel in Italy. The outside may represent the country's heritage, but inside, it's entirely evocative of modern Italian style. A secret garden, hand-painted mural, the Michelin-starred Sicilian restaurant Ciccio Sultano, an open-air courtyard, a patisserie selling homemade gelato and the Daria Reina fashion store are all part of the concept, with interiors designed by Meyer Davis. A rooftop bar with WET deck and pool makes the bold, funky hotel party central. 
Rome Cavalieri, A Waldorf Astoria Resort
Offering the most spectacular view over Rome from its elevated position on Monte Mario, the Rome Cavalieri, A Waldorf Astoria Resort will exceed your expectations in so many ways. From its Michelin-star dining room, to its luxury palatial spa and resort style pool, through to its 15 acres of lush parkland and world-class art collection the Rome Cavalieri, A Waldorf Astoria Resort offers an elegant refuge away from the hustle and bustle of the city that will satisfy the most discerning of luxury travellers. At the hotel all rooms are designed with sleeping and living areas and come with a range of stylish features like their indulgent marble bathrooms and spacious balconies for an al fresco breakfast or evening aperitifs. For all-out luxury choose a room on the Imperial floor which includes access to their club lounge and for over the top luxury choose the Planetarium suite which includes masterpieces throughout and a vast private roof terrace and jacuzzi.
J.K. Place Roma
There aren't many luxury accommodations in the whole of Rome that can top the sheer splendour of this multi-award-winning private townhouse hotel. J.K. Place is situated in the heart of the Eternal City and offers five-star accommodation that is within walking distance of the Spanish Steps, Pantheon, and other places of interest. Each of the hotel's 23 double rooms and seven suites was designed by world-renowned Italian architect, Michele Bonan, and decorated with upscale furniture by some of the best Italian artisans. The J.K. Roma experience is pet-friendly and features all the amenities that one would expect from a world-class hotel.
Villa Spalletti Trivelli
Imagine checking into a historic residence during your next visit to Rome, complete with elegant drawing rooms, regal bedrooms, a grand library, and genuine antique furnishings. Villa Spalletti Trivelli has all the bells and whistles to make you feel as though you were a guest at a stately home in the early 20th century, whilst simultaneously providing all the necessary modern amenities to make your stay as comfortable as possible. This five-star hotel doubles as an urban villa retreat and features a majestic Italian garden and relaxing spa to help guests unwind after a long day of sightseeing.
Palazzo Manfredi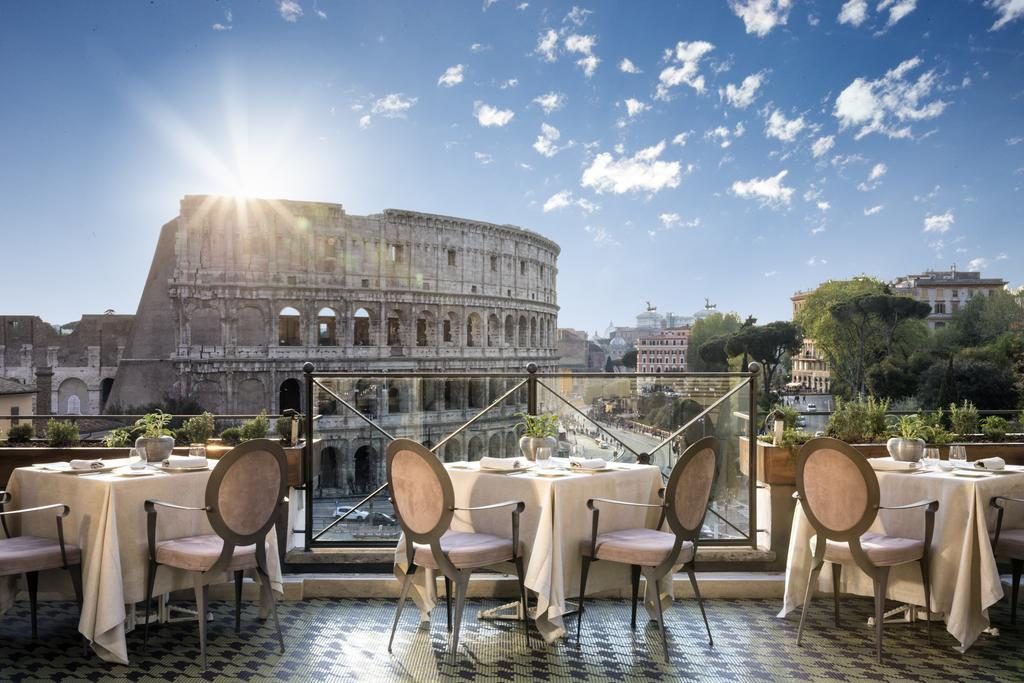 Named after Count Goffredo Manfredi – one of Rome's most influential public figures – Palazzo Manfredi is the ultimate luxury getaway for anyone who's ever wanted to experience the Colosseum and other fabulous attractions from their doorstep. Yes, this five-star boutique hotel is so close to the world's most famous amphitheatre that you can practically hear the gladiators of old from within your suite. As such, Palazzo Manfredi offers spectacular views over Rome's ancient sites and is only a two-minute walk from Colosseo Metro Station, making travelling to and from the hotel a breeze.
Hotel de Russie
The glamorous Hotel de Russie was established in 2000 and offers a luxury hospitality service to wide-eyed travellers from all around the world wanting to experience Rome in all its glory. The hotel is located on the historic Via del Babuino, only 50 metres from Piazza del Popolo, and is within walking distance of the city's main tourist attractions, such as the Spanish Steps. Guests can expect top-notch amenities, as well as a host of activities that are sure to make their stay as comfortable and memorable as possible. These include a secret garden, restaurant, spa, and fitness centre.
Portrait Roma
"Hospitality is an art and Portrait Roma has made it a masterpiece." This is the level of excellence that Portrait Roma has been delivering for years as one of the Eternal City's most stylish five-star establishments. Another of Michele Bonan striking designs, Portrait Roma epitomises luxury and elegance and is just a short walk from the Trevi Fountain and the Spanish Steps. The hotel is also one of only 10 in Italy, and 26 in the whole of Europe, to have been awarded a coveted five-star rating in Forbes Travel Guide. What's more is that Portrait Roma has managed to achieve this feat twice.
Hassler Roma
Hassler Roma, or Rome's Stairway to Heaven, as the legendary hotel is popularly known, is located at the top of the Spanish Steps in the heart of Rome and has been serving its clientele for the past 125 years. The hotel overlooks one of the city's most famous squares, Piazza di Spagna, and offers guests a central, five-star hub for all their adventures in and around Rome. A total of 87 luxe rooms is available with only the best amenities, along with a sauna, fitness centre, and a Michelin-starred restaurant. Hassler Roma prides itself in being unpretentious and offering a warm, personal hospitality service.
Aldrovandi Villa Borghese
The friendly and multilingual staff of Aldrovandi Villa Borghese always treats their guests like royalty, which is very fitting, seeing as this five-star urban retreat is a former 19th century Umbertine palace. The hotel overlooks Villa Borghese and sports lush, English-style gardens, complete with water features and pavilions, that are sure to transport guests to a place of inner peace and tranquillity. On the inside, the suites absolutely ooze luxury with solid marble bathrooms, antique furnishings, and only the best amenities. Even though the hotel isn't located in the city centre, the facilities more than make up, as guests can look forward to a spa, sauna, fitness centre, and a Michelin-starred restaurant.
The St. Regis Rome
Known as Rome's first luxury hotel, The St. Regis has been in business since 1894 when Swiss hotelier, César Ritz, welcomed the first guests about 125 years ago. The hotel epitomises world-class accommodation and is situated in the city centre, overlooking Piazza della Repubblica, next to Termini Train Station, as well as the Baths of Diocletian. The term 'old world grandeur' best describes the 161 rooms and the level of service provided by highly-trained staff. It must be noted that The St. Regis Rome is regarded as one of the world's finest hotels and that it has always been known for its great variety of pet-friendly facilities and services.