From the rooftop pools and beachfront hotels of Barcelona to the stunning palace-esque hotels in Seville right through to exclusive residences in Mallorca; we have all this and more in our wonderful collection of luxury hotels across mainland Spain and its surrounding islands. Read on and be inspired to book your next escape Spanish style.
Cotton House – Barcelona
The Cotton House Hotel, part of the Autograph Collection, is housed in the former headquarters of the city's cotton guild – a stunning 19th-century neo-classical property. We fell in love with this hotel from the second we walked through the door. Perfect for a romantic break, it offers easy access to the city's major attractions, 83 refined rooms including some four-poster beds, divine Mediterranean cuisine, and even its own library. The communal areas are rich in history with original features and antique furniture. The rooftop pool with a view looking out to the Sagrada Familia is stunning as is the elegant terrace dining area and cocktail bar.
W Barcelona – Barcelona
Located on the newer Barcelona boardwalk area, with views looking out to sea this hotel has the WOW factor from start to finish. Away from the city centre, this is perfect for beachgoers but like the Hotel Arts Barcelona, you will need to take a taxi to reach the city centre. With a nod towards Dubai's Burj al Arab, the W looks like a giant sail at sea. The funky poolside area feels like you're in Miami. And with three restaurants and a super trendy lounge bar, this a great hotel to feel instantly in the holiday party mood.
The Barcelona Edition – Barcelona
With its own unique cabaret supper club, signature restaurant Bar Veraz, rooftop bar and bespoke cocktail bar the Punch Room, you don't need to step out fo the front doors to experience a fantastic night out. Found on the edge of the El Born district, this 100 room boutique hotel with gym and saltwater pool is just steps away from the Santa Caterina market. Bedrooms are adorned in walnut panelling – echoing the traditional city shutters – and feature imported Anichini linens and Spanish leather headboards following a complete metamorphosis by Carlos Ferrater Studio.
The BLESS Madrid Hotel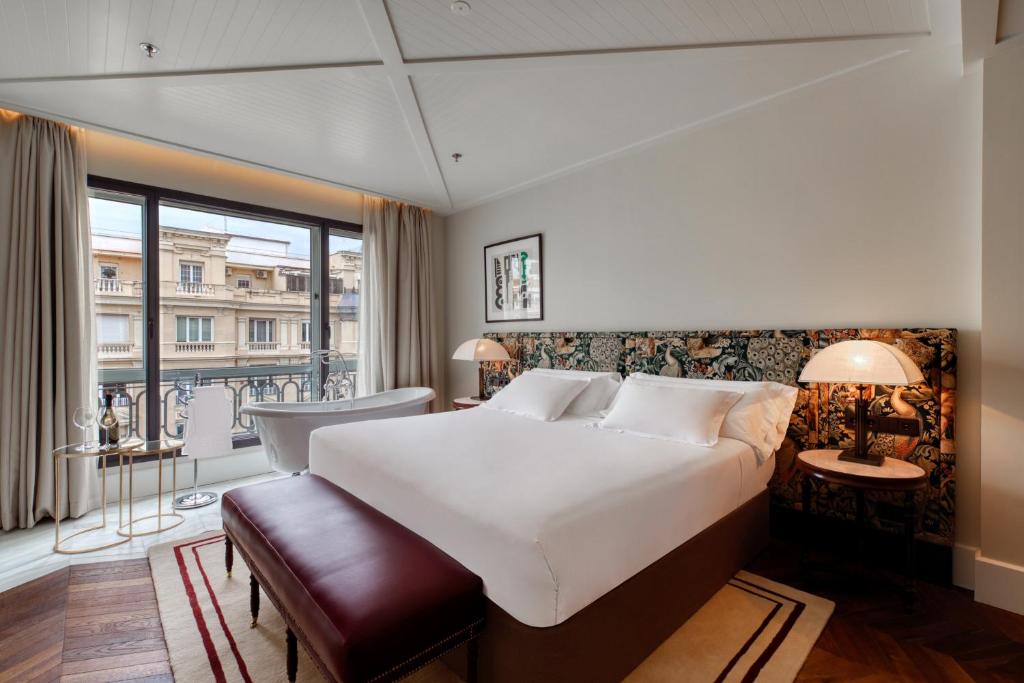 BLESS Madrid ((member of Leading Hotels of the World) is the flagship of a new collection of properties from Palladium Hotel Group.), found in the chic Salamanca district, has 111 rooms and suites; striking interior design by Lázaro Rosa-Violán; cuisine by celebrated Spanish chef, Martin Berasategui, including his new Etxeko Madrid restaurant; spacious guest rooms and suites with bespoke 'blessed beds'; Magness Soulful Spa; and Fitnic Power Gym. There are alluring public places to meet and share good times including the Versus Lively Lounge, a buzzing lobby bar & restaurant: the Fetén Clandestine Bar, in the basement, complete with bowling alley; and the Picos Pardos Sky Lounge too!
Hotel Palacio de Villapanes – Seville
This Cool Rooms Palacio Villapanes is a de luxe establishment in an eighteenth-century palace, the hotel's bedrooms benefit from high ceilings and wooden floors. Amenities are in keeping with its five-star rating, while upgrades feature sitting areas, or suites with living rooms and iMac computers, with some rooms having balconies and views over the city. Guests can take advantage of the wellness facilities, including a steam bath and a gym, and then relax in one of three typically-Spanish courtyards. Or take a dip in the rooftop pool and enjoy the sight of the near-by Giralda.
Mercer Sevilla – Seville
Set in a nineteenth-century palace in the lively El Arenal district, this twelve-room hotel is four minutes along a narrow cobbled street from the Plaza Nueva metro station, and slightly further to the cathedral. Rooms have all amenities, with some boasting balconies, or terraces complete with orange trees. Other facilities include a rooftop bar next to a plunge pool, and an on-site restaurant and cocktail bar. A lounge area is overlooked by a traditional courtyard and fountain, featuring the original marble spiral staircase in one corner.
Four Seasons Hotel Madrid – Madrid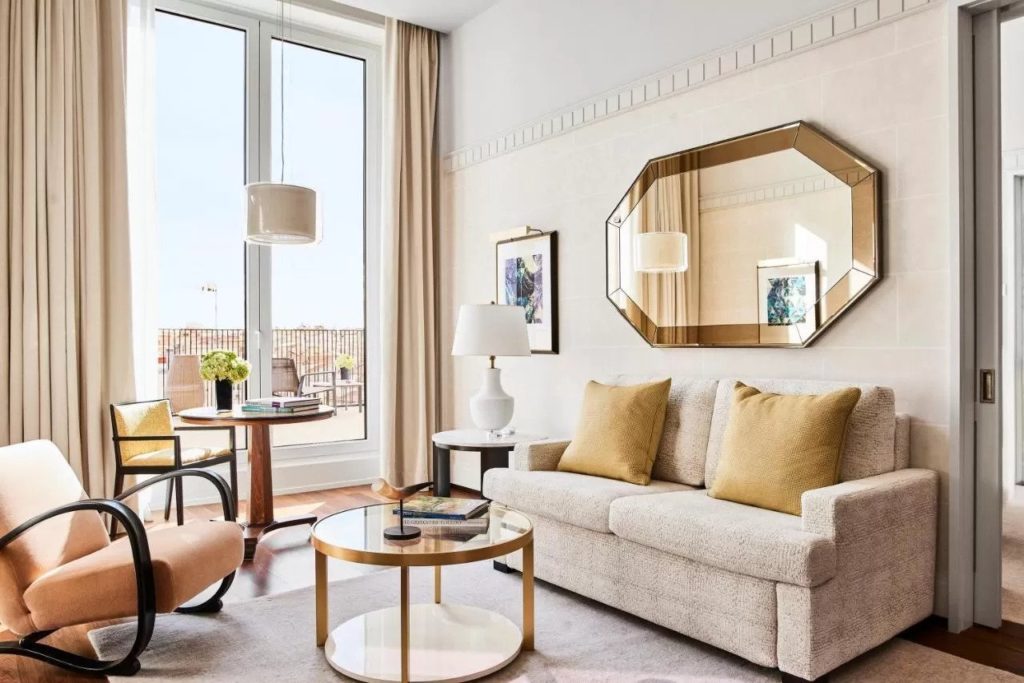 In recent years, Madrid has emerged as the must-visit European capital, with world-beating cuisine, extraordinary culture and increasingly, some of the nest hotels in Spain. At the sparkling new Four Seasons Hotel Madrid, it is promised, that History comes to life with vibrant modern energy. The hotel is in the very heart of the capital, revitalising seven historical buildings into one elite hotel. With rooftop dining by Spanish celebrity chef Dani García, a four-level spa and a sun-splashed pool terrace, Four Seasons is bringing a new level of luxury and service to Madrid.
Mandarin Oriental Hotel Ritz Madrid – Madrid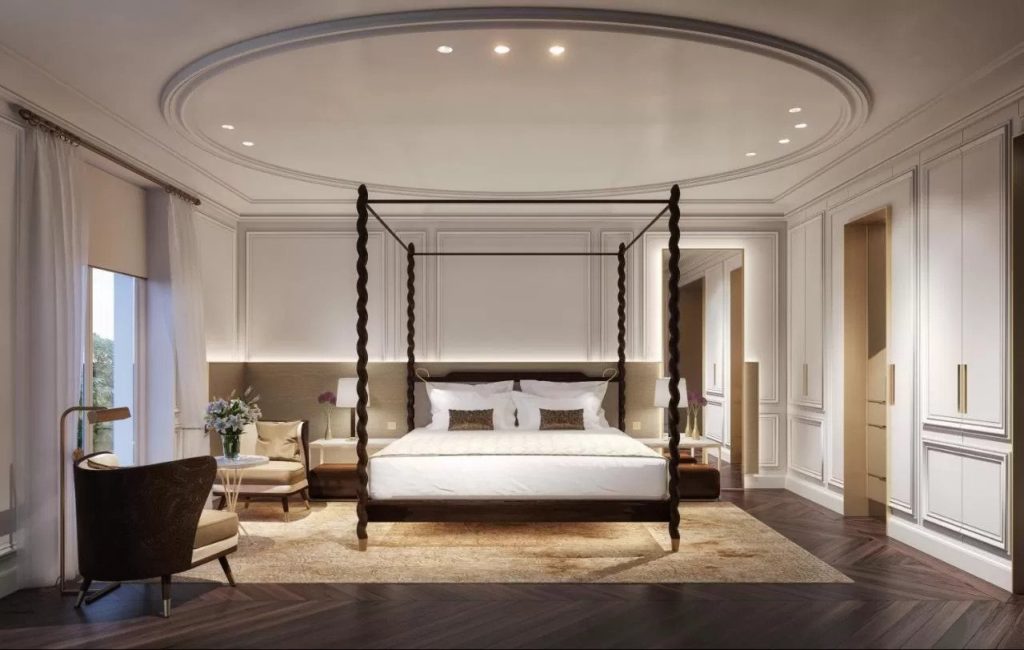 Surely one of Spain's most anticipated luxury hotel opening, the new Mandarin Oriental Hotel Ritz is a hospitality masterpiece. The meticulous restoration of this iconic property celebrates César Ritz's pioneering spirit. The prestigious central location offers five restaurants and bars overseen by one of Spain's most celebrated chefs and exceptional fitness and wellness facilities, Mandarin Oriental Ritz, Madrid is set to become the city's most luxurious hotel.
Hotel Santo Mauro – Madrid
The Hotel Santo Mauro is a 19th-century luxurious hotel in the heart of Madrid. It has recently undergone renovations with new and improved interior design. The hotel offers a unique experience – it was the residence of Duke of Santo Mauro, an influential figure in shaping Madrid's 19th-century society. It neighbours the district of Chamberi and has a 1,000 square metres garden offering the beautiful scents of rose bushes and horse chestnuts. The lavish restaurant was formerly the library and with a suite of meeting rooms, Santo Mauro is popular with business travellers. Additionally, the five-star hotel has a Chinese Lounge and a Gin bar where you can relax after a long day of Spanish sightseeing.
Only You Boutique Hotel – Madrid
The Only You Boutique Hotel in Chueca on the Calle del Barquillo in the centre of Madrid, features award-winning interior design from Lázaro Rosa-Violán. Housed in what was once a palace, it offers an effortlessly stylish contemporary luxury experience with vintage touches. Only You has a Thai style spa, Mediterranean lounge, its own YOUnique restaurant and a British cocktail bar, the only one in the city to have collaborated with Veuve Clicquot. The hotel is centrally located in one of the hippest suburbs near the best bars, restaurants and trendiest boutiques of the city.
Kempinski Hotel Bahia Estepona – Andalucia
The Kempinski Hotel Bahia Estepona is considered to be one of the most stylish hotel resorts on Andalucía's western Costa del Sol. Found west of Marbella's Puerta Banús and close to Estepona, this 5-star resort is where Kempinski sophistication meets the casual elegance of the Mediterranean. Expect beautiful sea-view guest rooms, junior suites, as well as exclusive suites for VIPs. There's a luxury spa; and striking pools set amongst the terraced gardens that reach down to the beach and sea. Kempinski Hotel Bahia Estepona has also become quite the foodie destination, with a wealth of dining options including the El Paseo del Mar leisure and dining which includes dining concepts well-suited to different times of time, moods, and occasions. These include the Black Rose the Bar, the hotel's signature cocktail bar and lounge; Baltazar Bar & Grill, inspired by a Spanish bodega; and the super stylish Spiler Beach Club.
Puente Romano – Andalucia
The Puente Romano, Marbella is located in the Golden Mile area of Marbella, an area specifically known for its breathtaking sea views. The big sell with the Puente Romano is the atmosphere and the layout, which feels just like an Andalusian coastal village. The resort's Six Senses Spa was awarded Spain's Best Resort Spa 2016 by World Spa Awards and offers treatments going beyond what other spas might provide. Their approach is to delight guests with a personalised experience to help them fully recover from the stresses and strains of everyday life whilst they holiday.
Finca Cortesin – Andalucia
Image Credit Romain Reglade
The Finca Cortesin is a luxurious hotel that manages to combine the traditional Mediterranean lifestyle with our modern way of life. Located just a short drive from Marbella, on the Andalucian coast, this resort is so exclusive it even boasts its own shopping plaza, where you can treat yourself to the very best goods that the Costa Del Sol has to offer without even leaving your hotel. This is also the place to be if you like the occasional round of golf, as their golf course is ranked among the top five throughout all of Spain.
Marbella Club – Andalucia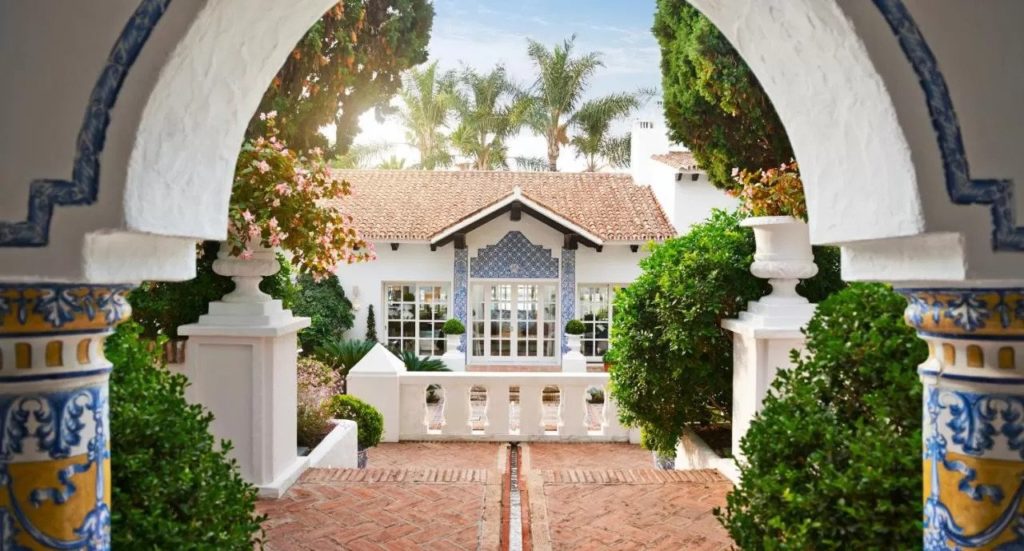 Marbella Club is a very stylish resort, set in the Golden Mile of Marbella. The hotel is over 60 years old, but it certainly doesn't look it, at Marbella club they keep up with the times. This hotel even offers its own botanical gardens. It is extremely relaxing to be surrounded by the likes of oranges, bananas, lemons, avocados and figs growing on the trees. Indeed, the gardens, landscaped by Prince Alfonso von Hohenlohe are breathtaking and truly exotic. It could be argued, though that the most luxurious feature of the Marbella Club is the attention to detail they put into the Kid's Club. Here, the kids have their own village, meaning that you can relax safe in the knowledge that the little ones are well taken care of.
La Bobadilla, a Royal Hideaway Hotel 5*GL – Andalucia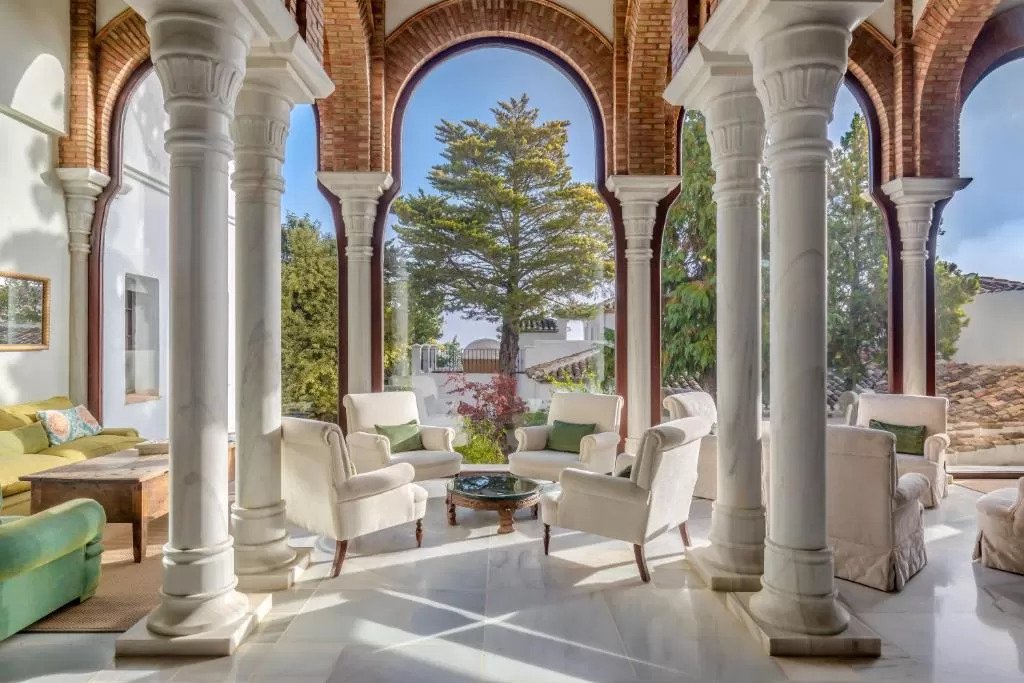 Arriving at La Bobadilla, a Royal Hideaway Hotel, is to be immersed in the charm and beauty of a perfect Andalucian hamlet. It is set deep in countryside of olive trees and oaks, a secluded location between the captivating city of Granada and the coast and Malaga. The property has been reimagined as a 5 star Grand Luxury hotel with spa.  Guest rooms are unique, reflecting the historic style architecture, and furnished with style and elegance. The hotel promises fine cuisine, showcasing Andalucian flavours and aromas; and the restaurants La Finca, one of the best in Granada, and El Cortijo, combine regional ingredients to provide an exquisite dining experience. There are expansive gardens,  a 1,000 m² swimming pool, a modern spa with all types of treatments, free Wi-Fi, paddle tennis courts and a large range of outdoor sporting activities.
Jumeirah Port Soller Hotel And Spa – Mallorca
Built upon a high rock escarpment overlooking the fishing port village of Port Soller, with exceptional views out across the Mediterranean, Jumeirah Port Soller Hotel and Spa brings world-class levels of hospitality to Mallorca's rural west coast. This is a captivating resort, with upscale dining; elegant and contemporary accommodation; as well as luxury wellness facilities including the Talise Spa – a destination for Balearic rejuvenation. This part of Mallorca is particularly picturesque, with a beautiful coastline; and the charming inland villages of Soller and Fornalutx close by. The Jumeirah Port Soller Hotel and Spa is made up of almost a dozen structures that climb the rock escarpment, and continue for about a kilometre. Each is linked by a scented garden walkway that leads guests up through the terraced hillside setting. There is a magnificent infinity pool with Mediterranean views, served by Infinite Pool Bar. On the upper level is Es Fanals by Javier Soriano, for signature Spanish cuisine. For relaxed terrace dining, Cap Roig Brasserie offers a locally-inspired menu. To end the day on a perfect note, The Sunset Lounge is where guests enjoy Asian specialities and superb cocktails, accompanied by life music and views of the Tramuntana Mountains and of course, the best sunsets on the island.
Can Bordoy Grand House and Garden – Mallorca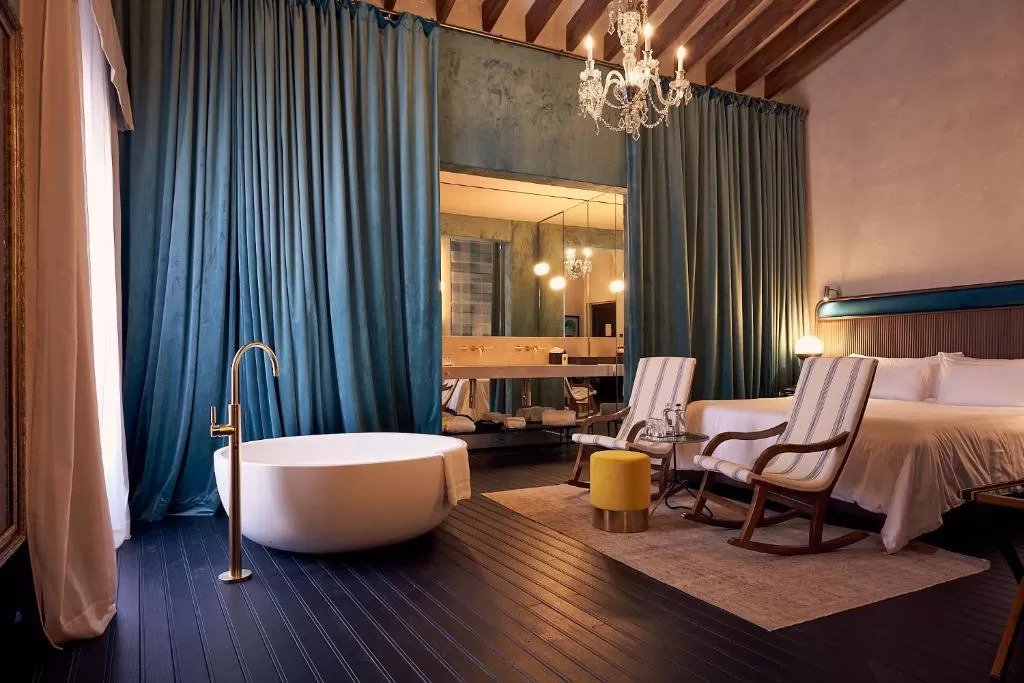 Owner Mikael Hall has realised his vision for authentic luxury, creating one of the finest small luxury hotels in Spain. This mansion-house with walled garden and pool brings the glamour and elegance of a bygone age together with the discreet use of technology and all the creature comforts one might expect from a contemporary, exclusive hotel. The house has been brought to life by a welcoming and highly professional team that go the extra mile to truly personalise the guest experience – whilst also promising to capture an ambiance of 'decadent romanticism'  This is indeed a Grand House; an evocative, historic home with one of the largest private gardens in the city-centre. Now that it has been decorated it is fabulous – like a movie set! Renovated with flawless style, it has a magical feel, with twisted greenery decorating the public rooms, as if the secret garden still hasn't fully relinquished this once abandoned mansion.
Belmond La Residencia – Mallorca
Deià may be just a small mountain town on the island, but it is home to one of the most luxurious hotels in the entire region. Surrounded by lush greenery and uninterrupted views, La Residencia has a relaxed and artistic feel that is worlds away from the more generic international hotel chains we have grown used to. Every single one of the hotel's rooms, suites and villas is decorated in a specific style, and no two parts are the same. Guests will love the facilities on the property, which include a full spa, several restaurants and bars, two outdoor swimming pools, tennis courts, a full fitness facility, an art gallery and even a shuttle that goes directly into the heart of Deià.
The St. Regis Mardavall – Mallorca
Just steps from the Mediterranean coastline, the St. Regis Mardavall Majorca Resort is a top choice for those who want quick access to beautiful beaches. From their basic rooms all the way up to diamond suites, the decor is lavish yet tasteful. The full spa and fitness facility is among the best on the island, and it serves as a place where guests can completely unwind and relax in paradise. Golf enthusiasts will appreciate the four courses as well as a golf academy, which is where you can perfect your swing or get advice from a professional golfer. Dining is exceptional, and guests can dig into gourmet cuisine at Aqua or indulge in some tapas with cocktails by the pool.
BLESS Hotel – Ibiza
New to Ibiza, BLESS Hotel Ibiza brings together curated elements for a hedonistic white island experience. Think spectacular infinite pools;  a breath-taking beach-club style roof-top bar; destination gourmet dining (including Etxeko Ibiza by 10 Michelin star chef Martín Berasategui); cool DJ sets, theatrical performers and live entertainment; a full-service spa; and indulgent guest rooms and suites that invite stylish selfies and envy-inducing instagrams. BLESS Hotel Ibiza is most certainly one of the best luxury hotels on the island!
Abadía Retuerta Le Domaine – Valladolid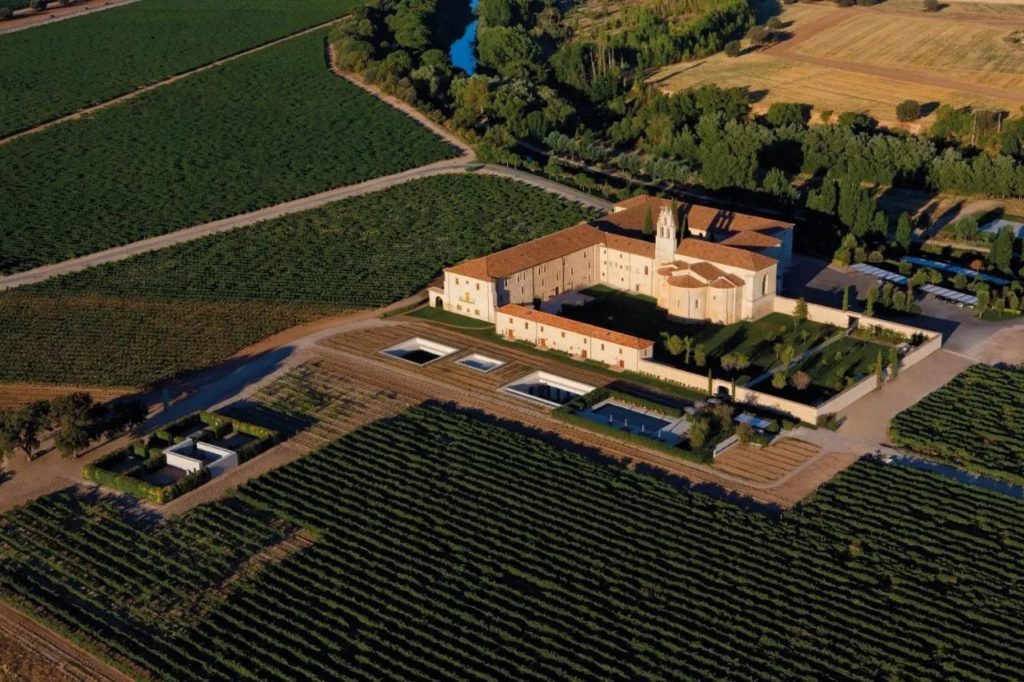 Beyond the vibrant Costas, the interior of Spain offers a quieter pace of life. Take a 2 hour scenic drive north of Madrid and discover Abadía Retuerta Le Domaine, an ancient former abbey that has been reimagined as a magnificent wine estate with 5-star hotel, luxe spa, and Michelin star fine-dining. As both an acclaimed winery and upscale resort, this luxury resort set in unspoilt countryside on the banks of the River Duero, is perfect for the discerning foodie traveller. This extraordinary property has been painstakingly restored and transformed into a 30-room boutique spa hotel 'LeDomaine'. In addition to the hotel's fine-dining 'Refectorio', and on-trend 'Vinoteca' wine bar & restaurant, the abbey's cloisters provide a beautifully setting for summer drinks and light meals. The walled gardens are enchanting, with fountains, rose arbours and pergolas. There is a secluded outdoor pool too – it all adds up to an impressive property!
Grand Hotel Residencia – Gran Canaria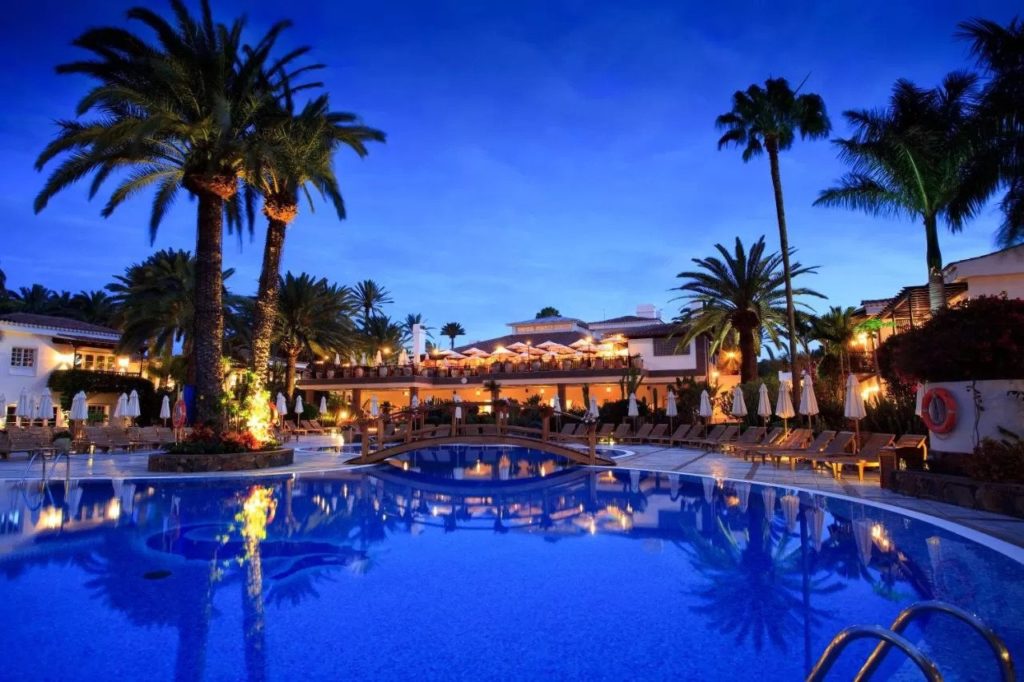 As a sophisticated, mini-resort the Seaside Grand Hotel Residencia is evocative of the Hollywood hideaways of Southern California. Set within a palm grove, this elite enclave has rooms and suites in cosy, traditional guest cottages (with interiors by French designer Alberto Pinto) that surround a heated pool. During the day guests at this Leading Hotels of the World may enjoy the pool and bar, chic spa, outdoor gym or oceanside strolls on the nearby beach. Candlelit gourmet dining at the rooftop restaurant is the evening highlight, followed by live music and drinks in the piano bar. Found west of the majestic Maspalomas Dunes, the Grand Hotel Residencia is in the Meloneras, an upscale area of Gran Canaria that is home to mainly 5-star resorts. Set within a verdant Palm Grove, this intimate resort offers a unique guest experience for visitors to Gran Canaria.