It's not just the scenery that seduces visitors to South Africa; it's the food too. The country's culinary scene is world-renowned, and rightly so. My first gourmet meal in the country was as Terroir, and what a memorable introduction it was to the country's cuisine.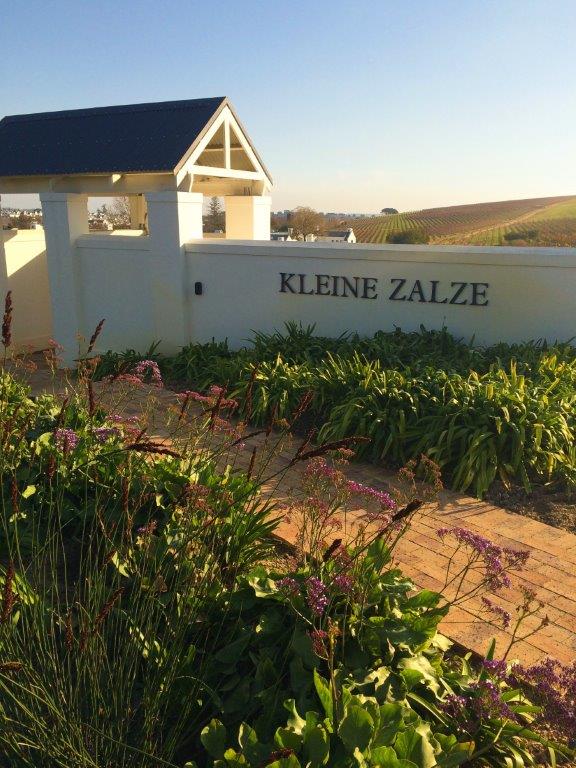 Chef Michael Broughton and his team have made this small restaurant on the family-owned wine estate of Kleine Zalze an international destination for great food.
Location
The Kleine Zalze Wine Farm is close to Stellenbosch in the Cape Winelands, a short drive of 40 minutes from Cape Town. The estate has grown to prominence thanks to garnering accolades for its wines, and for its restaurant. It's the epitome of a sophisticated South African Winelands estate offering accommodation, fine wines and gastronomy.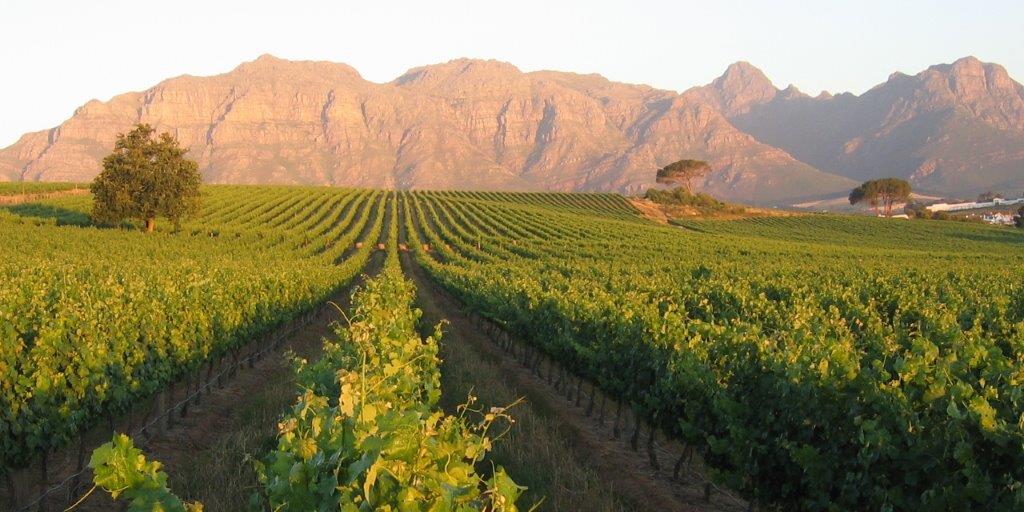 The Ambiance
I was excited to enjoy a leisurely lunch in the elegant surroundings of the estate. Once past the entrance gate house, the drive way sweeps down past vineyards and pretty white Cape Dutch guest lodges, and beautiful landscaped gardens, rich with the jewelled blossoms of Agapanthus, those ubiquitous African blue lilies.
The first thing I noted when we arrived at the restaurant was how natural and friendly the team were. This may be world-class cuisine but there was no uncomfortable formality – guests are made to feel at home and that's reinforced by the pared back, dressed down décor.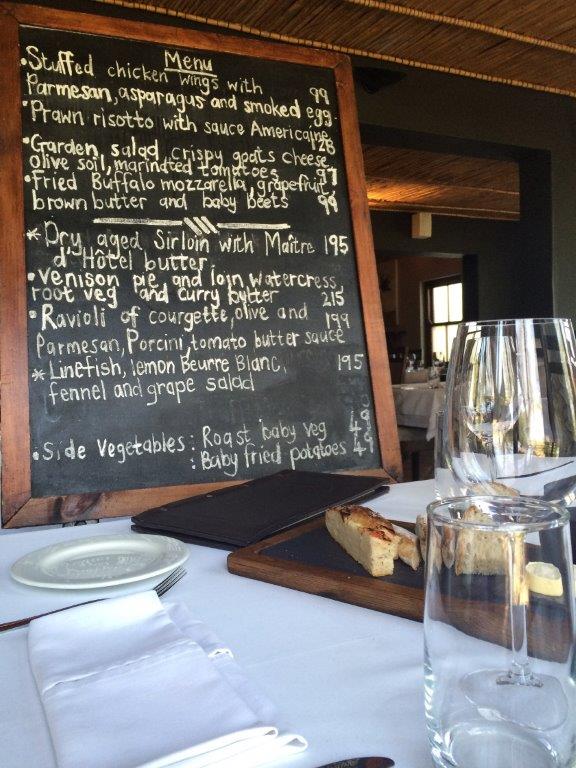 The menu is on chalk boards; crisp linen table cloths dress simple wooden tables in the interior restaurant, whilst outside tables are placed in the dappled shade of parasols and ancient oak trees.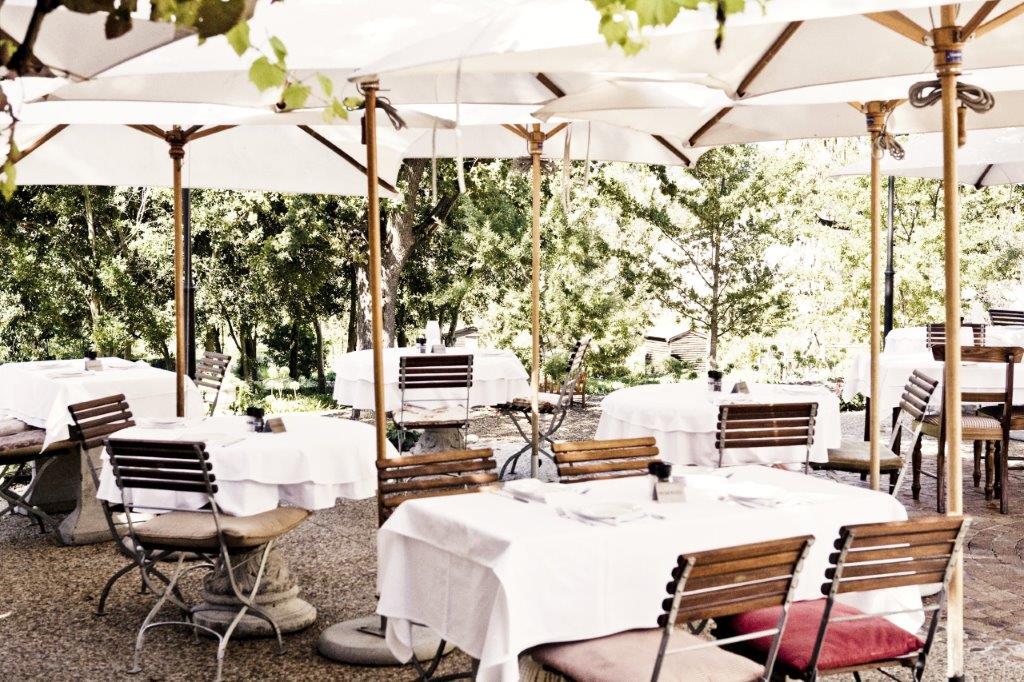 For a European visitor, this unpretentious attitude to exceptional food is refreshing. Once seated it was great to hear laughter and chatting from the other tables – this is restaurant that values an enjoyable atmosphere as much as memorable food.
The lunch
Ok, so I guess you want me to talk about the food. Well, I was feeling modest and I didn't exactly go overboard with my lunch order as I know how chefs love to spoil guests with amuse-bouches and treats before the plates even arrive.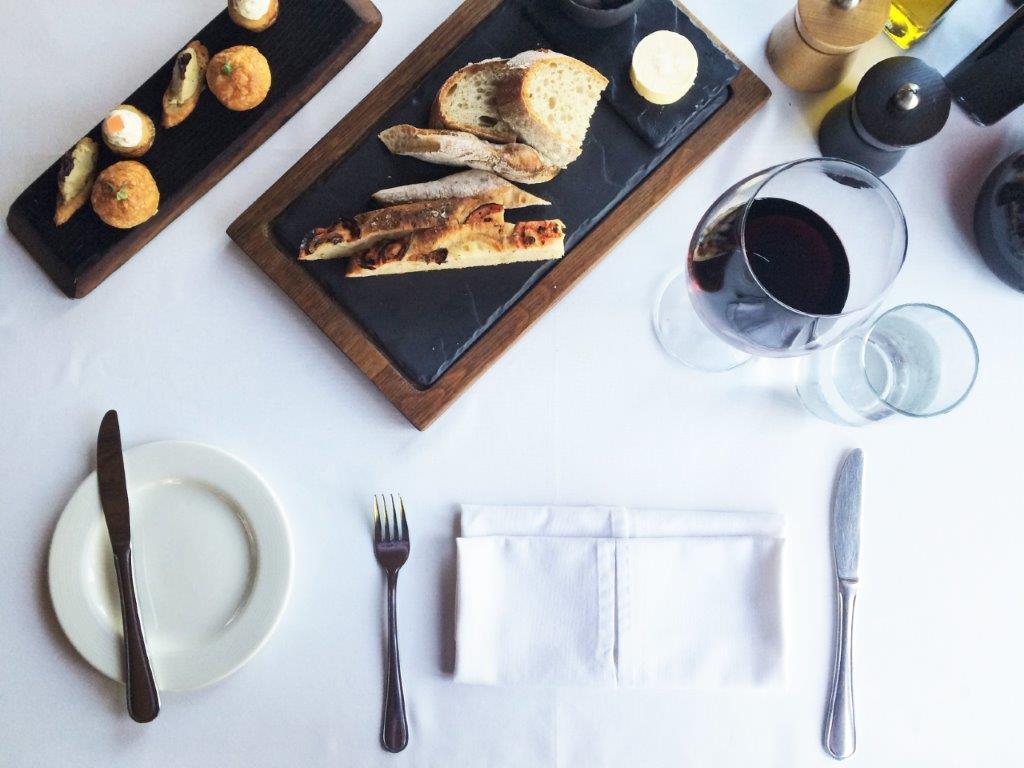 Amuse-Bouches
To kick things off, the waitress offered us a tempting selection of breads, and a pre-starters of chicken liver pâté, little potato treats with bacon & cheese, and gruyère cheese puffs. I had quite an appetite when I arrived so I gobbled them without hesitation but with great pleasure (for research purposes of course!).
First plates
However, I didn't lose total control in the face of a seductive menu, and I discreetly ordered a small garden salad to share – little did I expect that the two half plates would arrive looking like a piece of art. The goat's cheese with rocket and tomato ice was beautifully presented and started the meal with exceptional style. Don't let the modest presentation and descriptions of the menu deceive you – believe me the dishes are sophisticated.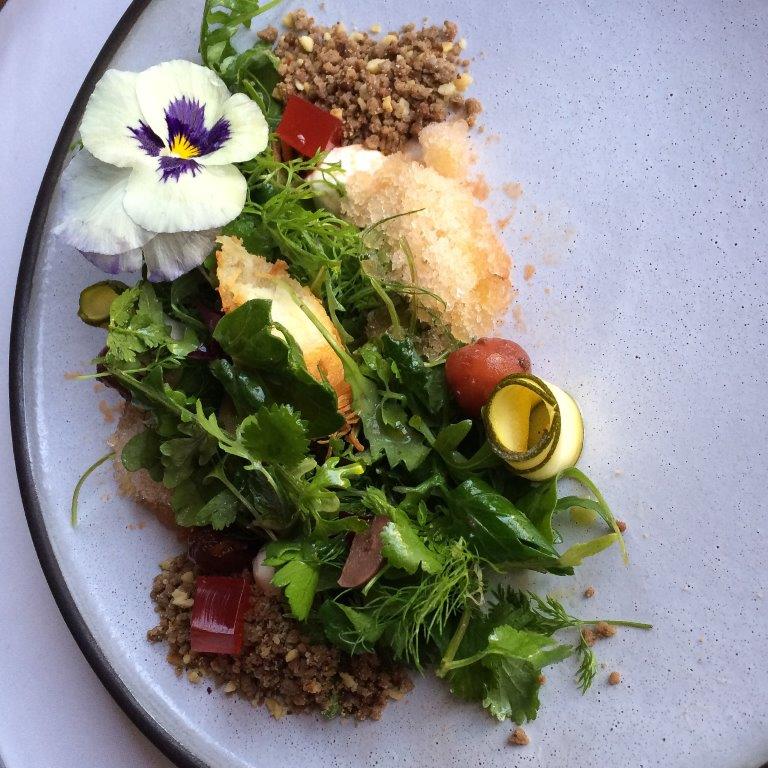 Before arriving at Terroir I knew that the signature prawn risotto with sauce Américaine was a dish not to miss and our server was wonderful and suggested we try a half portion as an additional starter. I could use a full thesaurus of positive adjectives – not only does it look beautiful, but paired with the estate's Chenin Blanc it became unforgettable.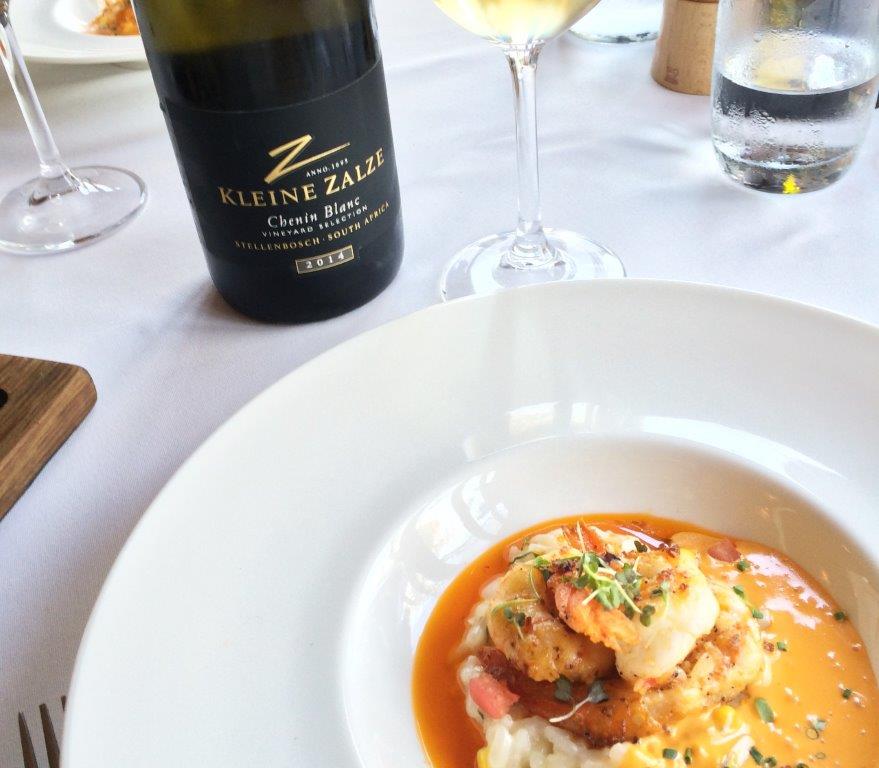 Main dishes
Having recently arrived on a 12 hour intercontinental flight, the thought of a juicy dry-aged sirloin was a temptation I couldn't resist. I admit that maybe it's not the most intricate dish to try in a gourmet restaurant where the options are so diverse and sophisticated, but that's the pleasure of eating at Terroir – fancy it may well be, but one feels comfortable to order what one wants from the chalkboards.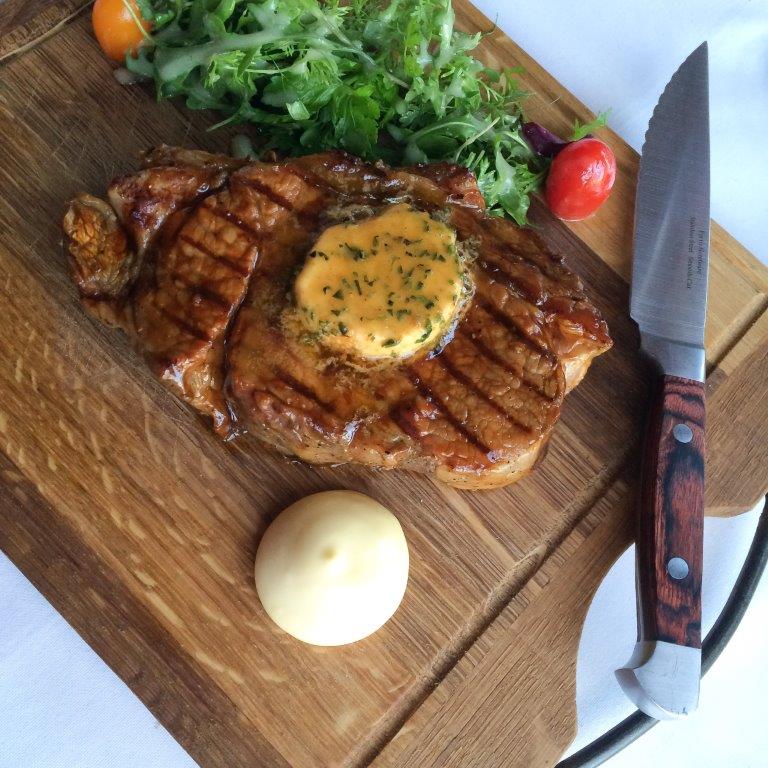 Topped with maître d'hôtel butter, the steak was superb; paired with a glass of Kleine Zalze's elegant vineyard section Cabernet Sauvignon it truly hit the mark.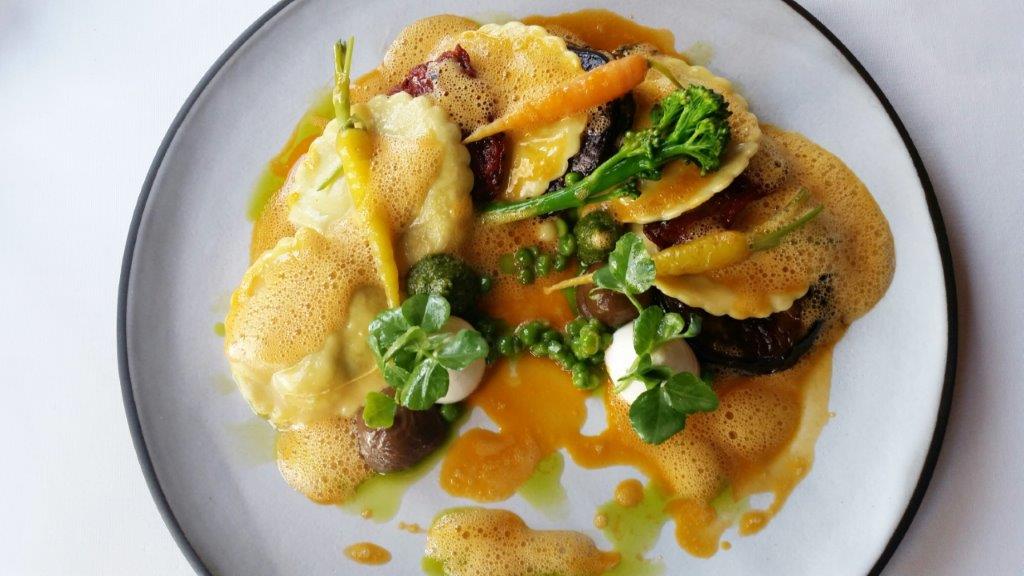 My dining companion ordered the ravioli of courgette, olive & parmesan, porcini, with tomato and butter sauce.
Pudding
When the chalk board arrived with the pudding options, I defaulted to my instincts; chocolate. Little did I expect that the 'chocolate palette with orange, pistachio and caramel' would be quite a so breathtakingly seductive.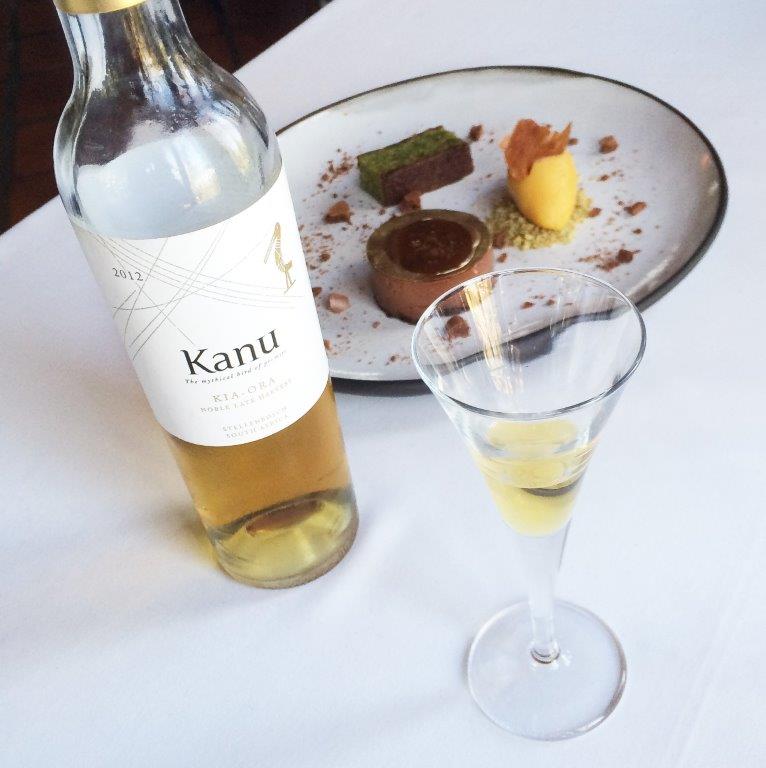 Did I forget to mention it was paired with delicious late harvest dessert wine? –  the perfect nectar to finish a sensational meal.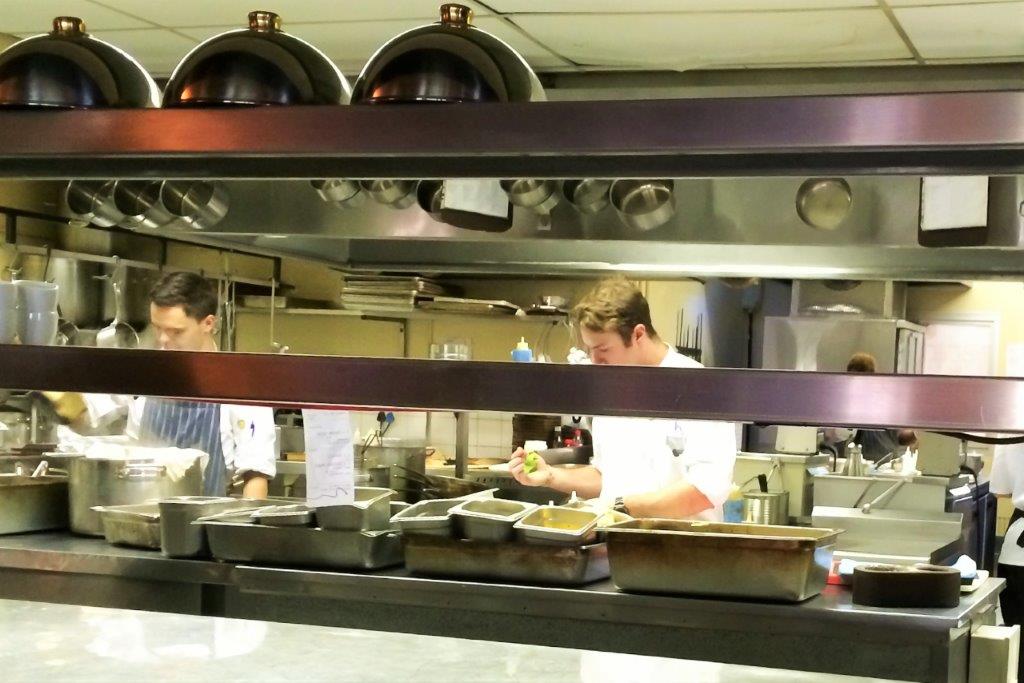 Chef Ruan Pretorio
Our lunch was prepared by sous-chef Ruan Pretorio who came out to greet us – a friendly and modest chef who is doing Michael Broughton and Terroir proud. Add this restaurant to your gastronomic bucket list; you won't regret it.
What's more if you fancy indulging in the estate's award-winning wines, go ahead as the estate guest lodges make for a romantic and luxurious stay-over.
Address
Kleine Zalze Wine Farm
Stellenbosch
Tel: +27 (21) 880 8167