Now one of the most fashionable city breaks in the world, Porto – the city that gave its name to Port wine – is a top choice for foodies and wine lovers. Portugal's second-biggest city has a laid-back feel, no doubt due to its coastal influence. There's much to explore on foot; the fascinating medieval Old Town (a UNESCO World Heritage Site) sits beside the Douro River, plus there's pretty pastel architecture, baroque churches and a stock-market turned palace to explore. The climate is pleasant, making a stay here feasible throughout the year and there's an abundance of cool, hip hotels, alongside classically luxurious abodes.
Eat
Casario
Casario is the in-house restaurant of Gran Cruz House, whose name is inspired by the historic jumble of houses surrounding the hotel. The restaurant is led by chefs Chef Miguel Castro Silva and Chef José Guedes a partnership which has stemmed from their work together over several years at the restaurant De Castro Gaia at Espaço Porto Cruz. If you want to be guided by the chef their five-course tasting menu will take you on a journey using smaller portions from the a la carte menu. Food is expertly paired with wine from their portfolio of 60 Port and Douro wine offerings from Dalva, Porto Cruz and Quinta de Ventozelo.
www.grancruzhouse.pt/restaurant
Digby Restautant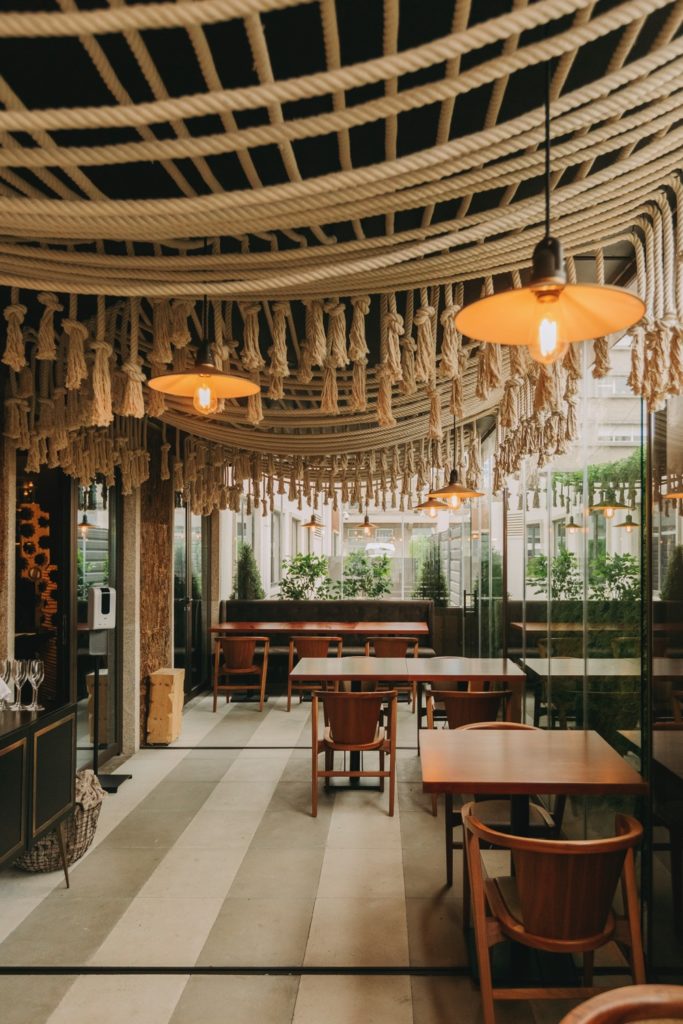 Located in Hotel Avantgarde. The restaurant has collaborated with José Gordón's El Capricho project, which produces some of the world's finest meats; 30 day aged beef sirloin and working cow Chuleton is served at the table, with four optional fleur de sel seasonings and side dishes served inboxes. Desserts are crafted by confectioner Anabela Lemos and the bartender's mix avantgarde signature cocktails. Midweek, an Executive Lunch is offered, while Saturdays and Sundays see a diverse brunch from 12.30pm to 3pm. Like Casario, the venue has exceptional views over Porto and the Douro River.
www.torelavantgarde.com/en/bar-and-restaurant
Blind
A culinary experience designed to delight the senses, Blind is located in the Torel Palace Hotel and is an invitation for diners to place complete trust in the chefs. Created by Vitor Matos (read the interview here), Blind Emotion takes on a tasting menu format comprising of eight or ten 'moments' (courses) depending on how hungry you are served with perfectly paired wine. Raw and natural products are transformed into edible works of art to the backdrop of a moodily lit venue with chequered black and white floor and crisp white tablecloths. Expect your taste buds and other senses to be stimulated during a dining experience here – it is truly unique. The bar serves cocktails which play on the theme, entitled: Feel, Taste, Touch, Sound, Blindness and Sixth Sense.
Do
Mercado Bom Sucesso

In the unlikely event that the weather's unkind, visitors can take shelter and indulge in some retail therapy in this bright covered market. But this is more than simply a place to shop; it presents some of the history and evolution of the city, through its 1950s architecture and huge variety of stalls. The Mercado Bom Sucesso mirrors much of Porto's culture, with live music and street theatre, food stalls, local crafts and produce. While there's much to buy and eat here, you can enjoy an enrapturing few hours in the venue without spending a Euro, as it's a feast of sights and sounds.
Take A Sightseeing Cruise Down The Douro River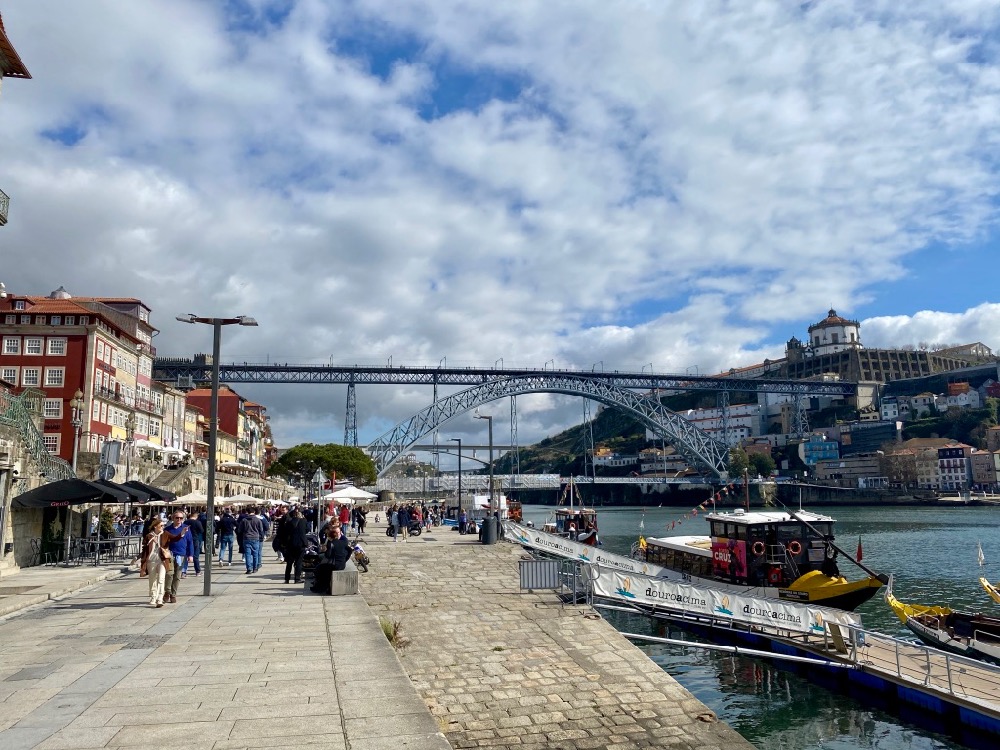 You've explored the city on foot, now it's time to see it from a different perspective — the water. The Douro River connects the centre with the coast, weaving through the Old Town and out to the surrounding countryside and beyond across the Spanish border. Choose a shorter, city-based cruise covering the city's six bridges, or take a longer full-day trip into the outlying areas and Portugal's wine country, adding in a meal and some wine tasting. If you'd prefer something a little different and adventurous, there are river sailing trips offered. Smaller private tours and scheduled public departures can be booked.
Watch The Sunset From The Dom Luis I Bridge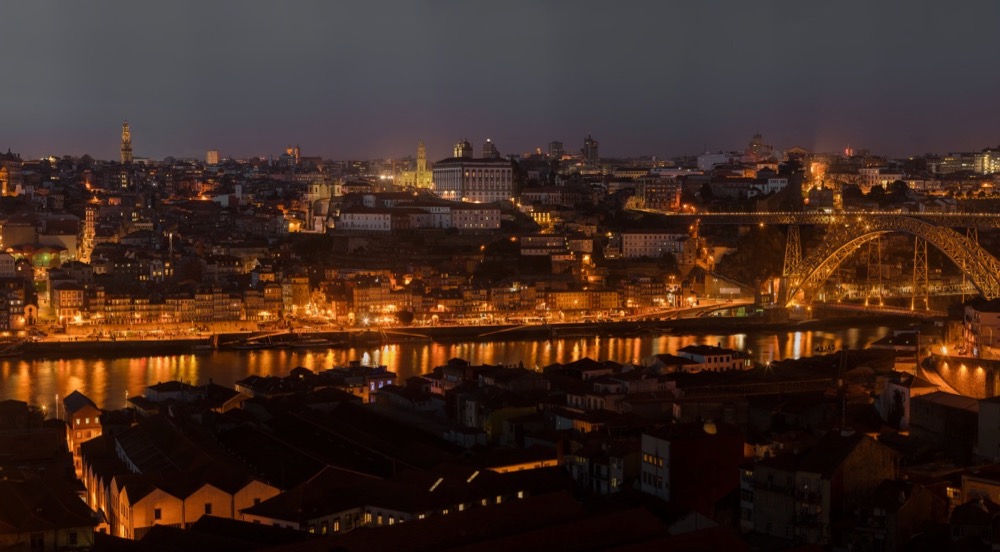 This landmark bridge spans the 172-metre space between Porto and Vila Nova de Gaia. The Dom Luis' huge double-deck metal arch makes it a landmark on the horizon — it was once the longest of its kind in the world. As the sun begins to dip, take a stroll from Cais da Ribeira to the Sao Bento Station along Avenida de Dom Afonso Henriques. From here you can climb onto the bridge and cross on the pedestrian walkway from either the upper or lower levels. The views from here are epic, certainly the best in the city, making for a romantic moment as the sunsets.
Visit Livraria Lello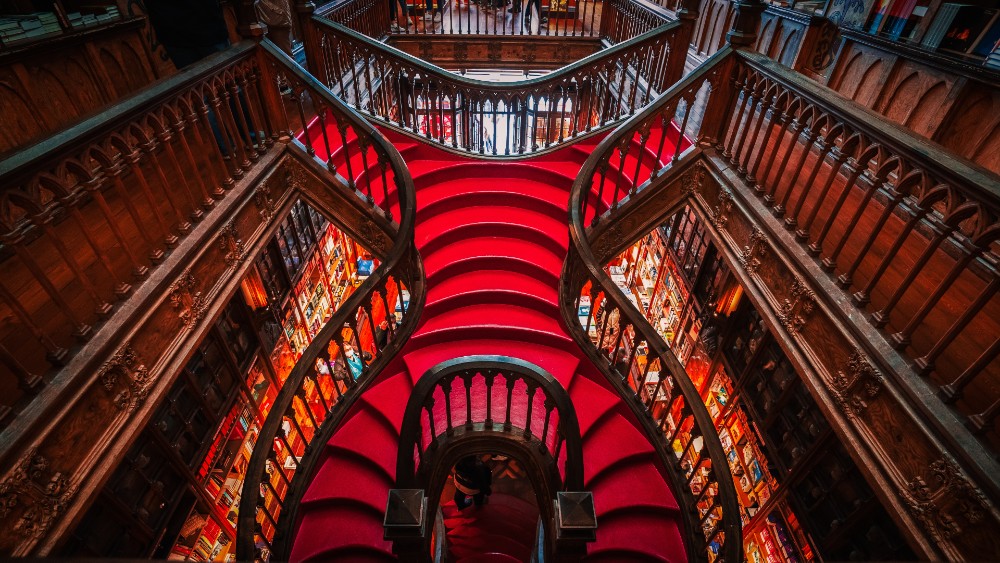 Its English name is the Lello Bookstore, providing a significant clue into what is widely believed to be the most beautiful place to shop for literature in the world. First inaugurated in 1906, the building's art deco, art nouveau, and gothic interiors are said to have served as a muse for JK Rowling's Harry Potter world (the novelist lived in the city for a number of years). And its stained glass ceiling is a true wonder. Livraria Lello's popularity means you may have to queue for a while to get in, or you can book onto a tour for priority entry.
Visit the Porto Cultural District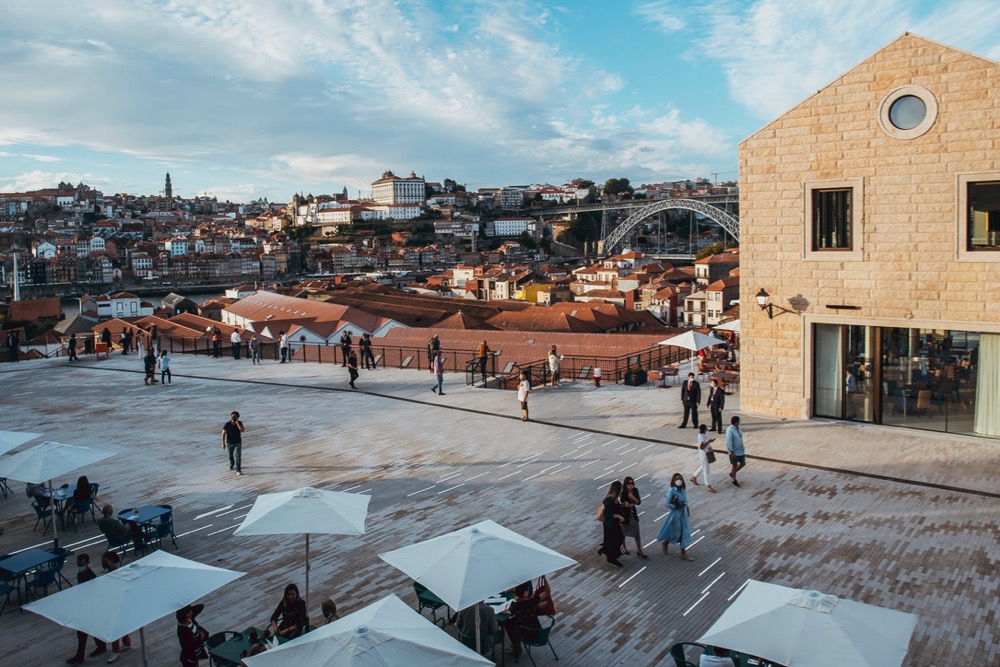 Comprising seven museums, 12 restaurants, a host of shops, a temporary exhibition space, an events space and a wine school, the Porto Cultural District is a place of contemporary homage to the Portuguese region. Visitors can learn more about the winemaking process through an experience created for amateur and experienced wine enthusiasts alike, or book onto one of the Wine School's frequent workshops and thematic tastings dedicated to the country's various terroirs. Sessions vary between one and two hours, allowing those short on time to get a metaphorical and literal taste of Portugal's national beverage, as well as room to explore the rest of the Porto Cultural District complex.
Sleep
Torel Avantgarde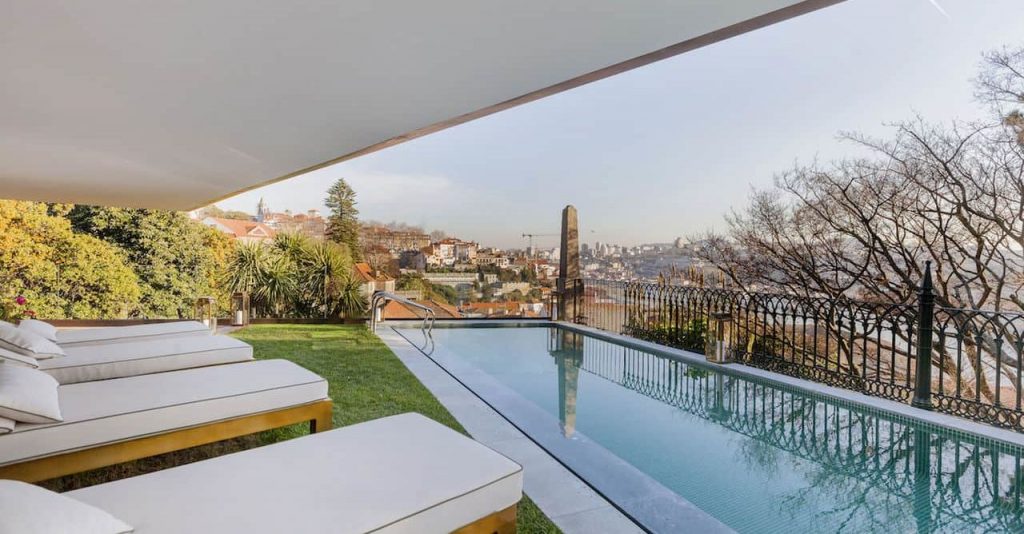 Torel Avantgarde is a beautiful hotel which is nestled on a hillside, away from the hustle and bustle of the vibrant Porto city centre (which is only 10-minutes' walk away). Stunning views of the Douro River and the city can be enjoyed from almost every angle; from the outdoor pool and hot tub to the terrace restaurant 'Tenro by Digby', and not to forget the stylish front-facing rooms. But it's not just the natural beauty that is a sight to behold here, the 49-room boutique hotel is known as the "artists' hotel" with its design and concept inspired by the Avante-Garde era of the 1930's and 1940's. Each room and suite is dedicated to important historical-artistic global figures reflecting their individuality and creativity. The Frida Kahlo room, one of the most famous in the hotel, offers an incredible twin bathtub with views out to the city – check-in here and you won't be disappointed! The hotel's dining experience offers a contemporary twist on traditional Portuguese cuisine and presents guests with a relaxed yet stylish vibe. Unwind or rejuvenate with a treatment at the hotel's Calla Wellness & Spa, where natural and organic products from Phyt's and Oliófora are the order of the day.
Gran Cruz House
Ultra-boutique hotel, Gran Cruz House, is set right beside the Douro River and is at the heart of the vibrant city of Porto. Dating back to the 17th century, the building which houses the beautiful hotel oozes with history with many original features have been retained and are complimented by a flawless contemporary design. The seven stylish guest bedrooms present their own individual design and character with each given their own Wine Port category along with a special work of art. Casario is Gran Cruz House's fine dining establishment, a cosy restaurant on the second floor with a riverside terrace. Guests can enjoy breakfast here along with a choice of tasting menus, a la carte menus, beautiful local wines and ports – a truly divine Portuguese gastronomy experience. This intimate hotel is one not to be missed.
Torel Palace Porto
The recently opened Torel Palace occupies a prime city-centre location in Porto with a fascinating history dating back to 1861. The original palace, which is now home to the stunning hotel underwent significant restoration in 2020 and the grandeur of the building has been masterfully restored; from its grand winding staircase, ornate cornicing and beautiful library – every corner is filled with charm and character – which extends to the outdoor pool and restaurant too. Foodies will revel in the dining experience presented at the hotel's restaurant, Blind, a tribute to Portuguese writer José Saramago. The 10-course tasting-menu is inspired by chef Vítor Matos' childhood memories and will stimulate your taste-buds and your senses. With attentive service and the perfect level of privacy, the Torel Palace Porto truly is a haven of luxury in the heart of Porto.