The cosmopolitan city of Porto is becoming increasingly popular as a city break with travellers from the UK, due to its good flight connections and glorious food and drink scene. Michelin Star restaurants and modern dining sit side by side with traditional Portuguese restaurants. Being a coastal location means fish is a major player on menus, as is meat, a national mainstay. Here you'll find venues to fit your every mood; from earthy cafes to contemporary fine dining establishments with top chefs at the helm. Read on to discover the restaurants that should be top of your must-try list after our recent trip to the city.
Casario
Casario is the in-house restaurant of Gran Cruz House, whose name is inspired by the historic jumble of houses surrounding the hotel. The restaurant is led by chefs Chef Miguel Castro Silva and Chef José Guedes a partnership which has stemmed from their work together over several years at the restaurant De Castro Gaia at Espaço Porto Cruz. If you want to be guided by the chef their five-course tasting menu will take you on a journey using smaller portions from the a la carte menu. Food is expertly paired with wine from their portfolio of 60 Port and Douro wine offerings from Dalva, Porto Cruz and Quinta de Ventozelo.
Digby Restautant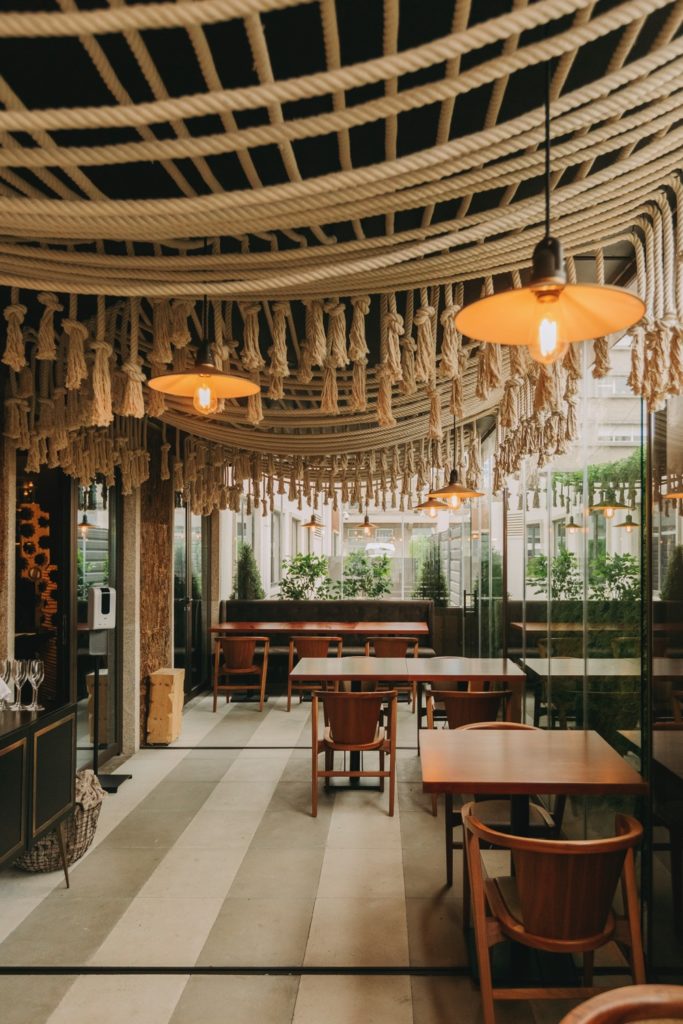 Located in Hotel Avantgarde. The restaurant has collaborated with José Gordón's El Capricho project, which produces some of the world's finest meats; 30 day aged beef sirloin and working cow Chuleton is served at the table, with four optional fleur de sel seasonings and side dishes served inboxes. Desserts are crafted by confectioner Anabela Lemos and the bartender's mix avantgarde signature cocktails. Midweek, an Executive Lunch is offered, while Saturdays and Sundays see a diverse brunch from 12.30pm to 3pm. Like Casario, the venue has exceptional views over Porto and the Douro River.
Blind
A culinary experience designed to delight the senses, Blind is located in the Torel Palace Hotel and is an invitation for diners to place complete trust in the chefs. Created by Vitor Matos, Blind Emotion takes on a tasting menu format comprising of eight or ten 'moments' (courses) depending on how hungry you are served with perfectly paired wine. Raw and natural products are transformed into edible works of art to the backdrop of a moodily lit venue with chequered black and white floor and crisp white tablecloths. Expect your taste buds and other senses to be stimulated during a dining experience here – it is truly unique. The bar serves cocktails which play on the theme, entitled: Feel, Taste, Touch, Sound, Blindness and Sixth Sense.
Vila Foz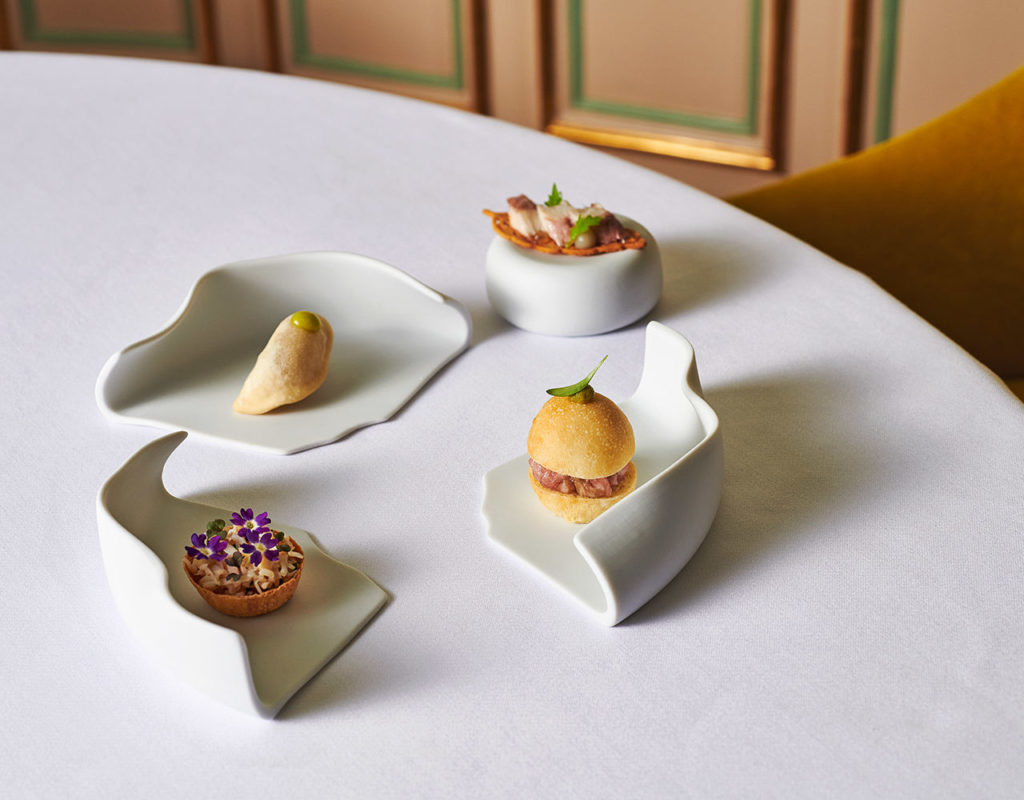 Part of the stunning Vila Foz Hotel and Spa boutique resort, this restaurant received its Michelin Star in 2022. Chef Arnaldo Azevedo is the creative genius behind the elegant eatery's refined tasting menus, in which local fish reigns (although there is a fully vegetarian option too). Cooking is in Azevedo's blood – he's the son of a chef and began his career in the family restaurant, before deciding to train and work professionally in the gourmet sphere. The restaurant caters solely for evening meals and for those over 12 years old, retaining a serene and sophisticated ambience. The showstopper is the 'Kitchen Seat' at which two diners are served privately, with interaction from Arnaldo as he describes the inspiration and story behind each dish.
Antiqvvm
Arguably the most romantic restaurant in the city, Antiqvvm has a formal and secluded garden terrace, with an Italian Renaissance feel and breathtaking views over the Douro River. The interior dining room is in a grand manor house, with original arches adding to the atmosphere. It received a star just over a year after opening its doors, wowing diners with elaborate a la carte and tasting menus from Chef Vitor Matos. Each course is artfully presented and provides a delectable experience of the finest local produce available. The location, service and of course food, is hard to beat, often leaving diners wondering why it hasn't yet been awarded a second star.
Pedro Lemos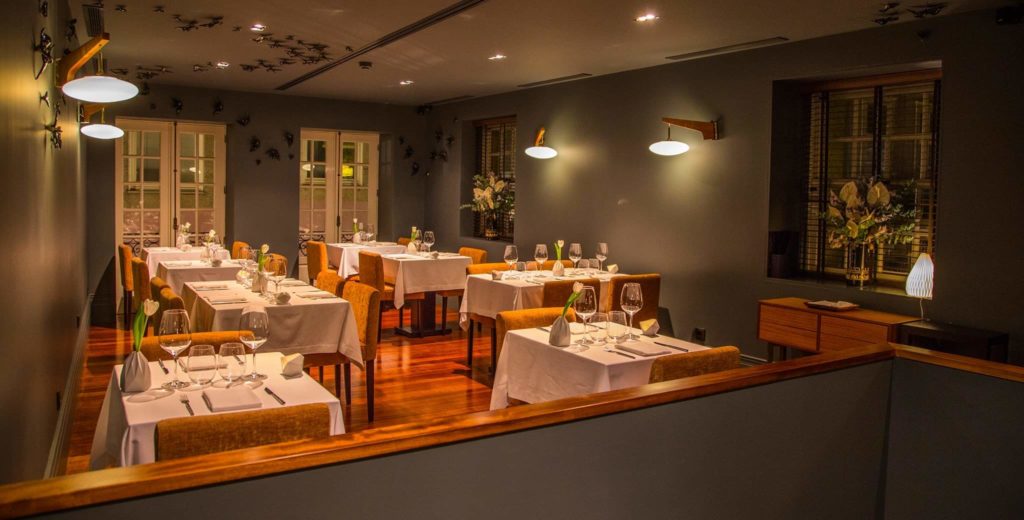 This was the first of the three to get its star – back in 2014. Wine is a big part of the experience here, with paired selections recommended alongside the tasting menus. Dishes include the likes of kohlrabi, rose shrimp, bluefin tuna and beef, with a focus on seasonality and sustainability. Housed in a renovated stone house, Pedro Lemos is close to the mouth of the Douro. There are two dining areas, the indoor restaurant, whose walls are painted in a fashionable denim blue echoing the coastal vibe (a sculpted flock of birds appear on the walls and across the ceiling) and an outdoor terrace. Dinner and lunch is served Tuesday through to Saturday.