This charming dockside town offers visitors history, delicious food, sumptuous wine and characterful locals by the bucket load. The town has an edgy, urban side but continues to entrance thanks to its rich history and culture. Explore the undulating backstreets of Miragaia or Massarelos or head to the docks for a snapshot of seaside life. The city's alleys in the historic centre are illustrated with beautiful street art and ancient buildings are interspersed with contemporary 21st-century creations making this cityscape a tapestry of influences. Of course, no visit to Porto would be complete without tasting some of the incredible culinary offerings and sampling from the amazing local port cellars. Ready to go? Check out our favourite hotels in this rich city…
Casa da Companhia
Discover an unparalleled experience at Casa da Companhia, a 5-star luxury hotel located in the heart of Porto. Just 5 minutes away from São Bento Station and within walking distance of the city's main attractions, the property offers 40 rooms & suites, a spa, a fitness suite, heated indoor & outdoor pools, and an outdoor terrace. Embodying timeless design and modern facilities, it provides guests with a high-end boutique feel and an opportunity to enjoy the city's tranquil atmosphere and historical roots. Immerse yourself in the picturesque Clérigos district and experience true luxury at Casa da Companhia.
Torel Avantgarde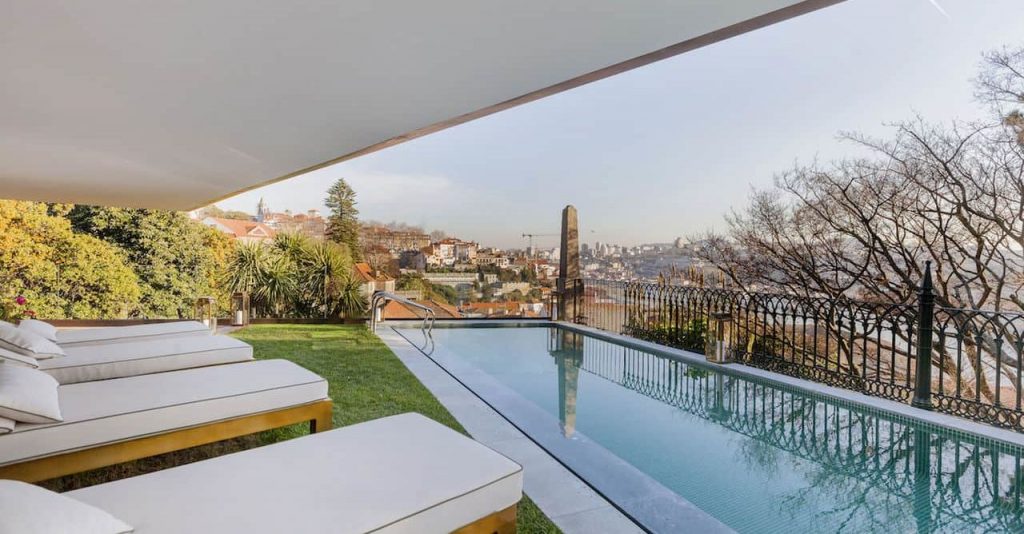 Torel Avantgarde is a beautiful hotel which is nestled on a hillside, away from the hustle and bustle of the vibrant Porto city centre (which is only 10-minutes' walk away). Stunning views of the Douro River and the city can be enjoyed from almost every angle; from the outdoor pool and hot tub to the terrace restaurant 'Tenro by Digby', and not to forget the stylish front-facing rooms. But it's not just the natural beauty that is a sight to behold here, the 49-room boutique hotel is known as the "artists' hotel" with its design and concept inspired by the Avante-Garde era of the 1930's and 1940's. Each room and suite is dedicated to important historical-artistic global figures reflecting their individuality and creativity. The Frida Kahlo room, one of the most famous in the hotel, offers an incredible twin bathtub with views out to the city – check-in here and you won't be disappointed! The hotel's dining experience offers a contemporary twist on traditional Portuguese cuisine and presents guests with a relaxed yet stylish vibe. Unwind or rejuvenate with a treatment at the hotel's Calla Wellness & Spa, where natural and organic products from Phyt's and Oliófora are the order of the day.
Gran Cruz House
Ultra-boutique hotel, Gran Cruz House, is set right beside the Douro River and is at the heart of the vibrant city of Porto. Dating back to the 17th century, the building which houses the beautiful hotel oozes with history with many original features that have been retained and are complimented by a flawless contemporary design. The seven stylish guest bedrooms present their own individual design and character with each given their own Wine Port category along with a special work of art.  Casario is Gran Cruz House's fine dining establishment, a cosy restaurant on the second floor with a riverside terrace. Guests can enjoy breakfast here along with a choice of tasting menus, a la carte menus, beautiful local wines and ports – a truly divine Portuguese gastronomy experience. This intimate hotel is one not to be missed. 
Torel Palace Porto
The recently opened Torel Palace occupies a prime city-centre location in Porto with a fascinating history dating back to 1861.  The original palace, which is now home to the stunning hotel underwent significant restoration in 2020 and the grandeur of the building has been masterfully restored; from its grand winding staircase, ornate cornicing and beautiful library – every corner is filled with charm and character – which extends to the outdoor pool and restaurant too. Foodies will revel in the dining experience presented at the hotel's restaurant, Blind, a tribute to Portuguese writer José Saramago. The 10-course tasting-menu is inspired by chef Vítor Matos' childhood memories and will stimulate your taste-buds and your senses. With attentive service and the perfect level of privacy, the Torel Palace Porto truly is a haven of luxury in the heart of Porto. 
Flores Village Hotel & Spa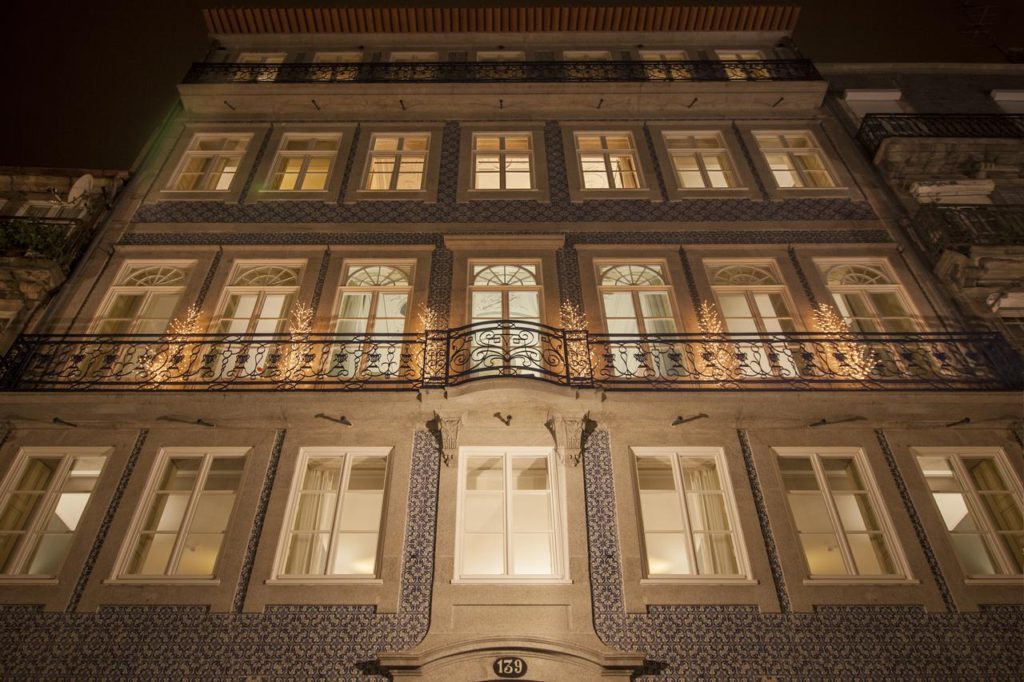 This regal hotel is housed in a charming 18th-century building that has been beautifully finished in blue and white tiles. Centrally located within walking distance of the train station and Porto Cathedral which some rooms have balconies with a view of. The rooms at the hotel are fitted with flat-screen TVs, coffee and tea making facilities, a minibar, and free Wi-Fi. Separate lounges are available in the suites and room service is available as is an onsite bar. The breakfast buffet is served in an ornately decorated dining room and comes free with the room. There are plenty of facilities at the hotel to keep guests entertained such as a gym, spa, indoor pool, roof terrace, and a lovely courtyard complete with a vertical garden.
Vila Foz Hotel & Spa
Just outside of Porto, on the coast, is Vila Foz Hotel & Spa. Designed by Nina Andrade da Silva, it's housed in a 19th-century villa with rooms in the main building and a newer wing. Those preferring a more modern feel should opt for the latter, while the original spaces offer stucco ceilings and hardwood floors – both have Maison Codage bath products. Airport transfers are by the hotel's vintage Rolls-Royce, personal trainers take guests on runs, bikes are available for use and there's a complimentary shuttle bus into the city. This was the neighbourhood's first five-star residence, with a Micheli starred restaurant and ornate interiors with the prolific use of onyx.
InterContinental Porto – Palacio das Cardosas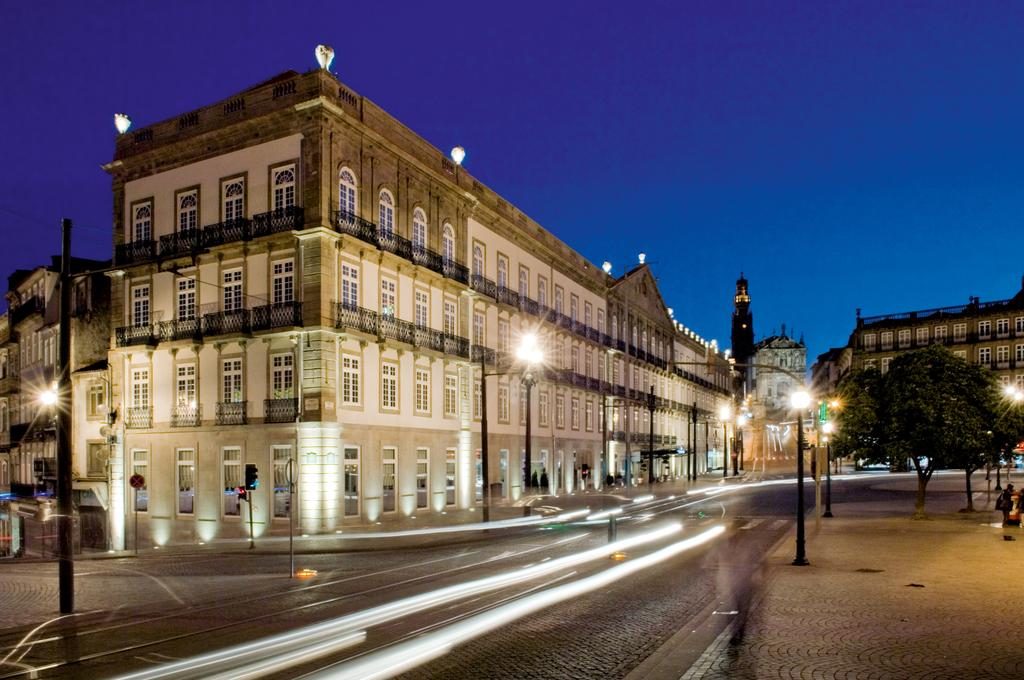 With views of the city's historic centre from its spacious rooms, this 18th-century palace offers luxury in the heart of Porto. The rooms have high ceilings, flat-screen TV's, and lush marble bathrooms with walk-in showers and stand-alone bathtubs. Several rooms have separate sitting areas and WiFi is available throughout the whole property. The hotel has a Fitness Centre with the latest equipment that is open any hour of the day as well as a sauna, and spa with several treatment rooms. The onsite Restaurant Astoria offers guests a wonderful range of Portuguese cuisine served alongside local wines, while the Cardosas Bar is perfect for enjoying a glass of Port or a cocktail before heading out to enjoy the nearby sights and nightlife.
NH Collection Porto Batalha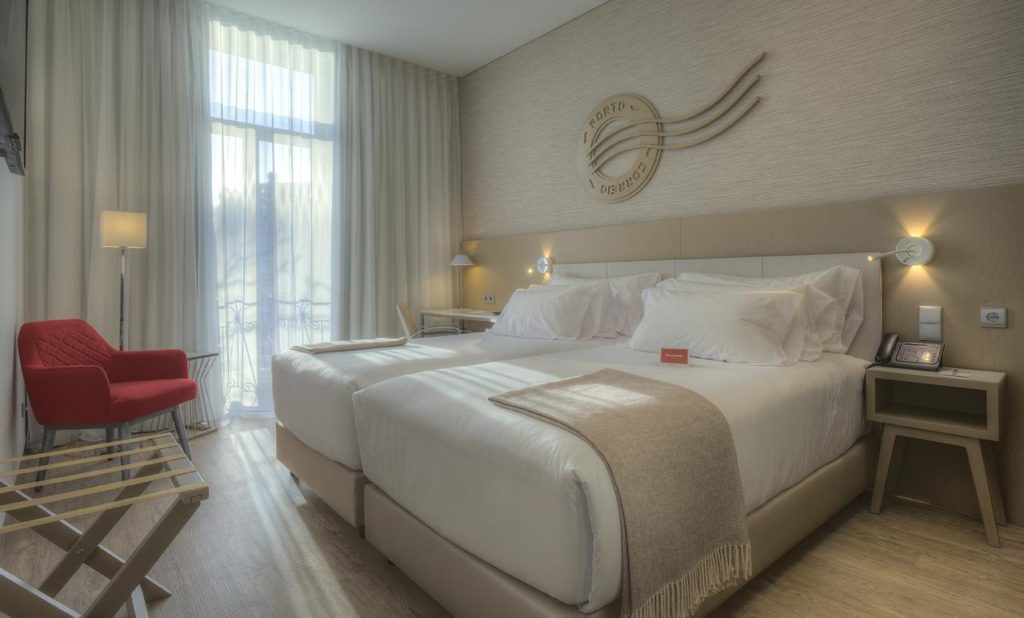 This centrally located hotel faces the S. Joao National Theatre, Batalha Square and is a stone's throw from many other Portos attractions. Its charming rooms come with either twin beds or doubles, and private bathrooms with free toiletries. The rooms also have WiFi access, modern electronics, a minibar, and tea and coffee making facilities. Guests can start their day off with a delightful breakfast from the buffet in the morning or a delicious meal at the on-site restaurant in the evening. For those about to head out and enjoy Porto's nightlife be sure to begin the night with a cocktail or two from the bar. For those preferring to relax and unwind guests can make use of the indoor pool, the fitness centre, sauna, or indulge in a massage.
M Maison Particulière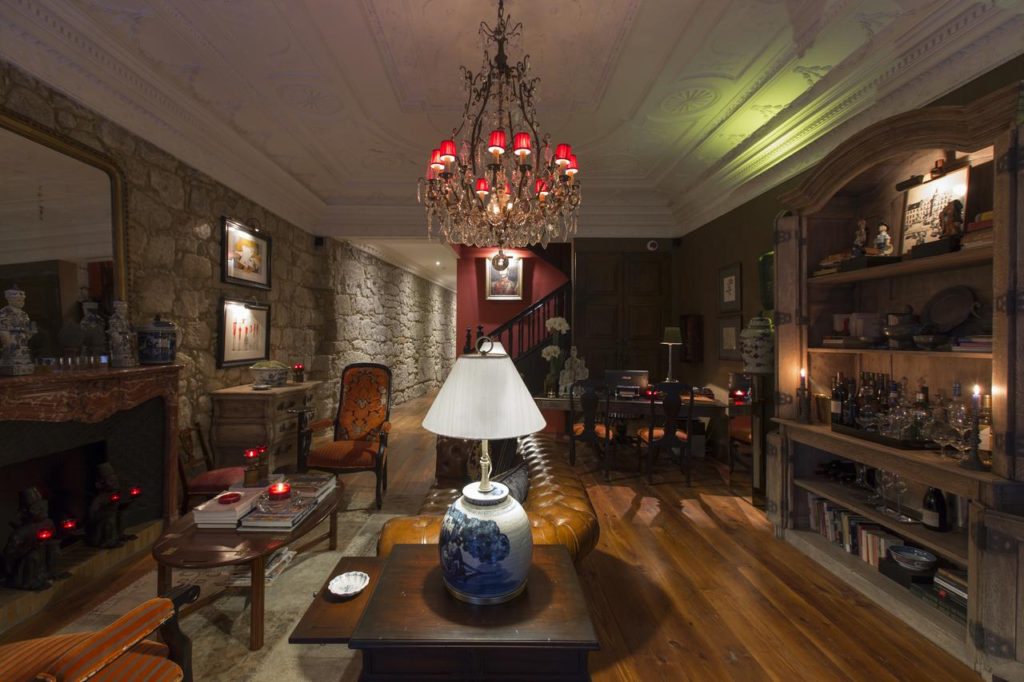 This hotel is located in Porto old town in a beautiful 16th-century building that has the charm and feel of a classic Parisian hotel. The whole hotel has an old-world luxurious feel to it and its rooms are decorated with one-off furnishings, stucco detailing, high ceilings and paintings hung on the walls. Facilities in the hotel include WiFi and a library to relax and soak up the atmosphere. A hearty breakfast is served in the morning to begin a day of exploring Porto where many sights are just a short walk away.
Hotel Palácio Fenízia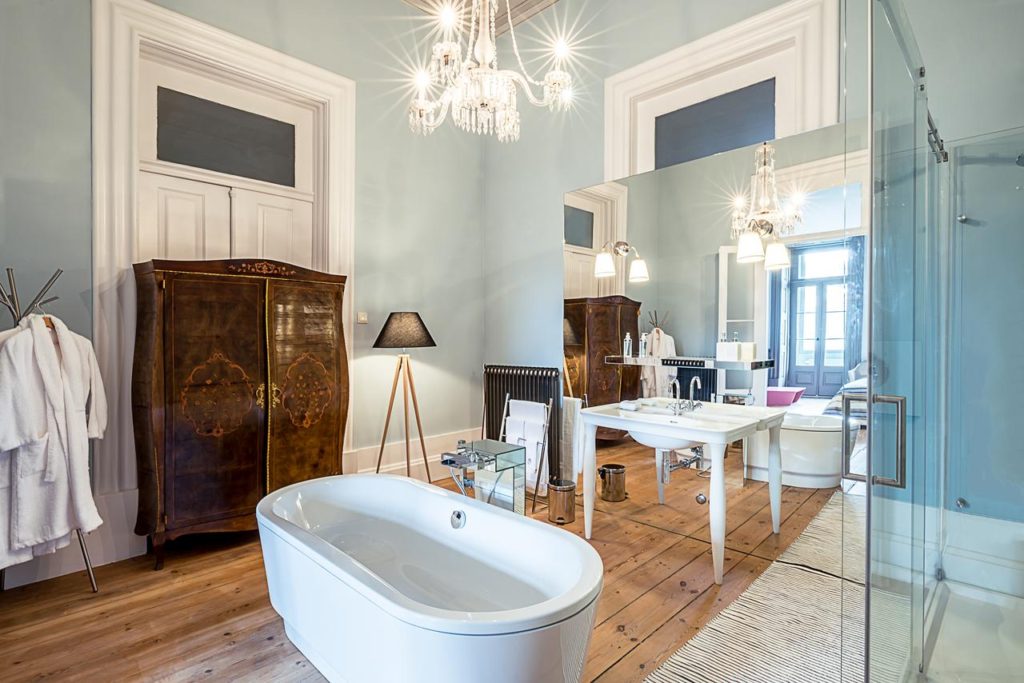 This luxury upmarket hotel is located close to a metro station and Porto Cathedral. This is a charming Pombaline building from the 1900s and styled with a tiled exterior. The rooms have been done in a chic yet vintage style, light and airy, with high ceilings and free WiFi. Breakfast is available at the hotel if guests desire it there. Some of the rooms share balconies, while others have private patios that step out onto the garden. The hotel has a lovely lounge with a romantic fireplace and guests are able to enjoy a delightful courtyard garden.
Pestana Palácio do Freixo – Pousada & National Monument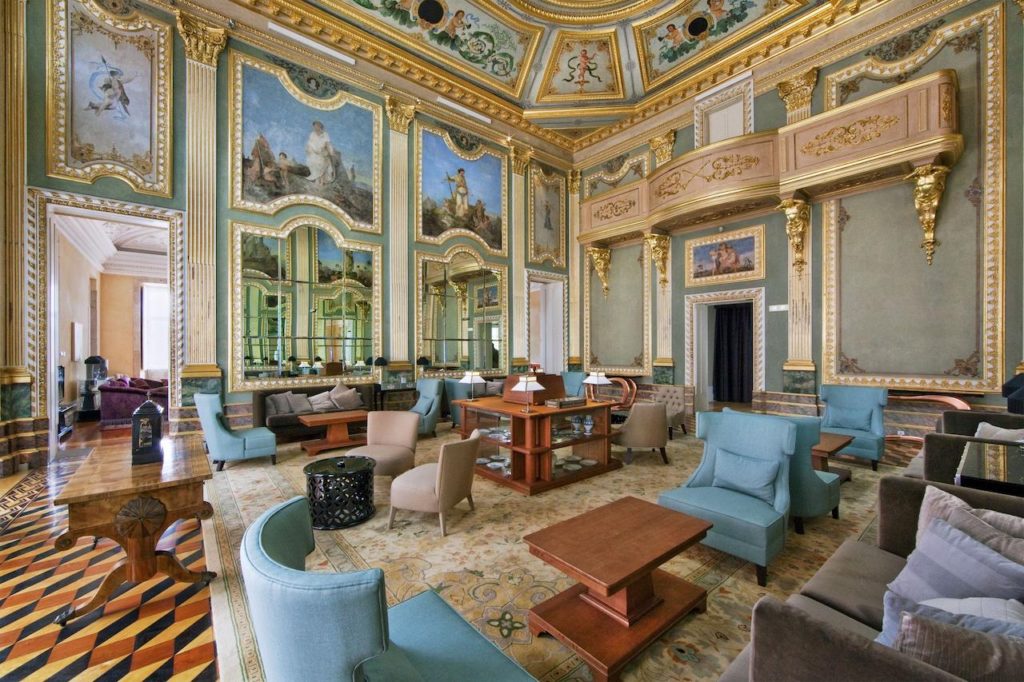 For those looking to live the high life, this is the hotel in Porto for you. This is a grand 18th-century Baroque building that overlooks the Duoro River and is a short walk from the beach. This hotel offers the chance to holiday like a royal in its large over the top public spaces, elegant architecture, and comfortable modern rooms with all the amenities. The hotel boasts a lovely infinity pool that overlooks the river for guests to soak up the sun and relax, along with an indoor pool, spa, and Turkish bath. Buffet breakfast is served at the onsite restaurant and is made with the freshest ingredients. Food can also be served by the pool or at the hotel's bar.
Porto A.S. 1829 Hotel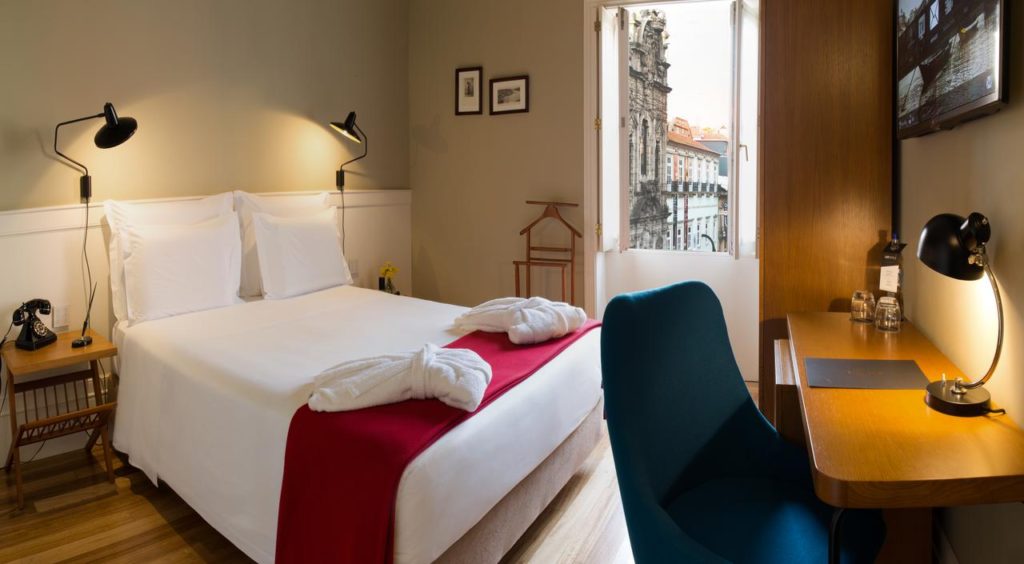 Located in the historical centre of Porto in an old renovated building, this hotel is close to many of the cities best sights such as Clerigos Tower. The rooms are spacious and all have private bathrooms and a view, many overlooking the charming Porto city. All are fitted with modern amenities such as air conditioning, flat-screen TV's, WiFi, and some come with a classic bathtub. There is a snack bar for local snacks and small meals, and breakfast is available for guests on request. Nearby attractions include the lively Ribeira area, the Dom Luis I Bridge, and the Porto Cathedral.
1872 River House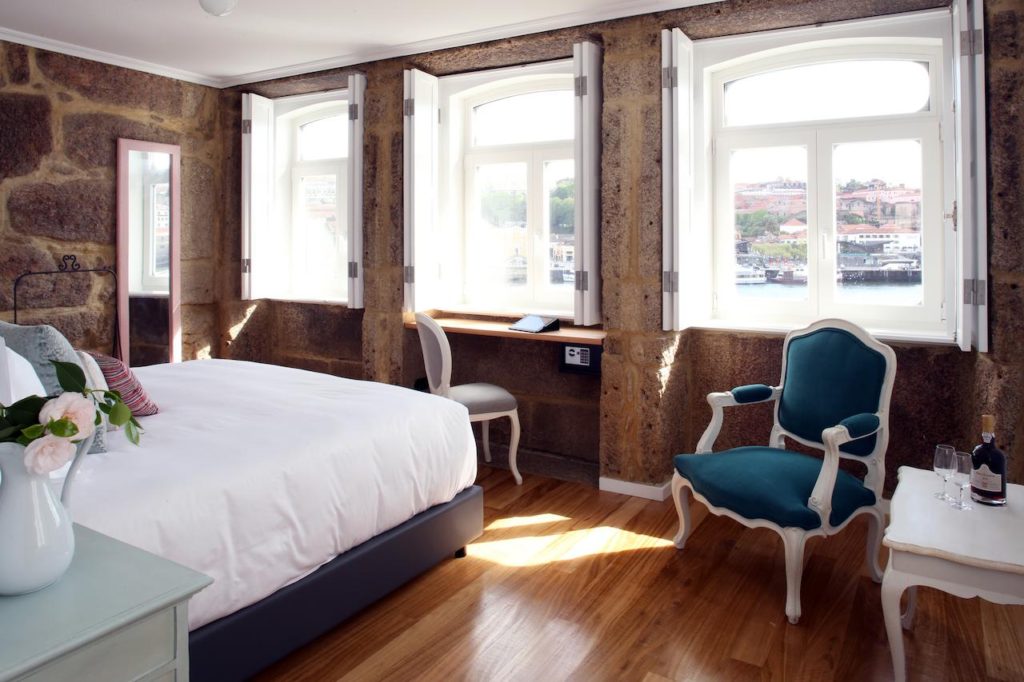 This hidden gem is located near the Duoro River in a renovated 19th-century rowhouse in the heart of Porto with views over the riverside area. There are eight rooms at the hotel which are all air-conditioned and have either city or river views. All have WiFi and a private bathroom. Breakfast is served daily in the bright and airy dining area, or it can be delivered to your room. Nearby attractions include the historical Ribeira area and the centre of Porto is a short walk away. The waterfront promenade can be toured at ease by bike which the hotel can rent to guests, and guided city tours can also be arranged.