For a memorable Andalucian stay, that combines unspoilt beaches, a quintessential white village, and the luxury of great dining and stylish hotels, Vejer de la Frontera ticks all the boxes, writes Andrew Forbes, The Luxury Editor.
Found an hour's drive south from Jerez de la Frontera's airport; 90 minutes from Gibraltar; and less than 2 hours from Seville, the hilltop town of Vejer de la Frontera is easy to get to for international travalistas. Boutique hotels, charming guest houses, award-winning restaurants and authentic tapas bars make it a compelling Spanish destination. The  unspoilt countryside and spectacular nearby beaches keep things grounded with natural Atlantic beauty.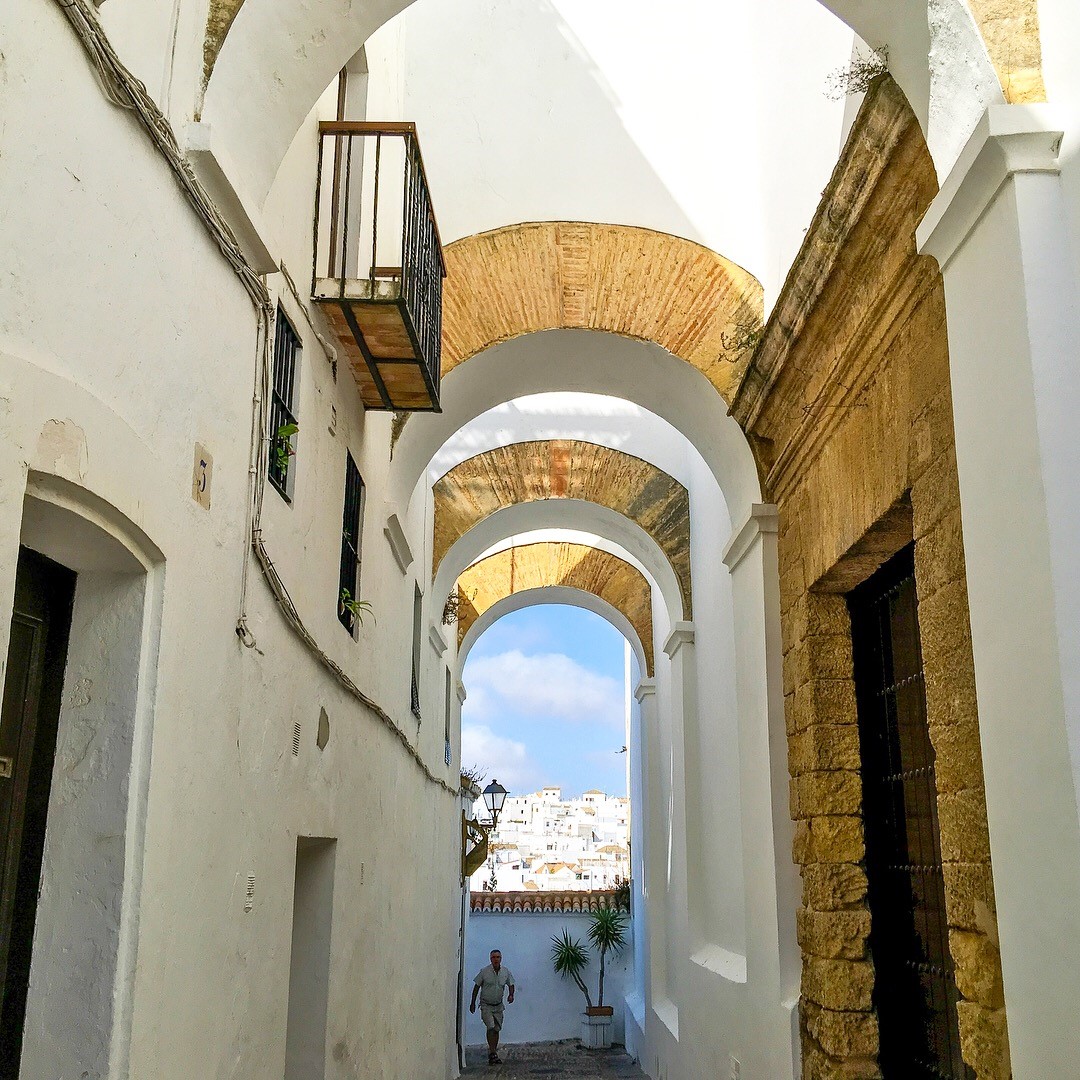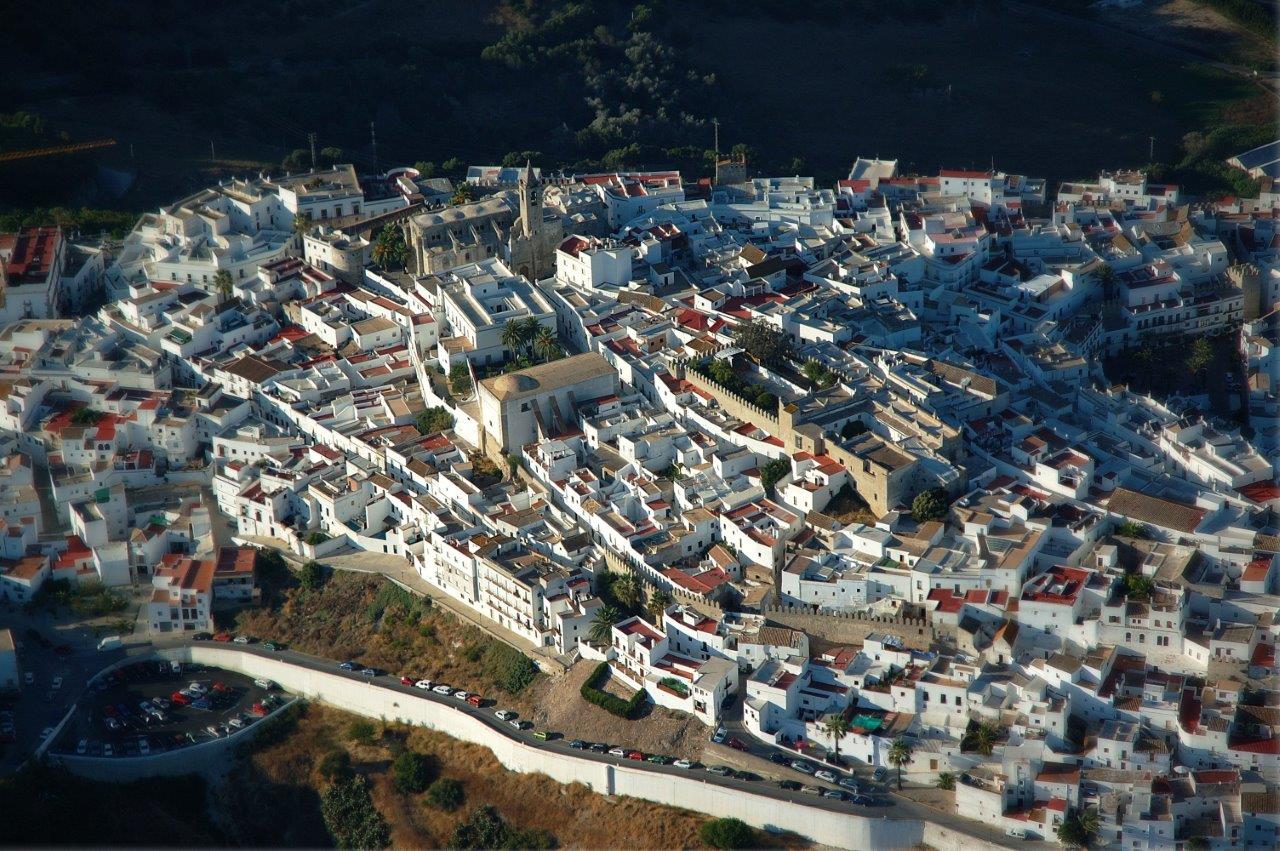 Eat
Vejer is a compact town. Once you've  found parking, just leave your car and forget about it. Enjoy Vejer by foot. Almost every street in the centre is home to tempting dining options, from small bars to more fancy restaurants.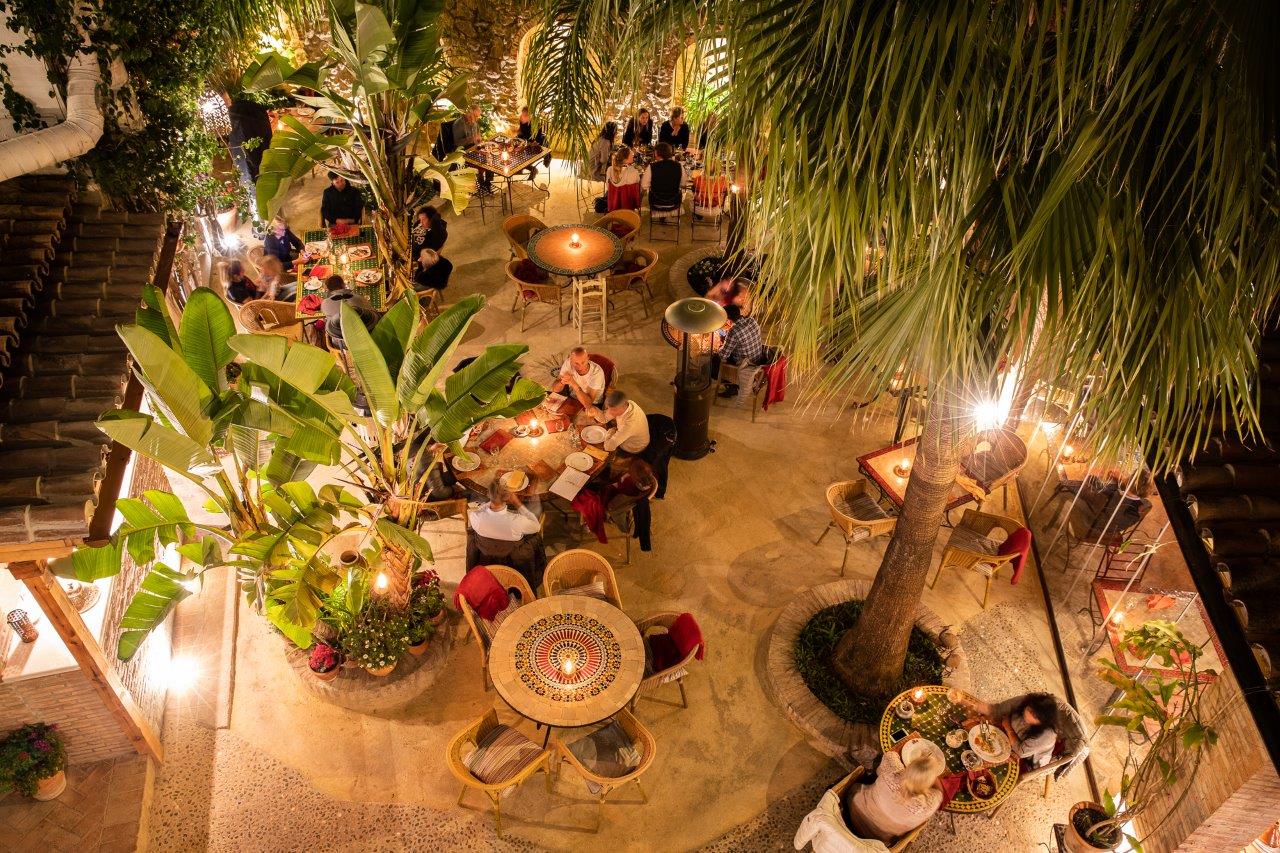 This acclaimed restaurant offers authentic North African and Middle Eastern dishes inspired from Vejer's Moorish past.
Start things off with a sharing mezze of falafel, babaganoush, taboulé, feta cheese and Marrakech salad; or maybe tasty lamb 'Kibbe' Lebanese style croquettes with seasonal vegetables. For a main dish I can recommend the beef 'Tagine Rif'. There's cous cous; meat skewers; and Pastela too, and vegetarian dishes.
El Jardin del Califa is open all year round and is an essential part of a Vejer experience – but make sure you make reservations from Easter to autumn as it gets busy.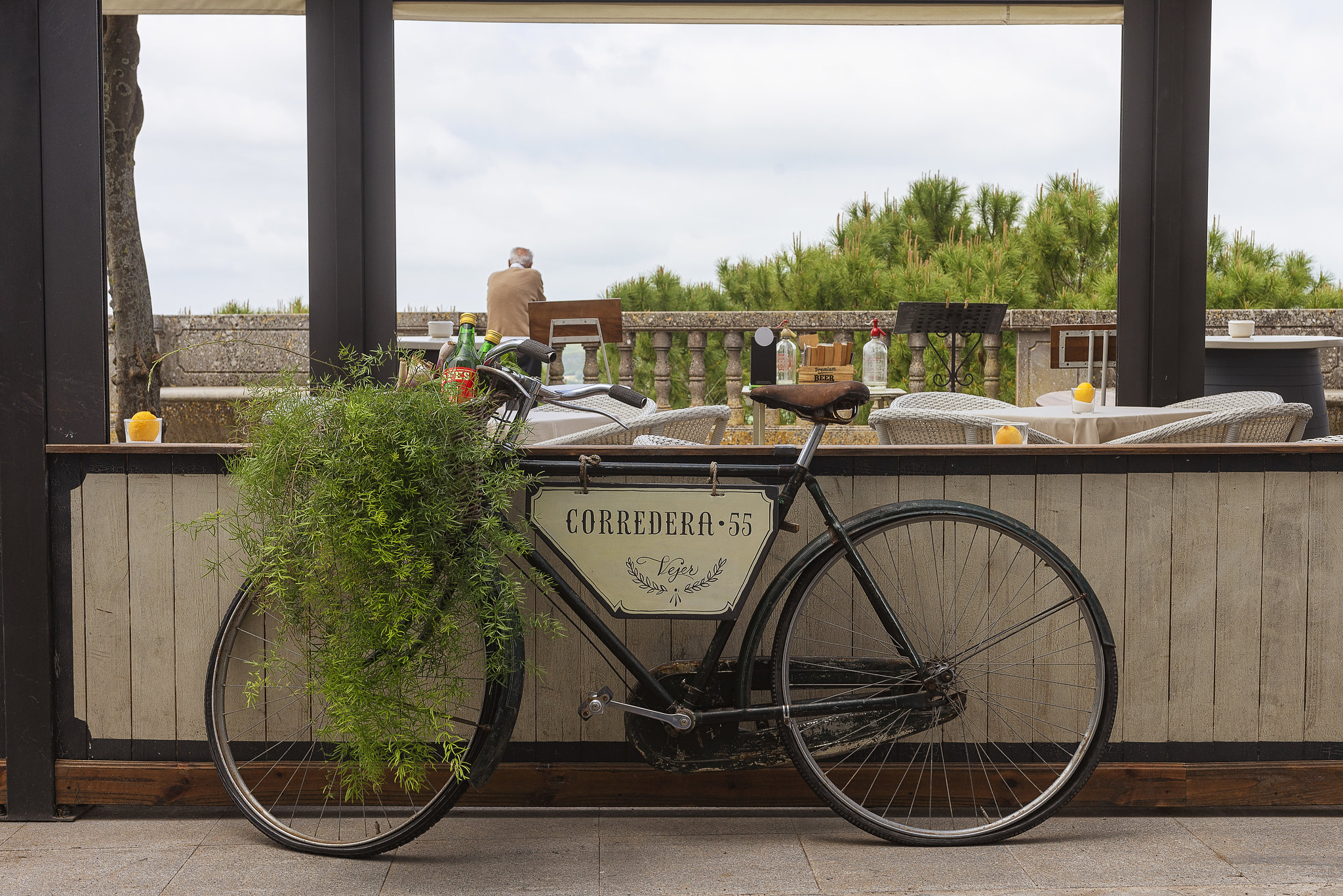 Found on an elegant west facing street in old town, at number 55, is the chic village restaurant by restaurateur and executive chef Ellie Cormié. In addition to the outside terrace pergola facing over the rolling countryside, there are two interior dining rooms, creating sociable, relaxed spaces to enjoy a drink, tapa or slap-up meal.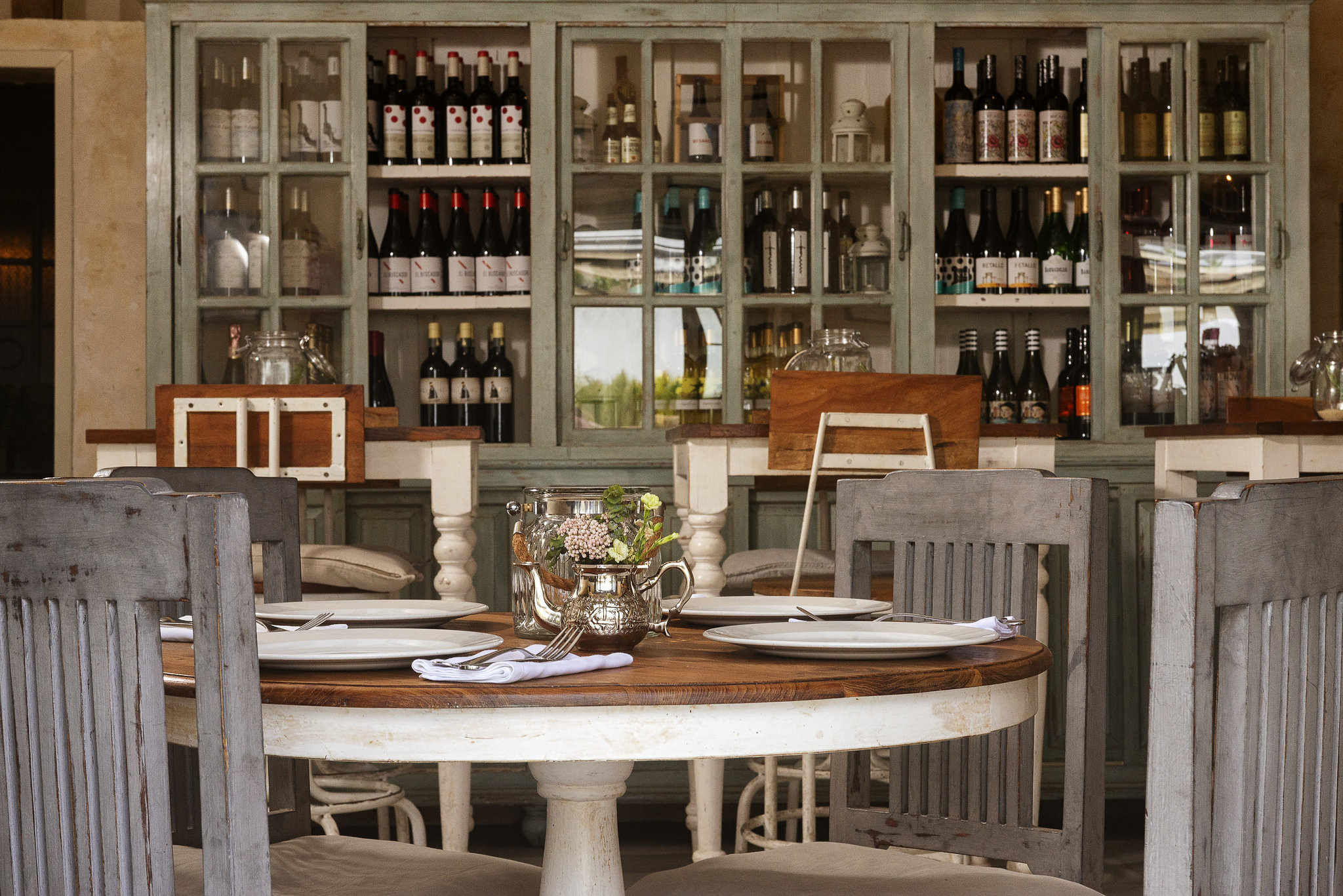 Dishes have genuine providence, using largely organic ingredients from the surrounding land and sea. Ellie's field-to-fork approach supports small scale producers and local fishermen, whilst rewarding diners with layers of fresh flavours that showcase Andalucia homespun gastronomy.
Read our profile of Corredera 55 here.
Found a little further up on Calle de la Corredera is Las Delicias, a restaurant and bar within an old theatre. The setting adds sparkle and spectacle and often there's live music. The menu includes local retinto beef and of course fish and seafood from the Atlantic.
Really you don't need to leave this street to eat well all day in Vejer! As at number 33 on Corredera you'll find Califa Tapas with a diverse menu that brings you tasty sharing plates and snacks from across Iberia and beyond. How about Papas 'arrugás' potatoes with mojo picón sauce, a classic from the Canaries. Or a delicious homemade guacamole with corn chips,  a taste of the Americas. Local to Vejer, you can try a board of sensational artisan cheese; or some tantalising Moorish style north African dishes like meat skewers, or a generous mezze to share.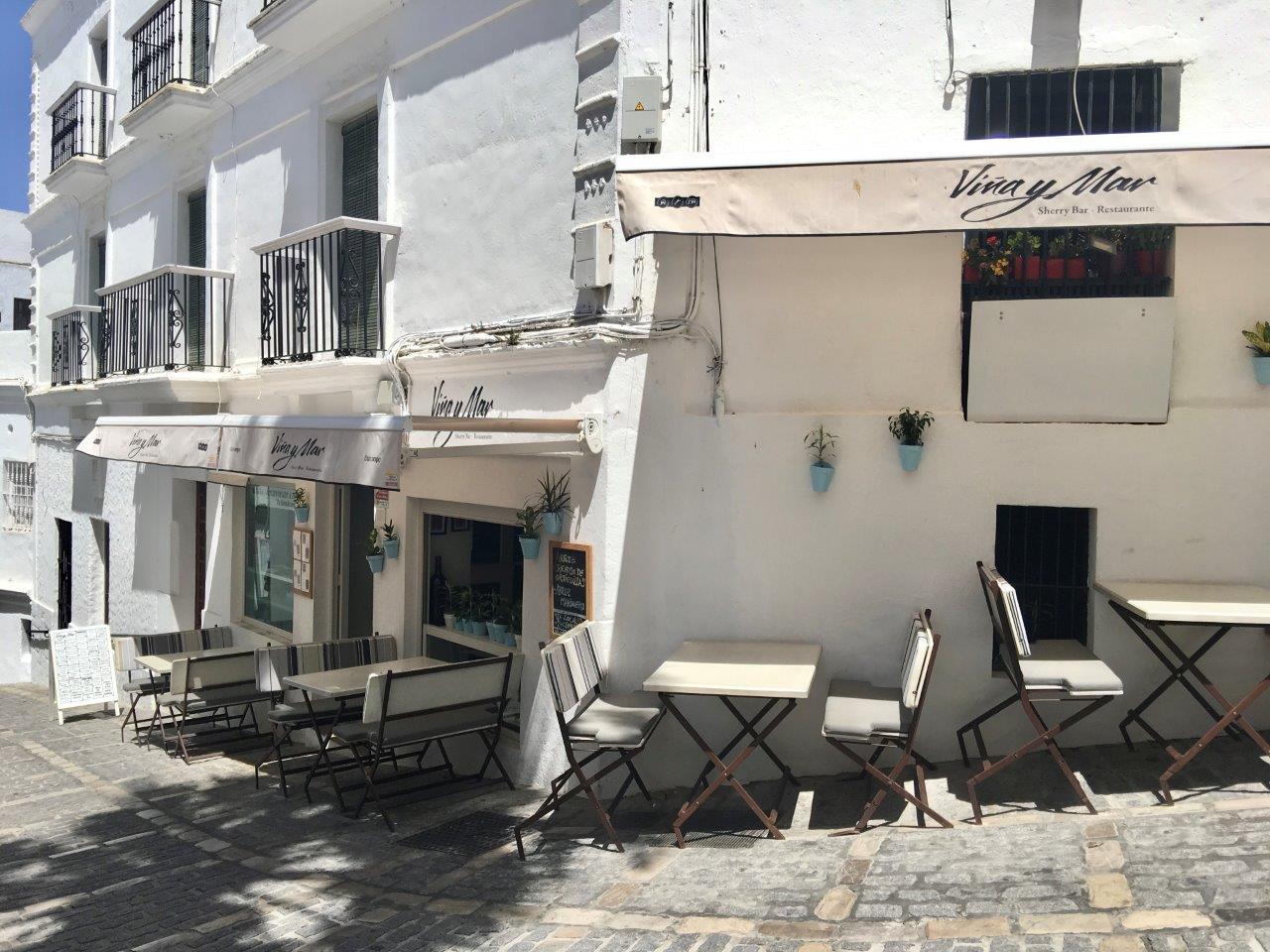 Vejer is of course in the land of sherry and I recommend you put aside any misconceptions and try some of the wonderful fortified dry white wines from the province of Cadiz. Served chilled  and enjoyed with a snack they are superb!
Do
Vejer is a place to immerse yourself in the joy of the Andalucian lifestyle -a lively town, as well the beauty of the surrounding countryside and unspoilt coastline.
NMAC Foundation Sculpture Park
Spectacular sculpture park where 'contemporary art is in perfect harmony with nature'. The permanent collection includes over 20 pieces displayed throughout the semi-wild parkland; there to be discovered along a woodland trail. In addition there are temporary projects and a diverse cultural programme.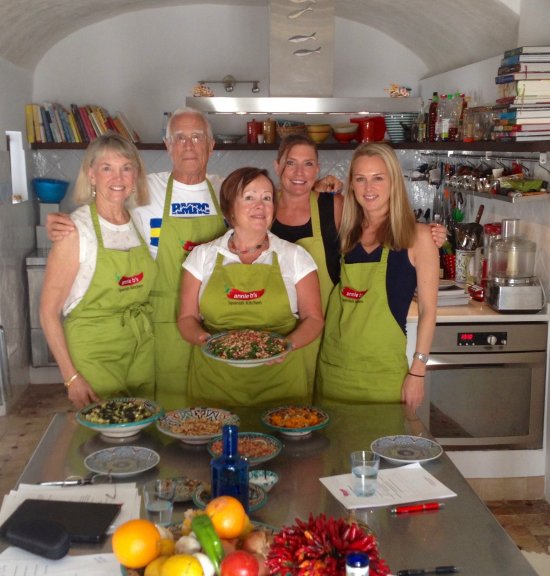 What better way to get to know a destination than through its food?  Annie has been offering food, wine and culture adventures for years. Her informal cooking school based in her beautiful and historic Vejer old town home was where it all started. You'll have a day filled with laughter, helping to prepare easy local dishes, learning the tricks of the trade from a pro, followed by a gourmet lunch on a sun-drenched roof terrace – with fab views of Vejer and the countryside.
If you are eager to discover more, Annie also offers curated private tours within the province of Cadiz and beyond. For example, as a qualified sherry educator, she is happy to whisk you off to the bodegas of Jerez for a day of wine, history and fun. Or how about a day-tip to Tangier and the exotic foodie pleasures of Morocco?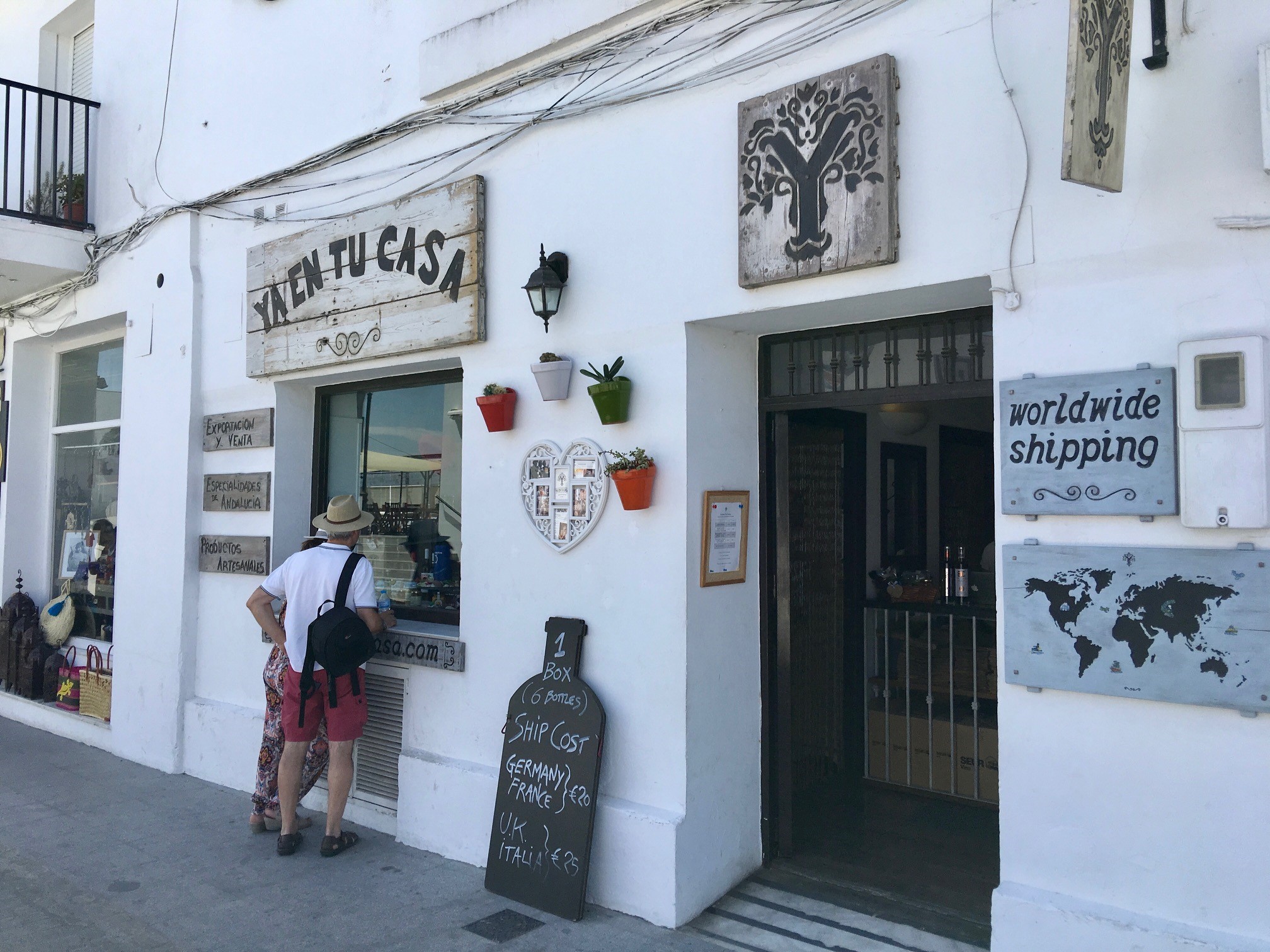 The most tantalising store in Vejer. This fine food boutique is crammed with goodies from across Iberia, from exceptional extra virgin olive oils; fine wines and spirits; artisan cheeses; and top notch hams. Just click and have a look at their online shop – an abundance of temptations that can be shipped worldwide.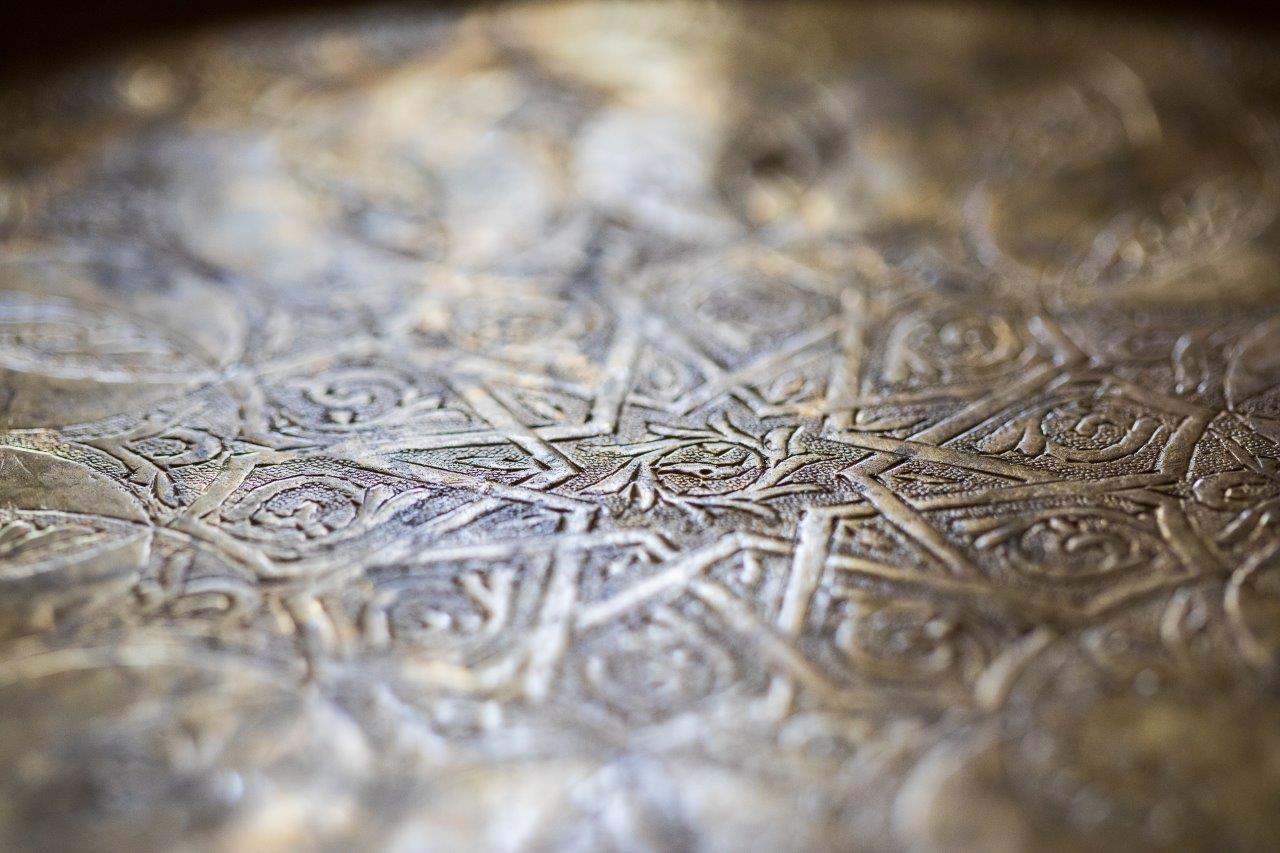 New for 2020 will be a traditional hammam, evocative of the town's Al Andalus heritage, yet with all the sophistication and quality one might expect from 21st century wellness.
Vejer overlooks the Atlantic – a great place to head out onto the water and see some whales!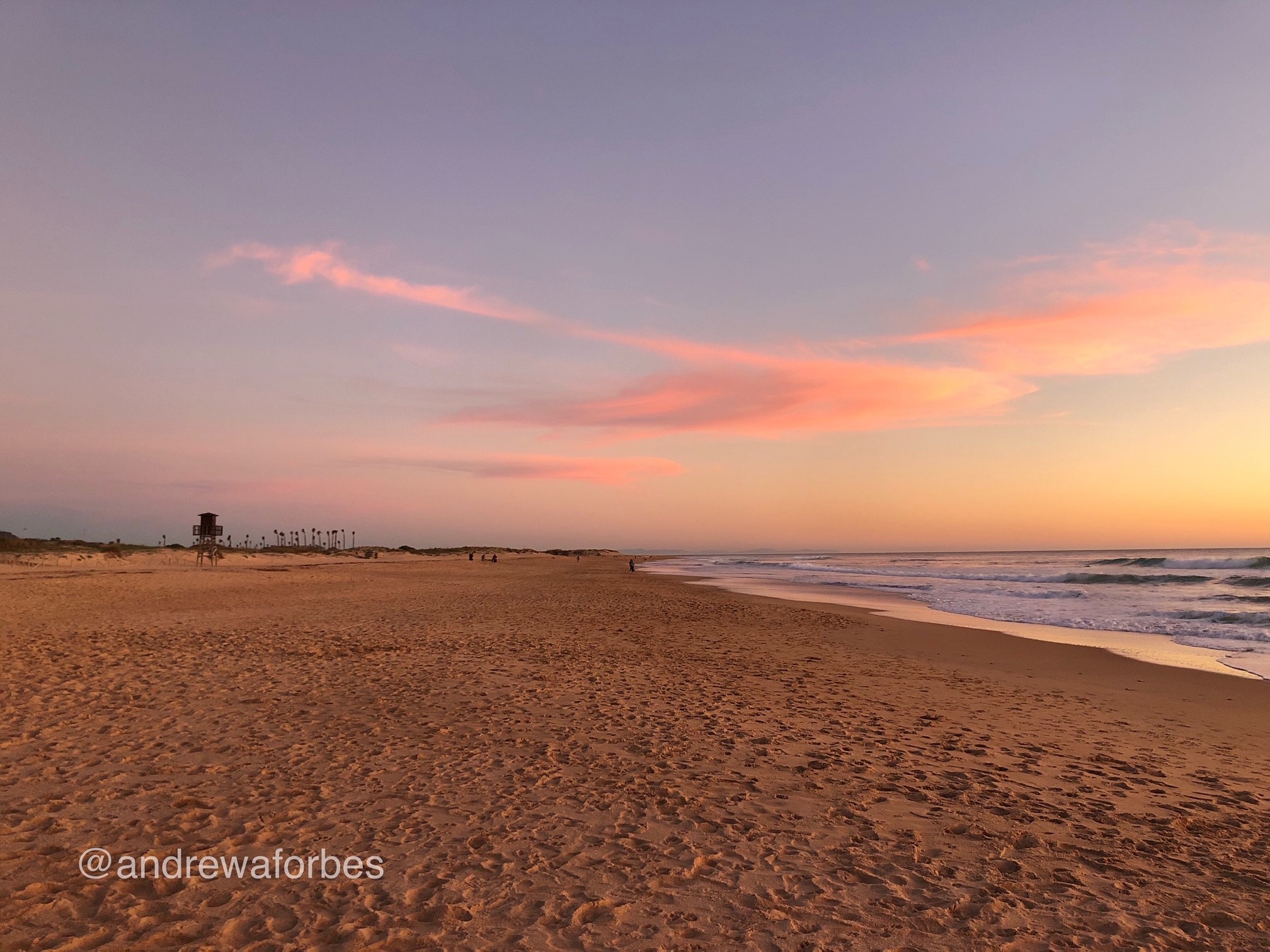 El Palmar beach is a just a few kilometres away. It's west facing, so it's a memorable place to enjoy a sundowner cocktail and take in one of the best sunsets in Spain.
If you're feeling a little more active, how about horse riding along the beach?
Sleep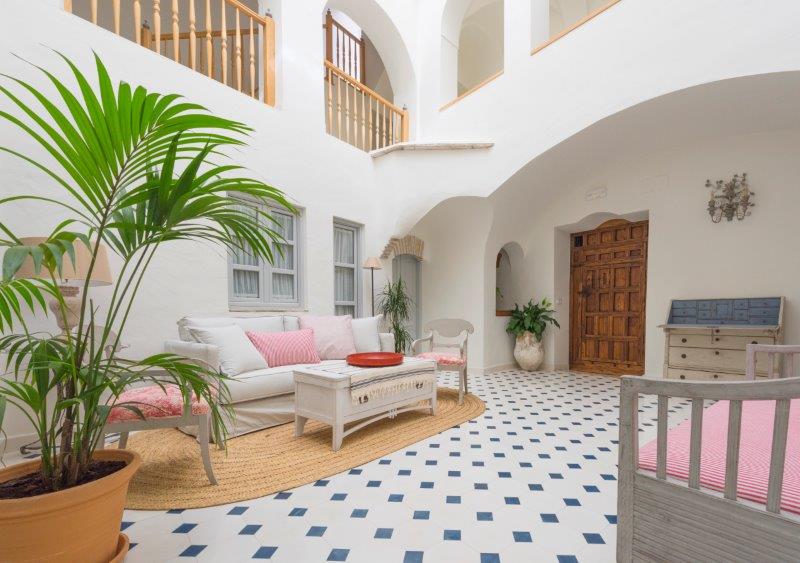 This place is a real find – an impeccable, upscale boutique guesthouse where the cool, clean minimalist lines of the Swedish aesthetic meet the warmth and charm of historic Andalucia.
Casa Shelly, created by owners Swedish Chris & Spanish Javier, is a stylish 7 guestroom home-from-home for visitors looking for smart, elegant accommodation. It's also ideally presented for private vacations – available for rental in its entirety, fully serviced as a boutique hotel.
You can read our profile review of Casa Shelly, Vejer de la Frontera here.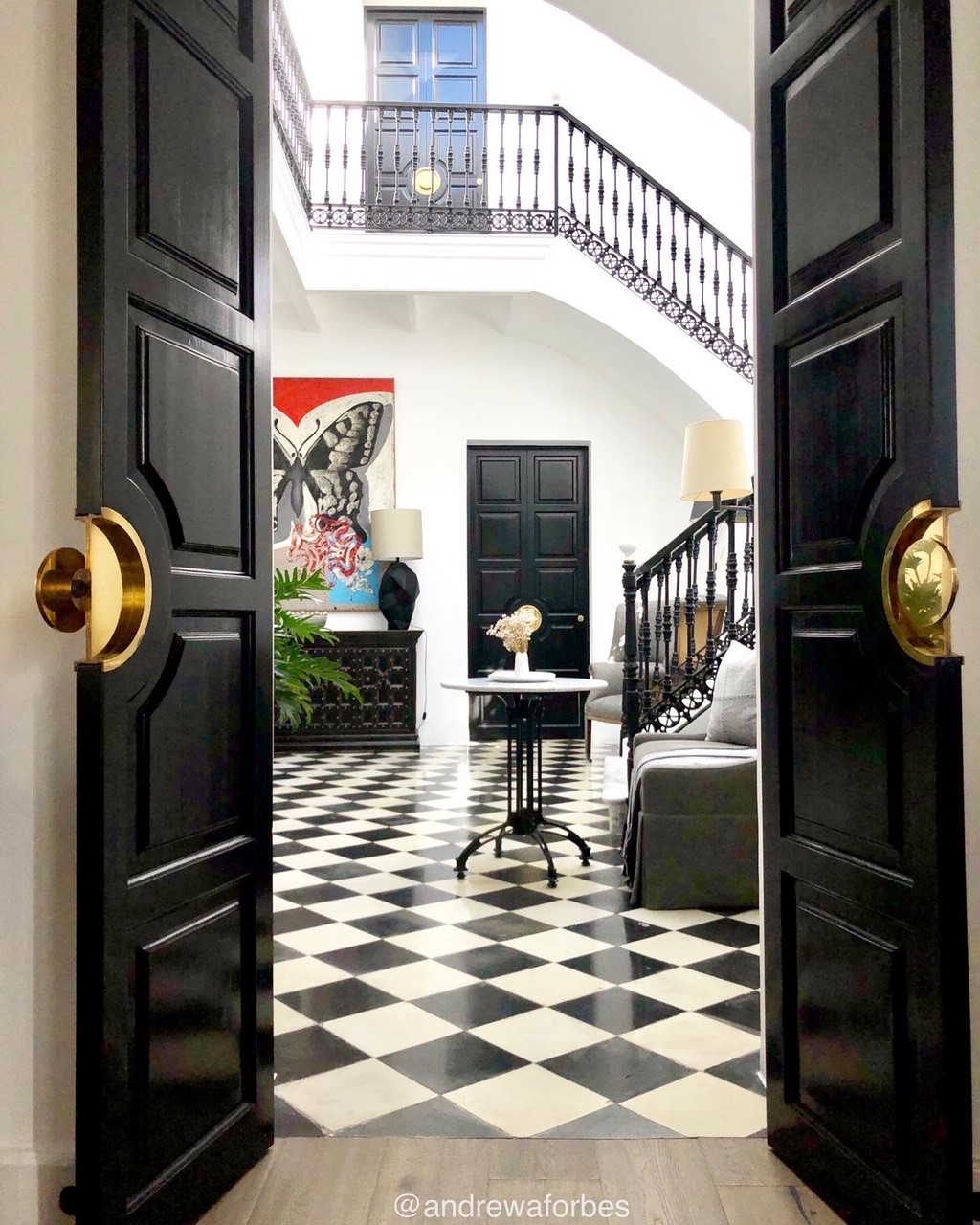 By the town's palm-shaded Plaza de España, one finds Plaza 18, an exclusive hideaway hotel that is a collaboration between 'La Casa del Califa' hotel, created by James Stuart, and Nicky Dobree, an award-winning interior architect and designer. The 19th century merchant's house has been reimagined as a smart 21st century bolthole for travellers looking for elegance and style yet with the laidback charm for which the neighbouring 'La Casa del Califa' has become renowned.
Expect a captivating dose of vintage Andalucian charm; elegant guest rooms with upscale finishes; and access to the services and facilities of the relaxed Califa hotel next door.
A break here is not like checking into a swanky boutique hotel though. It feels more like a posh family home where you're the privileged house guest, enjoying tea and cake in the drawing room, or a chilled manzanilla on the terrace, taking in the views over the hilltop town out towards the beach of El Palmar and the wild Atlantic.
You can read our profile review of Plaza 18 Hotel Vejer de la Frontera here.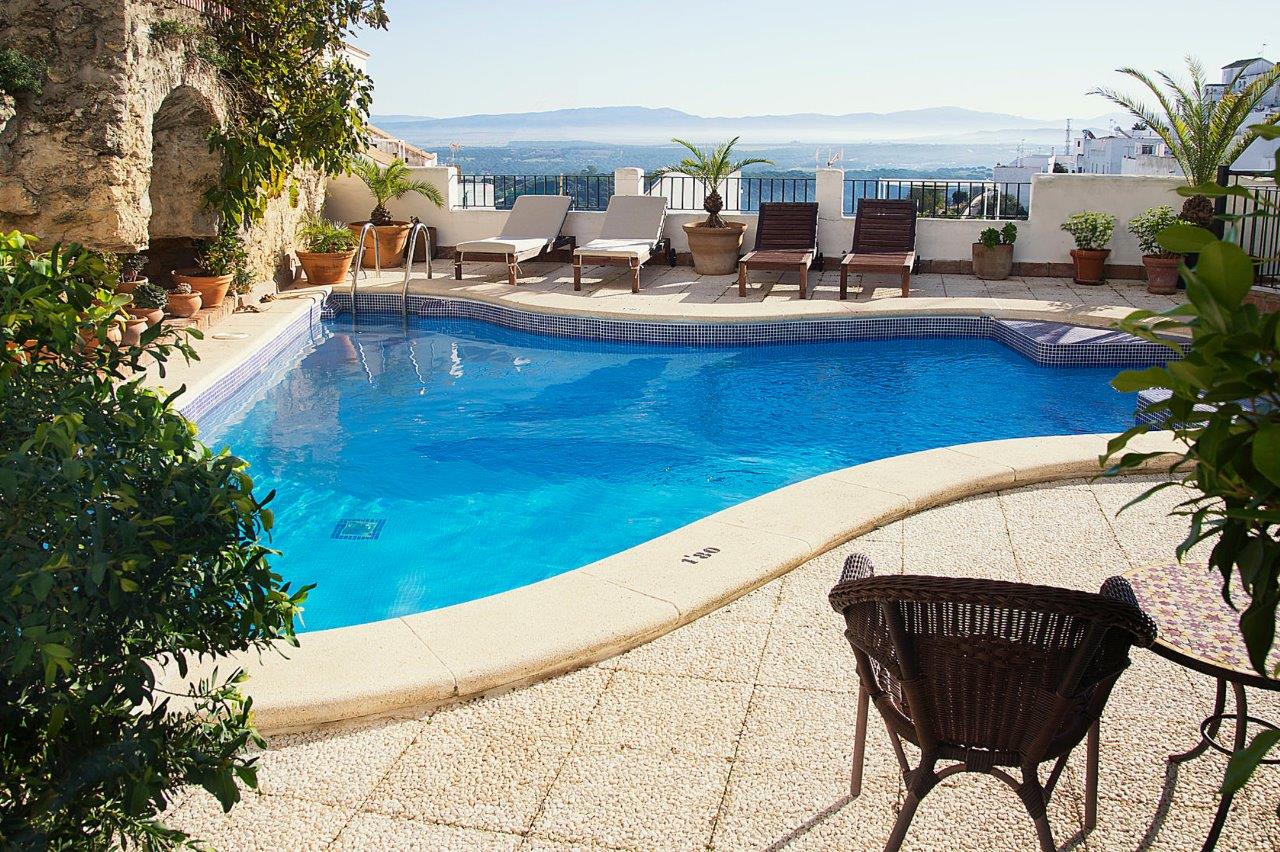 La Palmeras is the place for those that want it all – the charm of a village guest house; access to the facilities of a hotel; and the privacy of Vejer's only hotel swimming pool (which by the way comes with spectacular views!)
The beauty of this guest house hotel, a large town house over 4 floors, is that none of the rooms adjoin, so you get the intimacy of a small, boutique property, but the privacy of a private home. The house has a kitchen, terrace, and pool exclusively for La Palmeras guests, as well as access to all the facilities of La Casa del Califa hotel, a minute or two minutes' walk away.
Secure underground carparking is available for guests, reserve in advance.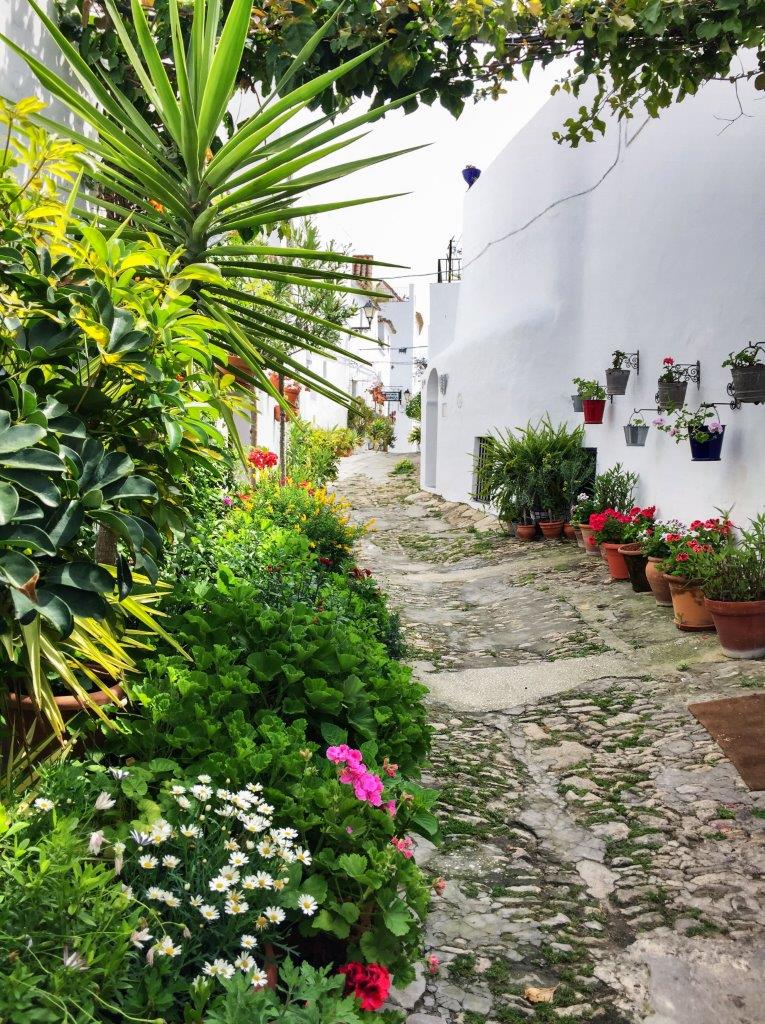 The pioneer of Vejer hospitality, La Casa del Califa, has been created by James Stuart. Arriving in the 1980s to enjoy the surf of the Costa de la Luz coast, he stayed and has created an imaginative, relaxed and unique hospitality experience for visitors to Vejer.
La Casa del Califa is a fascinating, historic building, a mix of unique spaces, from shaded courtyards, pathways lined with flowers, to simple guest rooms and posh suites.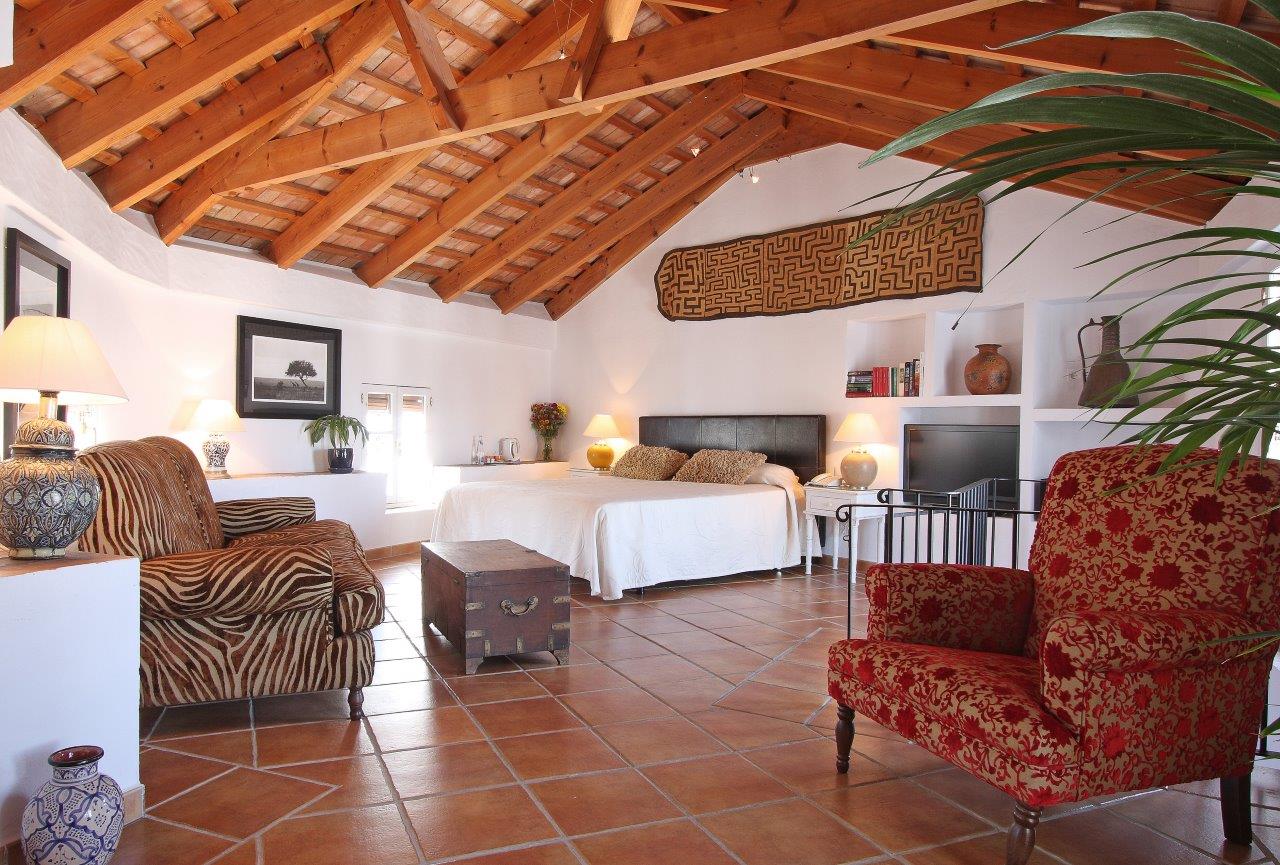 I loved the Africa Suite, on the top floor (The suite feels like a small apartment, with a large living area, high ceilings, and a large bathroom with a tub big enough for two!).
But it's all about the seductive views out across the countryside, to the beach and across to the mountains of Africa.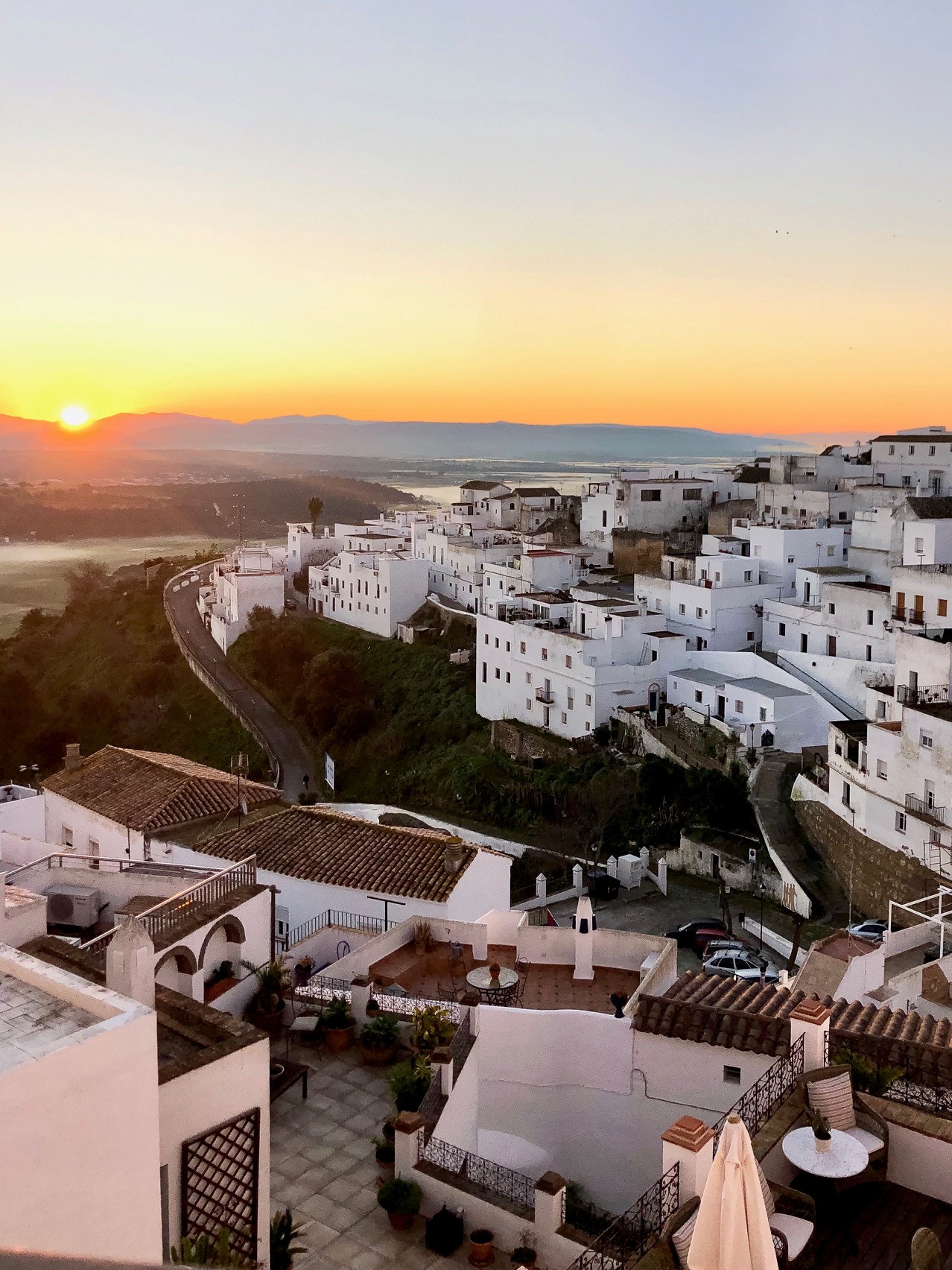 There's cool dining options too.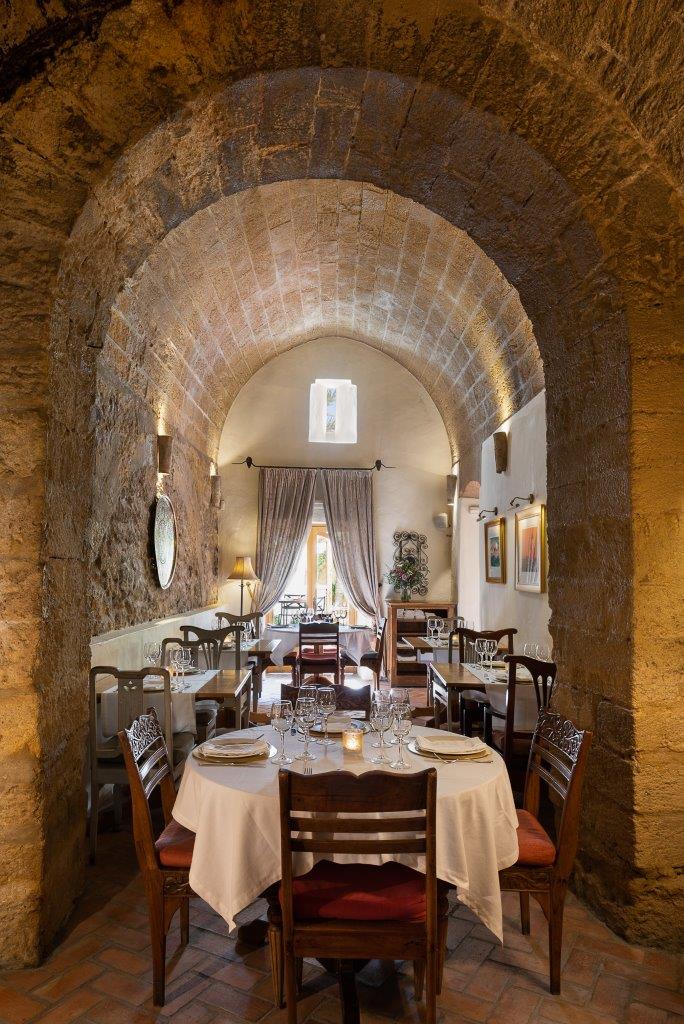 The hotel is home to the El Jardin de Califa restaurant, a cool bar with terrace and a North African style tea house.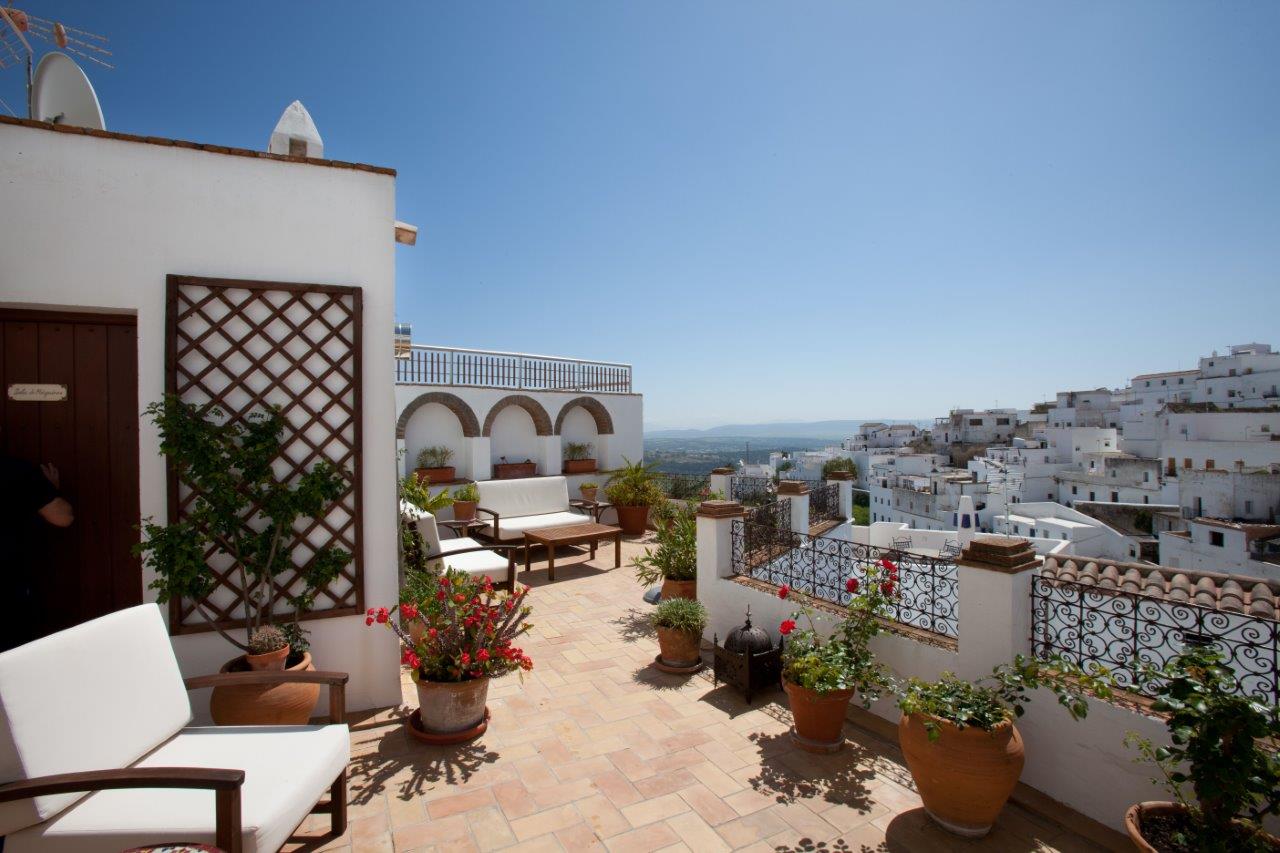 This content has been published first on www.TheLuxuryEditor.com