Cadiz province encapsulates the essence of Andalucia; a romantic and evocative destination of wild, sweeping beaches, Atlantic-fresh seafood, and sherry-fuelled nights of carnival and flamenco. Little wonder it's topping the lists of globe-trotting travelistas, who are making a beeline for the hilltop citadel of Vejer de la Frontera. Plaza 18 Hotel Vejer, the new 6-bedroom boutique bolthole in town, in the place to stay, writes Andrew Forbes @andrewaforbes
This Andalucian mountain village has a seductive combination of quintissential white village charm, with an on-trend food scene that showcases the superior local produce. So don't be tempted to try and experience Vejer de la Frontera as a day-tripper. Make a break of it and stay in one of the stylish small hotels, like Plaza 18.
Plaza 18  Hotel
By the town's palm-shaded Plaza de España, Plaza 18 is a collaboration between 'La Casa del Califa' hotel, created by James Stuart, and Nicky Dobree, an award-winning interior architect and designer. The 19th century merchant's house has been reimagined as a smart 21st century bolthole for travellers looking for elegance and style yet with the laidback charm for which the neighbouring 'La Casa del Califa' has become renowned.
Expect a captivating dose of vintage Andalucian charm; elegant guest rooms with upscale finishes; and access to the services and facilities of the relaxed Califa hotel next door.
The house has been completely remodelled, but historic features remain like the traditional ironwork of the front door, the elegant balustrades of the sweeping marble and stone staircase, and the striking black and white floor tiles of the internal patio.
Even the restoration methods and materials are sympathetic to time old ways of local construction, yet expect the comforts of contemporary life, like energy efficient underfloor heating and swanky bathrooms. The distinctive interior design brings together Andalucian simplicity with a few bold gestures like the impeccable glossy black doors with large brass handles.
A break here is not like checking into a swanky boutique hotel though. It feels more like a posh family home where you're the privileged house guest, enjoying tea and cake in the drawing room, or a chilled manzanilla on the terrace, taking in the views over the hilltop town out towards the beach of El Palmar and the wild Atlantic.
Privileged Privacy
Plaza 18 is an exclusive hideaway. There's no reception from the square outside. Instead guest's check-in at the Casa de la Califa, where one is  shown the discreet entrance to the noble patio house of Plaza 18 next door. Here it's a private sanctuary from the streets outside.
There's a charming terrace, surrounded with aromatic lavender, that offers a special place for breakfast or an alfresco cocktail with views over the rooftops of Vejer, down to the Atlantic wetlands and the gentle crescent of the beautiful the Palmar Beach.
Guest Suites
The guest rooms are on the first floor, each off the landing that circles the internal patio, a welcoming atrium flooded with light from the glass roof above. I stayed in Room 3, a junior suite, with salon, and a sparkling bathroom.
The room, with its subtle hues of calming green had an understated luxury that was a delight. The traditional bay window opened to the street and the blossoming orange trees outside, offering a glimpse of village life and the bustle of the plaza.
Inside the king bed was dressed with fine linens, and the throw and soft furnishes were upscale yet homely.
A separate salon with daybed (which can be made up as a single bed for an additional family member) had a huge TV; and terrace windows that opened to a sensational view.
The compact bathroom was on point, a case study in simplicity and style, with an excellent shower and deliciously scented amenities of geranium and citrus by designer Nicky Dobree.
Room 6 is a duplex. More compact spaces than myJunior Suite, but it has exclusive access to the large roof terrace of the house where you can have 360 degree views of Vejer and its surroundings – mesmerising.
Being In the Moment
This is a home hotel, a place to kick back and just enjoy the moment. The careful details in the design and furnishings, together with the discrete friendly team contribute to a relaxed and comforting stay.
Once we'd checked-in, a light afternoon tea was set up in the salon. In keeping with the Moorish style of sister hotel Casa de la Califa, there was a tray of traditional mint tea with a selection of home-made Moroccan style cookies. This elegant drawing room is a place to make yourself well and truly at home. There's a generously stocked honour bar, and a small kitchen area when you can prepare tea, expresso coffee etc. Then just grab a book, sink into the sofa and feel your body unwind.
The house epitomises the elegant and timeless interiors for which Dobree has made her name, yet also maintains its roots firmly in this Southern Spanish village; a place of citrus-scented stone cobbled streets, and lively tapas bars.
Dining
Vejer is proud of its gastronomy. There's a great mix of local  what-you-see-is-what-you-get bars; upscale tapas restaurants; as well as more sophisticated dining options, particularly during the summer season.
El Jardin del Califa
A short stroll through the labyrinthine walkways and passages of Casa de la Califa takes you to a candle lit courtyard garden restaurant of El Jardin del Califa. Handmade Moroccan mosaic tables are set beside a trickling fountain  and under palms, creating a romantic ambiance.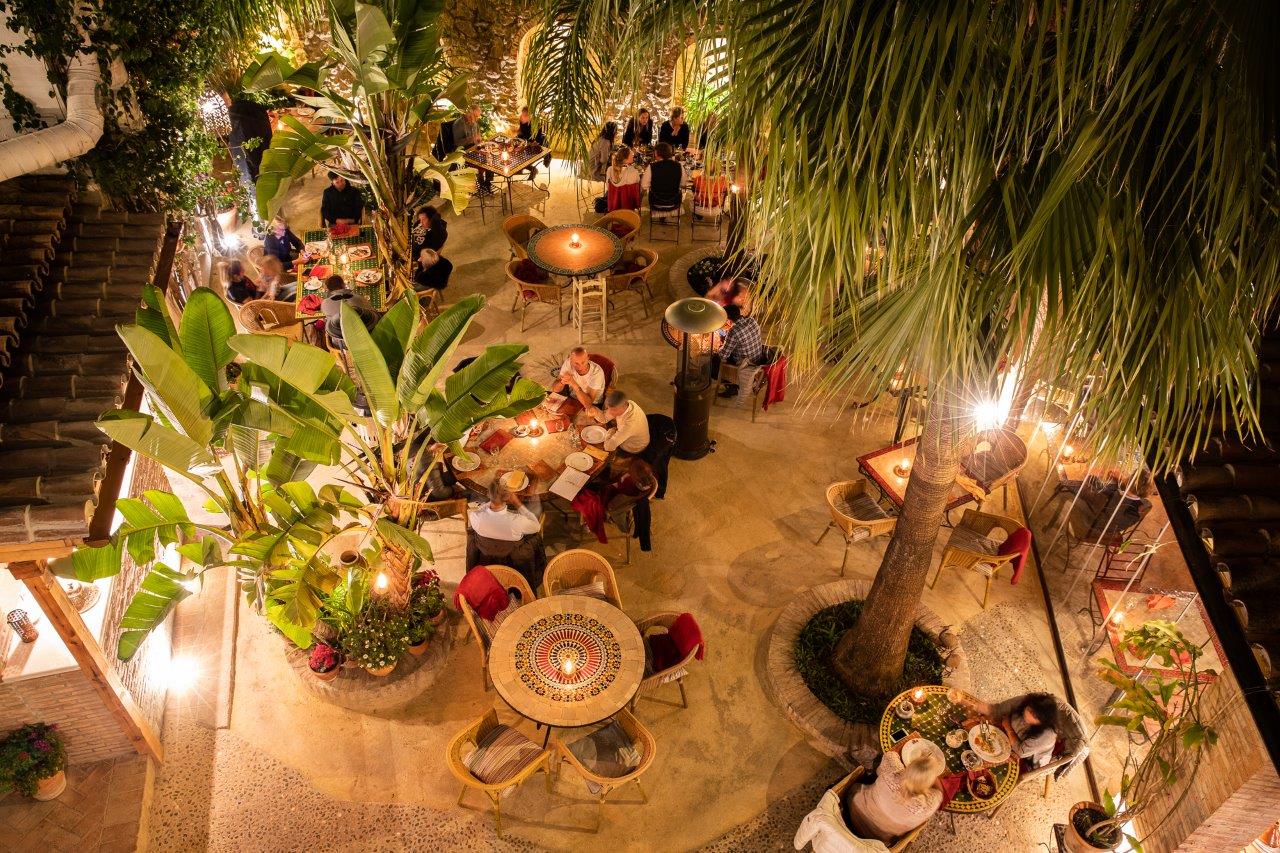 Inside dining is in the striking vaulted 'templo' or the 'pergola' garden room which opens directly onto the courtyard.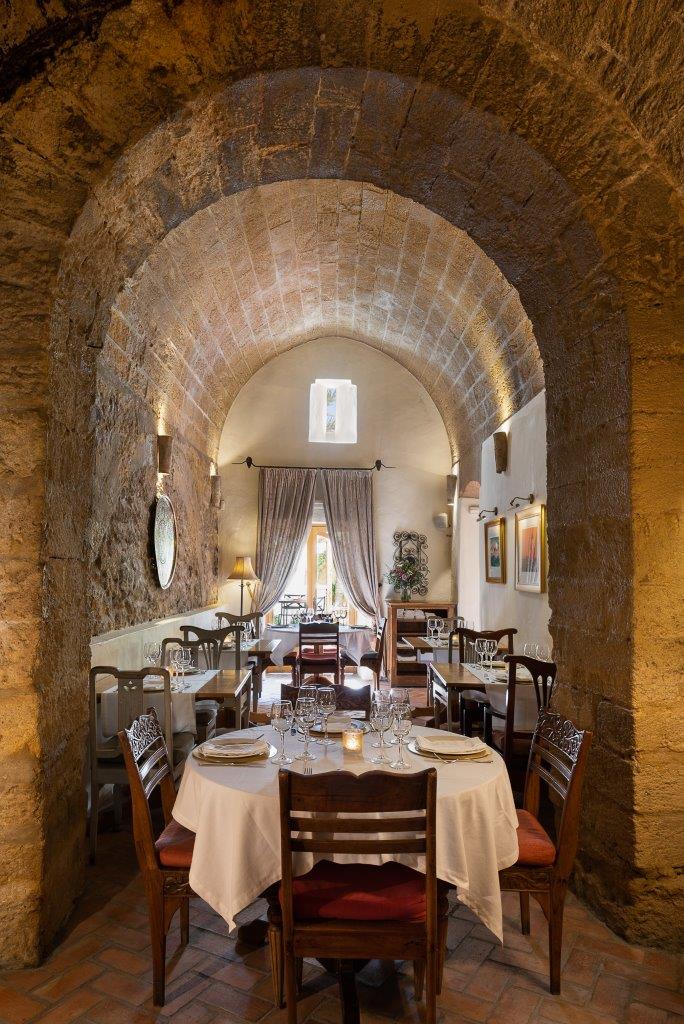 This acclaimed restaurant offers authentic North African and Middle Eastern dishes inspired from Vejer's Moorish past. It's a luxury to have this beautiful oasis right by Plaza 18.
Start things off with a sharing mezze of falafel, babaganoush, taboulé, feta cheese and Marrakech salad; or maybe tasty lamb 'Kibbe' Lebanese style croquettes with seasonal vegetables. For a main dish I can recommend the beef 'Tagine Rif'. There's cous cous; meat skewers; and Pastela. There are plenty of vegetarian dishes too. El Jardin del Califa is open all year round and is an essential part of a Vejer experience.
This is also where guests can enjoy a buffet breakfast.
Corredera 55
Created by restauranteur Ellie Cormié, Corredera 55 is Vejer's stylist farm-to-table restaurant for tasty and creative lunchtime tapas, or an elegant evening meal of local specialities. Ellie and her team are as passionate about food as they are about Cádiz province.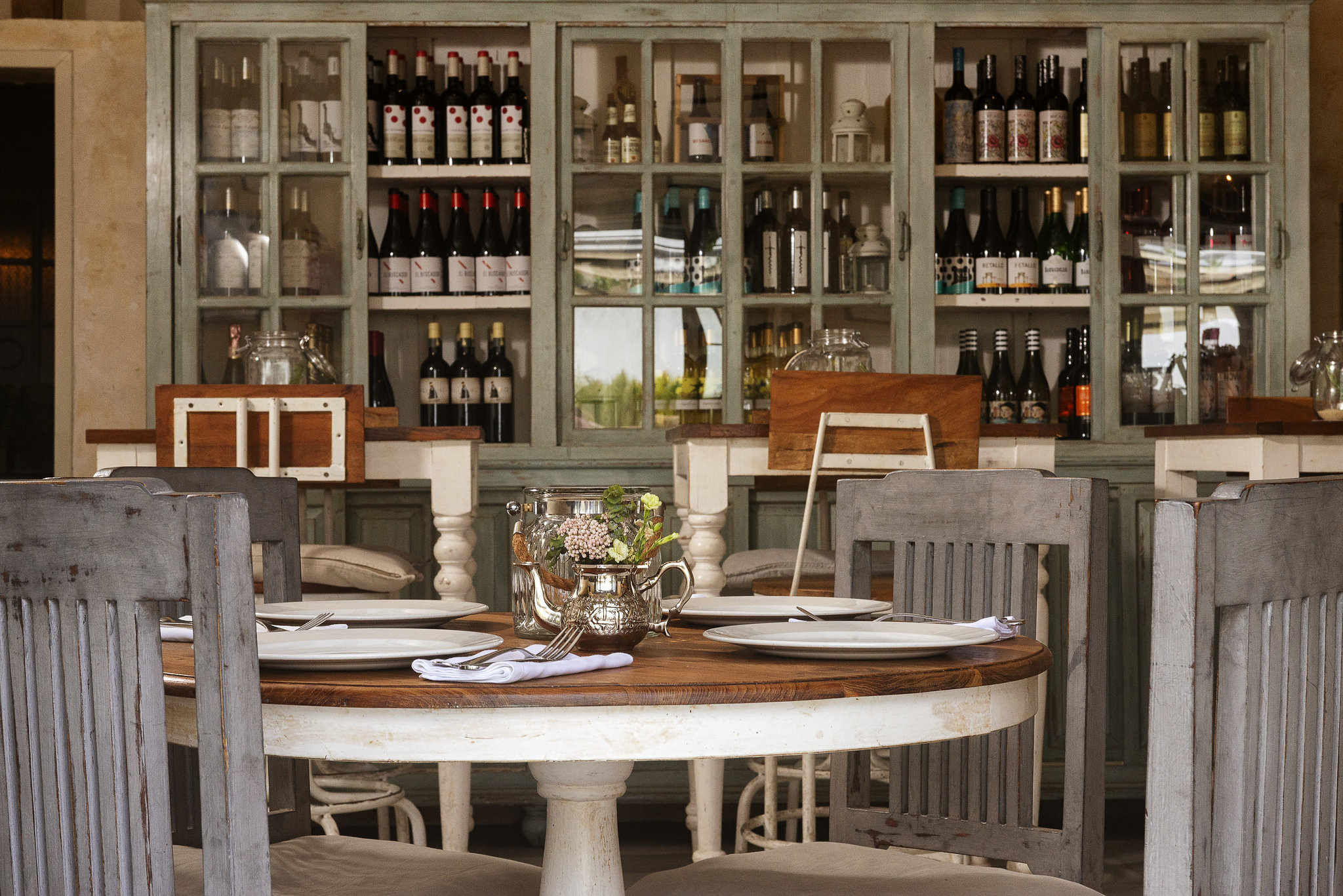 Dishes have genuine providence, using largely organic ingredients from the surrounding land and sea. Ellie's field-to-fork approach supports small scale producers and local fishermen whilst rewarding diners with layers of fresh flavours that showcase Andalucia homespun gastronomy.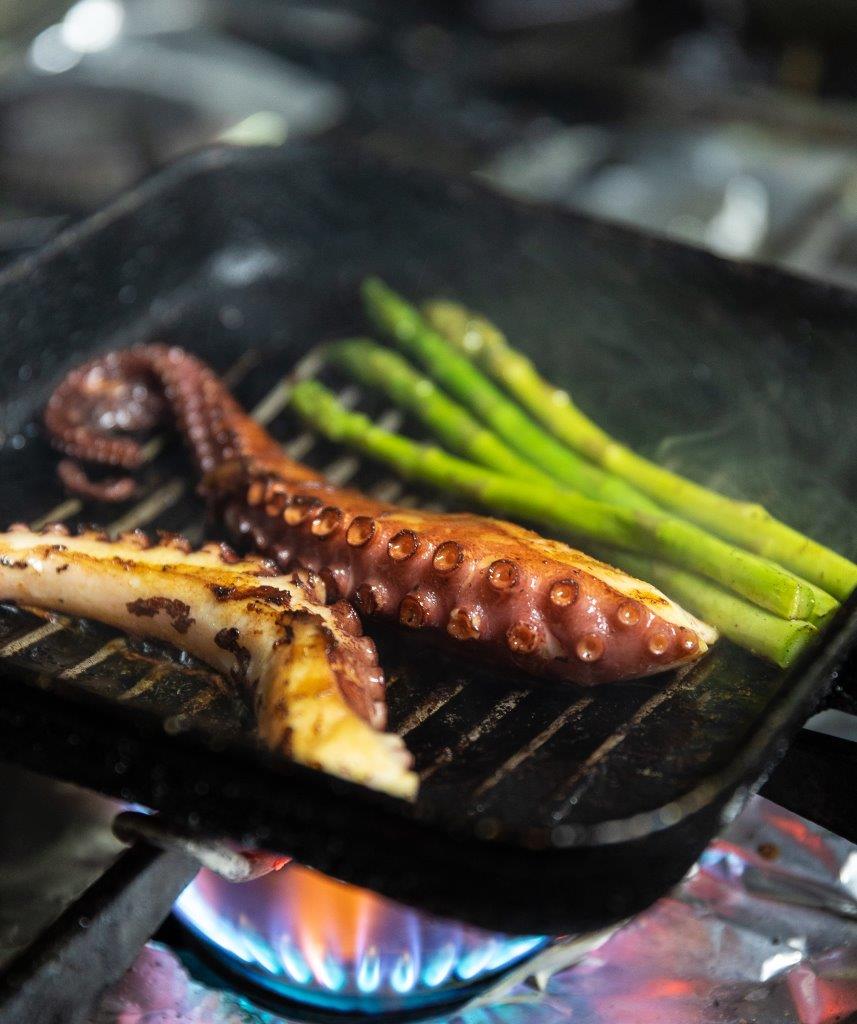 Read our profile on Corredera 55 here.
Vejer de la Frontera
Vejer has a unique ambiance, evocative of the Andalucía's Moorish past. Islamic until the 13th century, the town is twinned with Chefchaouen in northern Morocco, another hilltop citadel that is so evocative of its Spanish sister.
When one delves a little into the history, the reason becomes clear. During the Christian 'reconquest' of the Iberian peninsula, the Emir Sidi Ali ben Rasid and his people had to leave. His wife, who was from Vejer, so missed her home that he built Chefchaouen for her as a reminder of the Andalucian town's beauty and charm.
In some ways little has changed in Vejer from the time of Al Andalus – the town still retains much of its original medieval medina layout. Yet the 21st century has very much arrived in terms of chic places to stay, and a burgeoning food and restaurant scene catering to the international visitors that make regular pilgrimages to this ancient town.
It's a destination that makes for a compelling part of an Andalucian escapade in Cadiz province. Hire a car at the airport and you have the freedom to explore the unspoilt beaches of this glorious part of Southern Spain; discover the pleasures of fine dry sherries in nearby Jerez, and be immersed ib the evocative colonial architecture of old town Cadiz port. What's more Plaza 18 and Casa de la Califa offer secure parking for guests – just book in advance.
Information
Plaza 18 Hotel
Plaza España 18, Vejer de la Frontera, Cádiz 11150, Spain
Tel: +34 956447730
WhatsApp: +34 683276387
Website: http://califavejer.com/hotels/plaza-18