Castle Elvira laid abandoned for more than one hundred years until it underwent a spectacular 4-year restoration, with emphasis on unique eclectic design, art collaborations, and the highest levels of service.
Entrepreneur couple Steven Riseley and artist, film director, and husband Harvey B-Brown have poured their hearts and souls into every inch of this historic monument, and the results scream for your attention.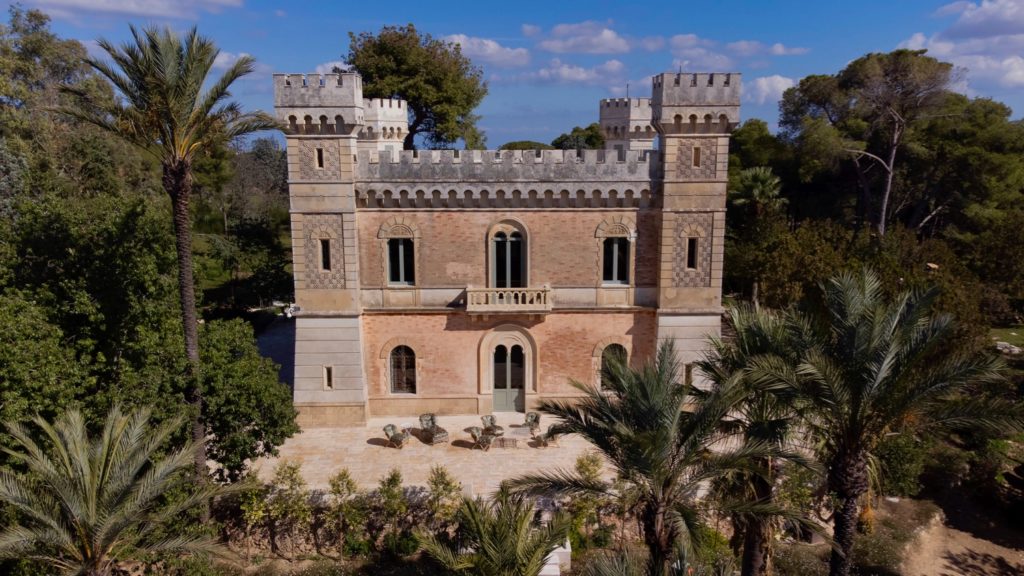 In less than one year, Castle Elvira has been hailed by 'Tatler travel' as one of the 'top 101 hotels in the world' and proclaimed as one of 'Vogue's' 'top 5 hotels in Puglia', Castle Elvira has stunned an international audience, and the accolades continue to flow. Welcome to Castle Elvira, where there are no boundaries and no limits. Read on to discover more.
Read our full spotlight on piece here
You have a strong background in the hospitality industry, how does Castle Elvira compare to your past experiences?
Castle Elvira is incredibly unique, and the objective was to fit honestly into the boutique hotel market, I believe that we have achieved that both aesthetically and operationally. Castle Elvira is a dramatic move away from my previous experience, which was mainly in corporate enterprises.
What was the key attraction that drove you to take on such an immense project?
The moment I set eyes on the castle, it simply took my breath away, it seemed to speak to me, and I knew that it was a project I could not walk away from. I also had, for some time, yearned to put my whole being into one final project, a project that would challenge me more than ever before. Castle Elvira was destined to be and is my legacy.
The castle has an enchanting fairy-tale backstory – please tell us more and if / how this has been incorporated into refurbishment project.
Castle Elvira is an exact copy of Castle Scarpetta in Naples, built and owned by a famous Italian actor, Eduardo Scarpetta. Castle Elvira was built by a wealthy entrepreneur, also from Naples; it was to be his family's summer home. The legend is that when Castle Elvira was completed, the owner came to stay that first summer with his wife and his biggest love, his 15-year-old daughter Elvira, she was his princess, it's said that he built the castle for Elvira, hence the name Castle Elvira. Elvira tragically died in the castle that summer, and her father and mother left the castle fully furnished, locked the doors, and never returned. Although it is a tragic story, Elvira would be delighted to see the positive energy and passion poured into her castle and see it so lovingly restored to its original magnificence. Of course, we kept the name Castle Elvira; somehow, it is lovely to think it is still hers.
You and your team have been working with master artisans (since 2018!!) to lovingly restore the castle and its original features. Please tell us more about the artisans you are working with and the journey to completion.
Puglia is a more traditional and unspoiled region that has a unique history. There is a wealth of historically significant buildings and monuments here, they exhibit many ancient architectural styles, and many remain unrestored. Many artisan trades still thrive here because of that, and I believe their work is unparalleled compared to most other regions. From stone masonry to hand forged iron works, it is still possible to achieve quality authentic restorations here in Puglia. We were lucky to work with some of Puglia's best restoration teams, and the results of their work speak volumes.
Art and design are key features at Castle Elvira, please tell us why this is so important and how it is showcased throughout the estate and castle.
My husband, Harvey B-Brown, is an artist and an award-winning filmmaker. Harvey collaborates with his London-based artist partner, David Scheinmann. Their current art project, 'Adored and Adorned,' is mainly mixed media portraiture. They have been commissioned by many high-profile celebrities, including Cher, Kate Beckinsale, Bryan Ferry, Graham Norton, Dame Darcey Bussell, Helen McCrory, Philip Treacy, and many more. Many of Harvey's and David's works, as well as many other international artists' works, are hung in the suites and salon's and all art can be purchased. We are very focused on the art concept, and one of our in-house guest experiences is a life drawing class hosted by Harvey. This has proven to be our most popular and successful experience. Guests participating in these classes have been profoundly moved; many have told us it was an emotionally stimulating experience.
Castle Elvira will open its doors to welcome guests once more in April – do you have any exciting plans for the reopening?
Castle Elvira will open its heart and doors again in April, and we are very excited to welcome our old and new guests for our second summer season. Even in the wintertime, work always continues at Castle Elvira. We have been busy this winter making many improvements to make our guests stay more luxurious and comfortable. Our in-house art boutique will incorporate many new artists' pieces this year, including handmade jewellery, ceramics, limited edition prints, original art pieces, and vintage glassware. We made contact with many other artists during the winter, both local and international, and we will be showing and selling their work this year.
What can guests expect from their experience at Castle Elvira?
Castle Elvira is a luxury experience, our guests can expect the highest standards of service and care, but our policy is not to make our guests feel harassed; our team is efficient without being overbearing. We use a what's app system, and guests can simply message from anywhere on the estate and request anything they need, which will be delivered to them immediately. Our in-house restaurant is open daily for breakfast, lunch, and dinner. We serve authentic 'Cucina Salentina' Italian cuisine using all fresh and locally sourced seasonal produce, all dishes are hand-made by our two chefs, and every week we light the traditional olive wood burning pizza oven and host a special pizza evening with live traditional Italian music. The castle rooftop cocktail bar is open daily for sunset drinks; our mixologists make all cocktails or mocktails to order. Our guests only have to relax, listen to the specially mixed ambient music, and watch the fantastic Salento sunsets. With our varied list of in-house and external experiences, which our concierge will arrange for the guests, it is impossible to feel bored.
And any top tips for guests to gain the most from their stay?
If I had any advice to give our future guests, it would be to come here with an open mind and try to forget your past hotel experiences. Castle Elvira is not like any other hotel. You can, of course, expect the high standards of service that most 5-star hotels offer. You will feel and taste and understand the high quality in everything we do and produce here, but don't be surprised when you bump into the owners and they invite you for a sunset drink or one of the staff decides to deliver a surprise glass of prosecco to you at the pool. We will offer everything you can find at another luxury hotel, but we provide it with less formality. At Castle Elvira, we do not employ robots; everybody here is organic with a big beating heart.
Luxury is highly subjective – what does it mean to you?
Luxury can be defined in many ways by different people. Our aim at Castle Elvira is to encourage guests to do what they want and when they want to do it, we will facilitate everything and anything they need, beach sunbeds at beautiful beaches, making restaurant reservations, booking yacht charters, arranging private jet travel, booking local tours or wine tours; the list is endless. Or simply to take the best care of them when they are on the estate, always with a high standard of service and care.
What is your life motto (if you have one?)
The shock of the covid pandemic and the severe restrictions it imposed on the world made us realise that we take too much for granted, the things we enjoyed doing were suddenly taken away, and it was very tough on us all. My life motto has to be: "Life is not a rehearsal; the time to act is now."
Contact Details
Castle Elvira lends itself perfectly to a celebratory gathering, such as an exclusive use wedding, as well as to romantic getaways for couples and enriching experiences for groups of friends.
Rates for a double room with breakfast start at €499 per night, with rates for Castle and Cottage exclusive hire for 12 people starting from €2,500 per week.
Read our full spotlight on piece here
Website: www.castleelvira.com
Address: Via Andrano, 73019 Trepuzzi LE, Italy