The newest addition to Milan's most fashionable district opens its doors, revealing thoughtfully curated interiors by design duo Ed Ng and Terence Ngan. A sophisticated haven, Paper Moon Giardino – the highly-anticipated flagship restaurant of the world-renowned brand – offers a secret escape for Milanese and international crowds in the heart of The Golden Rectangle.
Paper Moon Giardino is housed within a 200-year old mansion in Palazzo Reina, which was commissioned by the noble Milanese Reina family and built in 1830 by architect Nicola Dordoni. The property, which was previously used by the noble Luigi Bolis Gualdo to entertain his guests from all over Europe, has recently been restored to its former glory – the original features and neoclassical façade have been preserved to honour the architectural value of its surroundings. Guests enter the Palazzo through a traditional Milanese gated entrance overlooking Via Bagutta, and are led towards Paper Moon Giardino via a bright central courtyard.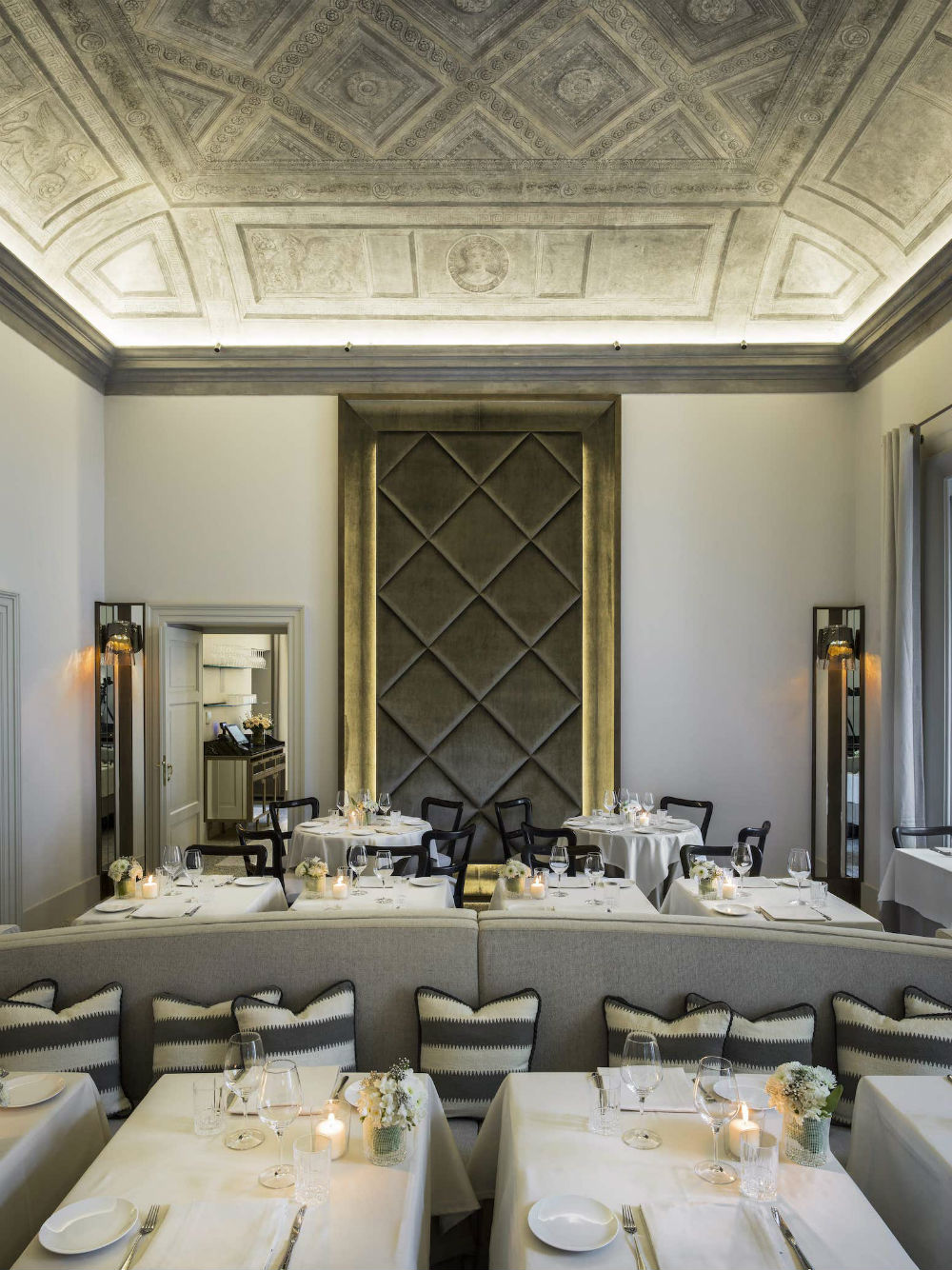 For the interiors, AB Concept has taken inspiration from the area's eclectic history and architecture to create an elegant and calming sanctuary within bustling Milan. Contrasting the elaborate features associated with the traditional Paper Moon brand, AB Concept introduced subtle colour palettes and fresh motifs, with an overall design that is intended to reflect an intimate home with comfort and tranquillity. Light greys complemented by a distinctive green replace dark and bold features to inspire a calm and peaceful environment for Milan's fashion elite walking straight off the catwalk.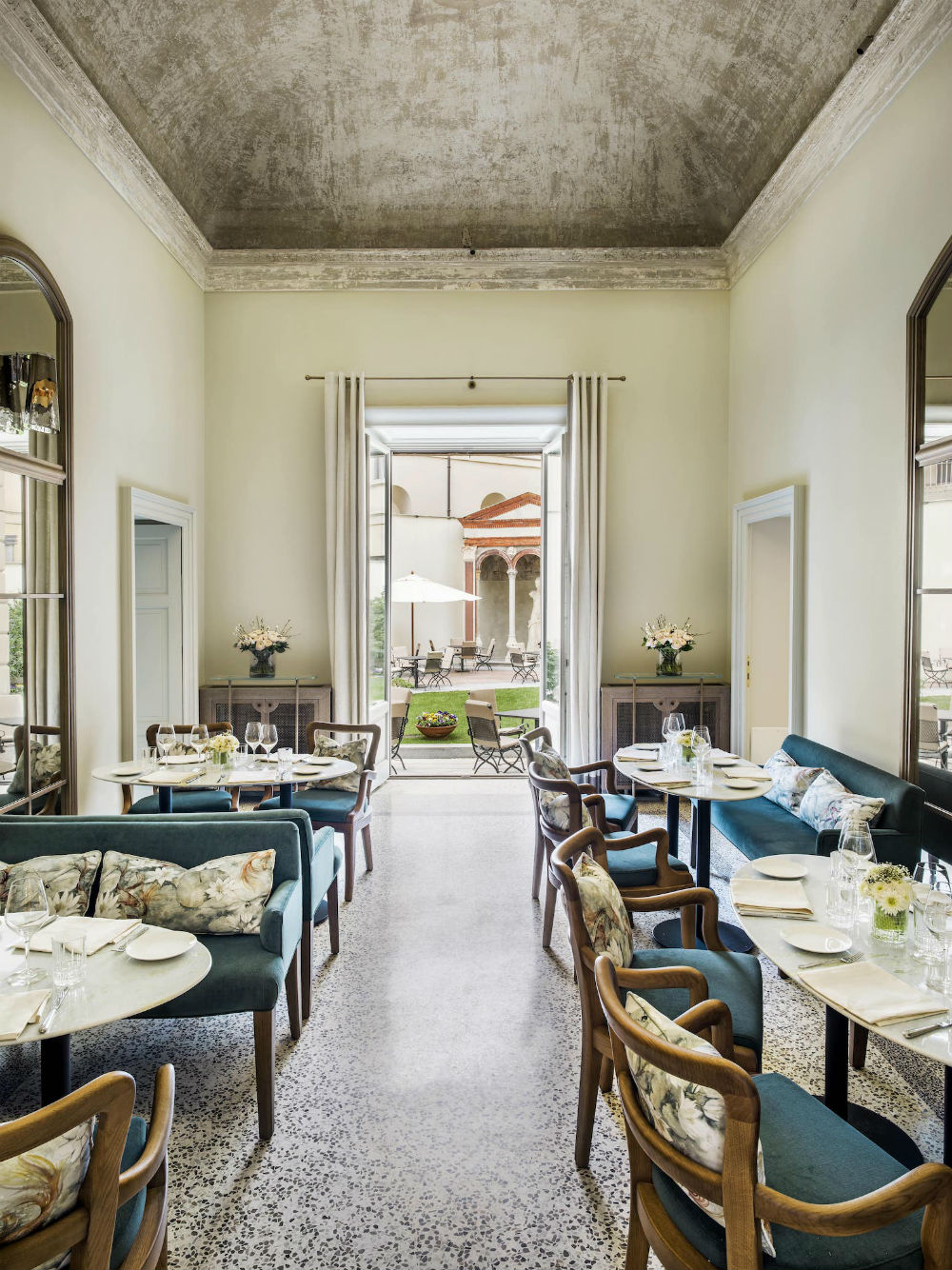 Dramatic vaulted ceilings with antique murals and geometric elements alongside Venetian-style flooring feature across the rooms, which have all been reimagined to emulate their original purpose; the restaurant's guests will be able to dine or drink across a selection of intimate spaces including a grand salone, a parlour, a wine library, and a beautiful traditional courtyard garden.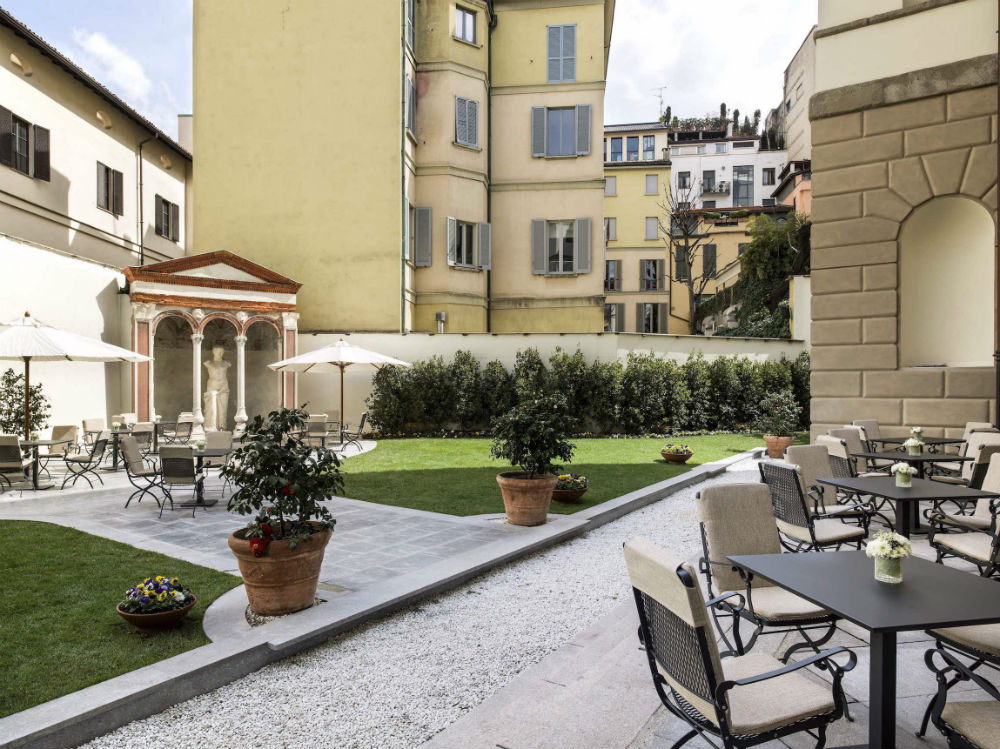 Effortlessly transitioning from day to night, bespoke interiors have been designed to adapt to the various moods and atmospheres of every day. Guests are invited to unwind at informal table settings with no tablecloths during a casual afternoon setting. Evoking the highest detail of artisan craftsmanship, AB Concept teamed up with Italian luxury furniture brand Promemoria to design a bespoke seating collection, including bar stools, dining and lounge chairs, referencing both Italian and international artistry.
At night, dim lighting is perfectly positioned to highlight the delicate design features, transforming the space into a sophisticated and romantic setting. Blending seamlessly with the historic features, contemporary lighting from AB Concept's FLUX collection, created in partnership with world-renowned contemporary glassware manufacturer Lasvit, feature throughout the restaurant. Taking inspiration from the beaming light reflections emitted from waves and traces left by receding tides, the lamp fills the space with mood and warmth.