Italy's capital, an iconic destination dubbed the Eternal City, was the setting for the opening of the latest EDITION hotel. The refined 91-bedroom property inhabits a heritage building in the heart of the historic centre and has been fully re-designed to incorporate three unique bars, a rooftop lounge, bar and pool, a show-kitchen restaurant, a spa and gym and a lush courtyard garden (a rarity for the city).
From A Bank To Bedrooms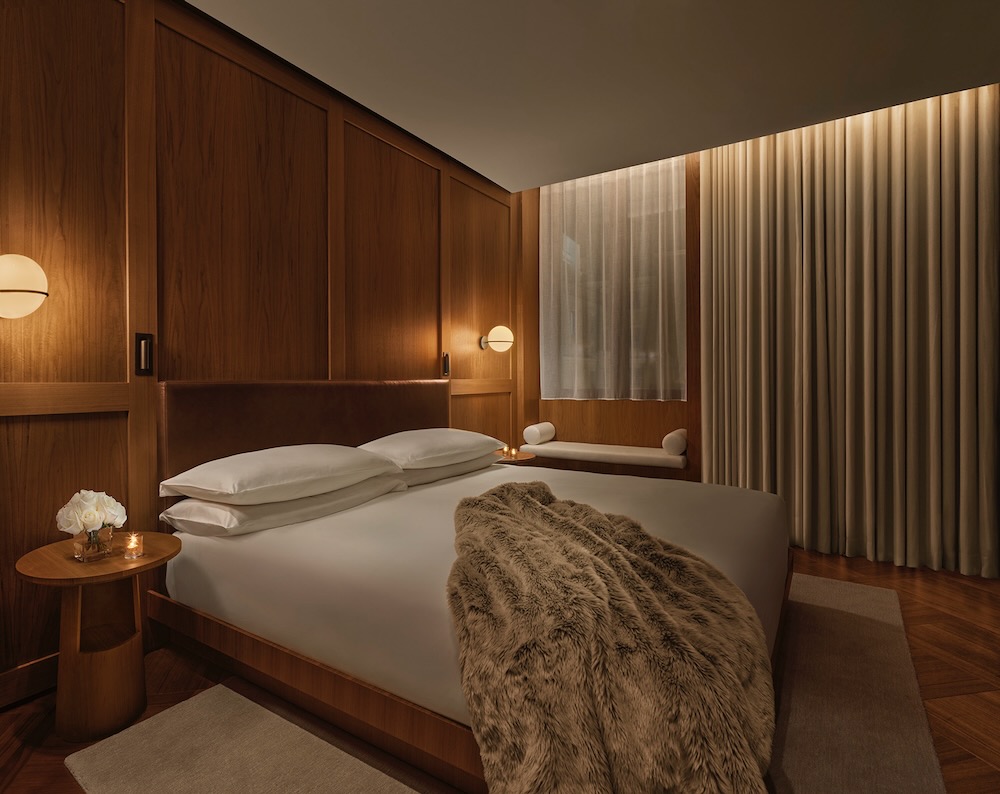 Visionary entrepreneur Ian Schrager is behind the remodel, along with the owners (Statuto Group), who reimagined what was once a foremost Italian bank, dating back to the post-war era. Originally built by Cesare Pascoletti and architect Marcello Piacentini, it's a shining example of the rationalist style and retains stunning original features, such as a central staircase made of rare cipollino marble from the quarries of Apuane, central courtyards, original statues and lamps. Its 91 bedrooms include 17 suites, all with EDITION's signature muted tones, walnut wood and custom-designed furniture.
Read our review of the best luxury hotels in Rome
Chef Paola Colucci And Her Female-led Team
In such a foodie city, the choice of chef for the project was key. And it was Paola Colucci, the self-taught founder of Roman favourite restaurant Pianostrada, who was chosen for the job. Appropriately (given the building's former life), Colucci's career past lay in finance, an industry which she left to fulfil her lifelong passion for cooking. She takes up the role alongside her best friend and business partner, Chiara Magliocchetti, and two daughters Alice and Flaminia Spognetta. Known for her intuitive and emotional style, Colucci is a pre-eminent and sought-after chef in Rome.
Anima
This open-fronted, light-filled all-day venue, screened with ambered glass, is the showcase for Colucci's work. The menu is made up of generational family recipes, combining traditional national cooking with a modern and international outlook, all using seasonal and fresh ingredients. Chef Colucci's spaghetti with roasted tomatoes and veal with tuna sauce will be among the dishes taking centre stage, along with fine Italian wines and pairings driven by emotion.
Guests can also dine outside, in the lush garden which spills into a piazza. The first of its kind in Rome, it will be filled with around 400 plants and climbing Jasmine, with a bronze metal awning, teak wood banquettes, free-standing furniture and an Italianate arrangement of lanterns, evoking the feel of a traditional Roman garden. Half of this space provides the alfresco seating for Anima, the other serving as a relaxed all-day terrace, with light bites and cocktails. 
Read our review of the Madrid EDITION
Up On The Roof
Chef Colucci continues her offering on the chic seventh-floor rooftop, with raw and cooked dishes inspired by her love of the Mediterranean Sea. Mixologists prepare cocktails using regional citrus notes, herbs and Amari in the large bar. And there are unobstructed views across the city skyline to the Pantheon, Acqua Paola Fountain and Basilica of Sant'Andrea della Valle. Finally, this space has a travertine plunge pool surrounded by daybeds in solid oiled teak, as well as custom bronze metal vases dotted along the outside edge of the terrace.
The Punch Room and Jade Bar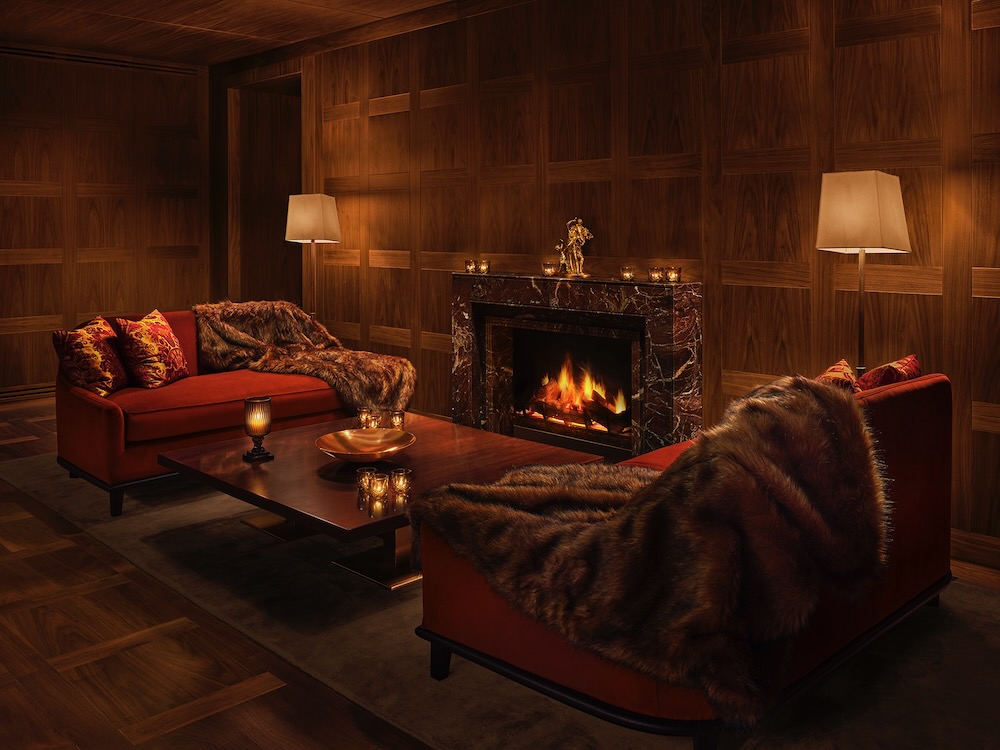 The Punch Room is EDITION's signature bar concept; an award-winning speakeasy-inspired bar concept following the 17th century inception of punch, made using ingredients found on the trade routes. As such, you can expect beverages made using spices and citrus from Africa and the east, teas from China and India and sugar from the Indies. At its centre is a dark walnut wood bar, a Rosso Levanto marble fireplace and custom armchairs in rosewood and dark brown leather, with low lighting. Jade Bar is a jewel box-like space, with floor-to-ceiling green antique marble, accented by satin brass and gold. Emerald velvet banquettes and Jeff Koons-inspired sculptural pieces provide a theatrical backdrop to experience some creative libations.
The Lobby and Bedrooms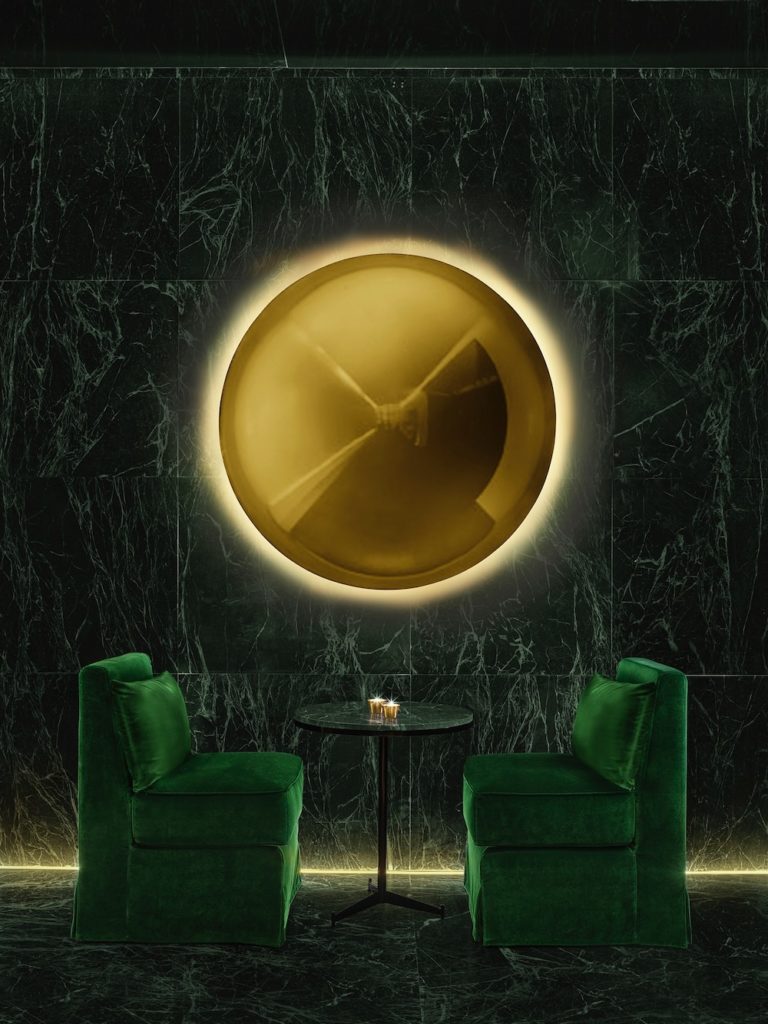 This is guests' first taste of the hotel, with 22ft-high ceilings, porous travertine floors and walls, two symmetrical seating arrangements, white custom fabric sofas, coffee tables inspired by Manuel Coltri and petrified wood side tables and standing lamps, it's a dramatic space. And you can play a few games of pool on the custom-made table. On checking into your room, you'll find a custom-designed bed in Canaletto light walnut wood, Peperino stone and custom bedside tables, Italian artwork, a beige leather chair, walnut wood herringbone flooring and a 55-inch television. A Carrara marble basin leaning on walnut wood, brushed brass fixtures and trendy Le Labo amenities await guests in the bathroom.
The new Rome EDITION is just steps away from landmark attractions, like the Trevi Fountain and Spanish Steps, making it a natural choice for tourism, as well as guests visiting the city on business. 
Image credits Nikolas Koenig