Virgin Hotels has opened its latest outpost in Edinburgh in a soft launch for hotel guests this summer. The property opened to the general public from the 14th of June, with phase two and the official grand opening scheduled for autumn.
This first phase of the launch is the soft opening of 54 Chambers, which includes Commons Club, Virgin Hotels' flagship restaurant and bar, and the Funny Library Coffee Shop. Commons Club is a modern-day social club, and the Funny Library Coffee Shop offers a selection of teas, coffees, house-made pastries and sandwiches in a cosy communal space with a range of local literature to enjoy next to the roaring fire.
The second phase of the Virgin Hotel Edinburgh launch will take place in early autumn 2022, bringing guests even more of the Virgin charm and playfulness. All 222 Chambers and Grand Chamber Suites will open, as well as the remaining dining and drinking outlets. This will include Eve, an all-day dining space, and Greyfriar's Hall, a 19th-century church that has been beautifully restored and repurposed as a special event venue and a rooftop sanctuary with unobstructed Edinburgh Castle views.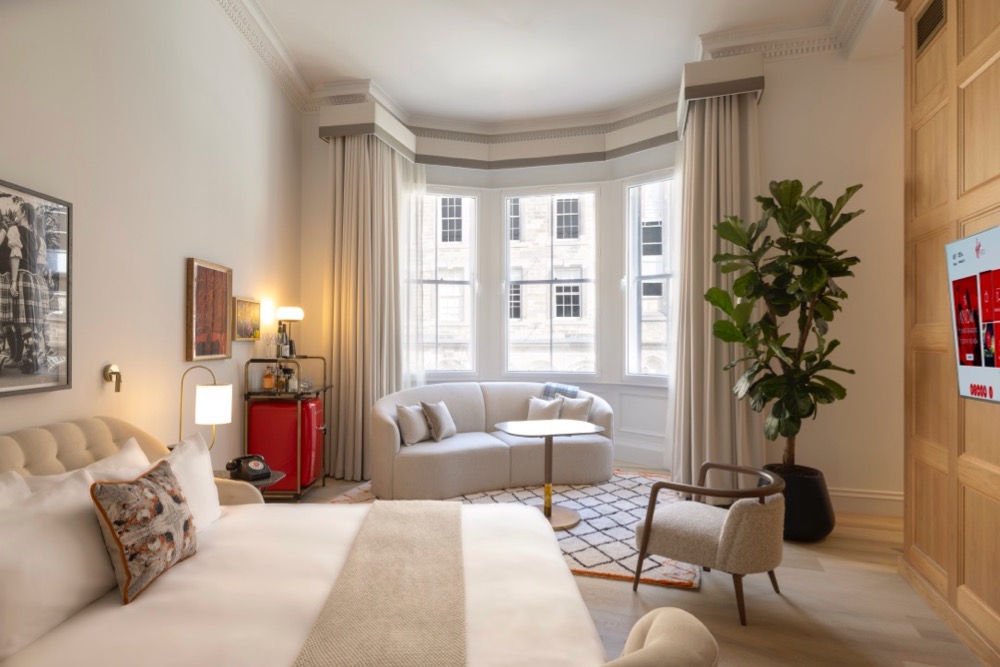 Read our guide to the best luxury hotels in Edinburgh
During the summer, guests can stay in one of 54 Chambers, which are bright, airy, and elegantly decorated. Each room has warm textiles, locally sourced accessories and lighting, and a range of sizes from 23 to 75 square-metres. The Dressing Room in each Chamber comes with a sit-down vanity unit with an illuminated mirror and an extra-large shower with a bench. A sliding wooden door separates it from The Lounge, which has Virgin Hotels' patented ergonomically designed bed with a channel-tufted headboard, a Hypnos™ mattress, a red SMEG mini-fridge stocked with local products, an HD TV, and a yoga mat. All Chambers have custom lighting that turns on as guests move around, and plenty of outlets for smartphones and other devices.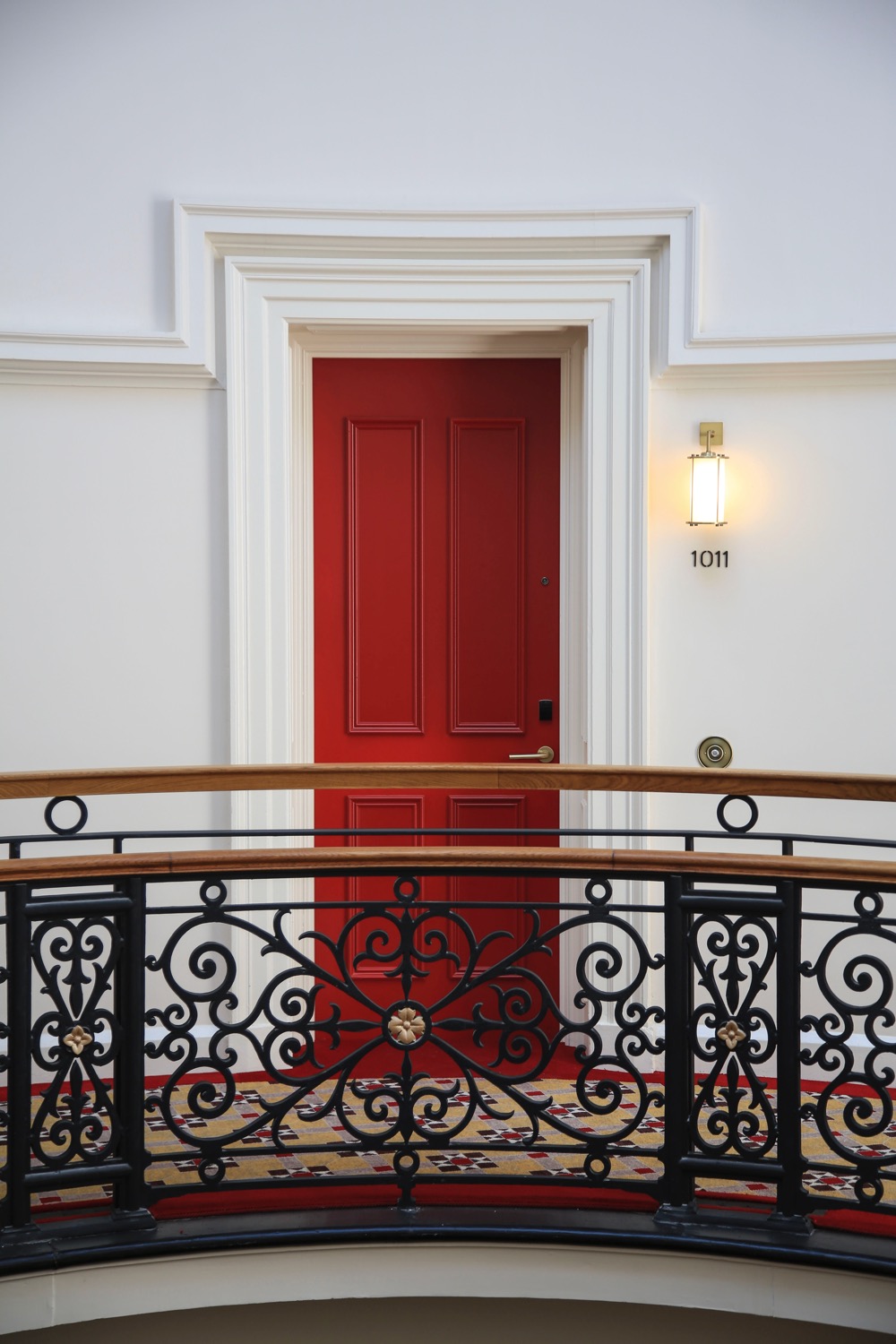 Commons Club restaurant will also be open to hotel guests during the soft launch, and starting from the 14th of June, the restaurant will be taking reservations from all visitors. Commons Club is designed to feel like a modern social club, with a playful yet sophisticated environment. Under the direction of Edinburgh-born Executive Chef, Steven Wilson, the menu showcases contemporary Scottish seasonal cuisine, using the freshest produce straight from Scotland's local larder. Commons Club features a communal Chef's Table overlooking the open kitchen, allowing guests a front row seat to all the action in The Kitchen at Commons Club. There will also be The Bar, featuring an impressive back bar which is home to all the best Scottish whiskies and liquors, along with an inventive selection of signature cocktails.
Read our guide to the best hotels in Scotland
The history of the location, as well as the Virgin brand, played a key role in developing the pieces. The heritage of the building was intertwined with the contemporary character of the hotel. The walls and ceilings throughout the restaurant were illuminated with standout works, including 'Virgin Lips'; a custom commission by Edinburgh-based artist Wendy Helliwell which incorporated a full pair of old jeans, '747 Fuselage Wall Art' giving a playful nod to Virgin Atlantic, and 'Queen of Dreams' by Alan Macdonald inspired by Mary Queen of Scots.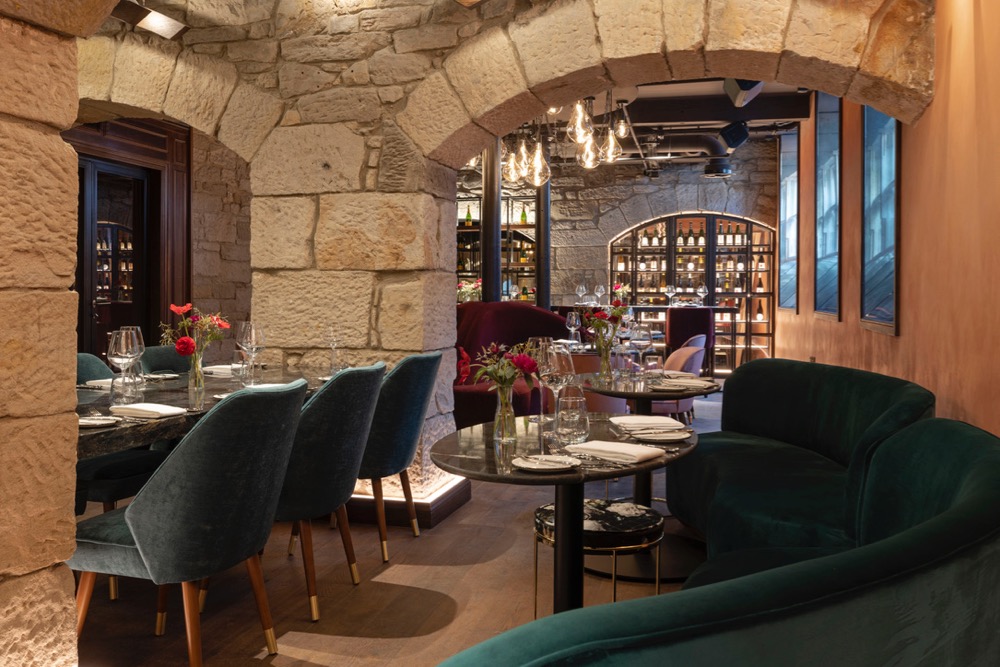 The hotel collaborated with Visto Artwork to curate the artworks on display throughout the hotel, which included numerous pieces created by local artists as well as works inspired by the unique character of Scotland and the Scots. Fashion photography with Scottish tartan, portrait galleries celebrating women from Scotland's past and present, and a focus on female Scottish artists showcase women both in front of and behind the lens in delightful and surprising ways.