The new hotel pays tribute to Vienna's imperial history while providing a modern take on ultra-luxury hospitality.
Rosewood Vienna opens its doors today, on August 1st, as the fifth European property under the Rosewood Hotels & Resorts portfolio, and the brand's first hotel in the German-speaking market. The hotel is located on Petersplatz, one of the city's most famous squares, and is only steps away from the celebrated Graben, Kohlmarkt, and Tuchlauben pedestrian streets – renowned for their luxury shops and restaurants. Additionally, the property is also close to many of Vienna's cultural and historical sites. With this addition, the Rosewood European collection now includes esteemed properties such as Rosewood London, Rosewood Castiglion del Bosco in Tuscany, Hôtel de Crillon, A Rosewood Hotel in Paris, and Rosewood Villa Magna in Madrid.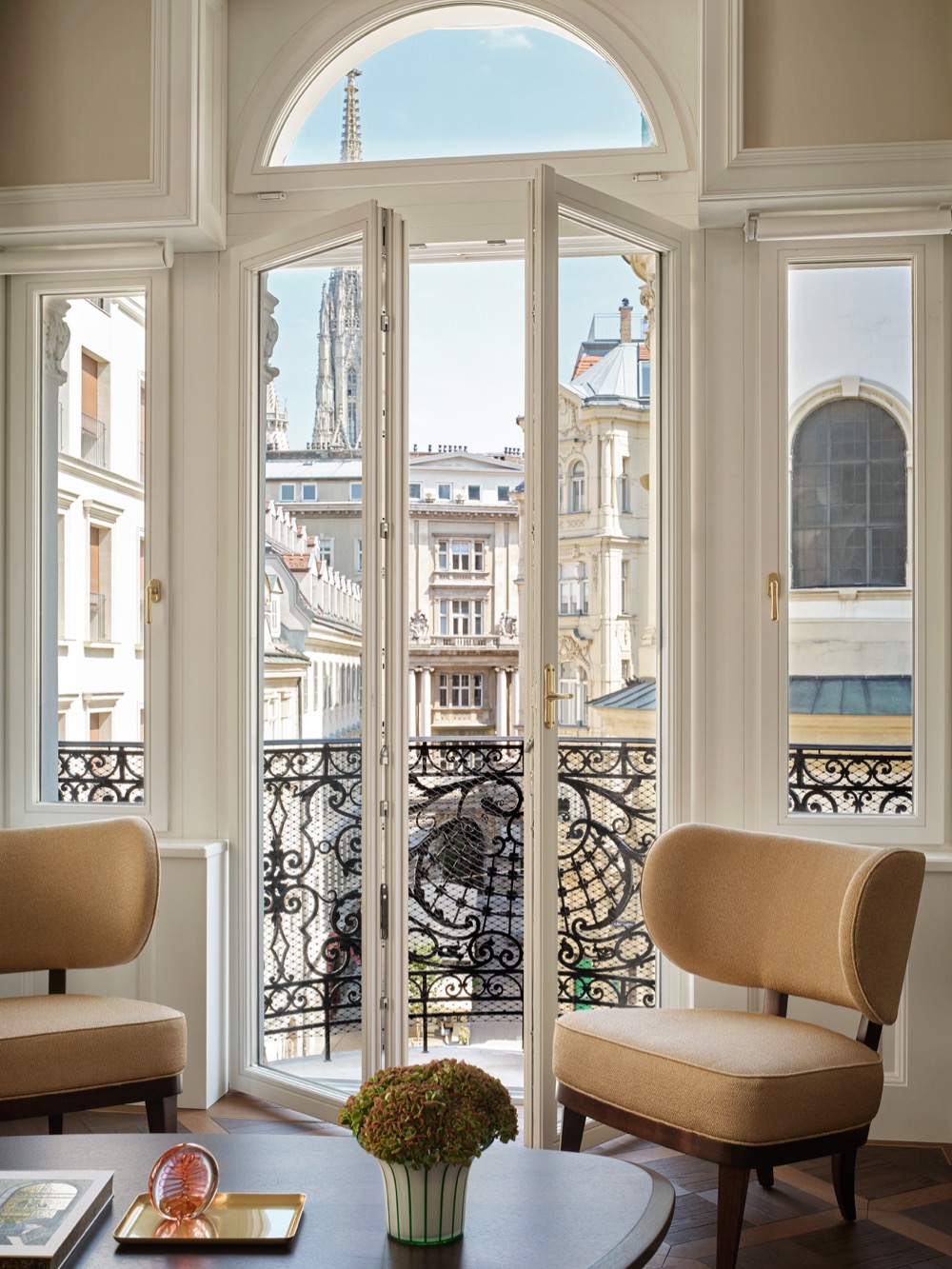 Rosewood Vienna is located in the former headquarters of Erste Group Bank AG. This 19th-century landmark comprised several buildings of historic pedigree, including the apartment in which Mozart lived and wrote The Abduction from the Seraglio. The bank has been transformed into a luxurious 71-room hotel, with 28 suites. There is also a brasserie on the sixth floor and a rooftop bar with sweeping views of Vienna's Old Town. The property is also home to Asaya Spa for integrated well-being, which will incorporate therapies and spa treatments inspired by Austria's wellness traditions beginning in September 2022. Rosewood's distinguished style of service and signature A Sense of Place philosophy characterize the property, with the timeless grace, elegance, and imperial élan that define Vienna as a destination of choice for new and established Rosewood guests.
Read our guide to the best hotels in Vienna
The rich artistic heritage of Vienna heavily influences the visual art at Rosewood Vienna, with contemporary guestroom artwork and various murals throughout the property. One such mural is by Austrian artist Marie Hartig, which can be found in the lobby lounge. This work, along with others throughout the hotel, takes inspiration from Vienna's Palmenhaus conservatory. Consequently, guests can enjoy a chic Viennese coffee house atmosphere complete with palm fronds, flora, and butterflies.
This grand old bank building from 1835 got a luxurious makeover for the 21st century courtesy of two Vienna architecture firms, A2K and BEHF, with interior design by Alexander Waterworth of London. The Viennese firm Kroenland designed the brasserie and rooftop bar on the 6th and 7th floors with sweeping views of the city. Other spaces like the restaurants, bar, wellness centre and meeting rooms have a contemporary Austrian feel with classical details like millwork and lighting.
Interior designer Alexander Waterworth has created a luxury residential domain, a home away from home. The warm, refined residential style is seen in the 71 guestrooms and 28 suites that extend over four of the hotel's seven floors. A neutral colour palette conveys warmth and gracious refinement, with background for an abundance of details such as handcrafted brass wall light fixtures whose design takes inspiration from an edelweiss, the Austrian alpine flower. The light-filled spaces reflect the unique heritage and design style of the cosmopolitan capital and feature custom-made furnishings, including a mini-bar of walnut, leather and locally sourced grey marble, and an opulent bathroom vanity that features made-to-order lighting from one of Vienna's leading manufacturers. Distinctive fabrics by Backhausen, the distinguished company established in 1849 and renowned for its Wiener Jugendstil patterns, embellish finishings from curtains to chairs, tissue boxes and bedside notepads.  In collaboration with art and styling curation agency Atelier27, commissioned works by leading international artists include illustrations, archival photography with printed gold leaf, photography, paper cuts, lithographs and wall sculptures.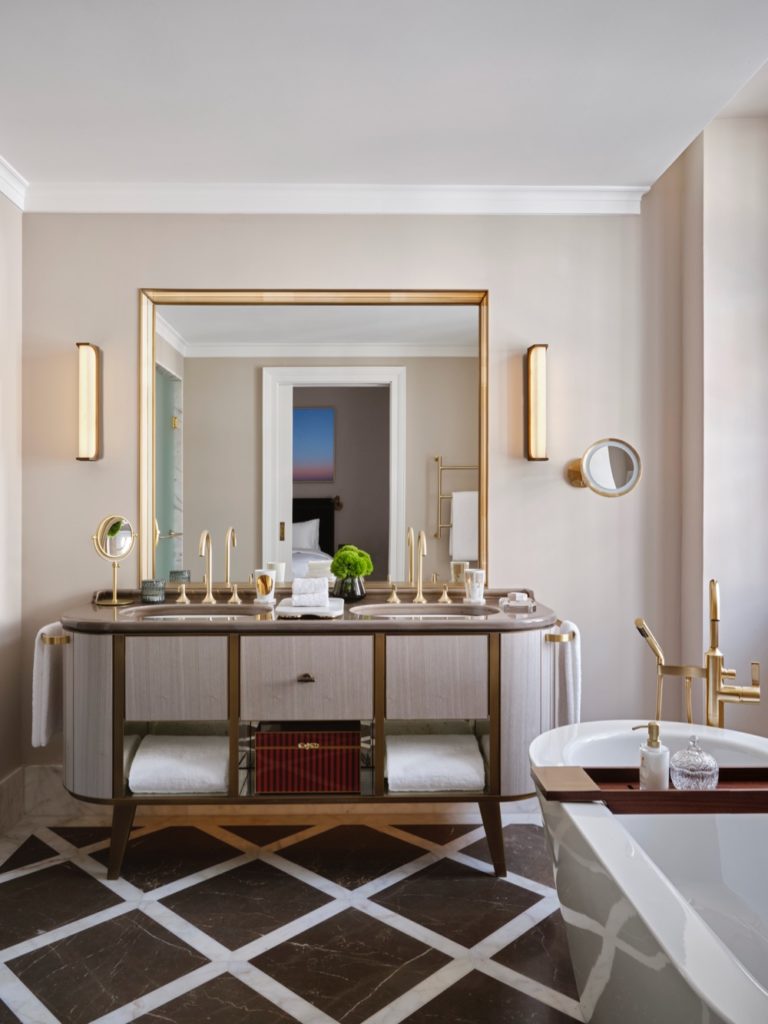 Rosewood Vienna's restaurant Neue Hoheit is a unique space that serves European dishes with an Austrian twist, using only the freshest seasonal market ingredients. The josper grill serves up beef, fish, and vegetables, while the charcuterie and seafood are not to be missed. The dining room and show kitchen offer diners distinct, interrelated spaces, and an outdoor terrace with views of Old Town, St. Peter's Church, and St. Stephen's Cathedral. The rooftop cocktail bar is the perfect place to enjoy a classic or innovative cocktail, while the intimate Garden Room and Secret Garden offer private indoor and outdoor dining.
You can find the entrance to Neue Hoheit Brasserie and Bar on Tuchlauben, where there are elevators that will take you directly to the restaurant, Garden Room, and Secret Garden on the sixth floor, as well as the seventh-floor rooftop bar. With its unique setting, Neue Hoheit Brasserie and Bar is sure to become a popular spot for both Vienna residents and hotel guests. In addition, Salon Aurelie will offer a modern Viennese coffee house experience in the hotel's lobby space, serving light bites and beverages that include finger sandwiches, pastries and cakes, tea, and aperitifs.
The Asaya Spa, located on the fifth and sixth floors of the Rosewood Vienna, offers four treatment rooms, a social suite, relaxation area, sauna, steam bath, experience shower, and stunning views of the dome and bell towers of St. Peter's Church. The spa offers a range of therapies, spa treatments, and wellness programs with Viennese influences.