Takara Shuzo Co. Ltd has announced the international release and distribution of the exquisite Shirakawa 1958 by Tomatin Distillery Co. Ltd this September. From a lost distillery located 200km North of Tokyo, it is the only official single malt ever to be released from Shirakawa and the earliest known single vintage Japanese whisky ever bottled.
Trailblazing bottling
The whisky produced at the Japanese distillery between 1951 and 1969 was rumoured to be something very special indeed but had only ever been produced as a blend. That was until a collaboration between Tomatin Distillery and Takara Shuzo created an incredibly rare expression, the only official single malt bottling from Shirakawa Distillery. Limited to 1,500 bottles globally, it is the earliest single vintage Japanese whisky ever bottled.
"There are no known examples of Japanese Whisky claiming to be from a Single Vintage that predates Shirakawa 1958," confirms Stefan van Eycken, the pre-eminent authority on the world of Japanese whisky and distilling. "Even though Shirakawa Distillery was one of the pioneers of malt whisky making in Japan, the liquid was never officially available as a single malt. This limited 1,500 bottle release will see the Japanese Whisky category, one of the most sought-after categories of spirit in the world, continue to grow from strength to strength".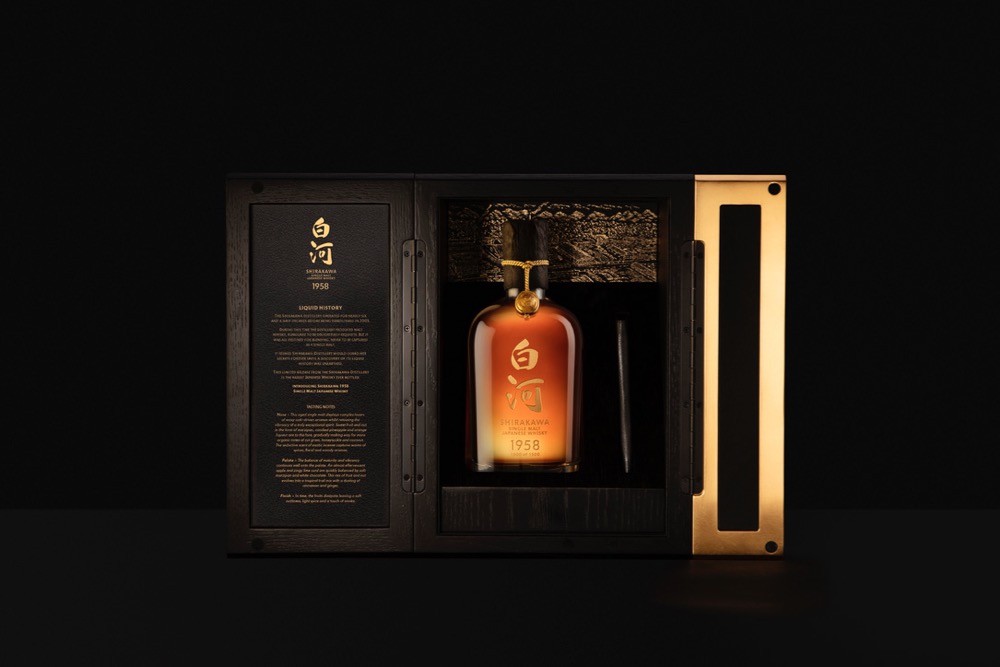 A mysterious history
As the distillery was demolished in 2003, little was known about the company's history. Previous employees and long-lost documents served as the only opportunities to shed some light on Shirakawa's single malt Japanese whisky-making past. A key piece of information was discovered in Takara Shuzo's Kurokabegura in 2019; the liquid had been distilled in 1958, aged in cask, and then transferred to ceramic jars at the distillery. After Shirakawa's closure, it was then poured into stainless steel tanks at Takara Shuzo's factory in Kyushu, where it lay, until recently. This unusual past means that the precise age of the whisky cannot be determined; although it is clear the whisky was matured in oak casks (presumed to be the malted barley and Mizunara oak casks in use at that time), the exact type and length of maturation remains unknown to this day.
Read our guide to the best whisky
Stephen Bremner, Managing Director of Tomatin Distillery  Co. Ltd. was key in these findings and explains the process: "Tomatin Distillery Co. Ltd had been bought by Takara Shuzo in 1986 and I became fascinated by the story of Shirakawa and its history of whisky production. There had never been an official single malt bottling, and the distillery had long gone, but I couldn't help wondering what if a part of liquid history lay unearthed. After several in-depth discussions with colleagues at Takara Shuzo,, the last remaining parcel of Shirakawa was identified in 2019. When I discovered that the last remaining stock was distilled in 1958, I was astounded! It was a genuine WOW moment as I realised very quickly that what we were  dealing with was extremely rare."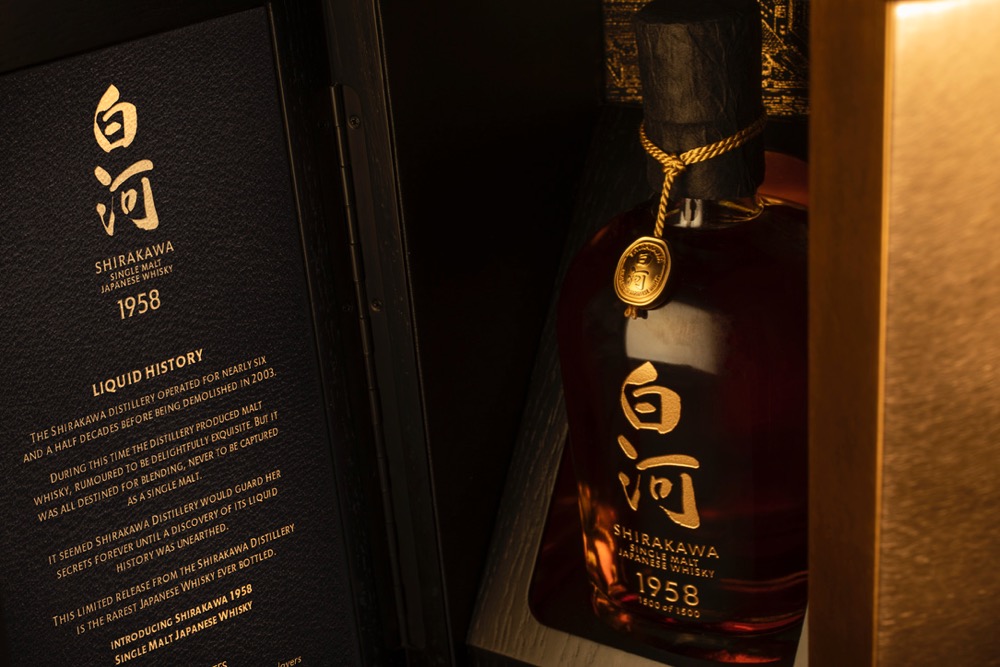 Tasting notes from Dave Broom
Award-winning and internationally highly respected whisky writer Dave Broom has provided tasting notes for Shirakawa 1958:
Nose: Resinous, slight dry earth, dried citrus peels, a hint of wax. Aromatic. A drop of water makes it more vibrant and also shows clear maturity as well as a hint of incense. Exotic.

Palate: The palate is expansive with a succulent texture and hints of fragrant grass. Fruits emerge in the middle. Layered, spiced, and dry. Water brings out ash from an incense burner, a satisfying mouthfeel and surprisingly perky acidity.

Finish: Nicely balanced and persistent on the finish which picks up mint flavouring and makes it more camphor-like.
Where To Taste & Buy
The only UK consumer tasting of Shirakawa 1958 will take place at The Whisky Exchange Whisky Show at 12:45 pm on Saturday 1 October 2022. Tickets for the masterclass can be purchased via www.whiskyshow.com.
1,500 (70cl) bottles, with a 49% ABV, will be available from 13th September 2022 via tomatindistillery.com and selected retail partners worldwide including Harrods, Berry Bros, The Whisky Exchange & Royal Mile Whiskies RRP: £25,000.