The authentic Mexican Tiempo Tequila has launched its very first batch of Reposado Cristalino Tequila in the UK. 1,320 limited edition bottles are available, each containing 2,555 days of painstaking work and patience. Light and easy on the palate, it has a fresh earthy-sweet agave with vegetal and pepper, finished with hints of butter and charred oak.
Developed with a conscience
Tiempo means 'time' in Spanish, reflecting the lengthy process which the finished product has undergone. Tiempo Tequila's story is told through bottle labelling and design. Latin American illustrator Alan Berry Rhys has depicted a surrealist journey through the Mexican jungle that inspired the foundations on which the brand was built. The bottle itself is made with recycled glass, sustainably printed with inked labels and topped by a natural cork and wooden stopper.
Pure, sustainable, and versatile 
Containing no additives and no chemicals, this is a truly pure spirit. And in keeping with that theme, the brand isn't using celebrities to market the product. It's crafted, using traditional methods with a modern perspective, from 100% natural, mature blue weber agave. This is grown and harvested in the Altos and Valley regions of Jalisco, the birthplace of tequila. Tiempo is working towards ensuring its practices are sustainable by providing living wages for its growing and production teams, focusing on sustainable agave farming in the fields, cutting CO2 emissions, reusing agave waste and packaging with recycled glass and materials wherever possible.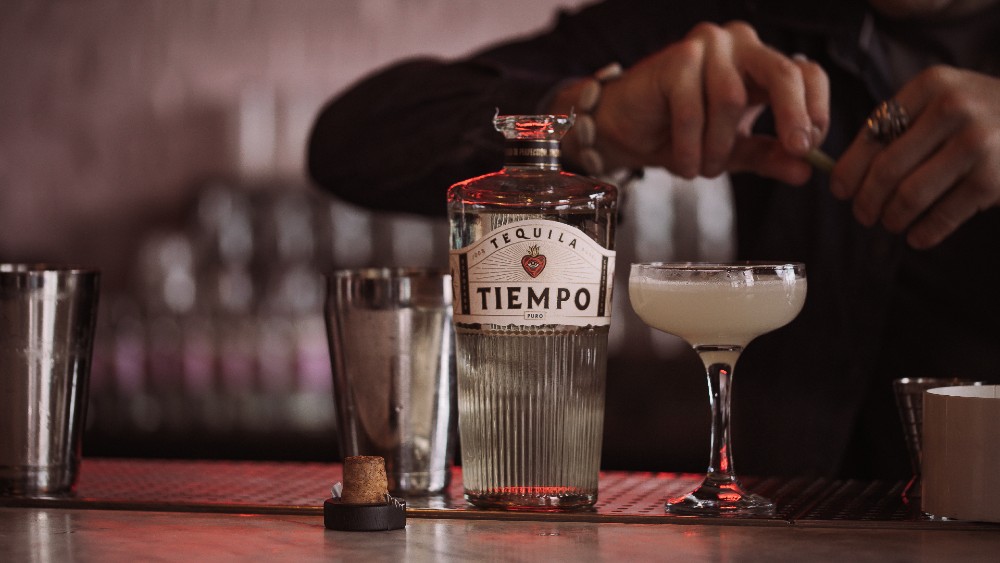 Six-year labour of love 
The fifth-generation family of distillers, including the talented Master Distiller, Augustin Sanchez Rodriguez Tiempo, slow-cook the raw ingredients for 48 hours. This is followed by fermentation, using natural yeast, for a further 60 hours, two further distillations and up to one year ageing in American oak whiskey casks. The liquid gains its unique flavour through charcoal filtration, providing a smooth, pure and complex palate that balances subtle undertones of butter and caramel with notes of beautiful earthy agave. 
Commenting on the release of Tiempo Tequila's first batch, Co-Founder, James Hughston said: "It takes time to create a tequila that is pure, sustainable, and beautifully versatile, but also respectfully reflects Mexican tradition and Cantina culture. This is a celebration of Mexico, its craft and the people who make it possible — not the inauthentic celebrity saturated market, nor sub-par liquids consumers, unfortunately, associate with the spirit."
Read our guide to our favourite tequilas
This beautifully light and pure tequila is perfect for anyone to sip, mix and shake on any occasion. Tiempo is also available to purchase online at Amazon, House of Malt, Master of Malt and via the website tiempo-tequila.com for £54.99 (70cl, 40% ABV), as well as to order at a selection of London bars.