Thanks to investment and refinement from some pioneering brands, long gone are the days when Tequila was known only for its harsh palate. High-end tequila is a distinctive and expressive spirit that can be enjoyed in many different ways and this Mexican tipple, especially the añejo category, is now a firm favourite in the premium drinks class.
SPHYNX Tequila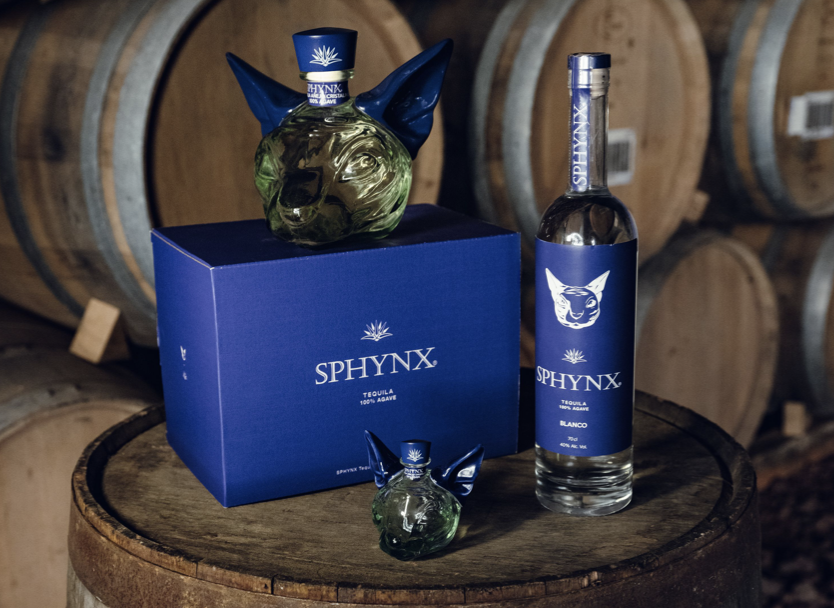 SPHYNX Tequila, a passion project by Sukhvinder and Imran Javeed, offers a unique tequila experience born from their immersion in Mexico's tequila heartland. Their dedication to authenticity and traditional craftsmanship resulted in a remarkably smooth tequila that exceeds expectations. The range includes Blanco Tequila, Añejo Tequila, Añejo Cristalino, and Extra Aged Añejo Black Oak, each meticulously handcrafted for an unparalleled tasting experience. Inspired by their beloved Sphynx cat 'Tequila,' the captivating decanter represents a timeless piece of art, encasing the tequila crafted in collaboration with a distinguished distillery in Mexico. SPHYNX Tequila takes pride in using 100% Blue Weber Agave and no additives, encouraging enthusiasts to savour its intricate nuances in the company of good friends, paying homage to the rich Mexican heritage of Tequila.
Neurita Tequila
Neurita Tequila is revolutionising the world of Tequila by reimagining the classic Margarita. Despite being the top trending cocktail in the UK, the Margarita has often been overlooked when it comes to Tequila. Neurita aims to change that by offering a modern twist on Tequila that is both fun and sophisticated. Crafted from premium Tequila Blanco sourced from a renowned distillery in Jalisco, Mexico, Neurita encompasses both Citrus and Rosa Tequilas. These Tequilas are made using high-quality blue agave plants, resulting in a remarkably smooth finish. Real fruit extracts and botanicals are infused into the Tequilas, giving them a natural flavour and reducing the need for added sugar. Founder Lucy Smith's love for well-mixed Margaritas inspired her to create Neurita, a brand that captures the vibrant essence of the classic cocktail. Neurita Tequila offers a simple three-step method for making classic Margaritas and has also introduced the refreshing Neurita Margarita Spritz. Whether enjoying a sun-drenched spritz or a spicy pre-party drink, Neurita provides the ultimate Margarita experience. With its focus on taste, simplicity, and innovation, Neurita is pioneering Margarita mixology with its recipe for success.
Patrón Añejo
Patrón Añejo is a carefully distilled tequila that resembles the classic warm amber of whisky. Oak aged for over 12 months, it can be enjoyed on its own, on the rocks, or as a twist on the classic Old Fashioned Cocktail. With a finish of caramel & smokey notes, Patrón Añejo makes an ideal alternative for non-whisky drinkers.
VIVIR Tequila
VIVIR is produced using 100% Weber Blue Agave and natural volcanic spring water and the aged Tequilas, Reposado and Anejo, are also finished in American Oak ex-bourbon barrels. This results in a uniquely smooth, fresh and robust spirits range that has quickly won multiple awards. VIVIR's Reposado expression has been aged for six months and has matured into a more honey-coloured liquid with a complex flavour profile. The spirit still holds the earthy notes of the agave yet with richer vanilla and caramel notes, which makes for a great after-dinner drink and margarita. VIVIR's Blanco expression, which won awards at Bartenders Brand Awards 2020, is a crisp and fresh spirit with sweet vegetal notes from the fully-matured agave with hints of delicious vanilla and heather honey.
El Sueno
This is the Premium Mixto Tequila like no other. El Sueño is created sustainably without the compromises made by the cheaper 100% agave brands, using the highest quality ingredients, traditional production methods and natural volcanic spring water that rises at the heart of VIVIR's own distillery in Mexico. Forget shots with lemon and salt at the end of the night's drinking: El Sueño is a Tequila for the 21st century, specifically crafted to go perfectly in long drinks and cocktails such as margaritas.
Patrón Silver
Patrón Silver is a flawless white spirit made from the finest Weber Blue Agave with citrus, and fruity notes. With a taste of soft, sweet, fresh agave with hints of citrus and white pepper. Handmade in small batches to be smooth and easily mixable, making it the perfect gift for any loved one this festive season. Patrón Silver can be served as an apéritif to be perfectly paired with seafood and appetisers.
El Rayo Tequila
Fresh, young tequila brand El Rayo is here to transform the way we think and drink tequila! From seed to sip, El Rayo is a single-ingredient spirit designed to celebrate the full natural flavours of the blue agave plant, embracing its purity, freshness and alluring taste. Join the deliciously smooth and light experience, with nothing but clean, natural and unique flavours. With two irresistible varieties, ranging from clean citrus notes to warm honey-kissed sensations, El Rayo's 100% pure blue agaves are hand planted, hand-harvested, and hand-made to retain the complex flavours. What's more is both products are completely gluten free, additive free and vegan friendly.
Tequila Pancho 
Datos
Although a new tequila brand, Tequila Pancho Datos, boasts a strong sense of history. built upon 70 years of Mexican folklore. It's this rich heritage which cements its unique all- Mexican identity and results in a spirit full of complex flavours that represent its homeland and literary connections.  A family run business with a firm focus on quality, the tequila is produced using premium 100% Blue Weber agave and has been crafted for optimum taste. Designed with expression in mind, the brand hopes that Tequila Pancho Datos drinkers will be spurred to tell their own stories and keep the tradition of folklore alive. Available in three distinct expressions; Plata, Reposado and  Añejo, there is a taste for every palate.
Volcan De Mi Tierra
Created in 2017 in the volcanic region of Jalisco, Volcan De Mi Tierra has been borne out of an entrepreneurial partnership between the Gallardo family and Moët Hennessy, combining the family's passion for its homeland and deep roots in Mexico, together with Moët Hennessy's commitment to craftsmanship, heritage and luxury within drinks. Made from 100% Blue Agave with no additives, Volcan De Mi Tierra is built on an assemblage, selecting the very best agave from two regions of Jalisco, Lowlands and Highlands, with each being distilled separately before blending, to create a complex and elegant final spirit. Two different expressions are available in the UK: Blanco and Cristalino – each one is representative of the deep sense of community, passion and commitment that surrounds the Volcan De Mi Tierra, borne out of the Gallardo family values.
El Rayo Tequila – Plata
Plata by El Rayo perfectly captures the vibrant flavours of Mexico's majestic blue agave plant. Herbal aromas give way to bright citrus notes warmed by a hint of peppery spice.
Empirical's Ayuuk
Ayuuk was been nominated for 'Best new spirit of the year 2020' by the prestigious Spirited Awards. This distinguished spirit which has similarities to mezcal and can be used to make wonderfully exciting cocktails, including margaritas, to impress dinner guests and family members. Ayuuk, which means 'people who speak the mountain language', has Empirical's most cherished flavour story as it is named after the Mixe people in Oaxaca, Mexico where the spirits core ingredient, Pasilla Mixe chilli is exclusively sourced.
Doña Celia – Blanco Tequila
Doña Celia is a premium 100% agave tequila and is presented in a bottle reminiscent of the famous Mexican Catrina. The Catrina, is used in Mexican folklore in the Dia de los Muertos Day of the Dead festivals. Catrinas are seen everywhere in Mexico, and this beautifully detailed ceramic bottle is a striking display piece with a great story. Produced at the Casa Maestri distillery, Dona Celia Blanco is an unaged tequila that is bottled after a second distillation in order to keep its natural characteristics together with transparency and brightness. Lifted, floral and savoury in character, this tequila is delicious to drink on its own or mixed in cocktails. A unique addition to any back bar or spirits collection.
Storywood – Storywood Tequila Añejo
Storywood is a tequila with the heart of Mexico and the soul of Scotland. Created by founder Michael Ballantyne who was born in Scotland and raised in Texas.  After an unexpected meeting with Master Distiller Luis Trejo at La Cofradia Distillery in Mexico, Michael began the journey of this delicious tequila by expertly aging 100% agave liquid in single malt whisky casks from Speyside and creating the world's first sipping tequilas. The whisky-like characteristics drawn from the wood mean that Storywood Tequilas can be enjoyed neat or on the rocks. Award-winning Storywood Tequila Speyside 14 Añejo is smooth and hiding in every deep amber sip are notes of toasted oak, roasted nuts and treacle toffee.
Cazcabel – Tequila Blacno
Cazcabel Blanco is a classically-styled tequila from Jalisco, Mexico, evidently named after a legendary medicine man known as Don Cazcabel. Rich in earthy roasted agave with citrus notes shining through and black pepper bringing spice to the finish.
Satryna – Cristalino Tequila
Satryna dates back over 70 years, so it's safe to say you can trust in its expertise when it comes to tequila. Made from the sweetest blue agave sourced from the volcanic soil of Jalisco, Guadalajara, and steam cooked for 24 hours before being triple distilled, Cristalino is aged for 18 months in oak barrels and filtered for a clear appearance. The result of this process means the liquid has the complexity and character of an añejo with the crisp nuances of a blanco; it's certainly one to impress people with.
Don Julio – Blanco Tequila
Commonly referred to as 'silver' tequila, Don Julio Blanco uses a time-honoured distillation process to celebrate the finest raw agave in its truest form. It is blended with hints of citrus notes – lemon, lime and grapefruit – with undertones of black pepper and grass for a crisp, clean finish. Discover its subtle nuances when served neat or on the rocks.