South Africa's Western Cape, home to the cultural metropolis of Cape Town and the chichi, elegant Cape Winelands is undoubtedly one of the world's great foodie destinations. For us one restaurant truly stood out for its celebration of contemporary South African cuisine and that was 'Ryan's Kitchen'.
The Location
Ryan's Kitchen, originally opened in 2010, has recently moved to a new, striking location at the beginning of the main street that runs through the winelands town of Franschhoek. Meaning 'French Corner' in Dutch, the town of Franschhoek has an undeniably touristy, yet quaint ambiance reflecting European influences.
It is surrounded by the Franschhoek Valley, the heart of South Africa's Cape Winelands, where for centuries winemakers have been capturing the unique terroir of this region. From Cape Town's International Airport you are looking at a scenic drive of around an hour or so. There are a host of small luxury hotels in the area.
The Food Capital
The area is a hub of notable restaurants. The town of Franschhoek positions itself not only on its wine-growing and wine-making credentials but also on its status as a gourmet destination in South Africa. In short, this is where food enthusiasts come to enjoy themselves – and it's a very competitive place to open a restaurant. I'm sure it's true, as 'old blue eyes' said, 'if you can make it here, you can make it anywhere!'
The Ambience
Ryan's Kitchen is an elegant, contemporary place – floor to ceiling windows flood the space with light, and the natural tones of the blond wood chairs, the glass tables, neutral soft furnishings and cool grey walls, create a tranquil ambiance. Designer lighting and paintings add delicate, sophisticated visual interest, whilst some original vintage features of the building have been retained including the fireplace and arches.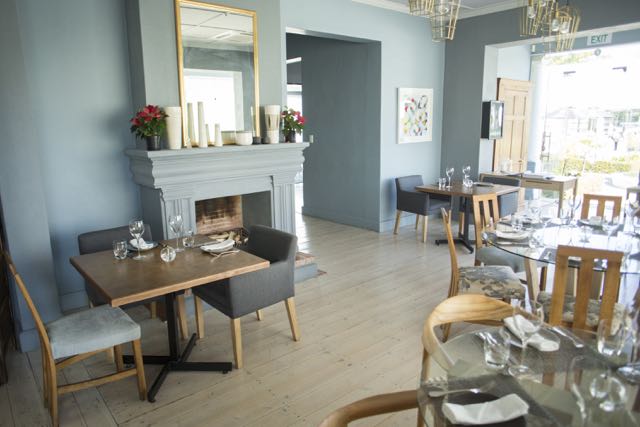 There is a stylish bar area, serving evening cocktails and light bites, whilst outside in the classy Place Vendome there is terrace courtyard for seasonal, al fresco dining.
The restaurant has an open kitchen that through its chic design blends almost seamlessly into the restaurant space. Ryan Smith and his team are very much part of the dining experience. In fact, he endeavours to make each table feel as if they are the Chef's Table – something that is feasible in an intimate setting such as this, with a maximum of 50 or so guests.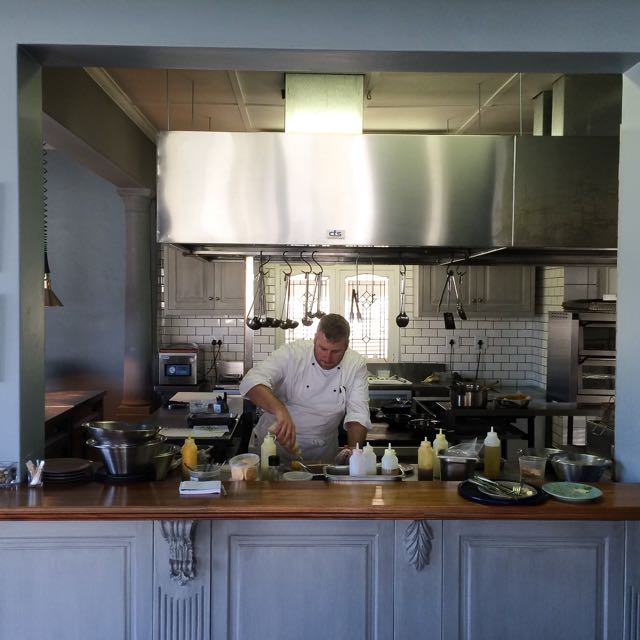 Ryan's wife Lana, originally from St Petersburg, Russia (they met there when Ryan was chef at the rather grand Hotel Astoria) is front of house and also the one who helps you navigate the diverse menu. Lana also knows here wines and will be happy to suggest from the wine list, which features some notable South African wines. We enjoyed the Quoin Rock Sauvignon Blanc 2013, and with desert the Nederburh Winemaster's Reserve 2012 Noble Late Harvest.
But to start things off, as we sat excited with the menu before us, we enjoyed a glass of fine pink bubbles – always the best way to begin a lunch!
The Menu
We came for lunch to try Ryan's relatively new 'Small Plates Menu'. Fine dining at lunch time is a real treat, and also a new addition for Ryan's Kitchen which is also open for dinner.
The menu is divided into small plates which can be ordered as starters or as a selection for sharing; then bigger plates that can be taken as a traditional main course, or again shared; and deserts. The menu is approachable and invites you to order plenty of dishes to share. This Mediterranean sociable approach to eating out is definitely a growing trend internationally and makes fine-dining all the more fun and relaxed. One also gets to try much more of the menu that one would normally do, compared to ordering as a traditional 3 or 4 course meal.
There is no shortage of insights to the menu from Lana but if you want to sit back and let the magic happen then there is a Chef's Four Course Mini Menu (that can also be served paired with wines) that allows Ryan, who is originally from Cape Town, to showcase the menu based on your food preferences or dietary requirements.
Once one starts to understand the menu and taste the dishes, it's clear that Ryan is a master of multiple cuisines. A rudimentary understanding of South Africa's history tells you that the nation's kitchen is a melting pot of culinary cultural influences from Asia, Europe and of course Africa and this is most definitely celebrated in this contemporary South African menu. Ryan uses local and indigenous ingredients, and references historical recipes typically passed down through generations. Yet the results are innovative and contemporary.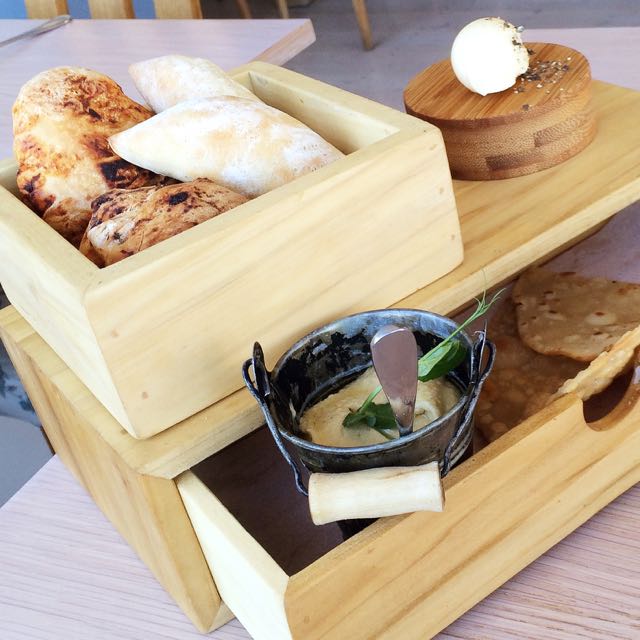 Ryan's signature Bread Box with homemade humus dip
The sharing plates take you on a journey through South Africa's comforting homey dishes through to exotic tastes and textures – all are presented with exceptional finesse on bespoke ceramic plates, from local designers.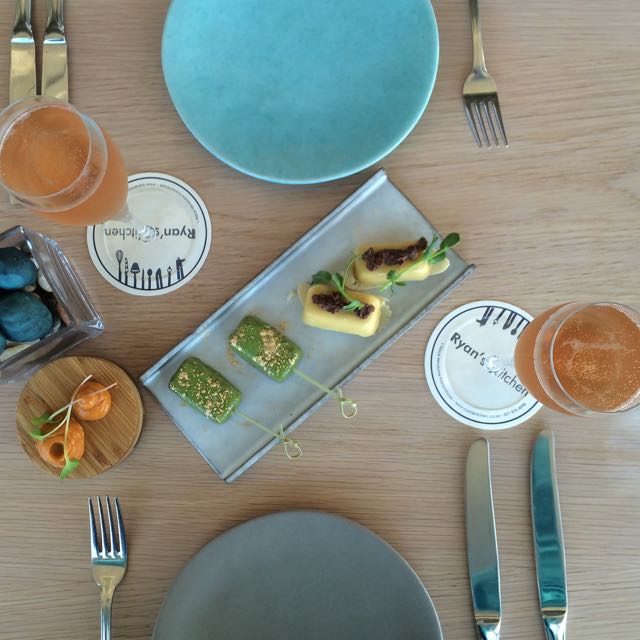 Simple, contemporary styling of the table
The colourful, simply presented menu features a quote by chef, writer and broadcaster Roopa Gulati, 'From hearty African staples to Cape Malay curries, fiery Indian masalas and European mainstays, modern South African kitchens are a melting pot of world cuisines', setting the scene for the extraordinary visual, textural and flavour complexity of each dish – without doubt this as one of our best meals we enjoyed in South Africa.
The Meal
Dishes arrived at a very manageable pace, grouped so we could enjoy different styles together.
Despite prices having increased in South Africa since the 2010 World Cup, this menu of exceptional quality remained very well positioned. Small plates started from a modest 3.50 GB pounds for a small plate salad to about just under 7 GB pounds for the Crayfish which was the most expensive small plate. All the bigger dishes, the main courses, were under 10 GB pounds – extraordinary value by European prices for such quality and creativity. (Prices June 2015).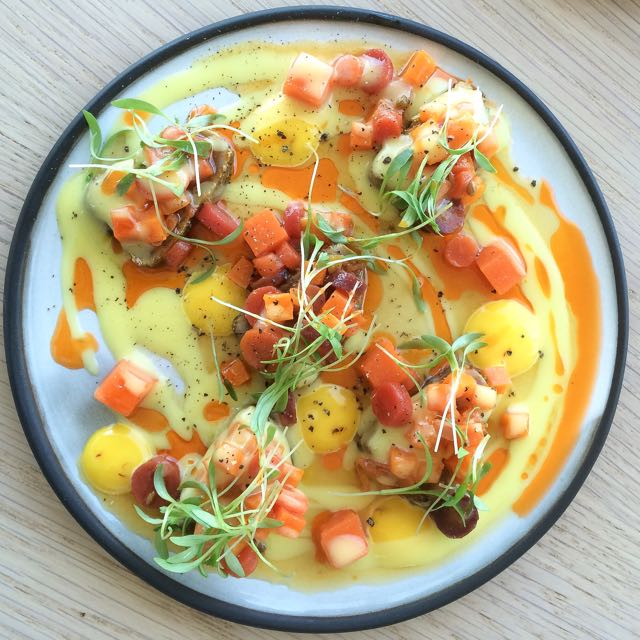 Seared tuna with cumin, saffron, picked carrot Escabech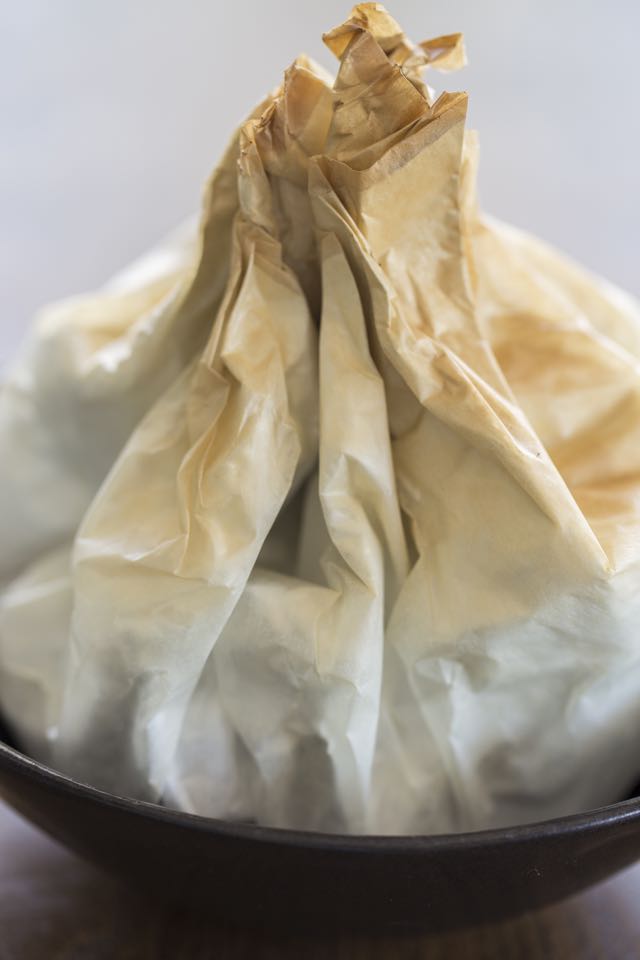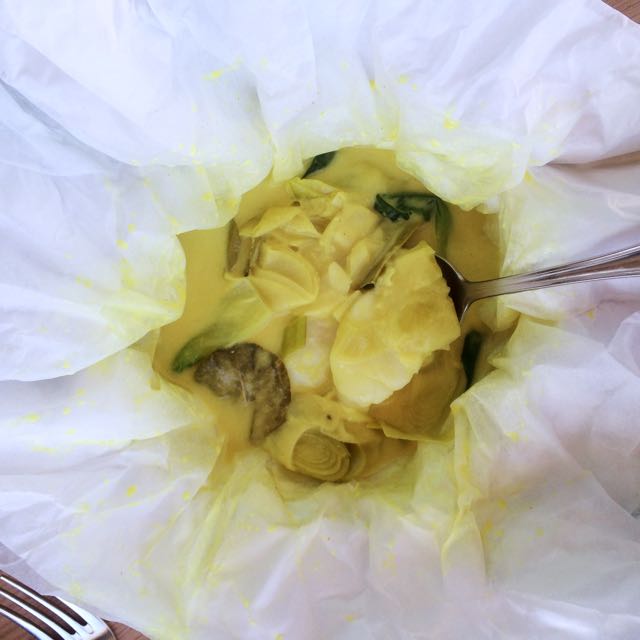 Kingclip white fish, lemongrass, coconut & lime – cooked in a bag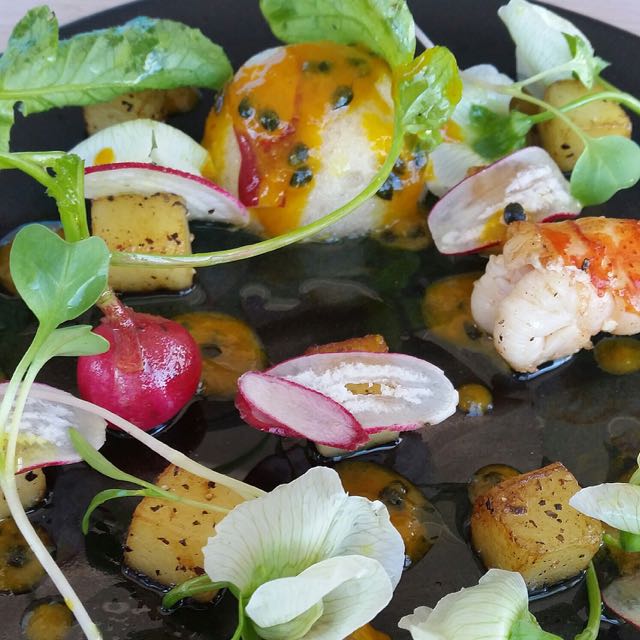 Crayfish tail, granadilla atchar, sweet potato confit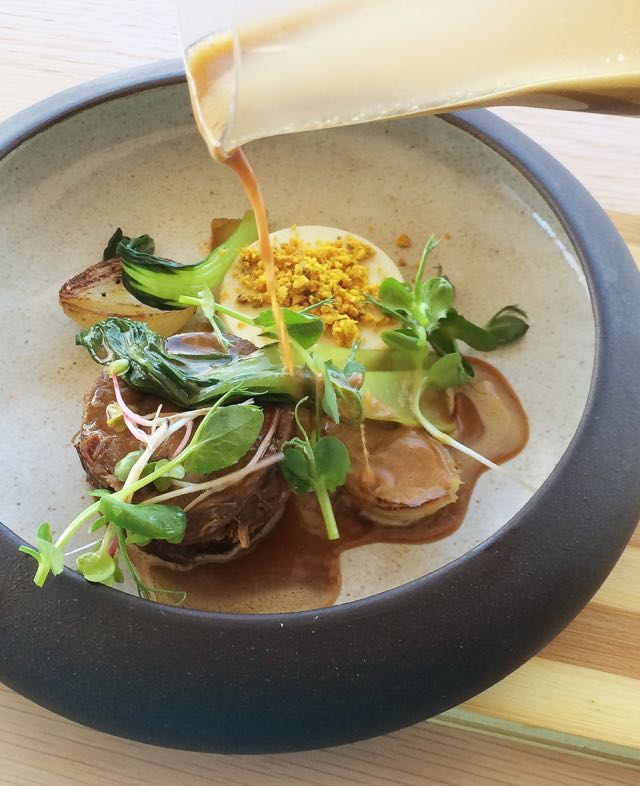 Beef shin, Jerusalem artichoke custard, wilted Pak-choy, cashew nuts, anise flavoured broth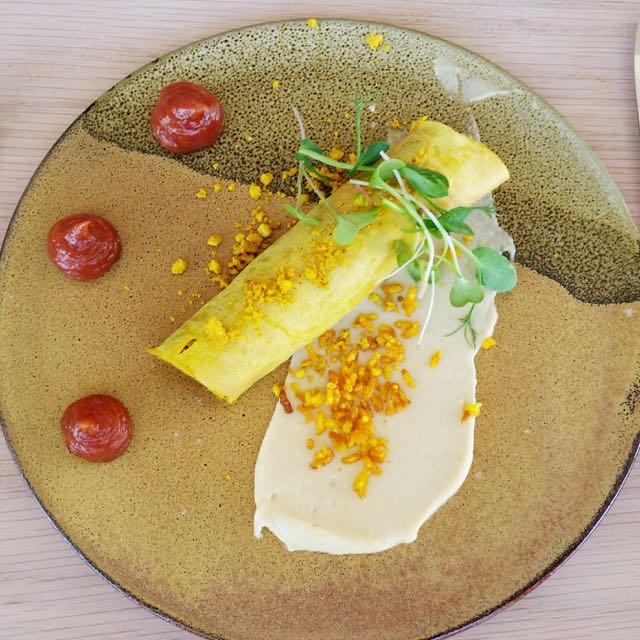 Lamb Bobotie (traditional mince dish), oven baked celeriac, quince, rice puffs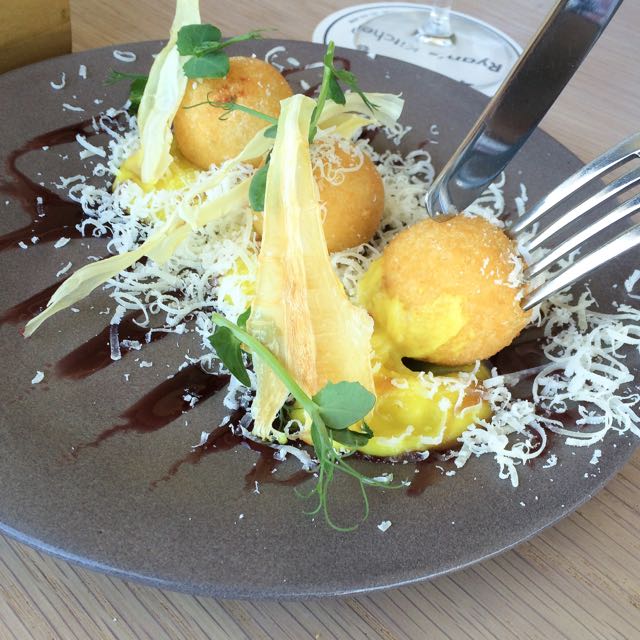 Cheese croquets, parsnip aioli, parmesan, red wine vinegar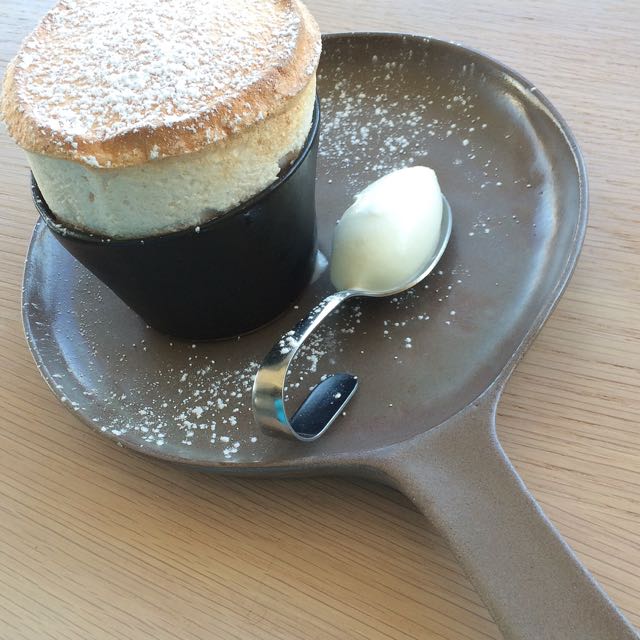 Ryan's renowned guava soufflé, with buffalo yogurt ice cream
The Details
Web: www.ryanskitchen.co.za/
Address: 1, Place Vendome, Huguenot Road, Franschhoek
Tel: +27 (0) 21 876 4598
Review carried out by Andrew Forbes