Who doesn't love a refreshing G&T? Gin drinking has become more popular than ever, with a vast array of new recipes and brands entering the market, reaching new customers.
Yet Campion London Dry Gin really is something quite special. I remember the first time I tried it – as a guest at a friend's house who had recently come back from Gibraltar with a bottle of this delicious and complex tipple, writes Andrew Forbes (The Luxury Editor).
Although not yet widely available outside Gibraltar, Campion Gin has already established itself not only amongst a committed customer base, but also within the industry – Campion has been voted one of the best Gins in the World (World Gin Awards 2020).
Gibraltar Gin Experience
Peter, Distiller and Founder of Spirit of the Rock, will be your guide on this entertaining tour and tasting. You can read his story of becoming a distiller on the website.
Learn about the history of distilling, alchemy, and the remarkable complexities of adding flavours to alcohol to create a distinctive, award-winning gin.
Campion gin includes 13 botanicals, traditional ones such as juniper, coriander, liquorice, cassia, orange, lemongrass, cardamon and clove; as well as the addition of the Mediterranean and Gibraltar touch of handpicked regional carob pods, rosebuds, and seeds of the rare white campion (that only grows on the Rock). According to the distillery, the campion flower was thought to be extinct on the Rock of Gibraltar but was rediscovered in 1992 by a local botanist. Seeds of Gibraltar's white campion flower are now held in the seed bank at Kew Gardens, UK, so its future is secure – it is also being propagated in the Alameda Botanic Gardens in Gibraltar.
Read our guide to our favourite gins
The setting of this experience, the Spirit of the Rock Distillery, (where the first Governor of Gibraltar once lived) in George's Lane, is one that resonates with Gibraltar history (George's Lane was first cited in the records soon after 1704 when the British and the Dutch took possession of the Rock, emboldened by their ration of "Dutch courage" aka Gin.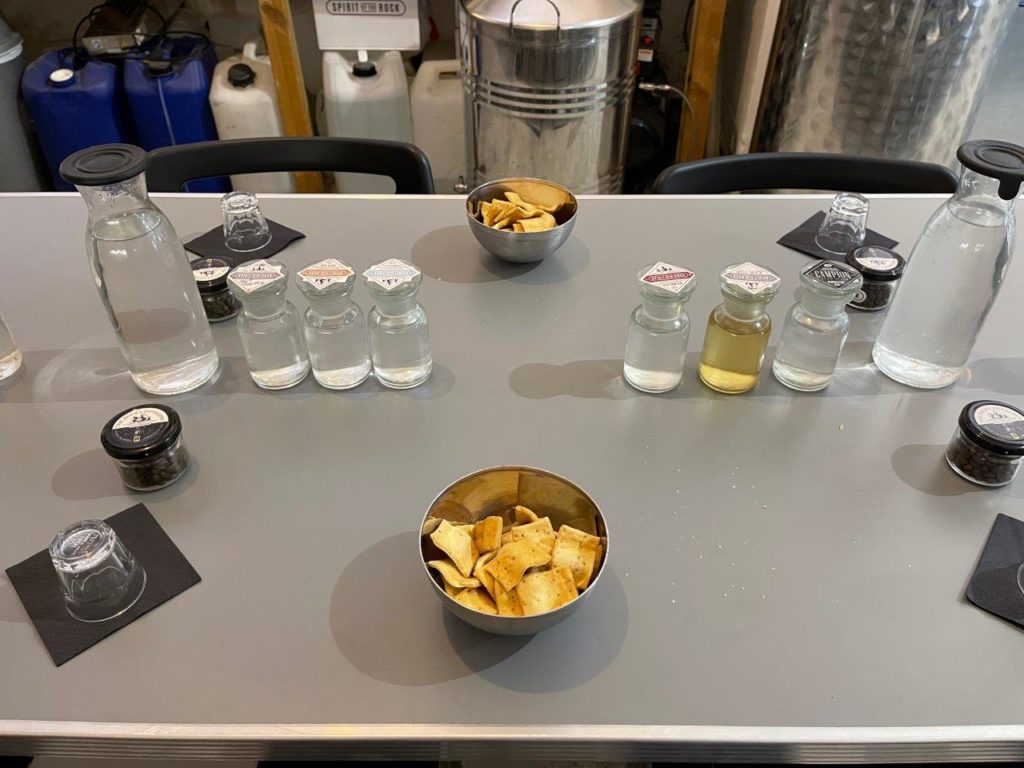 It's fascinating to learn about the history of gin in such a captivating setting, enjoying lots of gin trivia too, from the meaning of gibberish to the history of fever tree.
Tasting is a big part of the Gibraltar Gin Experience, and guests sample various handmade spirits that tell the story of gin's history.
Then finish your visit with the Campion Gin cocktail! The gin goes wonderfully with a slice of dried orange, complimenting the notes of lemongrass and juniper in the gin, and then mixed with a touch of aromatic tonic like Fever-Tree's range.
Information
Spirit of the Rock Distillery makes small batch, hand-crafted gins, and vodkas, available for purchase direct from the distillery and delivered across Gibraltar.
The Gibraltar Gin Experience can be pre-booked online or you can contact Spirit of the Rock directly through their website.