Talisker Partners with Parley for the Oceans on 'Wilder Seas' and its First 100% Recycled-Glass Bottle £3 from each of the limited-edition Wilder Seas bottles will go directly to Parley for the Oceans, a conservation charity whose initiatives support the protection and preservation of our seas. And the release sees the distillery's most innovative packaging to date; a 100% recycled glass bottle made using biofuel and co-designed with Parley.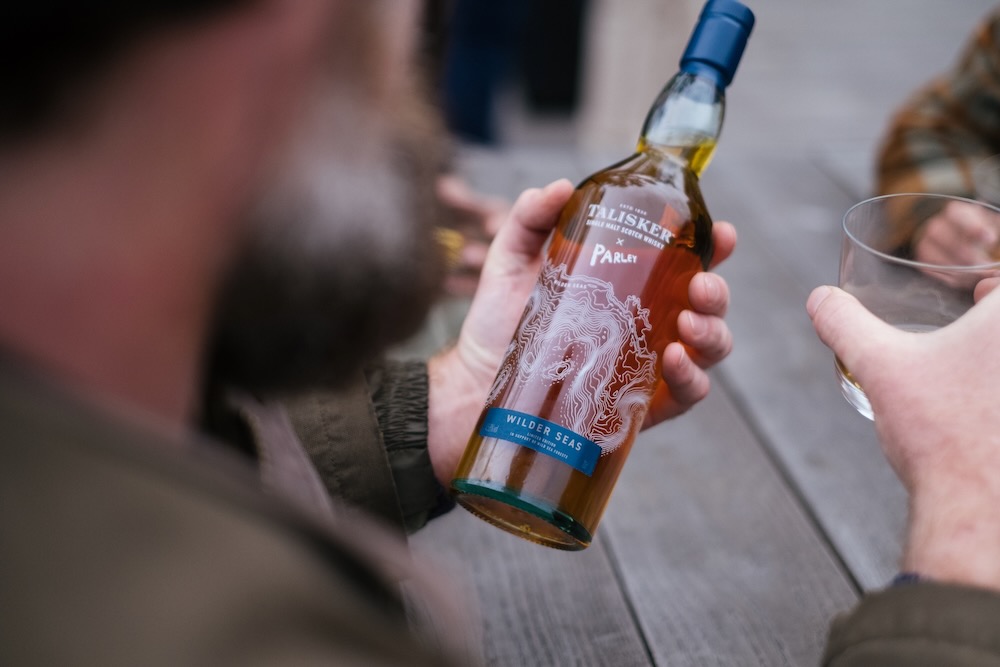 Reflecting Skye's Coastline
A ceramic decoration of topographic lines on the bottle emulates the undulating underwater landscape of Skye's coastline and reflects the drama of waves crashing along the island's coast, as well as representing the foliage of sea forests. Native to the Isle of Skye, Talisker's home, sea forests are prime underwater habitats. While they account for a quarter of the world's coastline and are a vital part of the ecosystem, they are vanishing four times faster than rainforests. As such, funds raised from the release will go toward preserving three of these sea forests located off the coasts of Scotland, South Africa and Chile.
Saving The Sea Forests
Wilder Seas is backing ground-breaking scientific research in the Orkney Islands, carried out by the Plymouth Marine Laboratory, Heriot-Watt University and Blue Marine Foundation. By demonstrating the key role of sea forests in slowing climate change and gaining a clearer understanding of where the carbon sequestered by these kelp forests goes, the team will be able to prove their contribution to the biodiversity of local marine ecosystems. Meanwhile, in the southern hemisphere, research is taking place in the Great African Sea Forest (South Africa has 150 marine ecosystems that support more than 13,000 marine species), home to thousands of species, many of which are found nowhere else on earth. And finally, the kelp forests of Chile is being studied, itself a nesting site for endangered birds and safe havens for endangered species of whales and dolphins. Parley, with Talisker's support, is collaborating with local organisation Fundación Rompientes in this part of the world. 
Read our guide to our favourite whisky
Cyril Gutsch, Founder & CEO, Parley said, "Sea forests are as crucial to planetary health as any terrestrial ecosystem, yet their disappearance has largely gone unnoticed. Like forgotten guardians of the sea, sky and land, towering kelps beneath the surface harbour vast marine biodiversity, purify surrounding waters, regulate pH, sequester carbon, release oxygen, protect coastlines from storms and erosion and buffer us all from the worst impacts of climate change. Together with Talisker, we're bridging design, eco-innovation and conservation in a tribute that honors the beauty and fragility of these magical forests and supports the work towards their protection."
A Whisky of Firsts
This is the first time Talisker has brought us a carton-free whisky, with a paper neck tag. Peer-reviewed and created with carbon footprint in mind, the design has 85% lower GHG emissions associated with its glass bottle and 77% lower GHG emissions associated with its total packaging, in comparison to Talisker's previous packaging. It's also the first ever release from the distillery to have been matured in French Oak XO cognac casks. This brings a rich and complex flavour, blending smoke, spice and sea salt, offset by notes of plum and stewed raisins, described by whisky writer Charles Maclean as: "A rich, complex and tightly integrated aroma and a taste which is pure Talisker, with added dried fruitiness".
This release is restricted to 17,940 bottles and you can purchase from Malts.com. The proceeds of Talisker x Parley will raise £53,820 to Parley for the Oceans to support their wonderful work.