Viv Blair, marketing consultant, friend of TLE and perfect pouring tea-pot connoisseur recently escaped to Fonab Castle.
Fonab Castle has been many things to many people. Built in 1892 as a residence for the Sandeman family, who are best known for the iconic black-bottled port; a British Red Cross auxiliary hospital during the First World War; offices to Scottish Hydro as they built the adjoining Pitlochry Dam; it was then unoccupied for 40 years, before being sold to the Clark family who opened it as a luxury five star hotel in 2013. The castle and modern extension house 24 bedrooms, with a further eight in the lodge to the side of the castle. Another eight-bedroom lodge is due to open in June 2017.
Location
Under 90 minutes from Scotland's capital, yet a feeling you are deep in the Scottish Highlands. A stroll over the dam, takes you into the quaint town of Pitlochry meaning we didn't touch the car for 48 hours, yet weren't isolated. The inviting cafes of the town gave us plenty of culinary options when we ventured out of the castle grounds. A stroll around the loch provided us with the perfect opportunity to appreciate the stunning, vibrant autumnal colours.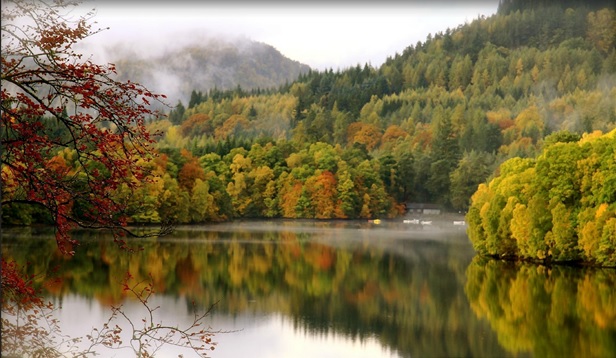 Check in
Smooth and friendly. Alex, a charming, smartly kilted member of staff showed us around the hotel and facilities, providing us with a brief history of the building, advice on where we might settle ourselves during our stay and tips on walks in the area.
Communal Areas
The bar area was where we found ourselves on several occasions, mainly enjoying coffee, cocktails, cheese and playing cards. Very relaxed but with sumptuous decor, primarily leather, brushed velvet and tweed finishes in an array of rich colours. We've stayed in many Scottish castle-style hotels, most are traditional without much deviation. Fonab mixes things up. The upbeat chart music, played at a fair volume, sets the tone in the bar and brasserie. "We are modern." Yes, there are spots of tradition, tartan carpets, a sympathetic restoration of the castle area , in particular the whisky lounge, but the extension is unashamedly modern. The painting of the friendly Highland cow as you entered the bar has left me longing to be greeted by that face on a daily basis, that, and the pink checked sofa in reception.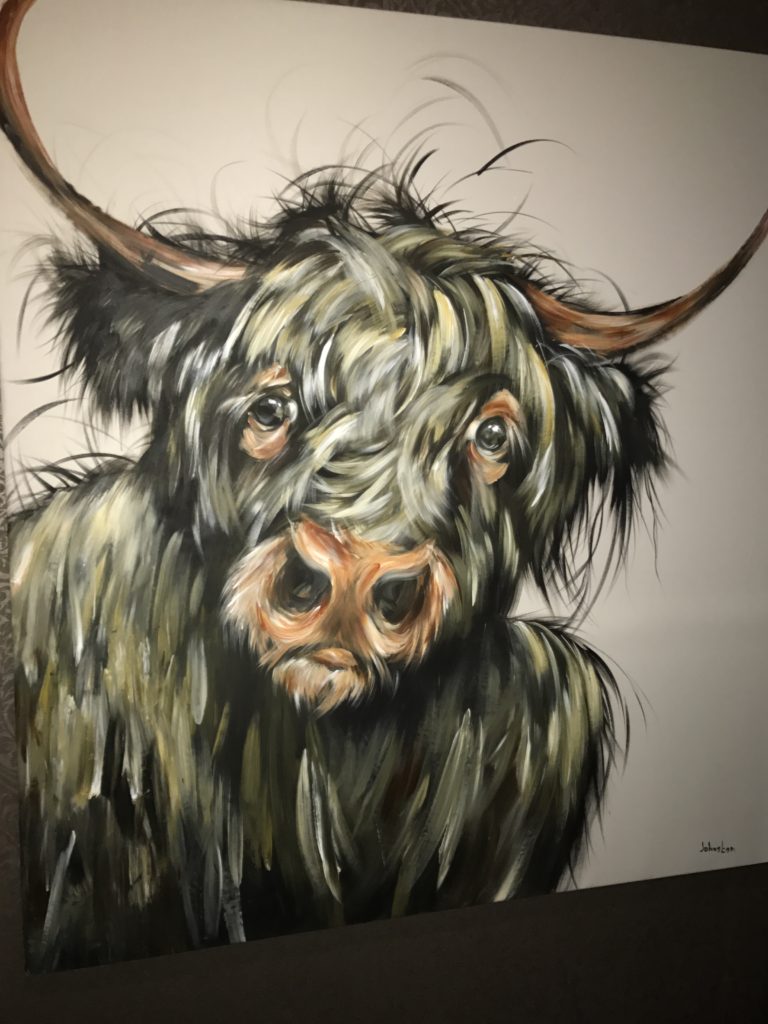 The Rooms
We stayed in a Woodlands Patio room. All the rooms in the modern part of the hotel have vivid colours, pinks, teals and purples. While the castle rooms are more muted and earthy with sage greens and browns. The patio door allowed us a morning blast of fresh Scottish air and a fantastic view over Loch Faskally. The White Company bedding was silky soft, and it had all the amenities you'd hope for, a Bosch temperature control kettle, a Nespresso machine and handy USB charger point. The only thing lacking, personally, was a bath. A hotel is where I look forward to a long, deep bubbly soak. Some rooms do have baths but not all, so this is something to look out for when you're booking.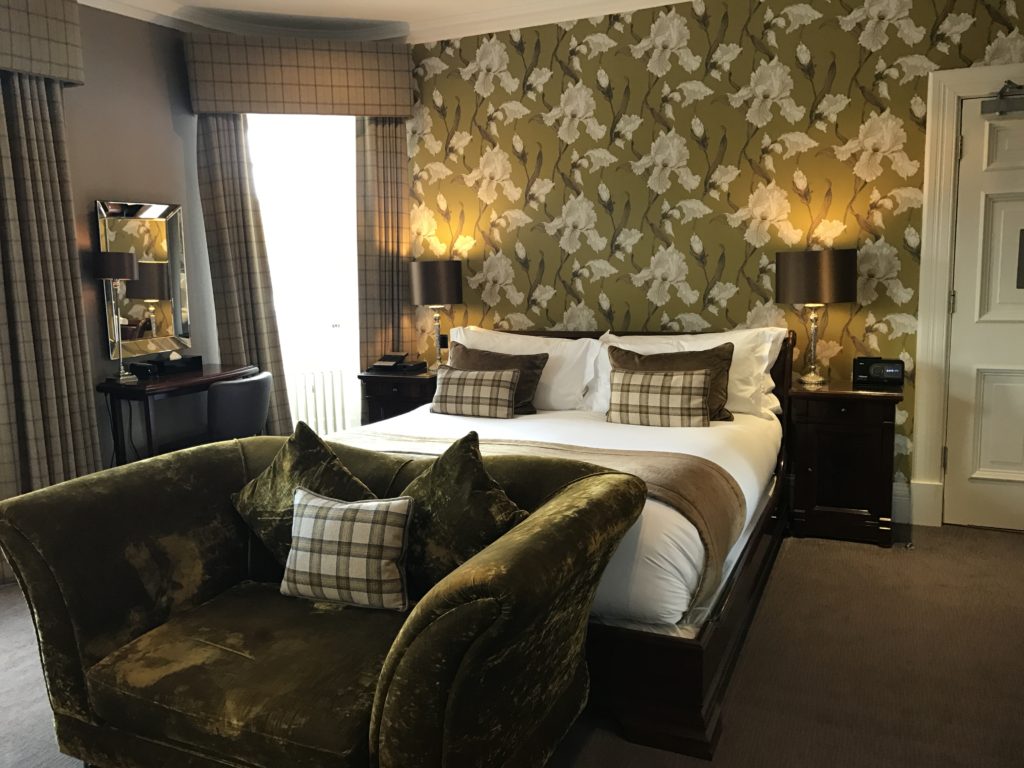 While I was there, I took the opportunity to peek into the Penthouse. Wow! A commissioned 7ft bed, Swarovski encrusted wallpaper, a bath to swim in, a turret to frame Scotland's finest views. This was quite possibly the most exquisite hotel bedroom you could come across. Maybe next time…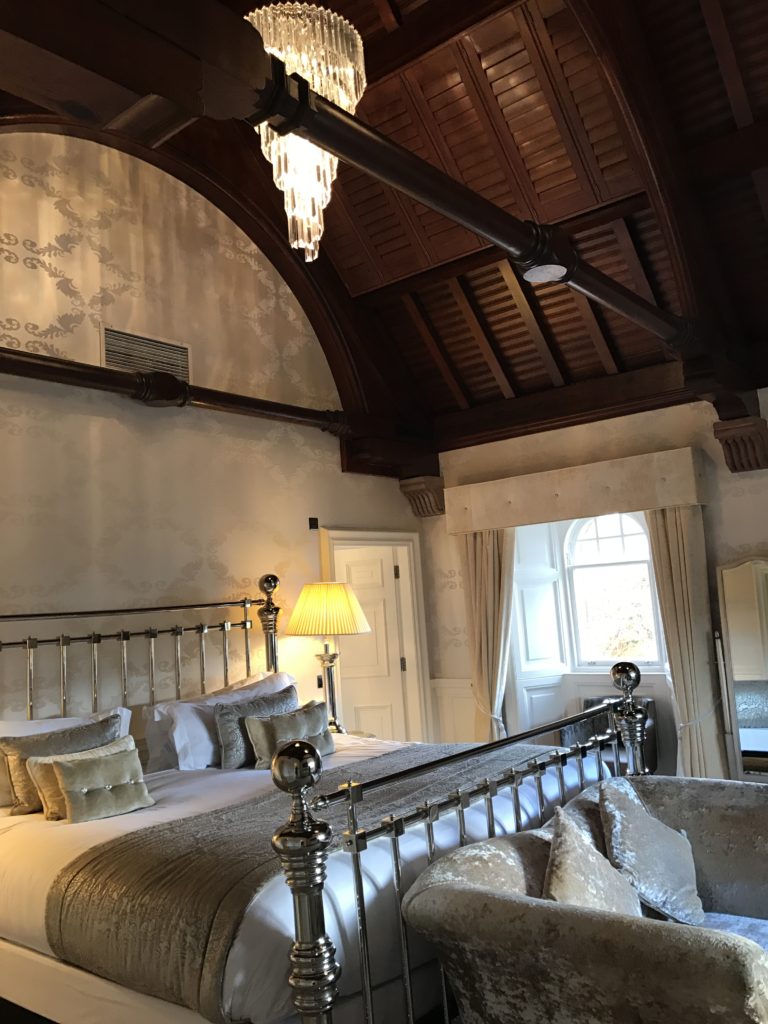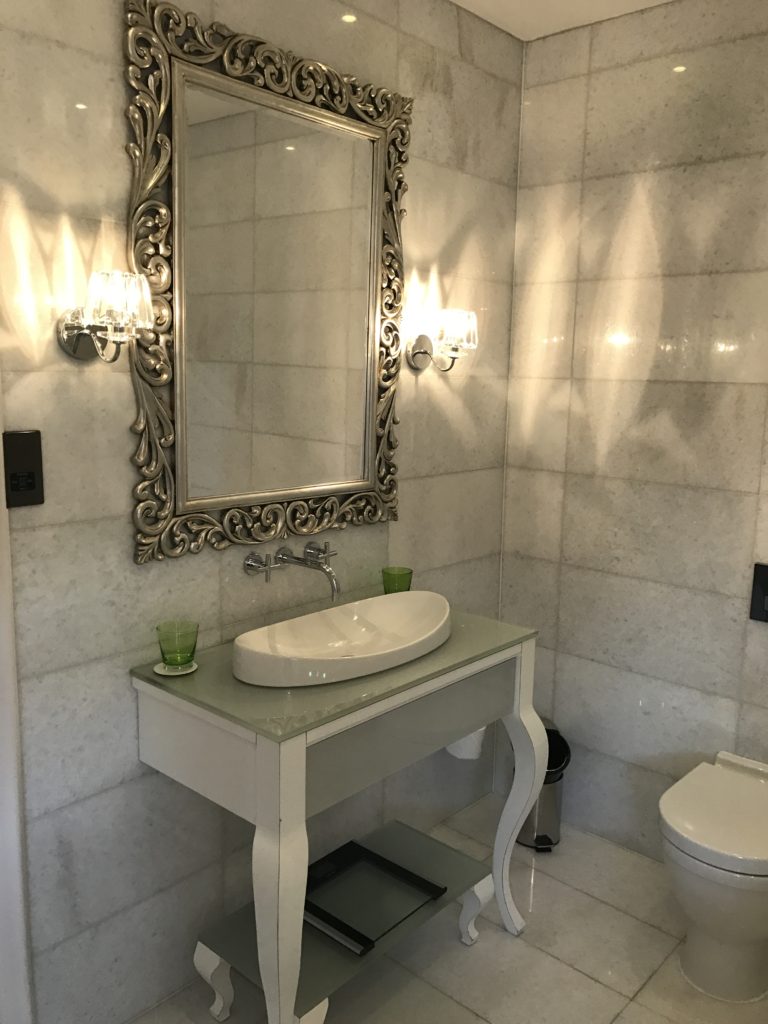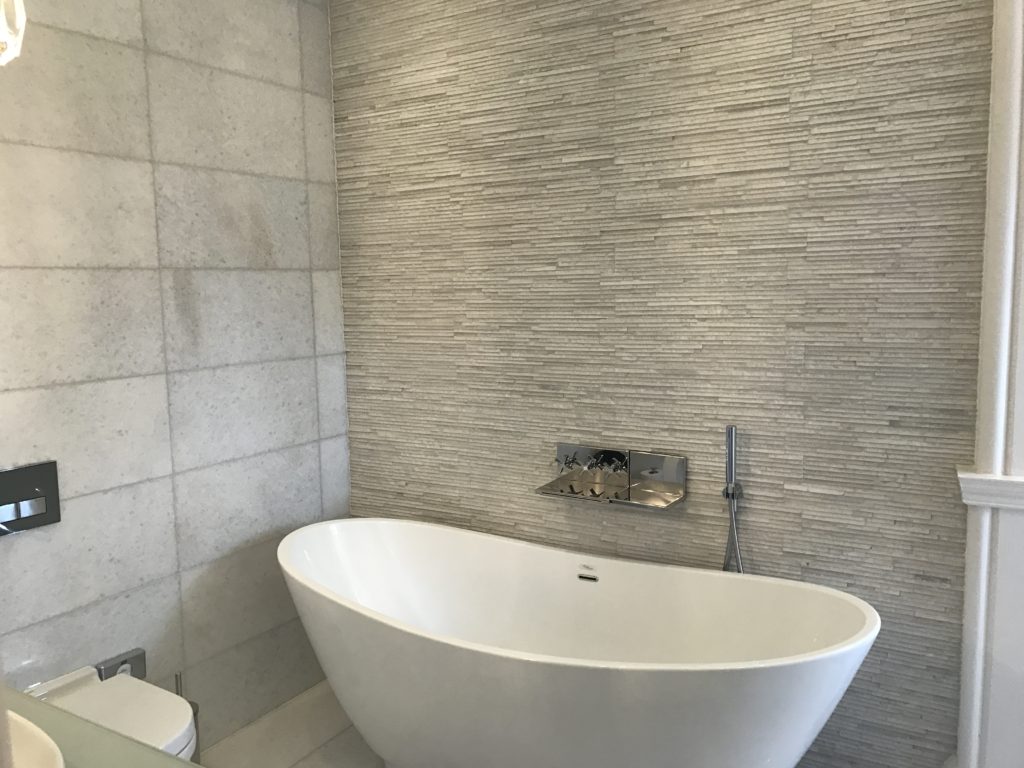 Generally the rooms aren't massive. The suites have a separate living area, good if you're staying a while. But personally size doesn't matter when it comes to bedrooms. It's the attention to detail, the finishes and the tactile elements that counts and Fonab gets this spot on.
Food and Drink
The bar serves a delicious looking afternoon tea, but we went for cocktails instead and they didn't disappoint. A strawberry, Champagne-topped mojito, with an accompanying cheeseboard providing a good starting point for the culinary part of our trip. We then moved to the brasserie and ate off the à la carte menu which had a good selection for all. Over the two evenings, we sampled the fish curry, fish and chips, artichoke risotto and mushroom gnocchi. All delicious. Sandemans fine dining restaurant is sold as a dining experience, one which can take around three hours, where you eat from a six-course set tasting menu (£75) and can also choose the accompanying wine flight (£45), however we weren't there for a special occasion and the brasserie was exactly what we were looking for but if you're looking for an 'experience', I'm sure The Sandemans wouldn't disappoint. And if you like your spirits, their whisky collection shouldn't be sniffed at and the gin palace, leaves you spoilt for choice.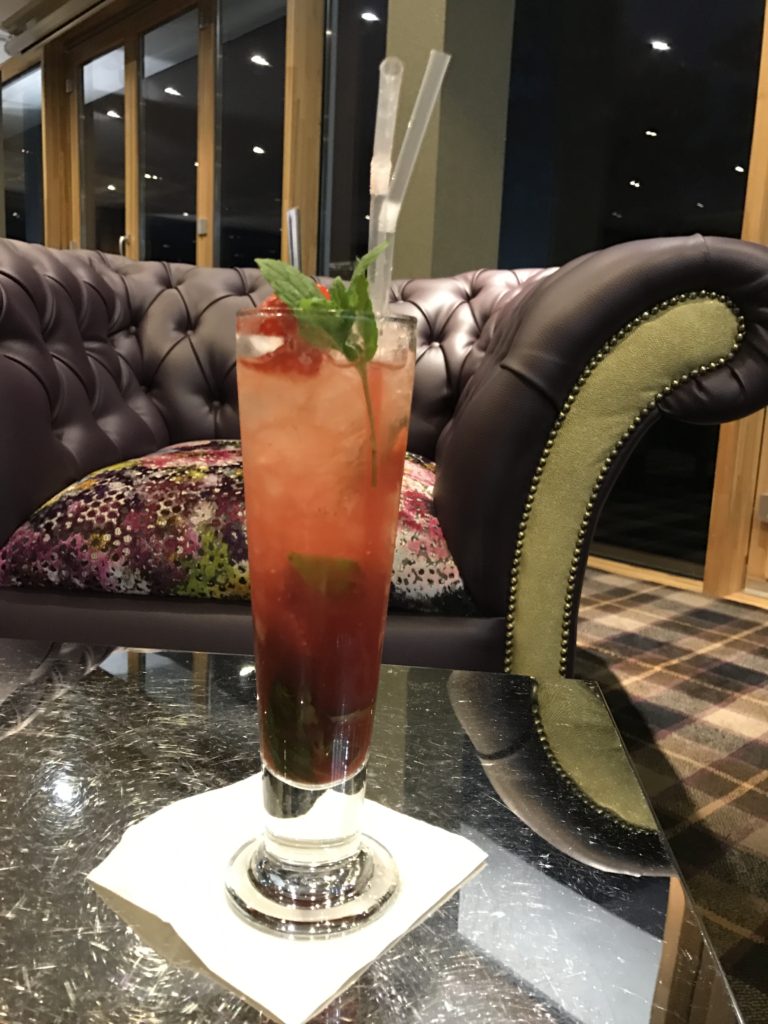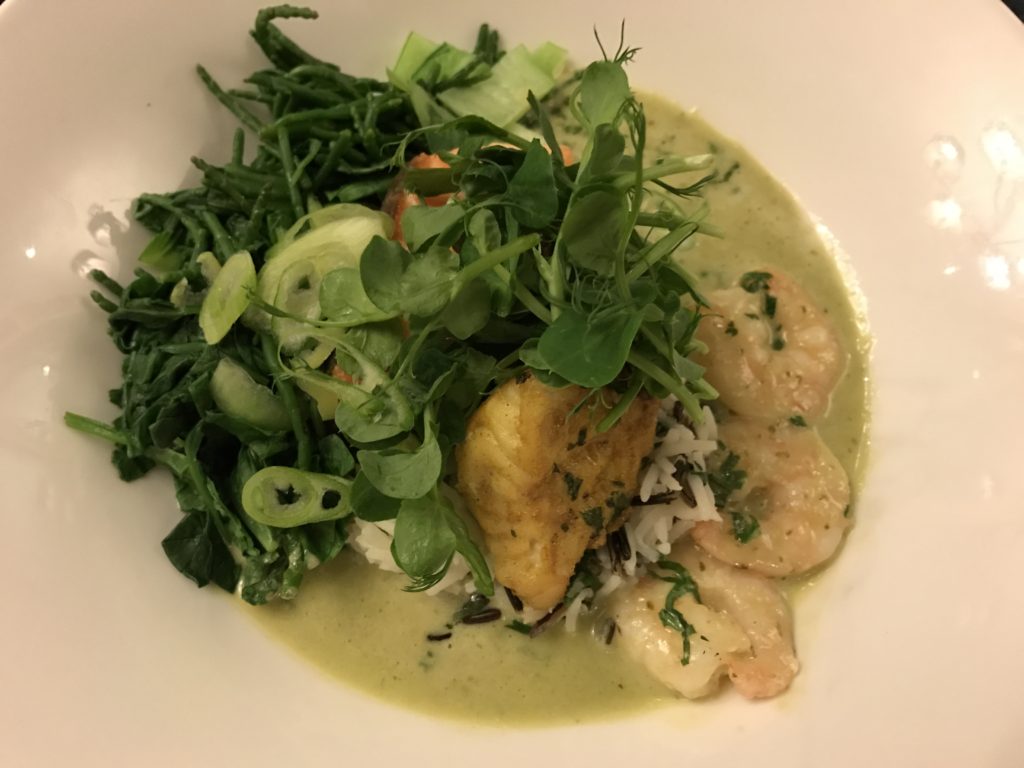 Breakfast was table service. A selection of toast, pastries, juice and tea/coffee, followed by your choice from the starters, mainly fruity and cereal-based healthy options, followed by numerous hearty alternatives from the mains section. No self-service, so plenty of time for us to sit and enjoy our complimentary newspaper while we were waited on.
The Spa
The spa opened in 2015 and currently houses a 15m pool, a thermal suite and four treatment rooms. It is modern, shiny and smells divine. I confess, I did not dive in, however it looked like a lovely tranquil escape. The relaxation room which is currently in development, will add to the experience. The treatment list is comprehensive and reasonably priced with an hour long massage starting from £65. Like all the bathrooms, they have selected French brand Thierry Mugler, nice enough but I would have stayed Scottish since there are so many divine Scottish toiletry producers to choose from. This brand seemed a little out of place.

Finances & Final Thoughts
Prices from £125 per night for a spa view room. The Woodland Patio Room was £185 per night when we stayed.
We may have found a hotel to rival the Isle of Eriska. Relaxed yet luxurious, finished to perfection, in an ideal setting.
Address: Fonab Castle Hotel, Foss Road, Pitlochry, Perthshire, PH16 5ND
Telephone: 01796 470140
Web: www.fonabcastlehotel.com
Viv Blair. Read Viv's review of The Craigellachie Hotel