The Turkish Riviera, also known as the Turquoise Coast, is one of our favourite places to visit. The twinkling crystal-clear coastline is a natural part of the charm whilst the collection of exceptional hotels and resorts makes a luxury holiday here easy to enjoy. From adult-only and speed boat access private villas to family friendly and active resorts, cuisine that will delight the most discerning gourmands and spas that will rejuvenate the body and the mind we ask you to read on and choose your place on this beautiful part of south east Turkey. 
Antalya
Kempinski The Dome
Kempinski The Dome features unique architecture and exotic Seljuk-style design along with unobstructed beachfront vistas. Found in the Belek area of Antalya, this region is gathering international renown in the golf community, withThe Pasha and PGA Sultan 18-hole-Championship Golf Courses on the doorstep. The hotel has 158 rooms, five villas, several pools, a jacuzzi, water-sports, three tennis courts, a huge Thalasso Spa with an indoor pool and a kids club. It's all-inclusive with a host of dining options: a Trader's Spice Restaurant, the Palm Pavilion Bar & Grill, Lale restaurant, Cilantro restaurant, cafe, patisserie and two upmarket bars.
Rixos Premium Belek
Just along the oceanfront from Kempinski The Dome, and 50km from the city centre, is Rixos Premium Belek, occupying the largest section of private beach in the area. A great choice for families, there's a kids club, playground, several massive pools, two-bedroomed suites, inter-connecting rooms and free entry to the nearby Land of Legends theme and water park. All part of the all-inclusive deal. Couples can enjoy the adult-only areas for a more peaceful stay and the privacy of a deluxe swim-up suite. Meals can be taken buffet-style in one of two eateries, or in a choice of three a la carte steak house, Italian and Turkish restaurants. In addition, the resort has eight bars and a full programme of activities excursions and classes.
Titanic Mardan Palace
Fairytale turrets evoking the ancient Ottoman Empire, a village-like atmosphere and a wealth of five-star amenities set the Titanic Mardan Palace apart. If you like your resorts big and starry, then this is the place for you. The hotel has 560 stunning rooms, 35 places to eat and drink, a giant kids' club (including its own splash park), a spa retreat, tennis court, golf club, and enormous wraparound pool with a sunken aquarium containing over 2000 fish. Food is available 24 hours a day, and guests are treated to special touches, such as champagne and strawberries on arrival. Built by Azerbaijani businessman Telman Ismailov and designed with regal splendour, its opening was attended by the likes of Mariah Carey, Kendall Jenner, Sharon Stone, Richard Gere, Monica Bellucci, Paris Hilton, Seal and Tom Jones. Not only is this one of the finest places to stay in Antalya, but it's also among the best hotels in the Mediterranean, reserved for travellers with a luxury budget.
Gloria Serenity Resort
Surrounded by fragrant pine forests of Belek and beside a private beach, a stay at the Gloria Serenity Resort promises relaxation and glamour in equal quantities. Highlights include an ozone-treated seawater wraparound pool spanning the length of the property, access to three top golf courses, a selection of floodlit clay tennis courts, a chic spa, high-quality live entertainment and free entry to a charming local zoo. The 369 rooms are separated into eight different accommodation types, while the resort's kitchens provide an international range of cuisines served buffet-style and a la carte. Gloria Serenity's on-site convention centre and spacious meeting rooms make it popular for those travelling on business, as well as pleasure.
Bodrum
Mandarin Oriental, Bodrum
Set in a stunning location overlooking the emerald blue Aegean Sea, the Mandarin Oriental offers extreme comfort and class over 59 guest rooms, 29 suites and 36 apartments, each designed with an impeccable eye for contemporary Turkish and Oriental fusion styled furnishings. With 2 private beaches, a sumptuous spa and a wide-ranging variety of cuisines to choose from, you're guaranteed to feel relaxed and inspired in this opulent beachfront resort. The Mandarin Oriental lives up to its name in this palatial five-star resort, where guests can indulge in lavish services and facilities which include everything from yoga to designer shopping.
The Bodrum EDITION
Perched on a hill just 3km from the gorgeous Yalikavak Marina, The Bodrum EDITION offers enthralling coastal views of the turquoise coast with its terraces, promenades and seaside pools and spa. Sleek, sharp and stylish, this hotel offers luxuriant food, both casual and refined, as well as two sensational bars for a romantic Mediterranean inspired evening. With spacious rooms, suites and bungalows on offer, you can expect polished stone floors, marble baths and bright, light decor for ultimate relaxation. The service is kingly at this majestic five-star resort.
Caresse Bodrum
This luxury resort is set on a spectacular section of Bodrum's coastline, with stunning beaches, seaside pools and terraces. Its 75 airy rooms and 9 suites are decorated with modern furnishings complimented by a Turkish twist, enticing such esteemed visitors as the Saudi royal family. Its 4 restaurants feature everything from both contemporary and traditional Aegean cuisine to sushi, making best use of locally caught fish and rarer global options. The hotel's own boats are available to hire for coastal excursions, including a luxury yacht features in James Bond's Casino Royale. Take advantage of the dazzling and well-stocked seafront bar on the evening, watching the lights bounce off the sea water.
LUX* Bodrum Resort & Residences
LUX Resort's Bodrum location is a refined coastal retreat, remotely set on a peaceful peninsula with panoramic views across the Aegean Sea. This contemporary steel and glass built hotel — decorated with modern and chic furnishings — staggers over a hillside setting of palatial palm trees and olive gardens, leaving guests with breathtaking seafront vistas over sandy beaches amid an intimate environment. Complete with impeccable services and facilities, the 91 rooms each feature a sea view with contemporary amenities. The hotel's 3 restaurants offer a fine variety of international cuisines, and the bars are ideally placed with access to the sea for romantic coastal drinks. This is an outstanding resort for those seeking a fine mixture or relaxation and splendour.
Kempinski Hotel Barbaros Bay Bodrum
Hidden upon a cliff-top which overlooks the spectacular Barbaros Bay and its unspoilt landscape, this Kempinski owned resort is ideal for those looking for seafront style and natural grandeur. Classically decorated with high ceilings, traditional Turkish architecture, drapes and opulent furnishings, guests have access to private beaches lusciously kitted out with wicker beds and shielded, green vegetation. The service is friendly and the facilities top notch, with a choice of 3 restaurants on-site: Italian, Aegean and Vietnamese. A Turkish themed beach bar offers poolside lunches and evening drinks on a spectacular seafront patio.
Divan Bodrum
A boutiquey hotel within a secluded and serene setting, the Divan Bodrum offers exquisite access to the Aegean Sea with its sandy beaches and seaborne excursions. Described as one of the most excellent choices on the Mediterranean by the famed publisher Condé Nast, guests can expect both luxury and relaxation in this traditional stone-built resort. The hotel features 60 rooms from standard guest rooms to deluxe suites, with a simple, traditional style consisting of colourful furnishings, large windows and airy, spacious rooms. Its restaurant specialises in local Aegean and Mediterranean cuisine, with stunning seafood, meats and vegetable which draw on the region's multicultural culinary landscape. We recommend sipping on an inspired cocktail in the waterfront bar, relaxing in one of the hammocks as the sun sets over the Aegean Sea.
Nikki Beach Resort & Spa Bodrum
Styled as a fashionable lifestyle hotel, this coastal gem exudes natural pomp with its sheltered beach setting and rugged rock terrain. Consisting of 76 rooms kitted out with timbered balconies, stone patios and private terraces, each unit blends seamlessly with the natural surroundings, producing a truly intimate guest experience. With a restaurant, café and lounge each brushing next to the glorious coastal waters, the focus is on healthy, free-range cuisine and freshly caught seafood, be it through sumptuous sushi or inspired Aegean tradition. Services and facilities include live music and evening entertainment, yoga parties and relaxing spa treatments, and a multitude of seaborne activities including water sports and fishing.
Dalaman
Hilton Dalaman Sarigerme Resort and Spa
The all-inclusive luxury beach resort boasts an enviable location sitting on the edge of the Dalaman River and Mediterranean Sea offering guests stunning views from almost every angle. The super-stylish resort offers guests a choice of spacious upscale rooms and suites some of which include private pools and saunas but all of which present the highest standards of comfort. With a 23 restaurants and bars on side there is an excellent choice when it comes to dining, from the elegant oyster and champagne bar and adult only roof top bar through to the relaxed Citrus Patisserie and everything in between. Guests who enjoy the active life can take advantage of the fully equipped gym, Pilates studios, tennis courts, water sports and ten outdoor pools. For family fun, the kids club offers a comprehensive programme of activities and evening entertainment. Just a short stroll from the town centre and with easy access to local attractions guests can conveniently explore and soak up the local culture and atmosphere.
Rixos Premium Göcek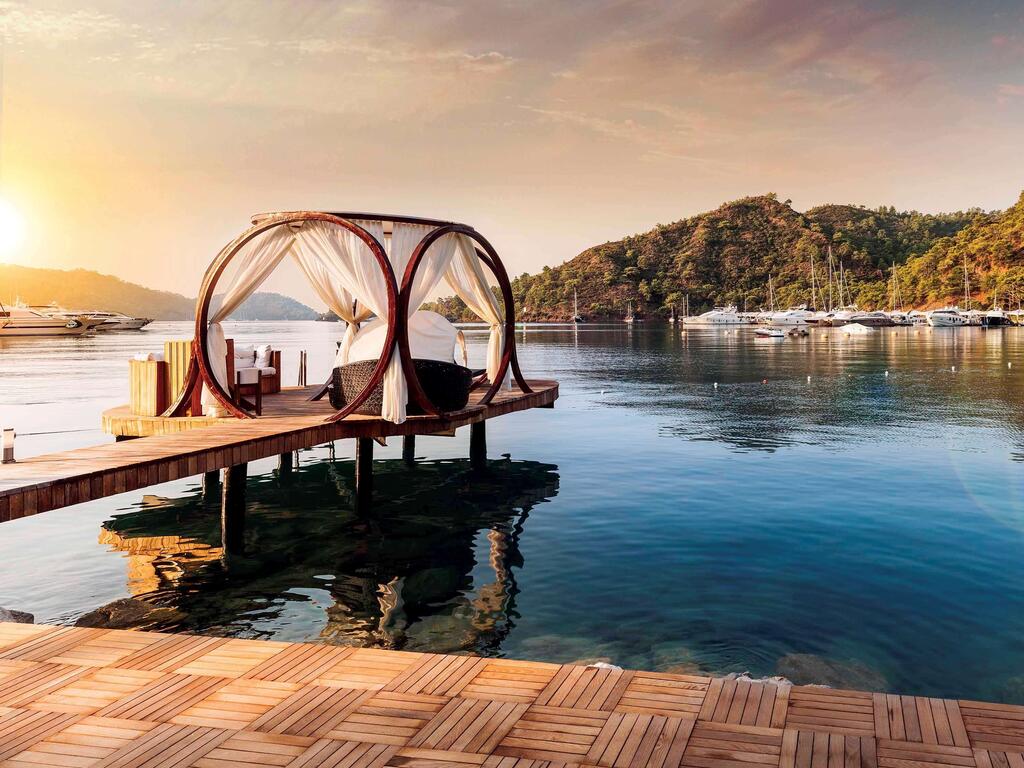 Nestled between two marinas amidst the natural beauty of pine forests, this adult only all-inclusive resort is the perfect place to escape to enjoy tranquillity and unforgettable moments. Accommodation is presented in the form of a suite or private villa. The villas are the perfect choice for a romantic retreat and are located and can be reached in five minutes by speedboat from the resort. Both accommodation options are beautifully appointed and offer easy access to the resort's secluded private beach and other facilities. The four exceptional restaurants and six unique bars, each boasting their own concept and style, offer guests a choice for every occasion from casual and fun to elegant and sophisticated.Rejuvenate your body and mind at the traditional spa or opt for something more energetic at swimming pools, tennis courts, fitness centre, aqua gymnastics and a whole host of water sports on the stunning coastline.
D-Resort Göcek
With its natural coves and wonderful beaches, D-Resort Göcek is a hidden treasure which seamlessly blends nature and luxury to offer guests an enriching experience. Rooms and suites combine contemporary architectural design with beautiful finishes to present a superb selection of accommodation options. The three onsite restaurants boast absolute individual style, ambience and menus with all three presenting dishes creatively prepared using the freshest of locally sourced ingredients. There are plenty of activities for the more energetic guests including a state of the art fitness centre and gym along with studio classes and variety of water sports. And when all you want to do is kick back and relax the extensive spa welcomes guest to relax in the Zen Garden, enjoy a Jacuzzi, Hamman, sauna, steam room, ice fountain, vitality pool or perhaps indulge in an award-winning skincare treatment by ERICSON LABORATOIRE.