Each of the 89 rooms and suites are supported by tailored sleep experiences, whilst the upscale bathrooms and amenities focus on comfort and wellbeing.
Radisson Collection Hotel, Magdalena Plaza is setting a new standard in luxury hospitality in Andalucía's capital, writes Andrew Forbes (The Luxury Editor).
Contemporary style
Seville continues to innovate in hospitality and dining and the significant investment in the sparkling new Radisson Collection Hotel, Magdalena Plaza is a luxurious vote of confidence in the city's status as a global tourism destination.
Oliver Rust, the hotel's general manager brings an international perspective to the property which delivers a polished, world-class guest experience, a journey that starts with sophisticated pre-arrival communications and leads to an upscale stay that showcases the best in 5-star hospitality in Southern Spain.
The vibrant lobby brings the city into the hotel – with lobby bar, co-working areas, and restaurants.
Seville charm
Being at the heart of Seville is the greatest luxury of all. Plaza de Magdalena is an elegant, orange tree lined squre, with a historic fountain – a place that embodies the essence of Andalucian city life. The hotel's lively and sophisticated Justa Rufina restaurant terrace and Eneko Basque terrace are both on the square, where you can take in the evocative scent of orange blossom, listen to the sound of songbirds in the trees, and the chatter of locals sitting on benches facing the fountain.
Luxury hospitality
Once inside the hotel, the style and creativity of contemporary Spain set the tone. The twin buildings of Radisson Collection Hotel, Magdalena Plaza have been redeveloped with a satisfying attention to detail and quality, using high quality natural materials, like fine woods, and elegant finishes, to create a property that will stand the test of time – a hotel that will age with elegance and style.
Eneko Basque restaurant
This is a hotel that is as much for visitors as it is for locals. Radisson Collection Hotel, Magdalena Plaza is defined by two impressive destination restaurants, including the Eneko Basque restaurant, which is quite simply, exceptional.
The restaurant design is innovative yet classic – based on banquet seating that allows guests to enjoy an intimate dining experience yet at the same time, share in the atmosphere of the restaurant and catch a glimpse too of the open kitchens.
Michelin Star chef Eneko Atxa has designed an extraordinary menu, including some of his signature dishes. The Seville team, led by Chef Antonio Garcia and Sous Chef Bruno Gomez are truly talented, not only giving life to renowned Eneko dishes, but also creating a style that reflects Seville and the south of Spain. Service is superb – natural, friendly, and well-informed. Carmen, our server helped us navigate the menu and made some super suggestions.
So, luckily we enjoyed some of the finest dishes including the acclaimed tartlet of almadraba red tuna with Baeri caviar from the Pyrenees, served in a case made from mushrooms.
The spicy chilli crab is not to be missed. For main dishes, the choice is so tempting. I went for the rack of lamb, slow cooked at low temperature for some 15 hours and served in a basket of rosemary – aromatic and tender. Side dishes are creatively prepared and presented including smoked potatoes in a paper bag, so the smoky aromas make it all the way to the table.
Puddings celebrate the culinary culture of Andalucia, with a contemporary interpretation of the region's famous 'torrija' as well as delicate and delightful unpasteurised yoghurt 'mil flores' served with petals and subtle fragrance.
Eneko BASQUE restaurant makes dining into a special occasion – and whether you are a guest of Radisson Collection Hotel, Magdalena Plaza or not, this is gastronomy not to be missed.
Justa Rufina Taste & Sky
Justa Rufina Taste and Sky is the embodiment of forward-thinking Seville. This is another signature dining experience on Seville's elegant Plaza de la Magdalena, where guests enjoy elegance and vibrancy, a touch of tradition but also plenty of innovation and fun.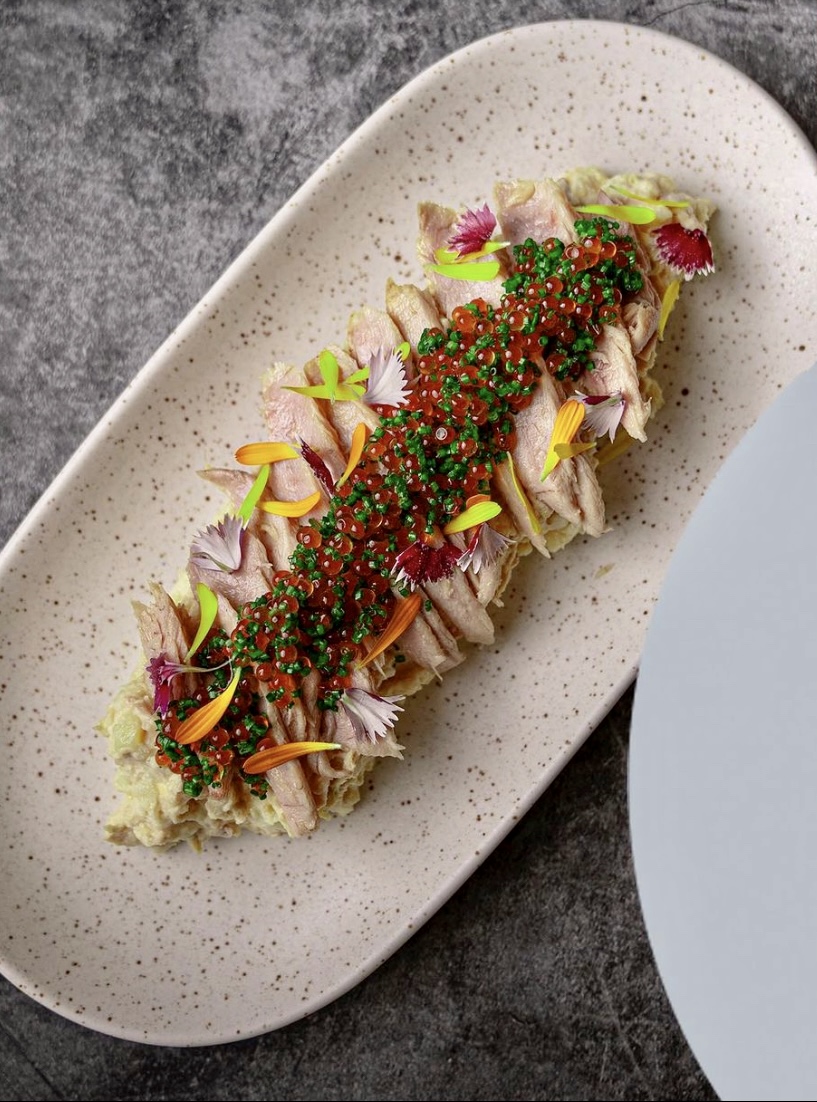 Start your culinary adventure in the restaurant on the urban oasis of Magdalena Square and then reach for the stars with a nightcap in the Sky Rooftop of the Radisson Collection Hotel, Magdalena Plaza.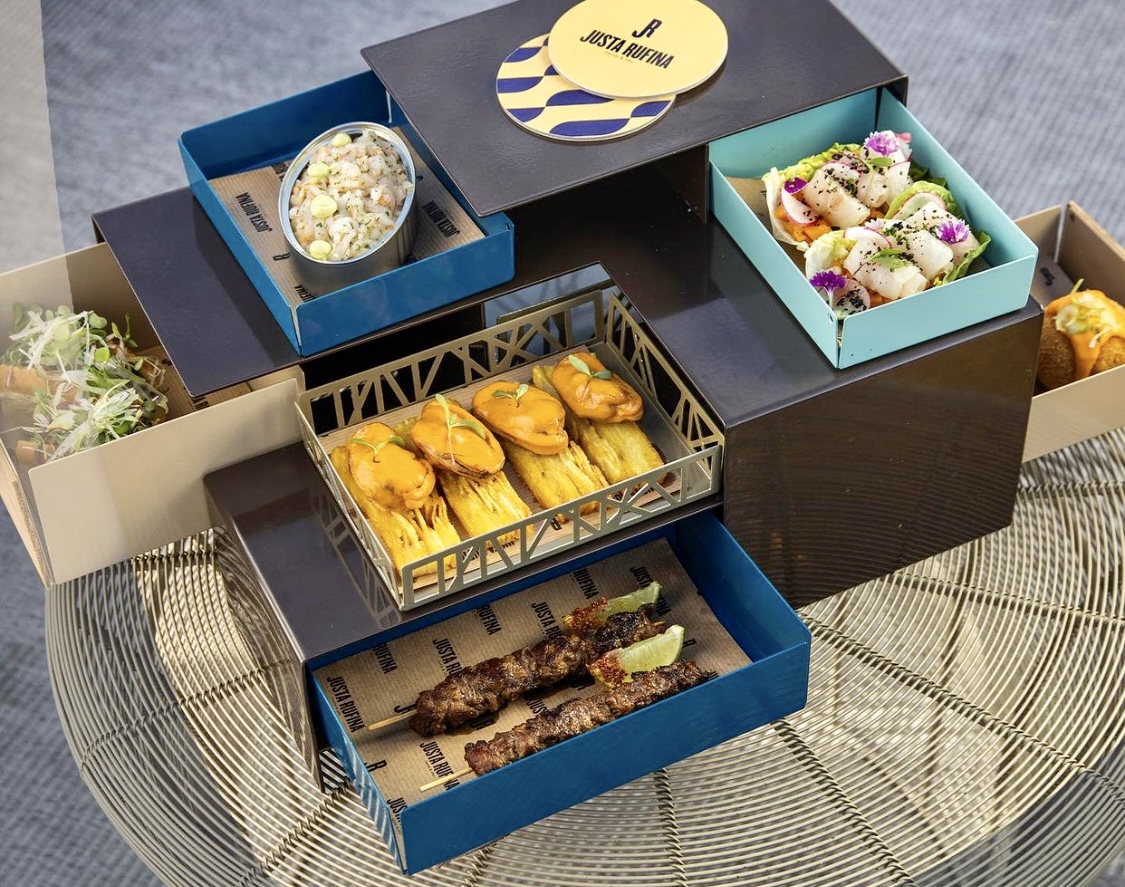 You can read our dedicated profile of Justa Rufina Restaurant and Sky Bar here.
Guest rooms & suites
Don't you just love that feeling of 'wow' that you sometimes get when you enter a hotel room on holiday?
Hotel design and innovation is ever more sophisticated, yet our growing expectations often mean we're much harder to impress.
Yet I was enthralled and wowed by the magnificent corner rooftop suite at Radisson Collection Hotel, Magdalena Plaza.
The entire space was all about sophistication and elegance, with lots of timeless wood, paired with stylish Italian inspired furniture and contemporary fixtures that together created a world-class guest experience. The natural tones, and the crisp white linens blended perfectly with warm greys and blues of the furnishings.
The terrace with hot tub was outstanding – this is the modern way to experience Seville. Not tucked away in a narrow street, but up in the sky, surrounded by the brilliant light of Andalucia and the vibrancy of city life. Listening to the church bells was so beautiful!
Bathrooms are superb, with a generous selection of amenities tailored to guest wellbeing.
Expect all the 5-star amenities from free Wi-Fi, an espresso machine, mini bar, bathrobes slippers, and a flat-screen TV with mirror casting.
I took a tour of the hotel, seeing the various categories of room. Each space shares the same commitment to quality, from superb beds fine linens and beautiful presentation.
Many rooms afford views of the square and the adjacent street, so perfect for the Easter holidays if you want to take in the renewed 'Semana Santa' processions of Seville – a unique cultural experience.
Radisson Collection Hotel, Magdalena Plaza is the new standard for 5-star luxury in Seville – with destination dining not to be missed and is included in our guide to the best hotels in Seville.