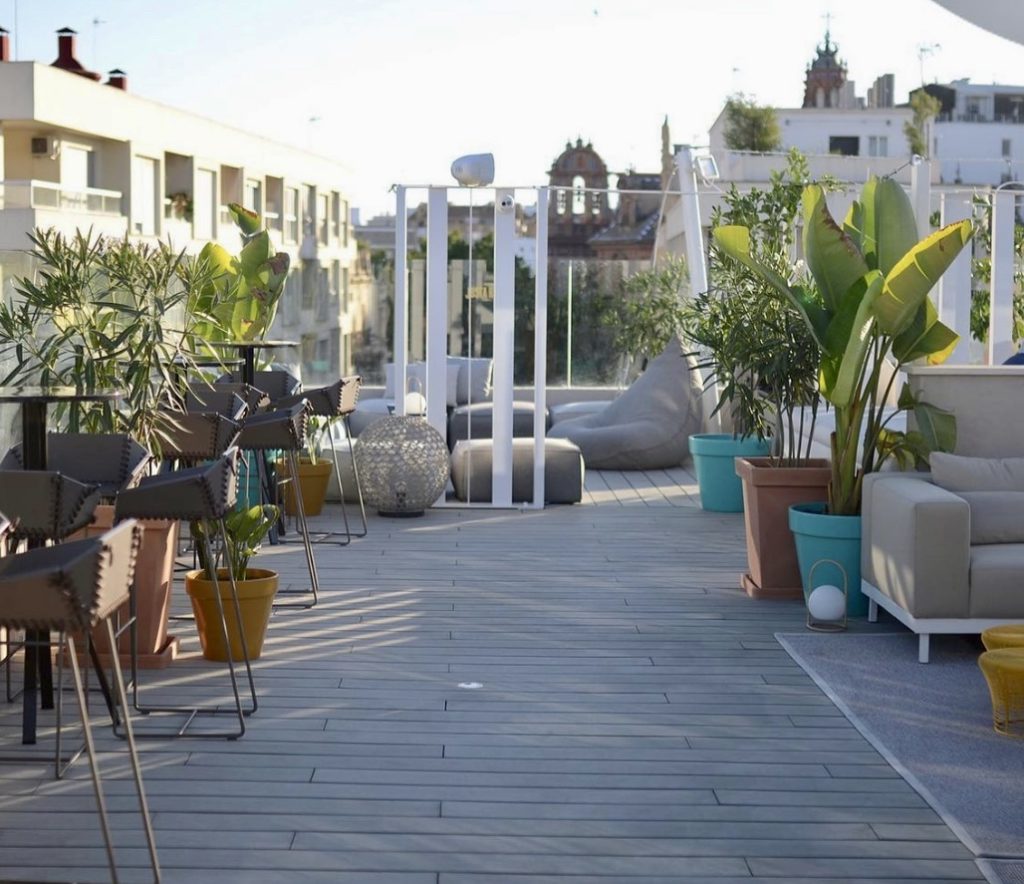 Seville is amongst the most popular destinations in Southern Spain. If you have time to visit just one city, then this regional capital captures the essence of Andalucia. Yet it's a traditional city, one that has offered more a flavour of its past than its future.
Justa Rufina Taste and Sky Restaurant
Yet Justa Rufina Taste and Sky is the embodiment of forward-thinking Seville. This is the signature dining experience on Seville's elegant Plaza de la Magdalena, where guests enjoy elegance and vibrancy, a touch of tradition, and plenty of innovation and fun.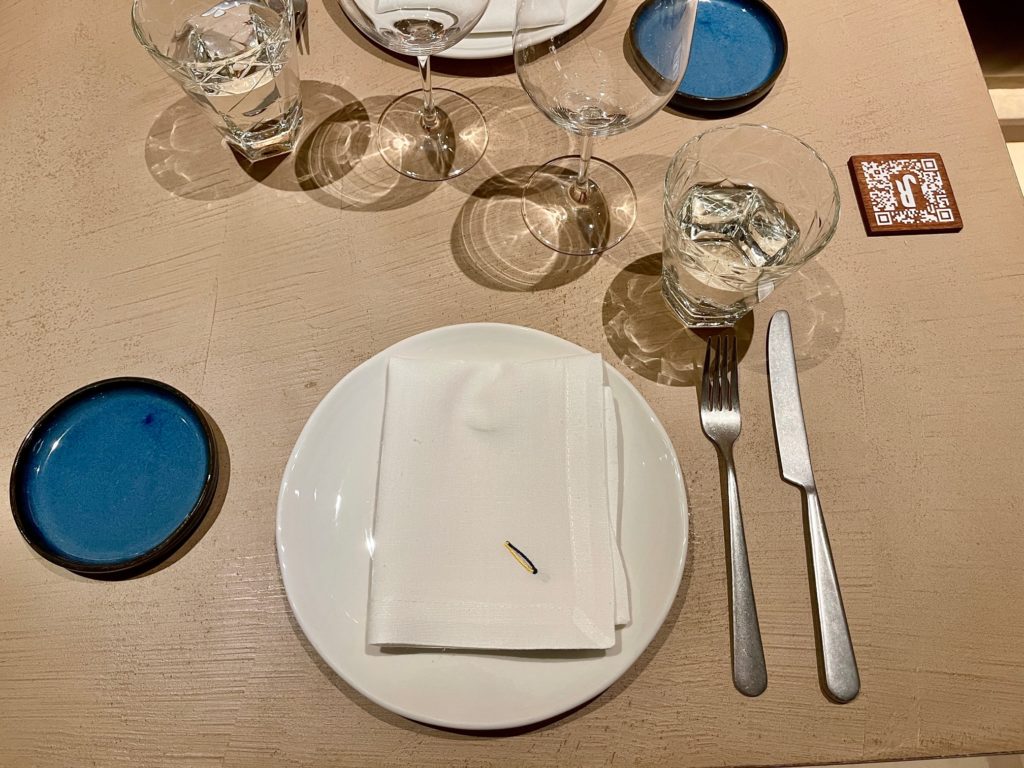 Start your culinary adventure in the urban oasis of Magdalena Square and then reach for the stars with a nightcap in the Sky Rooftop.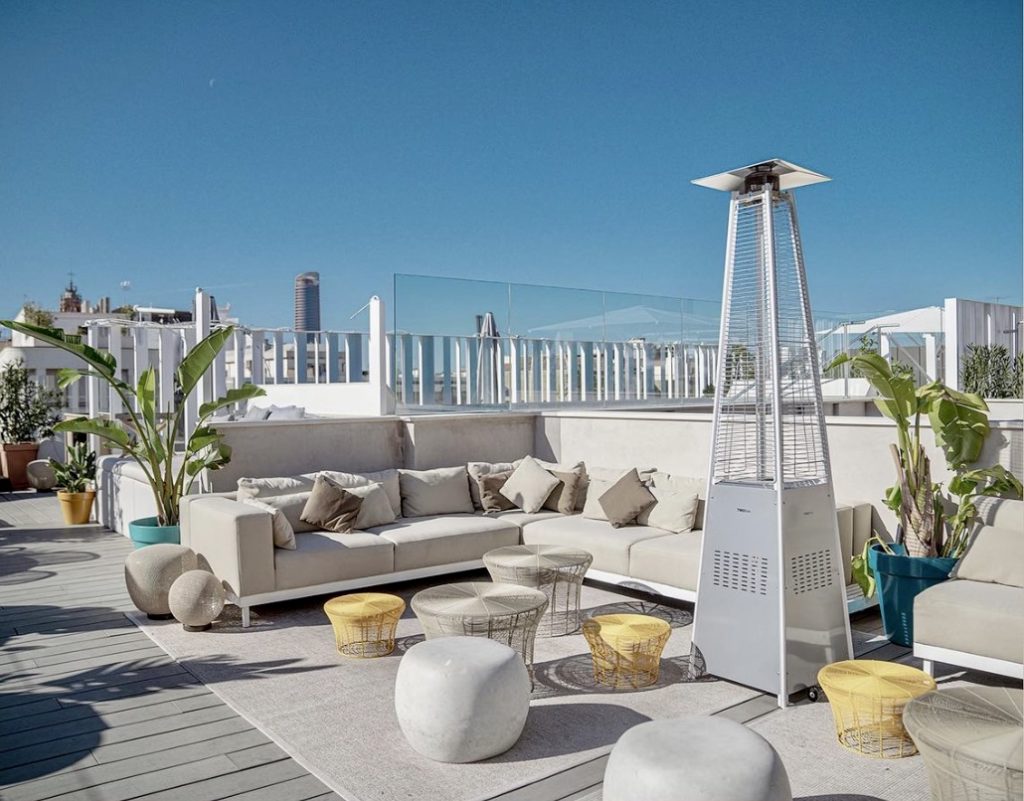 The restaurant is by Azotea Group, a hospitality company for which I have genuine respect. Executive Chef Manuel Berganza has helped shape a very special place here. The restaurant takes its name from the patron saints of Seville. The kitchen is focused on seasonal ingredients that typically pass over the kitchens charcoal grills.
On the ground floor is the main restaurant, a space that blends urban sophistication with the casual style of Andalucia.
Justa Rufina Taste & Sky is a signature dining experience at the new the Radisson Collection Hotel, Magdalena Plaza Seville. You can read The Luxury Editor profile review of the Radisson Collection Hotel, Magdalena Plaza Seville here.
Chef Manuel Berganza
Chef Manuel Berganza and his team give a unique and creative twist on traditional Spanish and Andalusian dishes, using a wood-fired oven to prepare fresh meat, seafood and vegetables in an authentic way, with on-trend smoked flavours.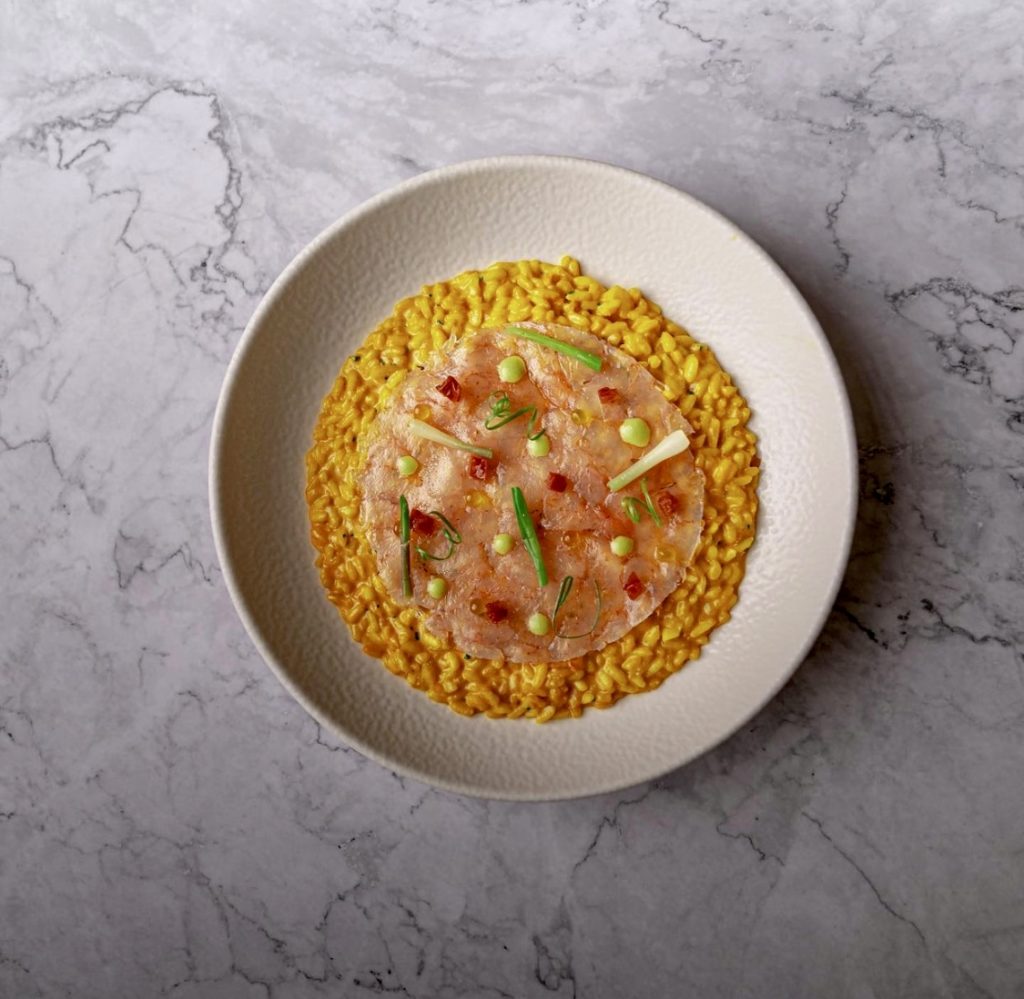 There's also a bar for dining, which faces the open kitchen for guests that want a front row seat to the action. Then set along one wall is sofa seating and intimate tables for couples, and then also areas ideal for groups of friends and family. The terrace on the Magdalena square lined with orange trees is just perfect for relaxed lunches or long dinner on an Andalucian summer evening.
Seasonal Dishes
Dishes of course reflect the season. With warming favourites like roasted red snapper with creamy rice, given a touch of heat and spice with sobrasada sausage, or delicious pairings like roasted sardines with smoked radish, you know you're going to have an unforgettable meal.
Classic dishes are also given the contemporary twist, like the restaurant's Steak Tartare which is a visual feast as much as a gastronomic pleasure.
Starters include the exceptional fire-roasted artichokes, Ibérico pork jowl and Ibérico cream, and main dishes include roasted bone-in monkfish served with bilbaína sauce and Boulangère potatoes. Really a meal to remember!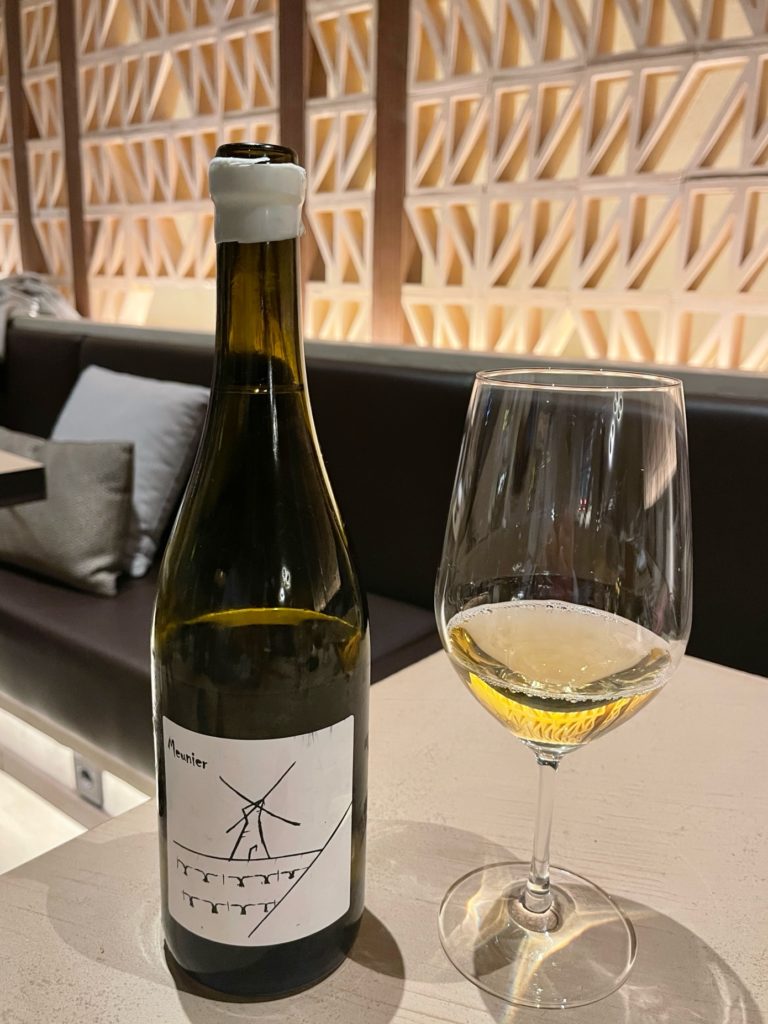 You can't miss puddings either – I tried the exceptional Payoyo cheese and miso cheesecake – made with local Andalucian payoyo cheese.
Chef Manuel Berganza says, 'Justa Rufina's cuisine is based on authenticity and quality, and strives to preserve the unique identity of each ingredient while adding a pinch of creativity. The star of our menu is the chargrill and the irresistible smoky notes that define every dish, as well as our constant search for balance to gift our guests with a perfectly-rounded experience.'
The wine list goes well beyond 140 labels. Head waiter and sommelier Daniel will be more than happy to introduce you to Jerez, Andalucian, Spanish and international wines that will not only surprise but pair perfectly.
It's fashionable to drink wines from Jerez, and here you can be confident that you will not only enjoy the classics of Southern Spain but also some little known gems that you'll want to try again.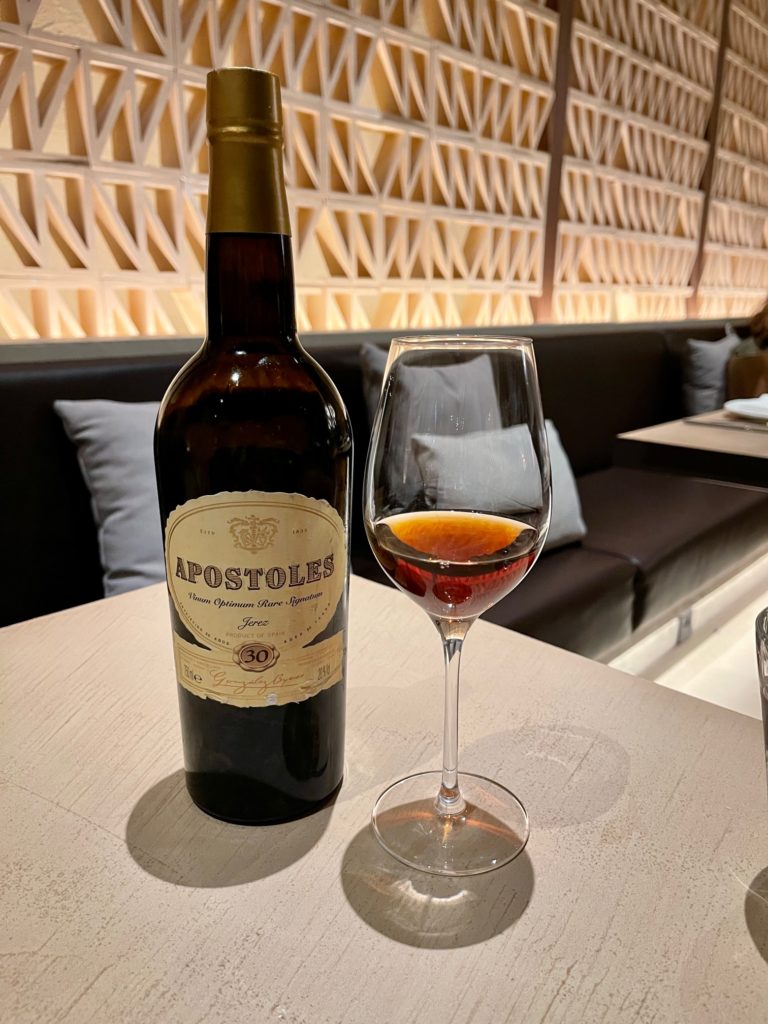 Justa Rufina Taste & Sky Rooftop
This stylish urban rooftop terrace promises to 'elevate your Justa Rufina experience.' Here you can indulge in light, creative, and sophisticated tapas dishes from the Justa Rufina kitchen, and enjoy them in the sparkling Andalucian sunlight or under the stars.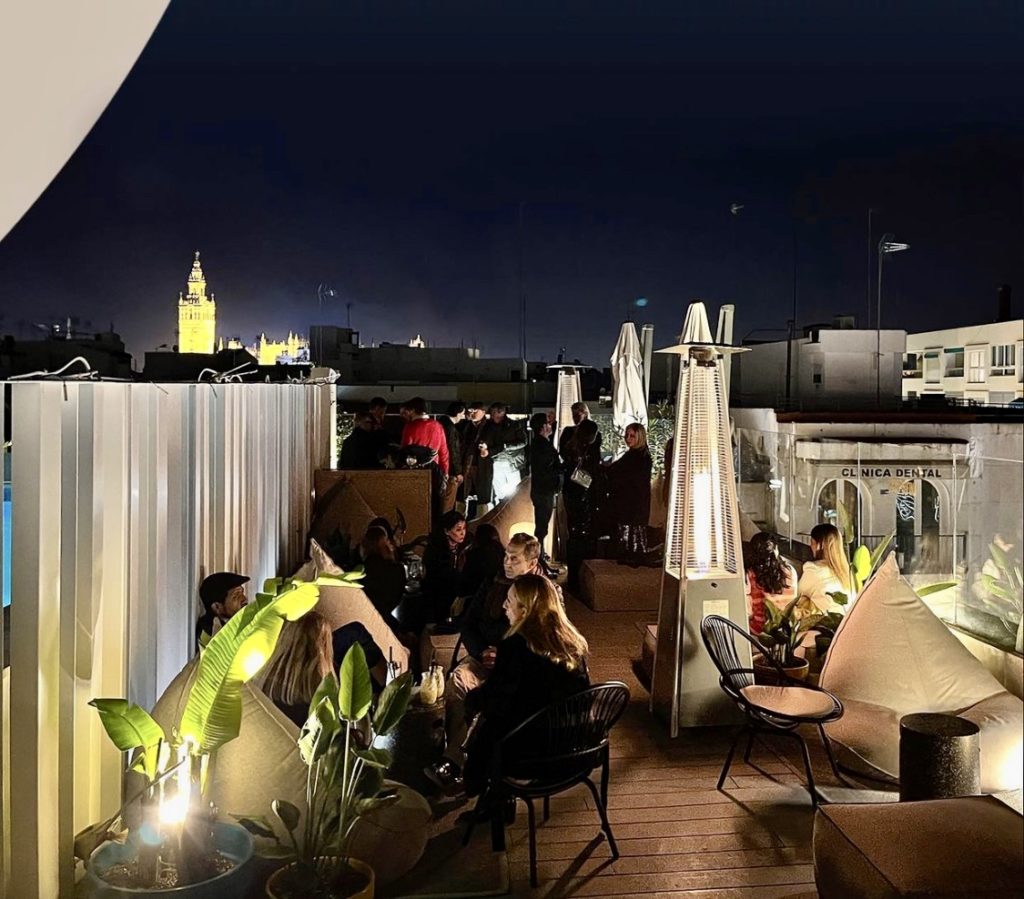 The drinks scene in Seville is also increasingly innovative and here guests can discover signature cocktails created by the renowned bartender, Luca Anastasio. Take a stool at one of the high tables to soak in the Seville skyline, or kick back in the lounge seating by the pool. As sundowners are being prepared, the seductive ambiance gets dialled up, with live DJ sets.
Flavours of Seville
Why not try 'Seville in a Box' – creative tapas, served in a stack of ingenious bento-style boxes, perfect for sharing on the terrace, accompanied by those you love – and a superb cocktail of course!
My suggestion is the 'Aromas of Seville,' a captivating concoction that captures the soul of the city, made with Pedro Ximenez wine and amontillado sherry, with other evocative flavours and aromas including bitter orange, rosemary and of course azahar.