Although only two minute's walk from Notting Hill's tube station, the Laslett Hotel's terrace is intimately quiet. Of course, an occasional laugh pierces the calm but the fumes, the bustle, the bristle of inner city life have vanished and the London weather seems to be behaving itself; the sky a charming, welcoming pale blue. Named after Rhaune Laslett, whose idea to celebrate local cultural diversity blossomed into the Notting Hill Carnival, the Laslett blends in effortlessly with the surrounding and opposite Regency townhouses which made the area not only enviable back in the Victorian era but still, today.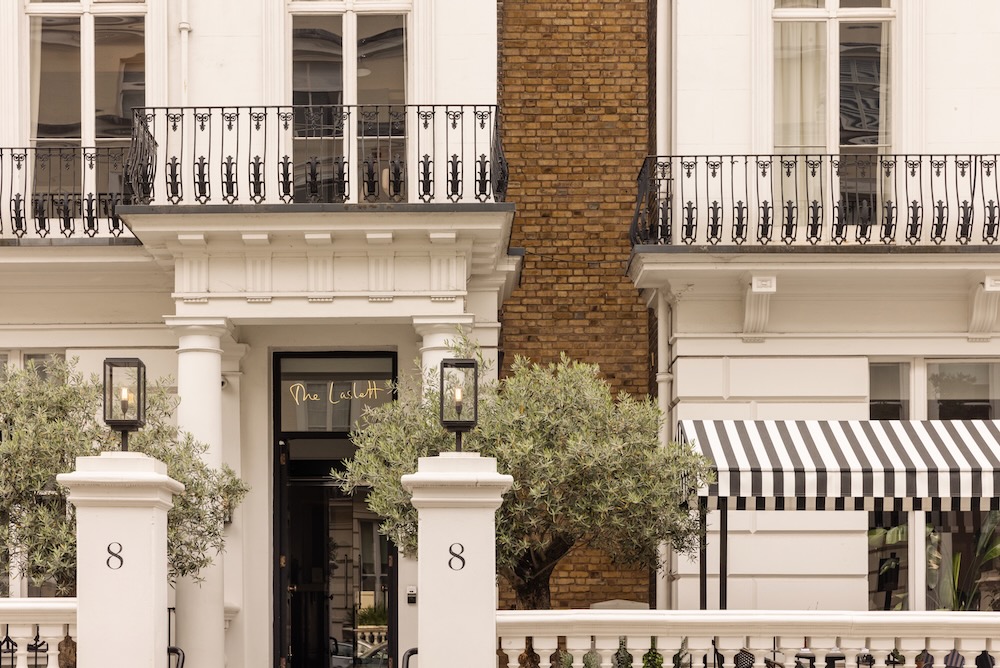 Renovated, refurbished, re-opened, the terrace is long and thin, spick and span. Preening, curved white balustrades protect guests from the outside world. Inside, terracotta pots overflow with herbs and citrus fruits. The entrance to the hotel itself is celebrated by two stately olive trees which wouldn't look out of place in the Mediterranean. Black and white chequered tiles, original, one presumes, pave the way to the front door and have inspired similarly coloured striped awnings above the tables and, perhaps the most playful attention to detail, helter-skelter-like black and white drinking straws.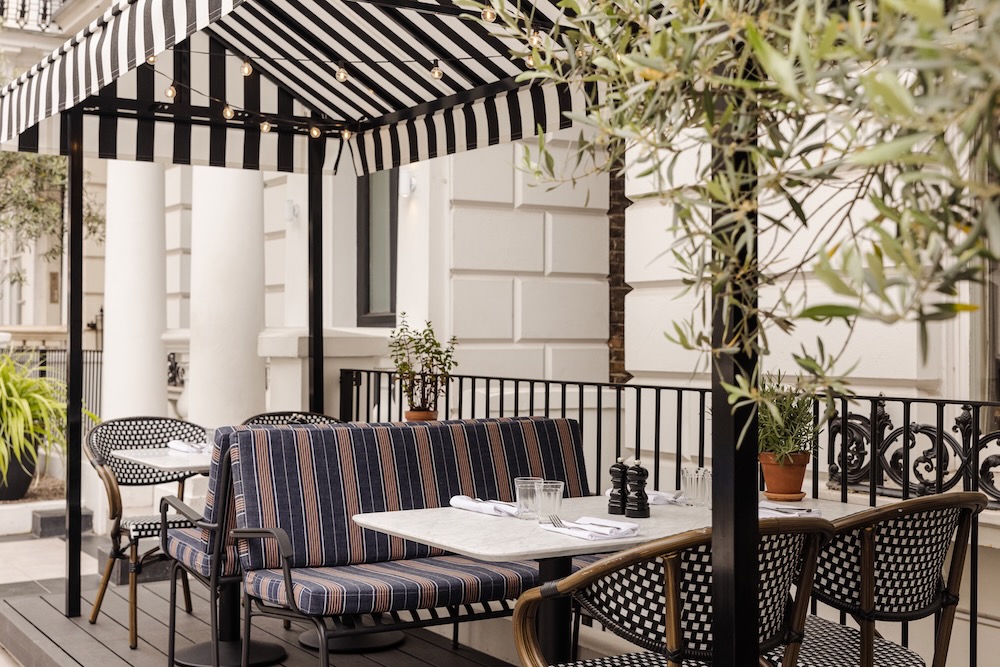 Like in any good bar, classic cocktails are served here, however, the Laslett signature cocktails are of greater interest. The Hummingbird is a smokey mixture of mezcal, tequila, vermouth and cherry liqueur while the Sea Dew is a fruitier mix of gin, aperol, St Germain liqueur and grapefruit juice. Foremost on your list, however, should be the Honey Spritz. Beesou is a bitter aperitif blended from ethically sourced British honey and natural botanicals. It came onto the market less than a year ago and has very much hit the ground running (buzzing!) as it's also served at The Chiltern Firehouse, Annabel's, The Savoy and Nobu. The Honey Spritz is unique to The Laslett, however, and combines Beesou with prosecco and soda water. The cocktail shimmers like gold and isn't a million miles away from what one might imagine honey champagne to taste like.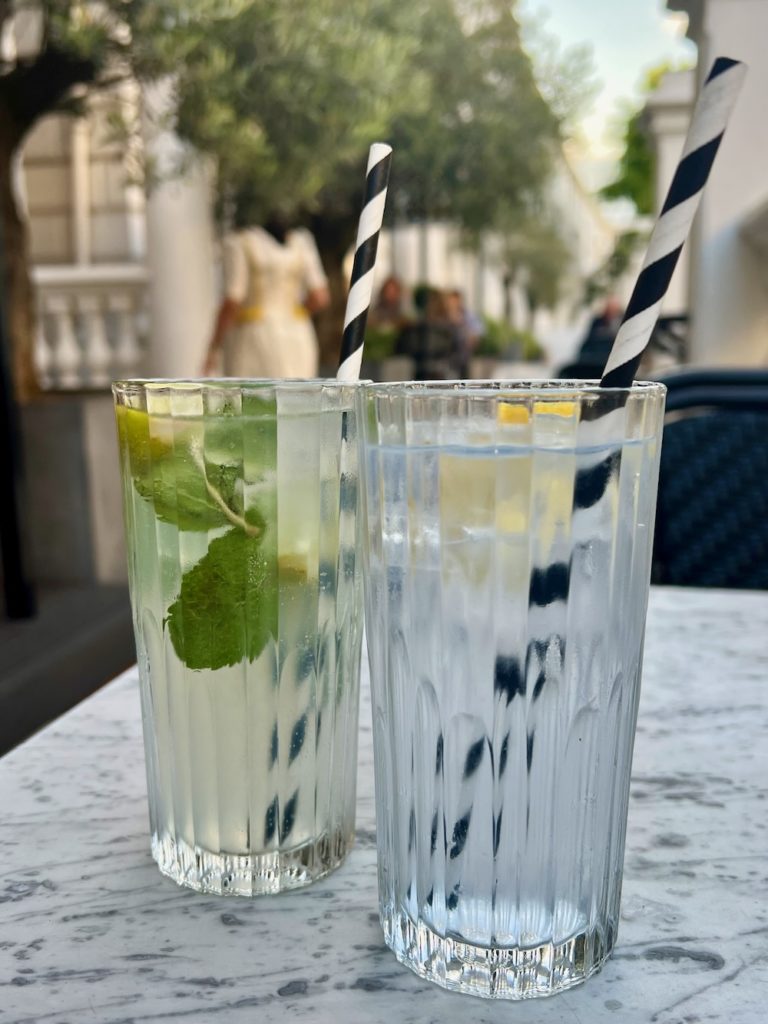 To complement your cocktails, The Laslett also offers a 'Supper' menu. Rather than a heavier three-course meal, expect smaller dishes to dip in and out of or to share. Most are relatively traditional with a twist here or there. Truffle hummus is hummus drizzled with a generous portion of truffle oil. Both are strong and flavoursome and it's a curious mix. Pita Bread comes separately and is served straight from the oven. It's fresh, warm and chewy and could quite easily have come straight from Israel.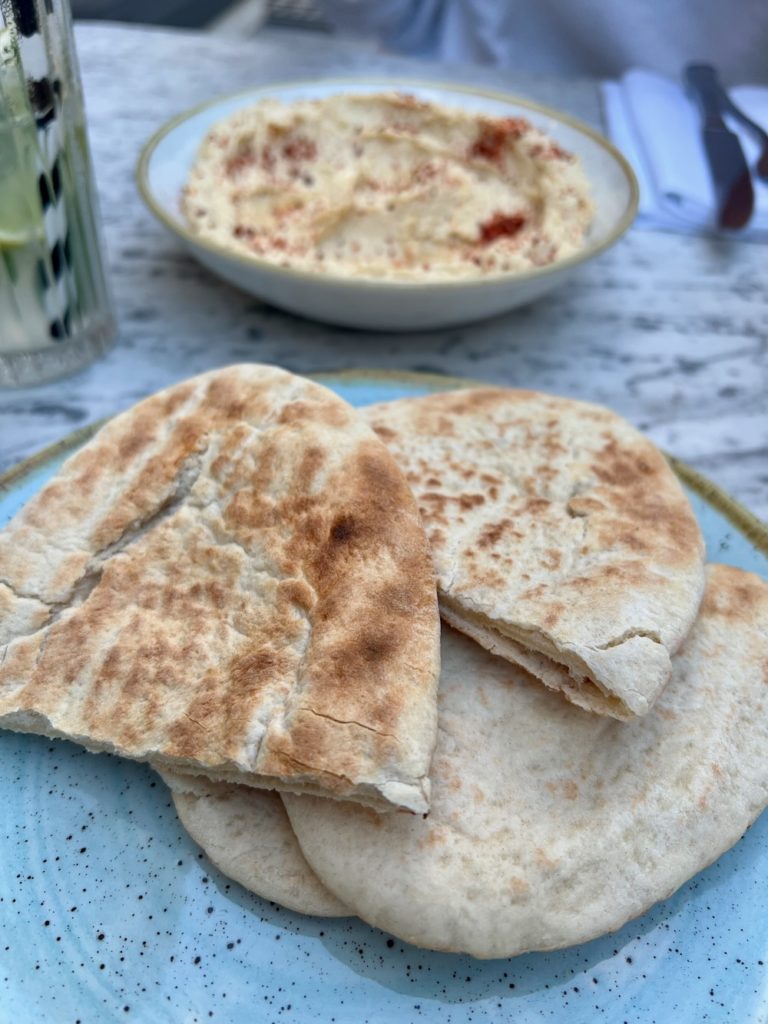 The Smoked Salmon Carpaccio isn't as thin as its title suggests and is served with dollops of horseradish cream cheese and chunks of peeled orange but it melts pleasingly in the mouth. Ric's Fishcakes are served with Aioli. There's no explanation, suggestion or even hint as to who Ric is but his fishcakes are crispy on the outside and creamy on the inside and the fish he prefers is cod. The aioli is strong and tangy and as well as tasting of garlic (as it should), it seems to have a citrus sprightliness.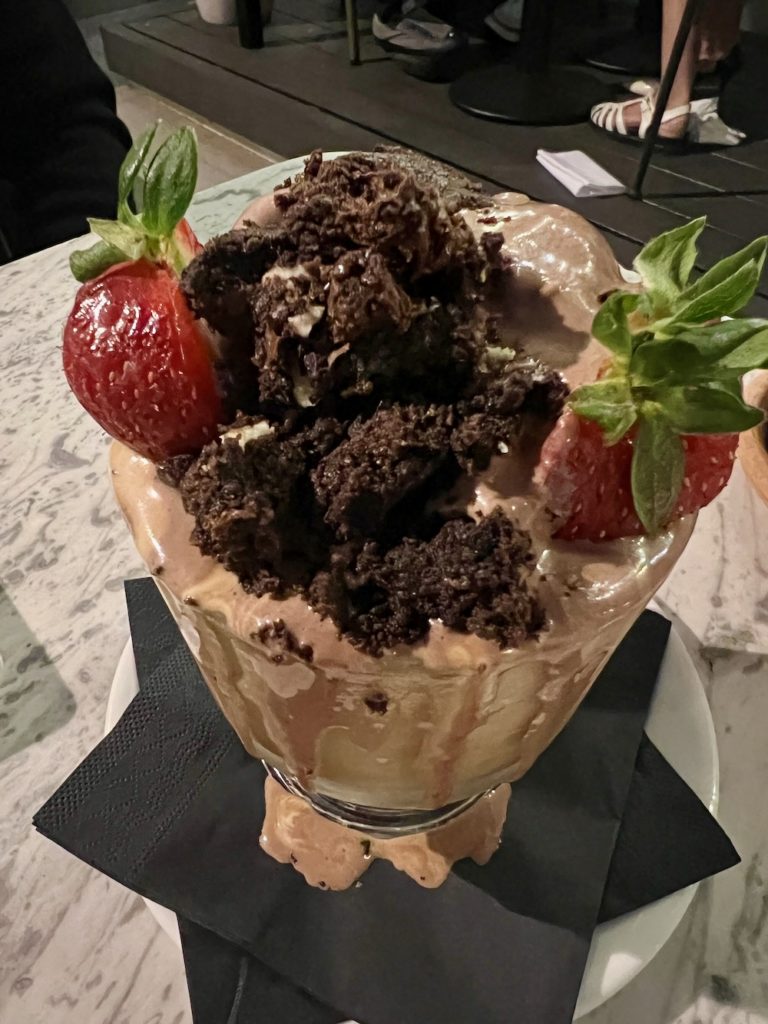 Night falls quickly when you're enjoying yourself, the cloudless blue sky has turned black, the terrace's lights have illuminated and there's still not a wisp of a cloud to be seen. If you have room for dessert ('Sweet Bites') there are three choices: Lemon Polenta and Almond Cake, East To West Sundae and Cookies and Cream. The East To West Sundae is made by a recent success story and winner of 40 Great Taste Stars, Hackney Gelato and thus seems the only choice. Served in a chunky plain glass, the concoction literally drips over the rim as halves of freshly cut strawberries jostle with large chunks of dark chocolate crumbs. The ingredients and their infusion are everything you'd hope for and want them to be. It's a gluttonous end to the evening but also a glorious one and provides enough energy to start the journey home if you're not lucky enough to be staying the night at the Laslett.