The beautiful city of Bath often features in Jane Austen's novels (it was also the author's home) surrounding it in a sense of romance and history. Its literary heritage as told through attractions and museums is one of the city's many facets to be explored on a breakaway here, along with the famed mineral-rich waters that led to it being named as one of the UK's premier spa towns. Visitors can still take the waters at Bath Thermae, swim in a heated rooftop hydro pool with epic views and choose from a large number of day and overnight spas for some 'me' time.
Eat
Henry's Restaurant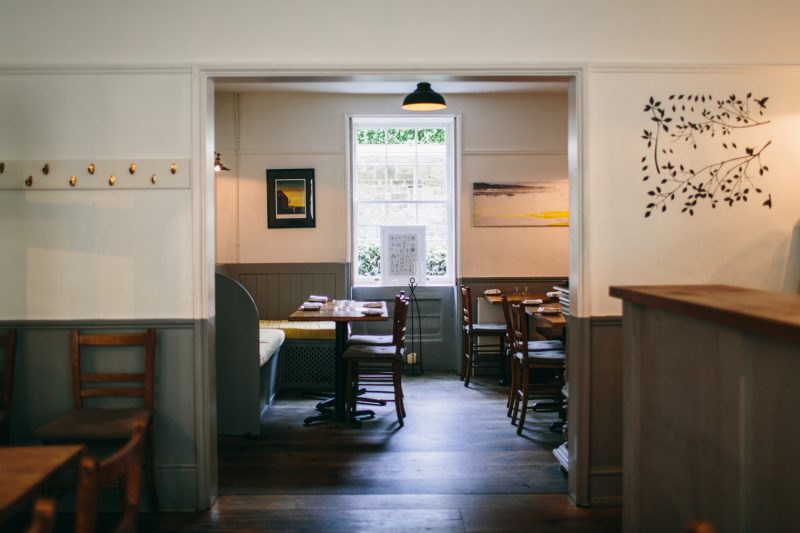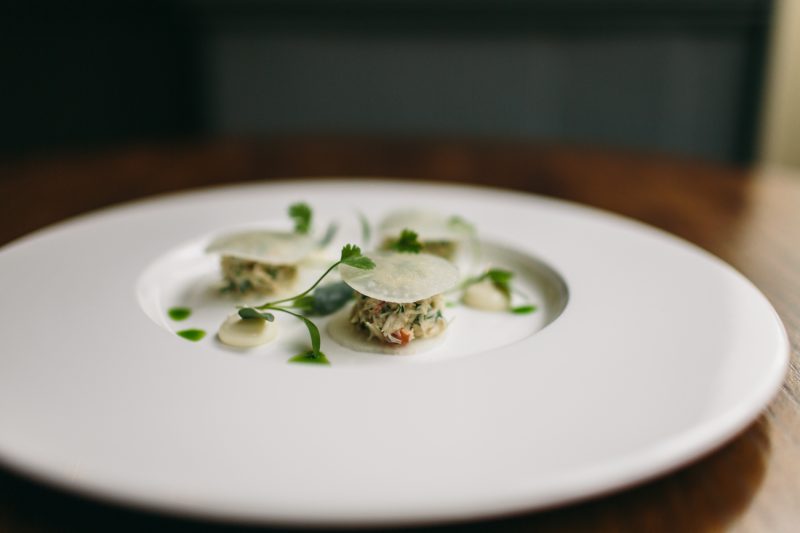 Named after its chef-proprietor Henry Scott, who is local to the area, the restaurant is known for an imaginative and incredible five and seven-course tasting menu served nightly (à la carte is also available at lunchtimes). Rooted in the West Country, his food also reflects Scott's travels across the globe, with dishes like Gould's Cheddar Royale with Gougère, pickles, red onion, ginger and chilli jam and roast skate wing alongside gnocchi, spinach, brioche bread sauce, caper and tobiko roe. A soothing, minimal, contemporary interior provides a relaxing backdrop as you savour feasts from farm, land and sea.
This is a not to be missed dining experience in the city.
The Elder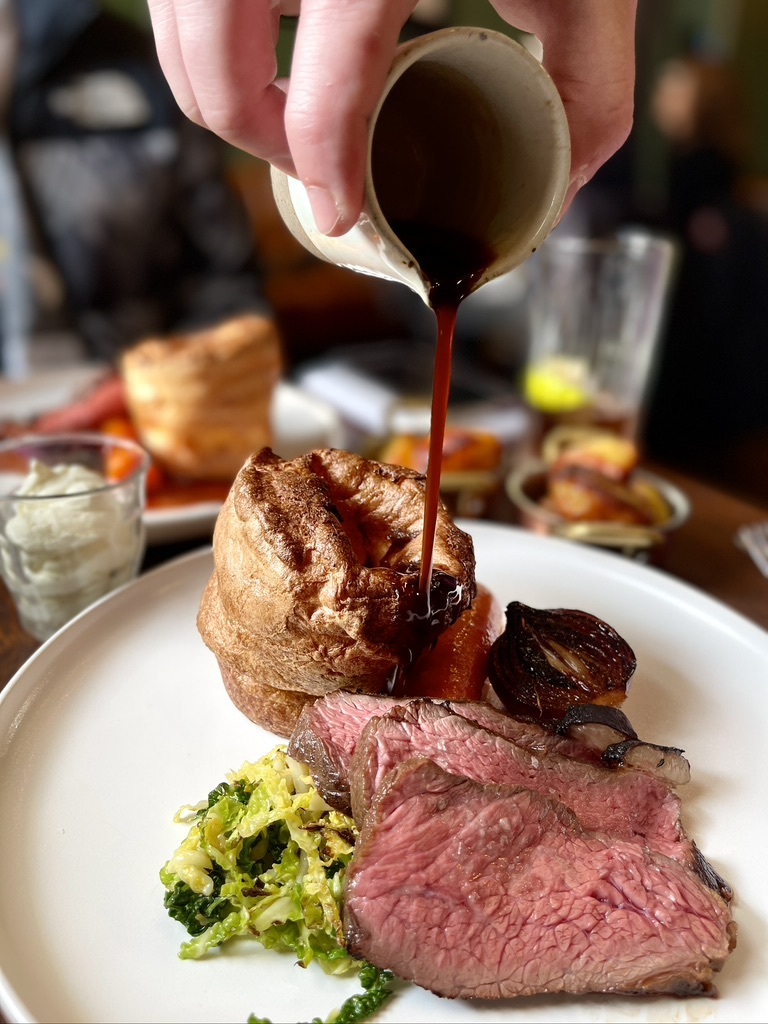 The Elder, located in Hotel Indigo Bath is the brainchild of Mike Robinson, one of Britain's leading authorities on wild food and game and has become one of the best places in the city to dine. Seated in a series of elegant and atmospheric dining rooms, interiors have an early 20th-century vintage flair, with oil paintings depicting equestrian scenes, studded tan leather banquette seating, orb-shaped lamps, panelled walls and dark wooden furniture. Eating here isn't purely about the food, it's a journey of discovery, as you learn more about local heritage, or food preparation techniques. Wild food and game are the specialities, the owner's land managers control wild deer herds on private estates, with all venison processed in the venue's FSA regulated larder.
This is a not to be missed dining experience in the city.
Corkage on Chapel Row
Both a restaurant and a bottle shop, Corkage has a huge range of interesting wines to tempt diners, including a selection of vintage and rare specialities perfect for aficionados in search of something a little different. The food menu is a movable feast and depending on what's in season, can change even daily. It's made up of small plates, with options to suit vegetarians, pescetarians and meat-eaters alike. Try dishes such as cauliflower with roast with curry spices, tahini yoghurt and couscous pilaf; ham hock terrine with toasted Bertinet sourdough, onion chutney and kohlrabi; and hake with crab meat, crab bisque and samphire.
Olive Tree
Found beneath the unique Queensberry Hotel on Russel Street, this is the proud holder of Bath's Michelin Star. It was first awarded in 2018 and also has 3 AA Rosette status. Chris Cleghorn is the venue's Head Chef, crafting refined tasting menus: Four (available at lunchtimes during the weekend), Six and Nine. Vegetarian, pescatarian, vegan and dairy-free versions of the menus are offered, as is a children's menu. Be sure to pair your food with some wine, the restaurant is renowned for it, having previously been named with The AA's Overall Best Wine List. Residents at the hotel (and anyone else who fancies it) can pop in for a gourmet brekkie too.
Clayton's Kitchen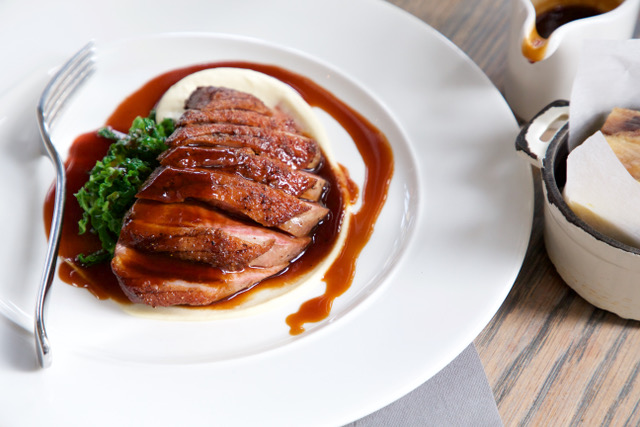 Marking a decade of service this year, Clayton's Kitchen serves a la carte meals, set lunches, Sunday roasts and high-quality kids meals (or you can request a half patron of anything on the menu for your little ones – not a pizza and nugget in sight). Chef Patron Robert (Clayton) prepares dishes including homewood whipped ewes curd with lemon zest, heritage tomatoes, candied walnuts and basil oil; roasted Cotswold chicken breast with a risotto of pea, enoki and shimeji mushrooms and old Winchester cheese; grilled market fish with samphire fregola pasta and langoustine sauce. The pre-dinner cocktails – such as the Garden Gin Martini – are not to be missed.
Beckford Bottle Shop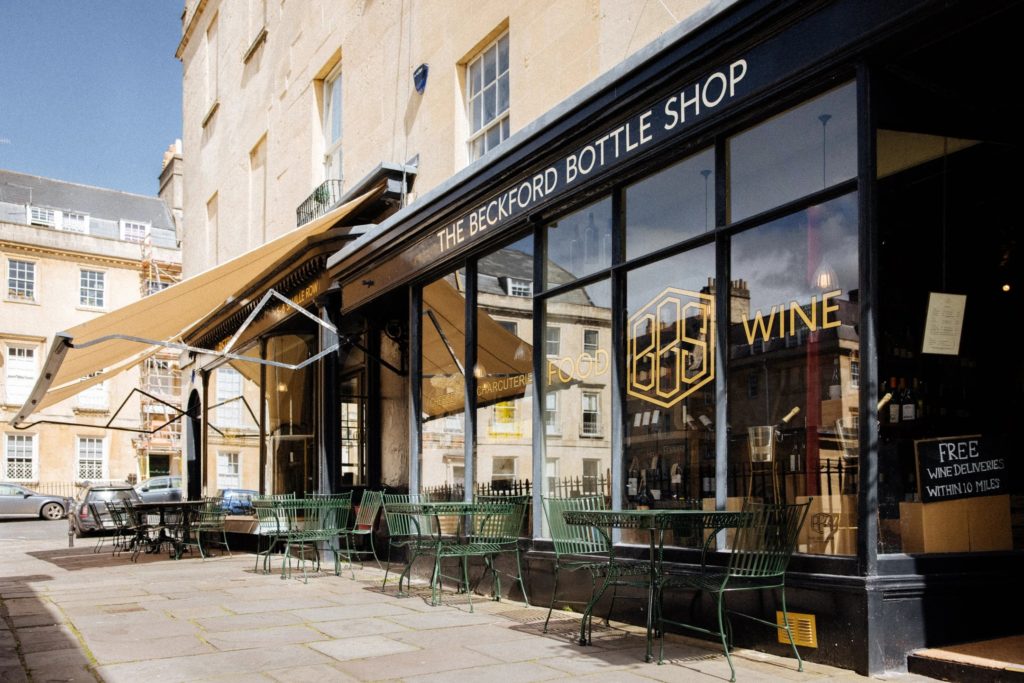 Opened in 2015, this is both a bistro and a wine merchant. The atmosphere within is sophisticated, yet cosy, with a candlelit space featuring Chesterfield sofas, tin clad ceilings and a marble countertop window seat. As you'd expect from a bottle shop, the range of wines is huge and those dining in need only pay the retail price plus corkage. Food comes in the form of bib-gourmand recognised small plates with fromage at the fore. Chef James loves to forage for fresh ingredients too, which compliment the artisan cheeses and charcuterie. On nice days guests can eat and drink on the pavement, under the Beckford Bottle Shop's large canopy.
Do
Visit The Roman Baths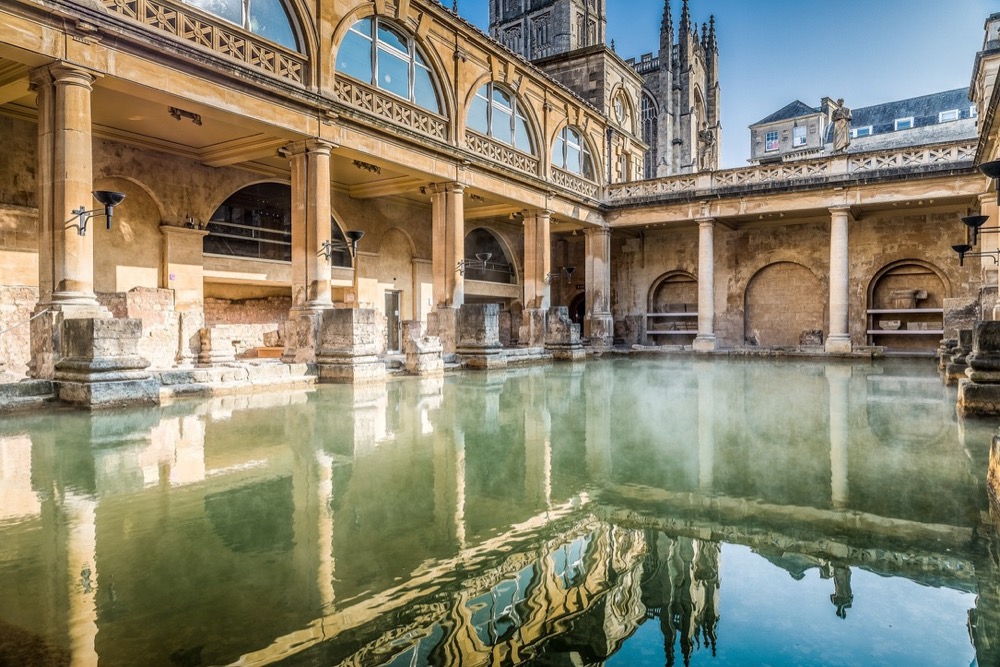 Step back in time to Aquae Sulis. The well-preserved thermae gives a glimpse into what life was like in the West Country AD. While visitors can no longer bathe in these emerald-green waters (book into the Thermae Spa for that), they are a fascinating visitor attraction in the form of the Sacred Spring, the Roman Temple, the Roman Bath House and a museum filled with artifacts from the era. After two millennia, these remain one of the country's top visitor sights, attracting over a million people annually. And you can dine in what was once the original pump room.
Have Afternoon Tea At The Pump Room
Once you've toured the baths, take a seat beside them in the majestic ex-pump room, as the resident musicians provide a backdrop of classical music at the grand piano. Your tiered silver stand comes laden with elegantly prepared, quintessentially English, sweet and savoury treats, accompanied by a glass of Moet and Chandon fizz or loose leaf tea (do try some of the drinking water too, it's packed with 43 minerals). You'll be walking in the steps of Charles Dickens and Jane Austen who both took tea in this charming Georgian setting complete with original architectural features.
Visit Royal Circus and No1 Royal Cresent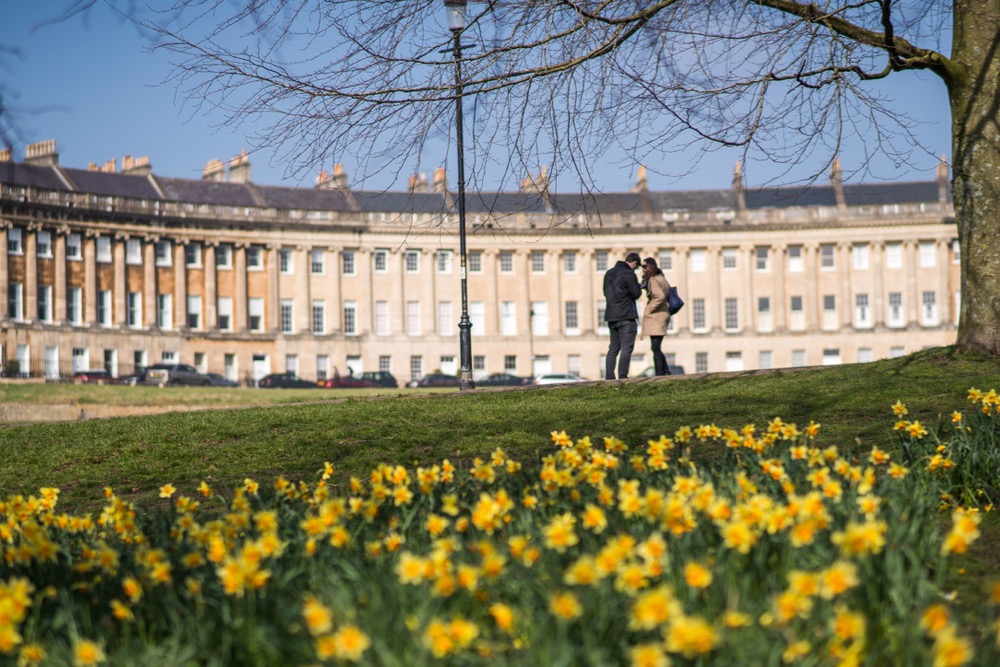 Bath was one of the most fashionable places to be in the 18th century and you can get more of a taste of what life may have been like back then, with a visit to No 1 Royal Crescent. It's part of the landmark street that's famously shaped into a half-moon and accommodates 30 grand terraced townhouses designed by architect John Wood. Reflecting the period 1776 to 1796, No 1 contains historic furniture, pictures, objects and a new immersive experience to bring the era to audiences of the 2020s. The venue is open Tuesday to Sunday and advance booking is recommended.
Visit Pulteney Bridge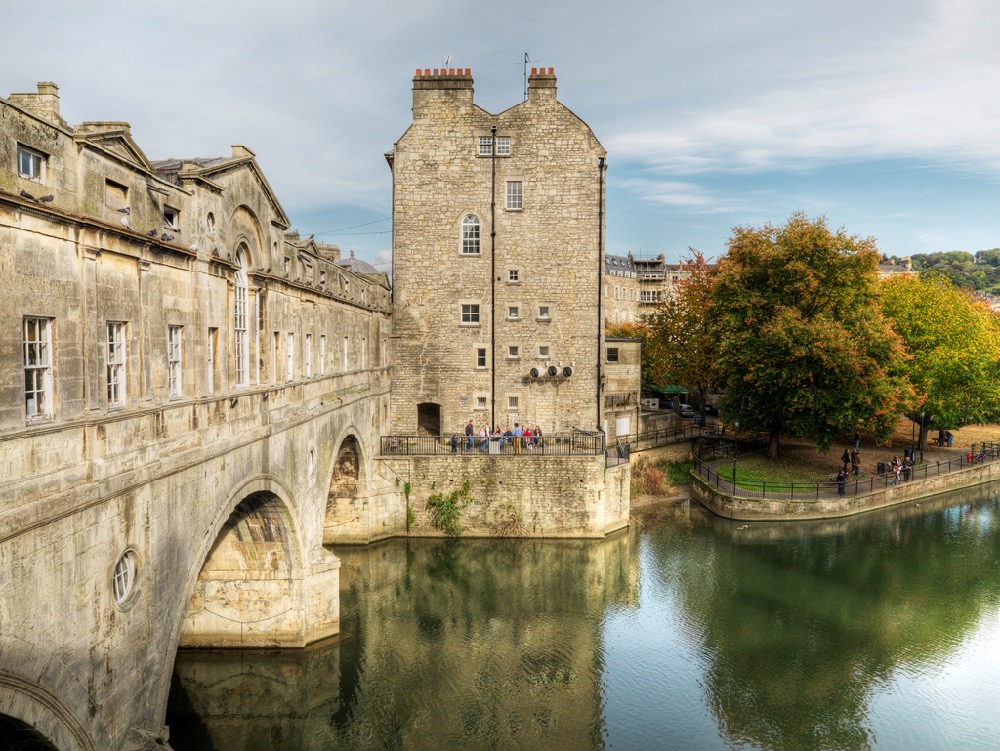 This Palladian style bridge is particularly notable, due to the inclusion of shops and cafes along its span. One of few bridges with this design, its architect, Robert Adam, modelled it on the Ponte Vecchio in Florence, connecting the land of the city with that of the Pulteney family. Completed in 1774, it stands over the dramatic horseshoe-shaped weir and River Avon below, adding to its remarkability. However, the water below is unseen as you perambulate across it – so do take a look at the iconic construction from different vantage points, to fully absorb its wonder.
Visit Bath Abbey
The former Benedictine Monastery – now a parish church – remains an active part of the ecclesiastical community. With its roots in the 7th century, the Abbey is one of the oldest buildings in town, although it underwent major rebuilds and restorations in the 12th, 16th and 19th centuries and took over a century to complete. Famed as the last grand medieval cathedral to have been erected in England, it's free to enter, with audio tours available to download from the website. There's a gift shop on-site and the Abbey is open to visitors daily, with condensed hours on a Sunday.
Visit the Holburne Museum
Many of Bath's attractions revolve around history and water. This one focuses on art. Found in the Sydney Pleasure Gardens, this was the city's first public gallery, housed in a Grade I listed building. It began with Sir William Holburne's own collection, expanding to modern artworks. View Gainsborough, Zoffany, Ramsay, Stubbs, Hoare, Golden-Age Dutch and Renaissance paintings, a ballroom laid out as if for an 18th-century banquet, porcelain and sculptures. The gardens are a joy to wander and the venue often hosts special events, such as summer parties with DJs and cocktails. Even the Holburne's cafe has won a design award.
Relax At The Thermae Bath Spa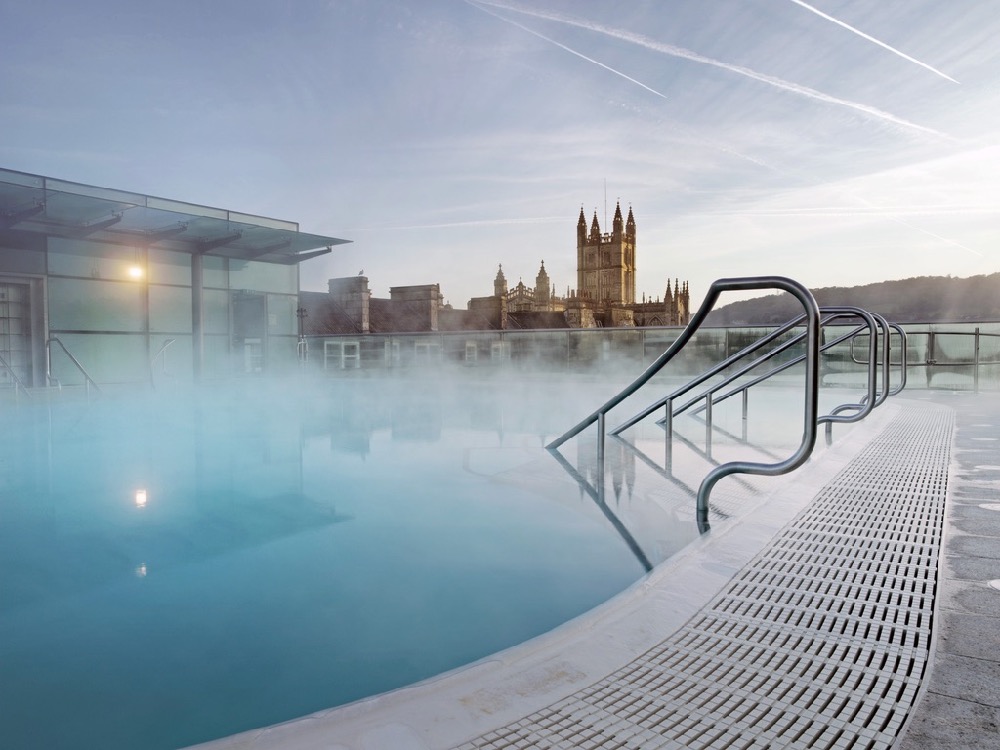 Imagine swimming in an open-air heated hydro pool, atop a listed Georgian building, taking in far-reaching views across the historic city and Somerset countryside beyond, as the steam rises from the mineral-rich water. Then, imagine relaxing in a traditional Roman or Georgian steam room, cooling off from the heat in an invigorating ice chamber, taking an experience shower, unwinding on heated loungers beneath a display of celestial lights, before being treated to an indulgent massage. This is the Thermae Bath Spa, Britain's only natural thermal spa, combining state of the art wellness facilities, with centuries-old hydrotherapy practices that'll soothe your soul.
Sleep
Hotel Indigo Bath
Hotel Indigo Bath is located on South Parade, the historic frontage of this heritage building gives way to modern interiors with pops of vibrant colour. The boutique establishment houses 166 bedrooms (each furnished with Hypnos beds, Egyptian cotton linen, spa-style bathrooms, minibars and Nespresso coffee machines), chic restaurant The Elder specialising in wild food and game and an entire eight-bedroom townhouse for exclusive private hire. In the main hotel guests can choose from four room categories: Romance & Mischief, Architectural Beauty, Literary Hideaway, Garden Rooms and The Vault – each reflecting its theme, with tasteful and sometimes quirky decorative features.
Queensberry Hotel
Conducive to romance, this consistently highly-rated hotel offers a four-poster suite with a seven-foot bed and chaise longue. Other bedrooms come in palettes of neutrals and soft retro colours. Some have a light Regency feel, others lean toward an art deco vibe, while others again have a distinctly contemporary air – all have bags of luxury character. This hotel is also the location for Bath's only Michelin starred restaurant – the Olive Tree is at the bottom of the Queensberry's Georgian townhouse building and the Old Q Bar, widely believed to be one of the best pubs in the city.
The Bath Priory
Nestled within four acres of mature award-winning gardens, The Bath Priory Hotel is a tranquil oasis just a short walk away from the city centre, think country house in the city. The hotel feels like a private residence, rooms are named after flowers and each of the 33 guest rooms are different, and adorned with artwork and antiques, sourced by Andrew and Christina Brownsword the hotel proprietors. Rooms come in various categories from classic through to deluxe with beautiful views out to the garden and their own balconies and if you want to go for the ultimate luxury experience choose one of their suites which includes decadent roll-top baths and separate living areas. The hotel includes the UK's only L'Occitane Spa, with treatments using products from the Provencal brand as well as an indoor pool, sauna and steam-room. The 3 AA Rosette restaurant takes guests on a culinary journey with a focus on fresh local produce and garden views.
The Royal Crescent Hotel & Spa
The Royal Crescent Hotel & Spa is a five-star haven of elegance and tranquillity in the historic centre of Bath. The hotel is an iconic property in Bath set within an acre of manicured gardens. Each of the hotel's bedrooms is unique in design with its own character and charm, while their suites are brimming with Georgian elegance and 5-star amenities. If you want to go all out, book their garden villa which provides guest with their own private residence within the grounds of the hotel. Their award-winning spa includes a 12-metre relaxation pool with jacuzzi, sauna, steam room and gym and dining at the hotel's Dower House Restaurant is sure to delight and in the summer months, you can dine in the garden.
Discover more luxury hotels in Bath on this hotel guide.
Further Details and Getting to Bath
For full details on visiting Bath head to the Visit Bath website visitbath.co.uk.
Bath is well connected via Bath Spa train station with the journey time to London taking only 1 hour 20 minutes www.gwr.com.
Bristol Airport is a short one-hour car journey with the airport offering frequent flights via Easyjet to the rest of the UK and across Europe. www.easyjet.com.