Italy's capital city, Rome, is a sprawling metropolis packed with nearly 3,000 years of art, culture and architecture and often referred to as the world's largest open air museum and quite rightly so, as ancient Roman ruins like the forum and Colosseum evoke the power of the former Roman Empire. Rome has everything you could want for a luxury short break destination, by day spend your time sight-seeing and shopping and by night enjoy some of Europe's best dining options. Here is a selection of our favourite places to explore, dine and stay while spending time in the Eternal City.
Eat
La Pergola at Rome Cavalieri, A Waldorf Astoria Resort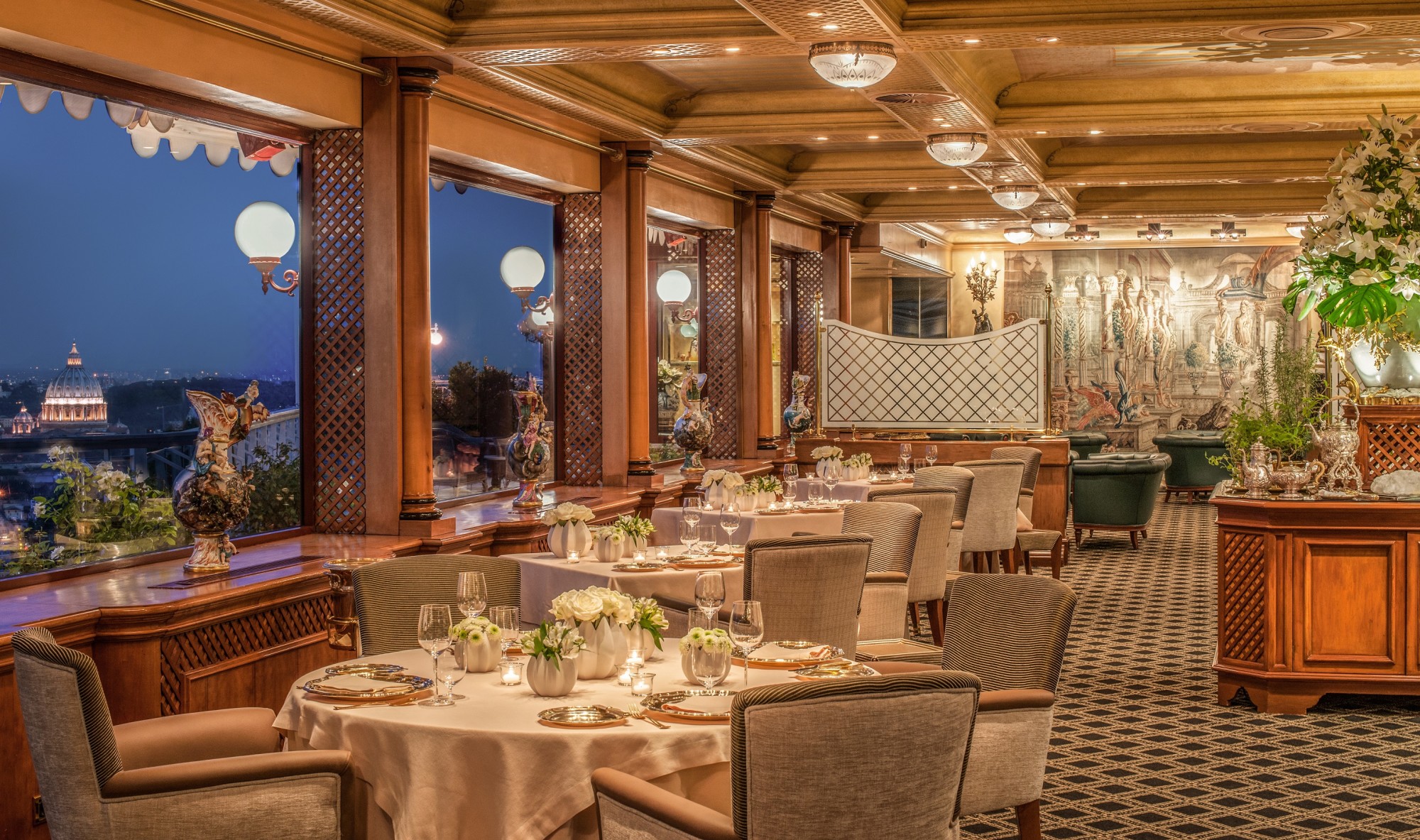 This now renowned restaurant first opened its doors to diners in 1994 and is known as being one of the best places to eat in Rome. It can be found on the top floor of the elegant Rome Cavalieri, A Waldorf Astoria Resort and diners are treated to Michelin-star cuisine and stunning views of the city. Each of the tables here are set in order to take full advantage of this spectacular view and with 70,000 bottles of wine to choose from, this is the perfect place to sample a glass or two as the sun sets over the city. Diners can start their meal with freshly baked bread served with olive oil before moving onto a starter such as the signature scallops marinated in lime and ginger. Fish lovers will really be in their element here and there are plenty of imaginative dishes to try such as amberjack carpaccio marinated in a white balsamic mint infusion and coated with pomegranate powder and black cod mash served with a celery crust and infusion. This is one restaurant where diners will want to linger and delicious desserts such as green apple with caramel ice cream and the delicate caramel foam with white chocolate and peanut nets provide the perfect excuse.
www.romecavalieri.com/la-pergola/
Imàgo at Hotel Hassler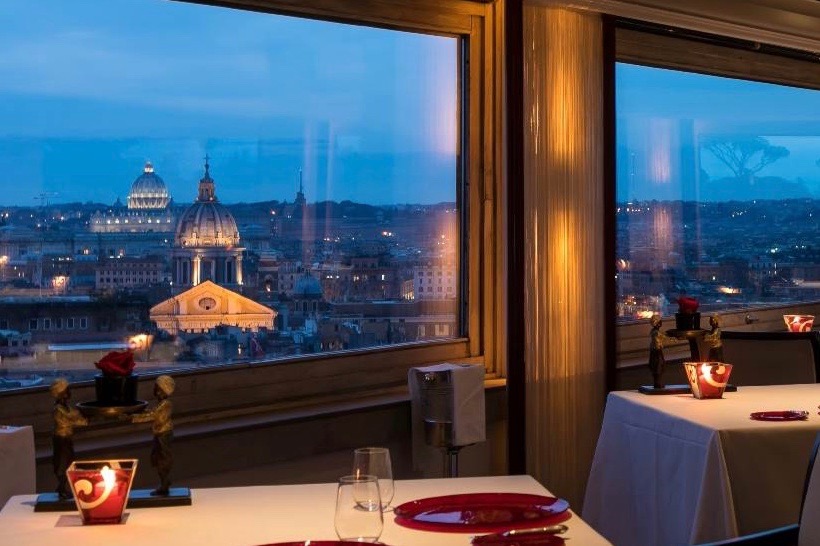 Set at the top of the iconic Hotel Hassler, Imàgo is a Michelin-starred restaurant that offers diners a first-class experience. Chef Francesco Apreda is famous for his creative use of flavours and serves guests an impressive selection of dishes as they gaze out over the rooftops and domes of Rome. While the dishes here are rooted in Italian culinary tradition, they also boast influences from all over the world. The tasting menu is sure to delight gourmands and each of the dishes comes with a surprise. Foie gras is served four different ways with a hint of fruit, with wasabi and a number of other unusual ingredients that really stand out. One of the restaurant's most popular dishes is a breaded scallop with a truffle inside. This bite sized creation is served with al dente cappellotti pasta. The combination of flavours is sure to give diners plenty to talk about as they gaze at the cityscape. This is an experience that should be shared with someone special.
www.hotelhasslerroma.com/en/restaurants-bars/imago/
Il Pagliaccio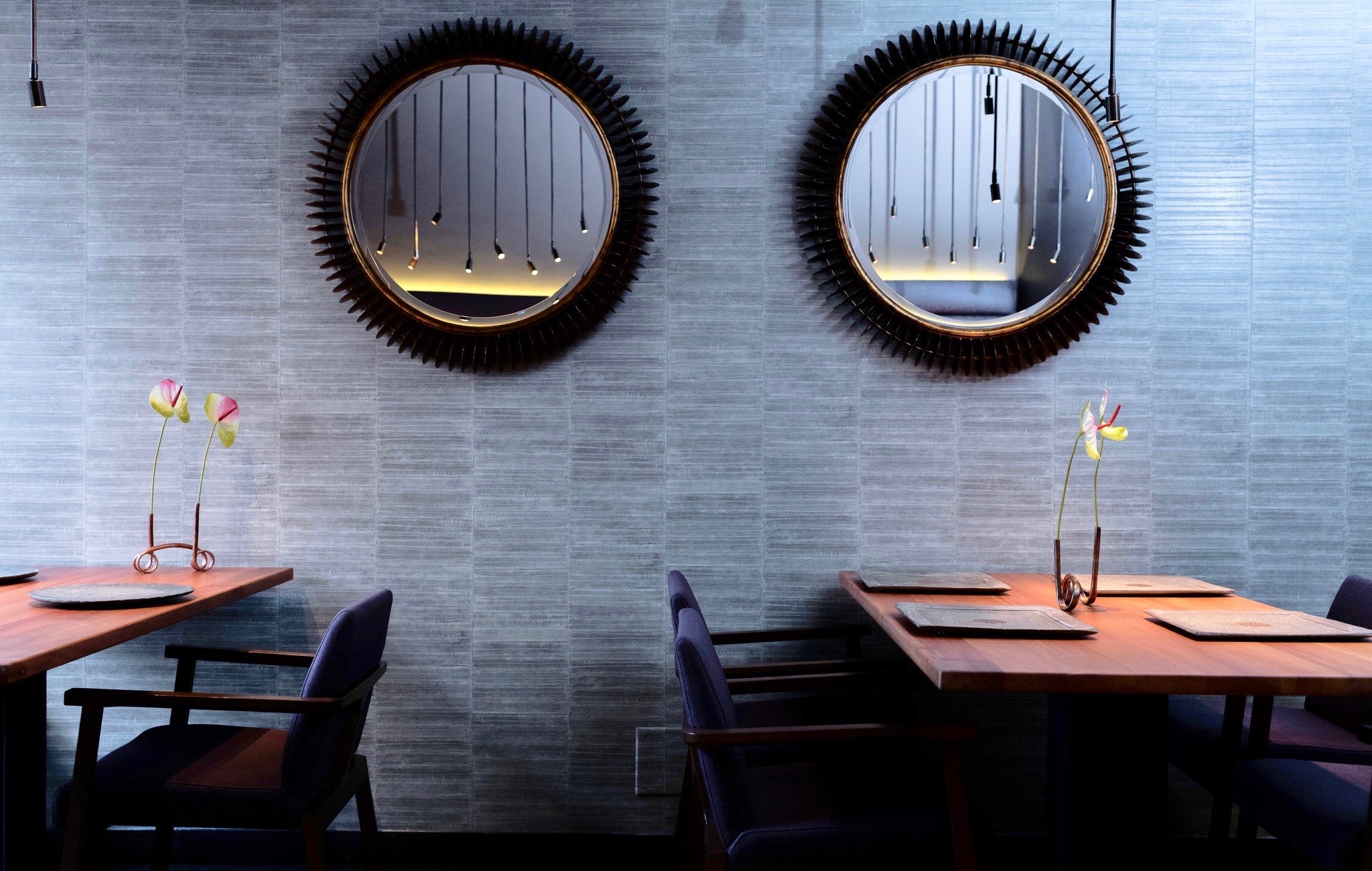 Get ready for an unforgettable fine dining experience. Head chef and part owner Anthony Genovese serves imaginative and inspiring gourmet dishes in an intimate setting boasting space for just 25 diners. Each dish provides a real treat for all the senses and to take full advantage of this experience it is a good idea to opt for the tasting menu that includes a choice of eight, ten or twelve dishes. Some of the highlights on this extensive yet perfectly balanced menu include the light and creamy quail's egg with lemon foam and delicately fried zucchini flower and calamari roll with crab served with a tangy raspberry sauce. The restaurant also pays homage to home cooking with the dish known as "remembering my grandfather", which consists of ziti pasta served with salt cod, potato cream and chilli salami. Of course, no fine dining experience would be complete without coffee and dessert and pastry chef Marion Lichtle creates treats such as brown bread ice cream served with caramel and chocolate truffle.
www.ristoranteilpagliaccio.com/en/
Do
Shopping in Via Condotti
People who have a love for fashion will not want to miss the chance to stroll along the Via Condotti. This is one of Rome's most famous shopping streets and a number of high-profile fashion designers have outlets here. In fact, this street contains the largest number of fashion retailers in the whole of Rome. Some of the big names that are just waiting to be discovered here include Dior, Gucci, Valentino, Hermès, Armani, La Perla, Prada, Dolce & Gabbana, Alberta Ferretti, Bulgari, and Louis Vuitton. People who want to take a break from all the retail therapy and indulge in a little light refreshment will also find some excellent cafes here. Antico Caffé Greco was established back in 1760 and is a great place to sit and watch the world go by for a while.
Take a private tour of the Vatican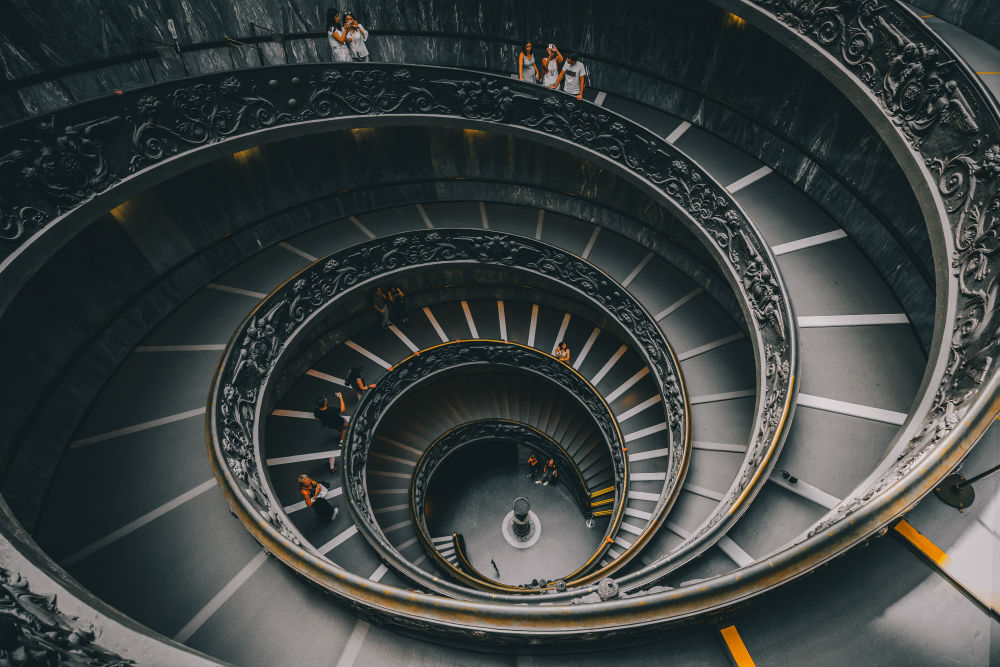 People who want the chance to skip the crowds and soak up as much culture as possible can take a private tour of the Vatican. On the other side of the river is Vatican City, which is home to the Pope and the world's smallest sovereign state. Attractions here include St Peter's Basilica, St Peter's Square and the Sistine Chapel, with its huge ceiling painted by Michelangelo. Private tours typically last for three hours and allow visitors to take in the numerous attractions in all their glory. One of the main highlights of this special tour is visiting the Sistine Chapel at Vatican City and gazing up at the spectacular ceiling painted by Michelangelo in 1508. People who take this tour can choose to start early in the morning or after the Vatican has closed for the day. With a huge number of statues, chapels, paintings, and other treasures to admire, there is certainly plenty to feast the eyes on here.
View the art collection at Casino dell'Aurora Pallavicini
Set at the top of Quirinal hill, the Casino dell'Aurora Pallavicini is a magnificent Roman baroque building that was constructed in the 17th century. This was once the setting for the Baths of Constantine, which provided the perfect backdrop for meetings between some of the most important people in Rome. These days, many people flock to Casino dell'Aurora Pallavicini to take in the magnificent art collection that can be found there. Visitors will want to allow plenty of time to  explore the collection, which includes enormous frescoes by Giovanni Baglione and Domenico Cresti in the side halls and a large number of exquisite marble busts. Guests will also want to explore the central hall, where they will find the celebrated L'Aurora fresco. This huge hall is also home to the frescoes Triumph of Fame and Triumph of Love, while the ceilings of the two side halls are adorned by frescoes Passignano.
Sleep
Rome Cavalieri, A Waldorf Astoria Resort
Offering the most spectacular view over Rome from its elevated position on Monte Mario, the Rome Cavalieri, A Waldorf Astoria Resort will exceed your expectations in so many ways. From its Michelin-star dining room, to its luxury palatial spa and resort style pool, through to its 15 acres of lush parkland and world-class art collection the Rome Cavalieri offers an elegant refuge away from the hustle and bustle of the city that will the most picky of luxury travellers. At the Rome Cavalier all rooms are designed with sleeping and living areas and come with a range of stylish features like their indulgent marble bathrooms and spacious balconies for an al fresco breakfast or evening aperitifs. For all out luxury choose a room on the Imperial floor which includes access to their club lounge and for over the top luxury choose the Planetarium suite which includes masterpieces throughout and a vast private roof terrace and jacuzzi.
J.K. Place Roma
There aren't many luxury accommodations in the whole of Rome that can top the sheer splendour of this multi-award-winning private townhouse hotel. J.K. Place is situated in the heart of the Eternal City and offers five-star accommodation that is within walking distance of the Spanish Steps, Pantheon and many other places of interest. Each of the hotel's 23 double rooms and seven suites was designed by world-renowned Italian architect, Michele Bonan, and decorated with upscale furniture by some of the best Italian artisans. The J.K. Roma experience is pet-friendly and features all the amenities that one would expect from a world-class hotel.
Palazzo Manfredi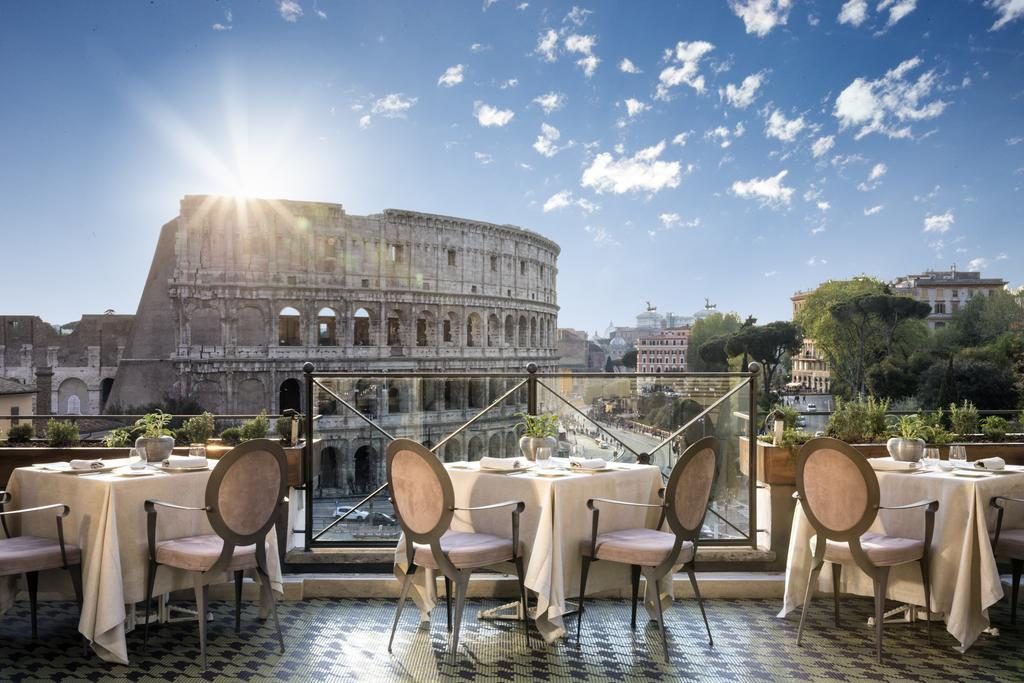 Named after Count Goffredo Manfredi – one of Rome's most influential public figures – Palazzo Manfredi is the ultimate luxury getaway for anyone who's ever wanted to experience the Colosseum and other fabulous attractions from their doorstep. Yes, this five-star boutique hotel is so close to the world's most famous amphitheatre that you can practically hear the gladiators of old from within your suite. As such, Palazzo Manfredi offers spectacular views over Rome's ancient sites and is only a two-minute walk from Colosseo Metro Station, making travelling to and from the hotel a breeze.