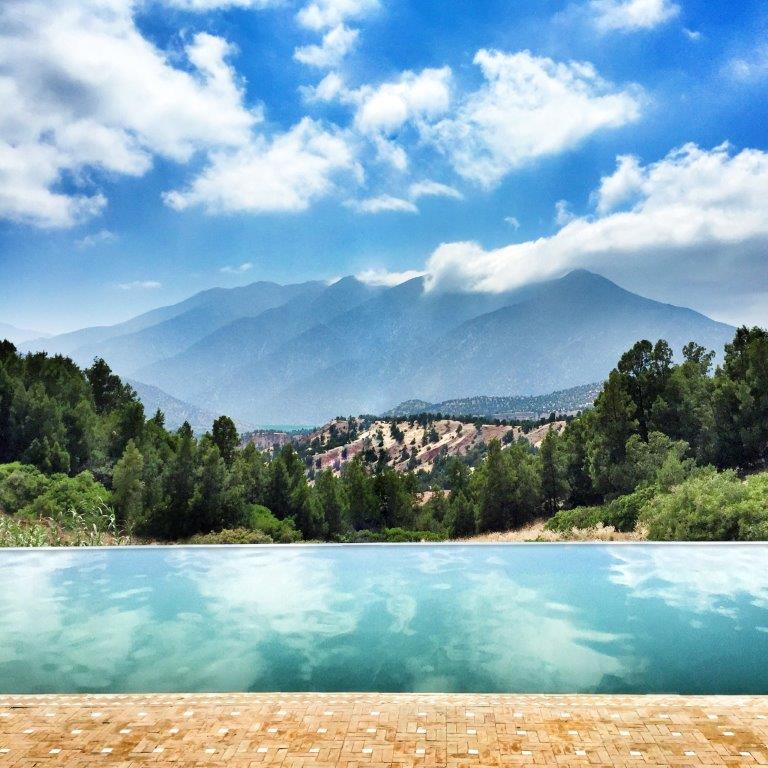 In the meantime, I wanted to share some travel inspiration, based on our The Luxury Editor archives, as well as some shopping ideas so you can enjoy the captivating beauty of Morocco at home.
Magic Carpets
Anyone who has been to Morocco has certainly a tale to tell about a visit to the souk! The excitement and sometimes the stress of bartering; or being drawn into a carpet shop! The traders in the souks have almost magical powers at being able to entice you into their shops and bombard you with carpets and offers – it can all seem overwhelming! Yet these handmade carpets are of extraordinary quality, usually hand crafted by women that live in the High Atlas mountain communities; their work sustaining families in remote and disadvantaged areas.
High Atlas Hiking
One of the most memorable trips I have ever made, was hiking in the High Atlas mountains. I'll be the first to admit, that this was far from a pampering experience. Yet the real luxury of this truly authentic way to travel, was meeting the local people and eating the most delicious food.
With the all-important tourism industry on hold in Morocco, many of these small, rural communities of the High Atlas have been suffering from lack of income from tourism. Pathfinders Treks, a local company that specialises in sustainable tourism in Morocco, offering hiking holidays, has been proactive in supporting these communities with the launch of an Instagram gallery, High Atlas Berber Carpet Coop, showing handmade carpets by women's cooperatives in the High Atlas.
The instagram gallery is really worth a visit – maybe you'll see something that you'll fall in love with, and they promise to ship internationally. They have vintage rugs, like Boujaad runners, and Middle Atlas vintage handmade rugs, each with a romantic, time-worn style; as well as recently woven Beni Ourain handmade rugs; Taznakht rugs; cactus silk rugs; and fun, multicoloured Boucharouit rugs.
High Life Hotels
There's no better way to finish off a holiday hiking in the Atlas Mountains, than a stay at a luxury hotel in the countryside.
Kasbah Tamadot remains one of the most famous properties in the region. This 28-room property is part of the Virgin Limited Edition collection.
L'Amandier Hotel is in the tranquil Ouirgane Valley. It was a real pleasure to be amongst the property's very first guests over 5 years ago, and it is great to see the property and its luxury villas have flourished. Read my sneak peek article here.
Marrakech Memories
This captivating city never ceases to amaze me. Each year it becomes more and more European, yet it still will always have that exotic, mesmerising appeal.
Nobu Marrakech is coming to Morocco.Global lifestyle brand Nobu Hospitality, founded by Nobu Matsuhisa, Robert De Niro and Meir Teper, is the latest to invest in Morocco. Nobu Hotel and Restaurant Marrakech is a collaboration between Hivernage Collection, MC Hotels (the owners of the Nobu Hotel Marbella, Marbella Club Hotel, and joint owners of the Nobu Hotel Ibiza Bay) and Nobu Hospitality, which will lead the transformation of The Pearl Marrakech into a Nobu Hotel and Restaurant in the third quarter of 2021. Your can read our Nobu Marrakech news story here.
La Sultana Marrakech has to be amongst my favourite properties in the city. Found set back from a busy street in the Kasbah is La Sultana Marrakech, an exquisitely presented property made up of five adjoining Riads, sympathetically and immaculately restored to create a unique hotel (a Small Luxury Hotels of the World property).
The Kasbah is the historical fortified part of the old town, once the home to the Sultans of Morocco, and today one can still find the Royal Palace here. For me this is the most authentic part of the medina, as well as being safe and clean. It's a wonderful place to start your Moroccan adventure, before setting up to explore the mountains or the desert. You can read my profile review of la Sultana Marrakech here.
La Sultana Oulidia is the sister hotel on the Atlantic coast. This is an extraordinary destination. Overlooking a protected lagoon on Morocco's Atlantic coast, a few hours' drive west of Marrakech, La Sultana's Oualidia Hotel is a beautiful stone built property, a member of Small Luxury Hotels of the World, presented in the style of a large, exclusive villa, with terraces that run down to the tidal lagoon. You can read my profile review of La Sultana Oulidia here.
City Guides
To find out more about Marrakech, take a look at our Eat Do Sleep Guide to Marrakech here and also our Best Luxury Hotels in Marrakech Guide here.
Tangier
Before I sign-off, I wanted to say a few words about Tangier, the port city that looks out over the strait towards Spain and Europe. Over recent years this city has emerged as an on trend destination with some wonderful boutique hotels.
La Maison Blanche is a favourite. This charming riad house is secluded in the heart of the ancient Kasbah, close to the elegant Morocco Club restaurant and bar, and within easy walking distance to all the city's sights. The 14th century house has nine individually designed and decorated guest rooms, a delightful ground floor patio with fountain, and two intimate seating areas (a mezzanine sitting room, and an extravagantly appointed snug).