There has never been a better time to visit one of Morocco's most enchanting cities. Formed 1,000 years ago the central fortified Medina of Marrakech is bursting at the seams with sights, sounds and an intoxicating energy. Expect to see everything from snake charmers, to local souks selling traditional textiles, pottery and jewellery mixed in with contemporary art galleries, cafes and shops and lets not forget many of the most luxurious hotel brands in the world have properties in the city. So if you are looking for some high energy culture which is within easy reach of Europe then Marrakech is one place not to miss. Here is a selection of the best places to explore, dine and stay at while spending time in the unforgettable city of Marrakech.
Eat
Le Trou Au Mur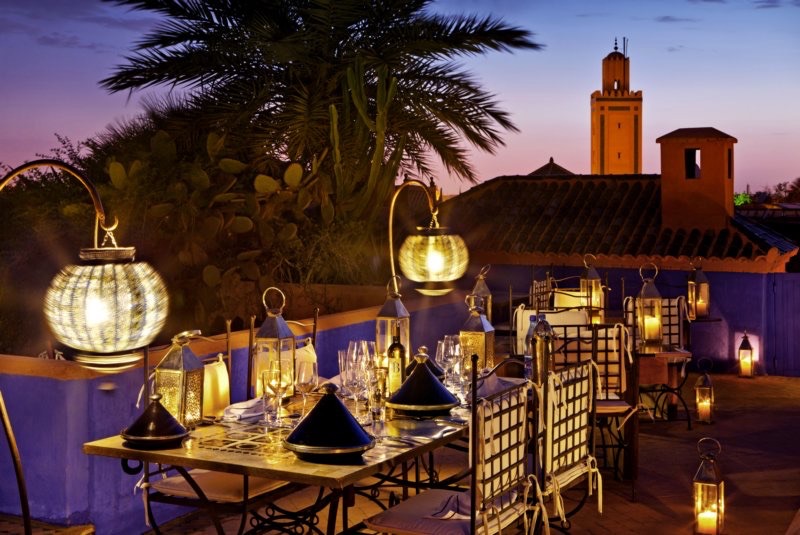 If you are not staying in Jonathan and James Wix glorious Riad Farnatchi (see below) then pop across the road from the hotel to their restaurant Le Trou Au Mur and you won't be disappointed. Open for lunch and dinner this destination restaurant is chic, the service is flawless and the food is beautiful. Located in an old riad in one of the oldest parts of the Medina, you can dine on the roof top in the warmer months and head to the first floor restaurant during the cooler days. The restaurant uses a traditional clay mechoui oven to create many of the mouth-watering traditional Moroccan menu options. Our favourite dishes are the Moroccan Salad and Tihane for starters and the Lamb Shoulder and traditional Offal Medley for mains and if you are wanting something closer to home they also offer a range of International dishes too.
Nomad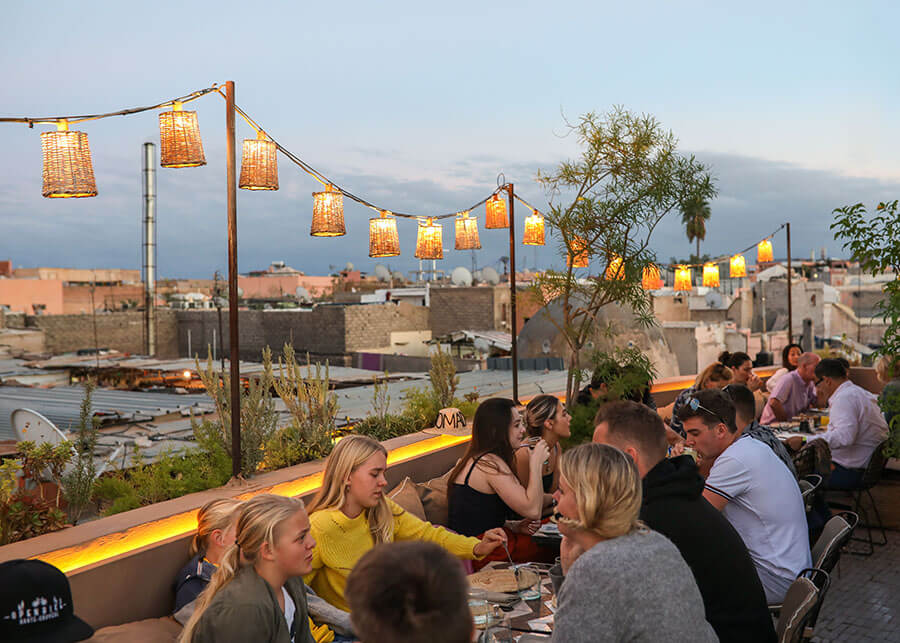 Nomad opened in 2014 by Kamal Laftimi and Sebastian de Gzell in an old carpet store off the famed Rahba Lakdima spice square and the restaurant is a hit with tourists visiting the city. With a strong emphasis on fresh local produce and ample variety for vegetarians, pescatarians, and carnivores alike, the lively restaurant serves simple "Modern Moroccan" cuisine and revisions of traditional local cuisine and international dishes with a Moroccan twist. Spread over four floors, make sure you get a table on the top floor of the roof for the most incredible sunset views over Marrakech.
Quattro Four Seasons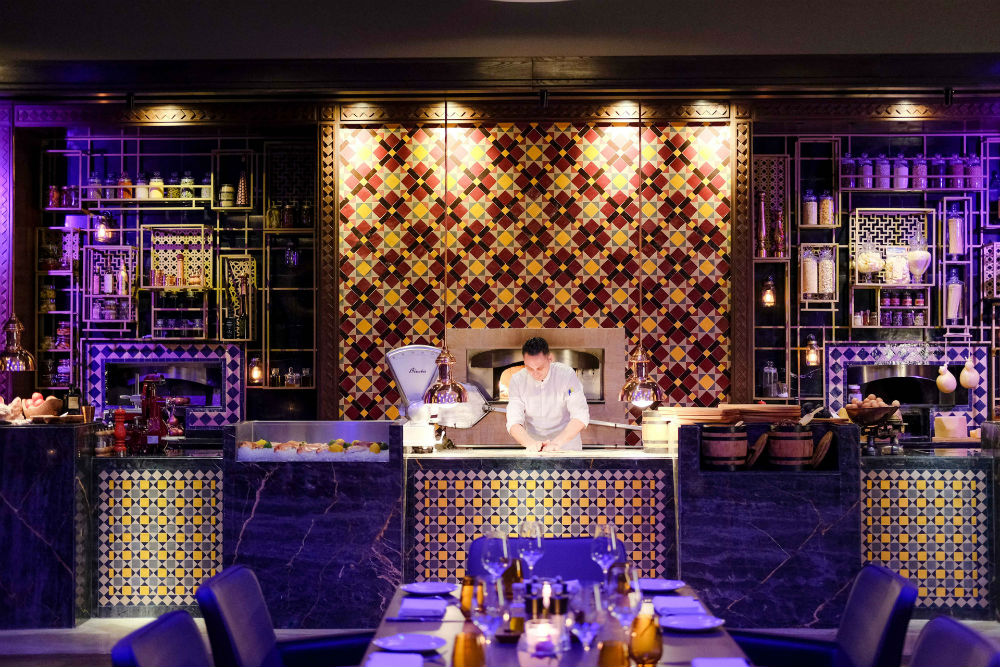 If you want to get away from the hustle and bustle of the Marrakech's main Medina and relax in complete luxury then head along to the Four Seasons Italian themed Quattro Restaurant. The interior of Quattro showcases the cultural blend between southern Italy and Morocco and has both indoor and an outdoor terrace which has views out to their Instagram perfect central courtyard lined with palm trees. The menu itself weaves flavours of Sicilia, Puglia, Calabria and Campania together while other dishes focus on Arabic influenced flavours. Signature dishes on the menu include their Paccheri Artiganali – Tiger Prawns and Lime and Millefoglie Di Pasta Fresca Al Cario, a delicious Ricotta cream, bottarga and lemon mint dressing and do not leave without trying a pizzoli, which is a stuffed Sicilian pizza, our favourites are the Spinach and Gorgonzola!
www.fourseasons.com/marrakech/dining/restaurants/quattro/
Baraar Cafe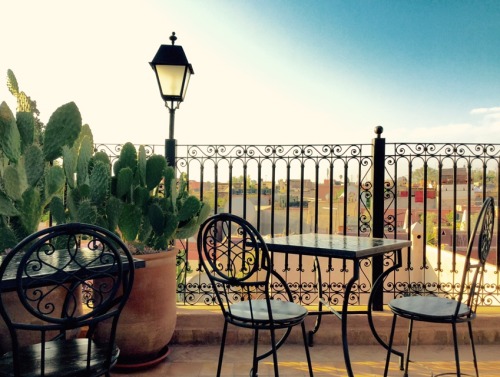 Many restaurants don't sell alcohol in Marrakech so do your homework before hand! One of our favourite places for a lunch with a glass of wine in the main Medina is rooftop restaurant Bazaar Cafe which sells a range of lighter dishes, wine, beers and spirits and it's a great place to watch the sunset and relax with a good book.
Do
Jardin Marjoelle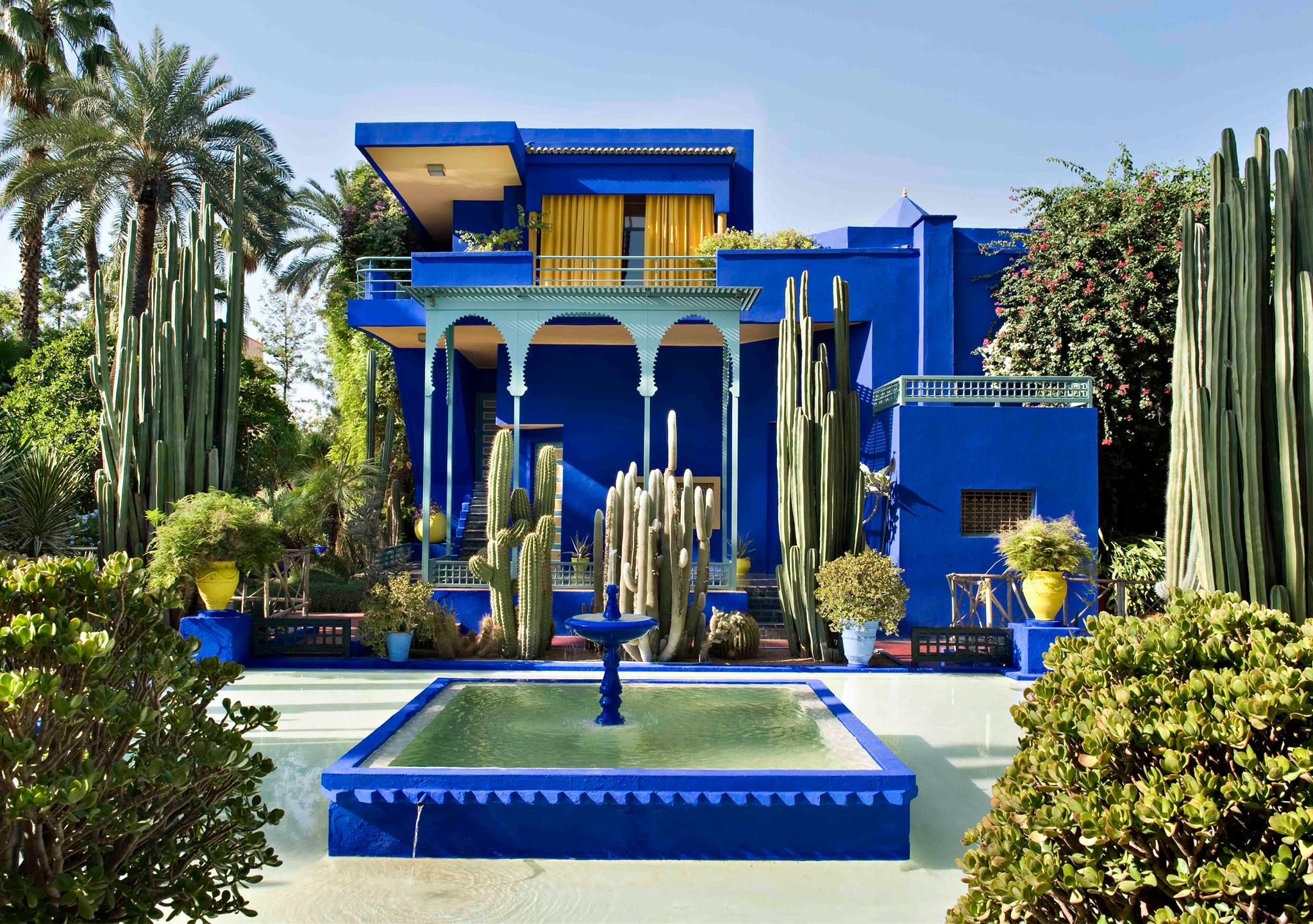 A key tourist attraction in Marrakech so expect a long wait in a queue, but it is worth it! Jardin Majorelle is the creation of French painter Jacques Majorelle, who spent 40 years lovingly tending to this enchanting garden. The property was bought by YSL in the 1980's who worked to restore the garden and property and is now open to the public daily.
YSL Museum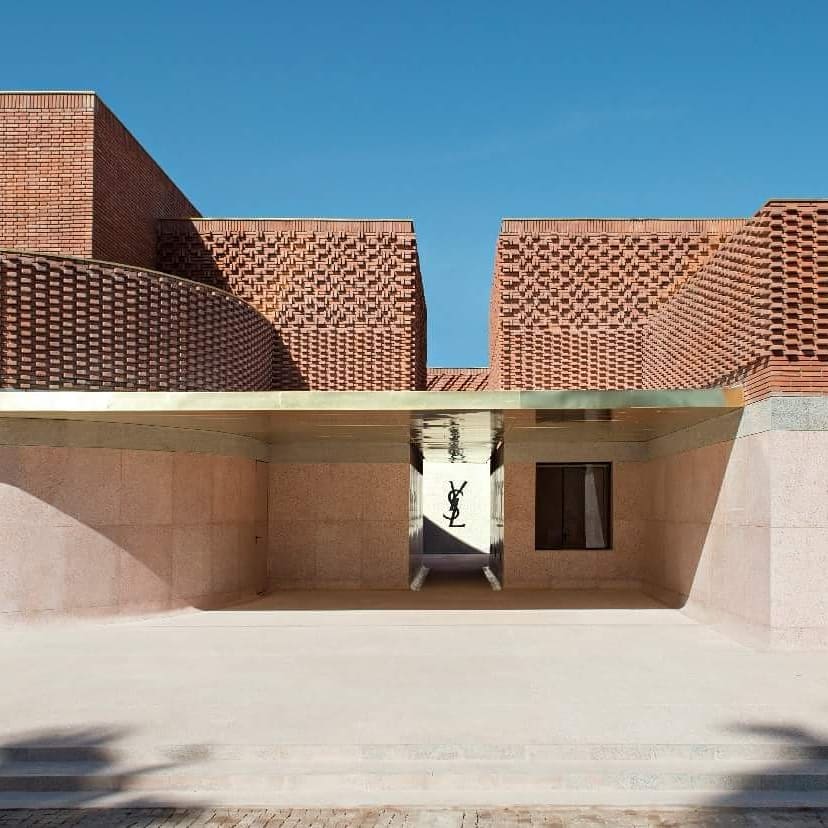 Located next door to Jardin Majorelle and opened in 2017 the Museum of YSL is a shrine to the French fashion designer and features a permanent exhibition with hundreds of garments from his 40 year career. Again like Jardin Majorelle it is a very popular attraction so expect long queues and try to visit early morning or late afternoon when it is quieter.
www.museeyslmarrakech.com/en/le-musee/
Shopping in Souk Semmarine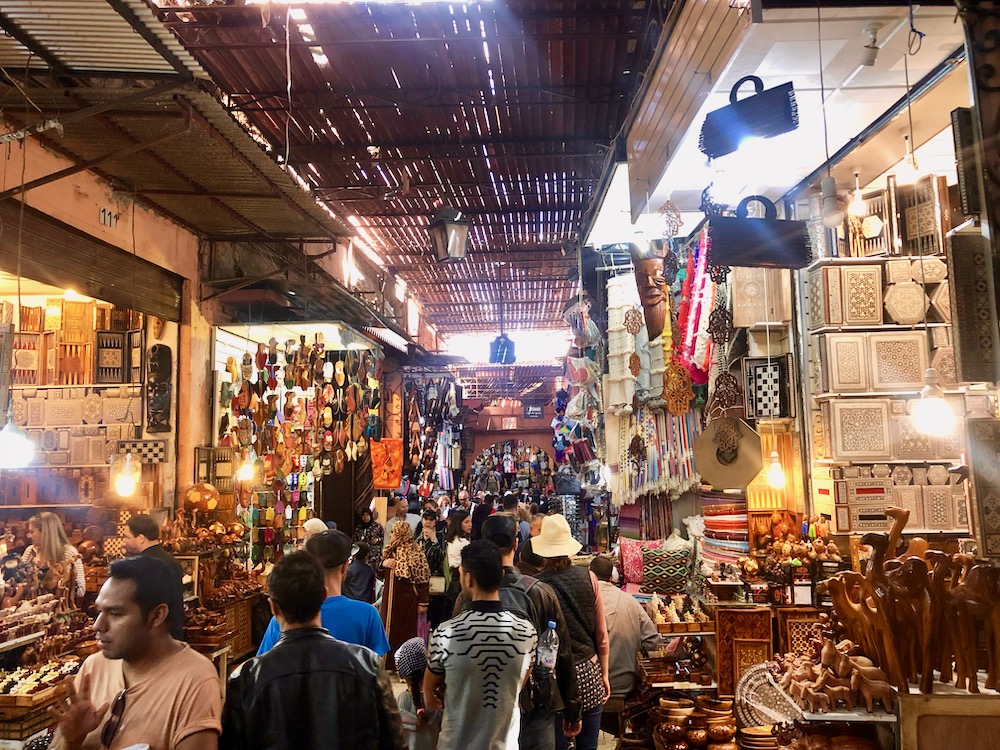 Marrakech was built on its trading in its "souks" (large marketplaces) and many still exist today trading everything from tourist novelties to pottery, rubs, fabrics and leather goods. The biggest is Souk Semmerine which is a maze or winding lanes and shops and you can easily spend a few hours wandering around this magical part of the city, just try not to get lost!
La Mamounia Spa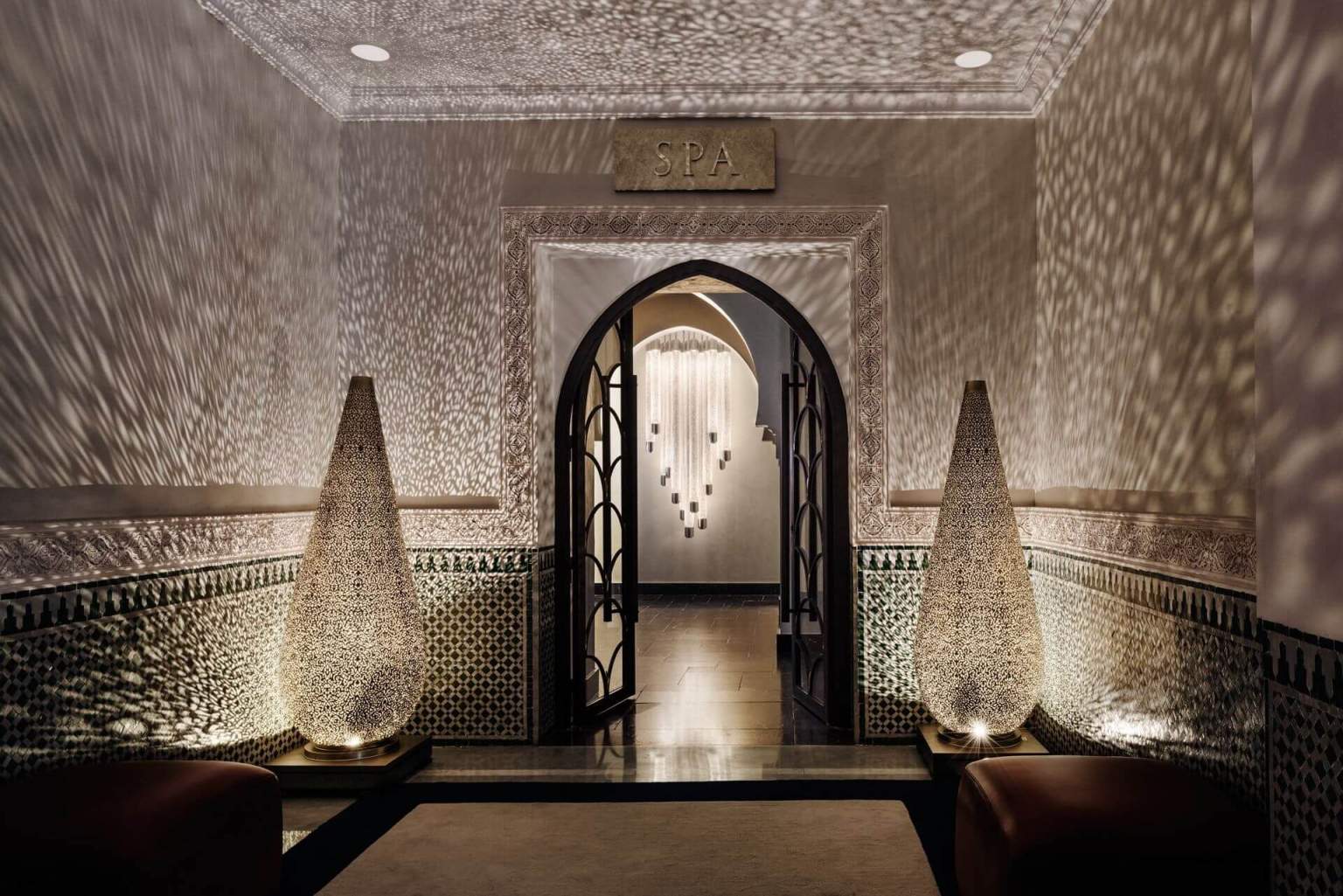 The La Mamounia hotel is one of the cities most luxurious and the spa is also open to non residents who can book individual spa treatments and day experiences. The spa is the definition of Moroccan luxury and offers every treatment you could imagine. There are his and her hammams and you can even book a private spa if you want to completely get away from it all.
www.mamounia.com/en/-spa-marrakesh/spa-hammam.html
Sleep

Riad Farnatchi
The ultimate home from home in Marrakech, the five star Riad Farnatchi is a lovingly converted collection of private houses located the heart of the oldest part of the Medina. International hoteliers Jonathan and James Wix have created a characterful, luxurious hideaway where ten exquisitely decorated bedroom suites sit alongside five-star service and facilities. Staff out number guests, service is slick and discreet, and the new spa in the hotel is worth booking in for. Riad Farnatchi will feel more like your home for the stay in the city than a hotel.
Four Seasons
Whether it's enjoying the exquisite Quiet Pool and nearby poolside under shady palm trees or enjoying the delights of the Moroccan spa where you can bathe and enjoy the best exfoliating treatments and exotic oils, the Four Seasons is the perfect place to base yourself while exploring Marrakech and beyond. Rooms come with garden and pool views and offer the ultimate in relaxation, replete with Moroccan decor, delightful handcrafts and marble bathrooms. Rooms also offer a recessed balcony presenting the perfect way to unwind with a good book during the heat of the day. Others have large terraces enabling you to enjoy the ultimate in al fresco dining.
La Sultana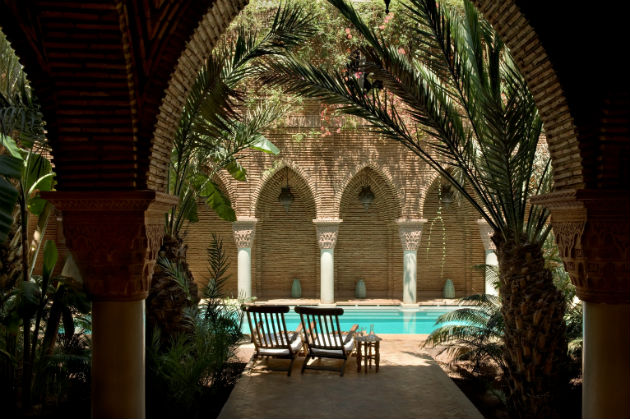 A luxurious romantic hideaway within a walled medina of Marrakech, La Sultana is moments away from the royals palaces, museums and souks of this magical city. This is a small, luxury hotel that knows how to spoil its guests, especially in the spa. From almonds to dates, prickly pears to Damask roses, the alchemist-like therapists make the most of Morocco's natural treasures. There's a Jacuzzi, two hammams and sauna here too – not to mention candlelit pools. Each of La Sultana's evocatively named Riad houses retains their own identity, but share an attention to outstanding craftsmanship that is a celebration of Moroccan artisan creativity. Think intricately carved cedar wood ceilings and beams, ornamental plasterwork, striking tiles and extravagant lamps – but without the pastiche or cliché of themed interiors.