It's the most wonderful time of the year (or so the song tells us), and what better way to spend the Yuletide season than visiting Europe's most magical winter wonderlands? Here's our guide to the very best Christmas markets. 
Tallinn – Estonia
As you meander through the city's 10th-century Old Town, it feels like a fairytale medieval village. Tallinn soon became established as a popular city break destination following Estonia's independence in 1991, and while its Christmas market is relatively modest in size, it's cosily authentic with every corner steeped in history. Feast on blood pudding, gingerbread cookies, caramelised nuts and spicy mulled wine, as you take in performances from some 3000 participants and shop for local handicrafts, gifts and winter accessories. Head to Raekoja Square to see the towering Christmas tree – a traditional feature since 1441. This year the impressive centrepiece will be decorated with heart-shaped ornaments, symbolic, as the Old Town is known as 'the heart of the city' and seen to be heart-shaped when viewed from the air. With this theme of love, snowy landscapes, pastel houses and picture-perfect quaint cobbled streets, Tallinn is perfect for those seeking a romantic winter getaway.
Tallinn's Christmas market runs from 15th November 2019 to 7th January 2020.
Read our guide to the best luxury hotels in Tallinn
Budapest – Hungary


With a range of Christmas markets all packed with delicious food and shopping opportunities, Budapest is a great option for those of all ages. The oldest market can be found downtown at Vorosmarty Square and is a spectacular affair attracting hundreds of thousands of visitors each year. Free concerts include jazz, soul, world music, angelic choirs and festive light shows depicting the Christmas§ story.  Pick up some Chimney Cake – a decadently sweet street snack – as you take the short stroll to the next largest market, the Budapest Basilica Christmas Fair. Here you can view stunning laser light projections on the Basilica and skate the large ice rink at St Istvan Square. If you're unsure where to begin, guided tours of Budapest's Christmas markets (including Hungarian wine tastings) are available for those wanting to cover a lot of ground in a short space of time, along with a little sightseeing. 
Budapest's Christmas markets run from 8th November 2019 to 1st January 2020.
Read our guide to the best luxury hotels in Budapest
Vienna – Austria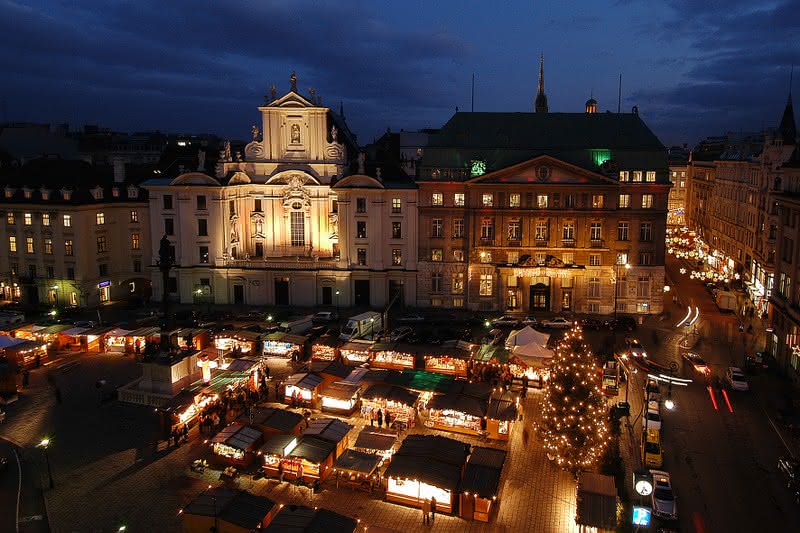 Am Hof Christmas Market – © Weihnachtsmarkt Hof Porcus Tumultus GmbH Wien
The Viennese markets, known locally as Christkindlmarkts, are legendary. Most are within walking distance from one another and provide everything from vegan food to modern art. Vienna's grand Baroque buildings provide a glamorous backdrop for the many bustling festive hubs, the oldest of which, on Freyung, dates back to 1772. Tourists flock to Schönbrunn and Rathausplatz for its ice rink, seasonal delicacies made of fresh fruits covered in chocolate and tasty pastries. If you prefer a slightly alternative vibe (and some fairground rides), wander along to the Old AKH's Christmas Village. To discover quaint areas off the beaten tourist track, explore the pathways and side alleys that connect to the main routes. Pick up ceramic or decorated glass souvenirs – and be sure to taste some spiced punch and traditional apple strudel before you leave. Whether you prefer the classic Christmas style, or something more unusual, the enormity of the Christkindlmarkts ensures there's plenty to engage all tastes. 
Vienna's Christmas markets run from 16th November 2019 to 24th December 2019.
Read our guide to the best luxury hotels in Vienna
Prague – Czech Republic
What could be a more appropriate Christmas market location than Wenceslas Square? Set in the heart of Prague's Old Town, you'll find stalls selling gifts and handicrafts including embroidered lace, puppets, dolls in traditional dress and wooden toys. Smaller markets can be found at Old Town Square, Republic Square, Havel's market and by St George's Basilica in the shadow of Prague Castle. The Czech Republic takes great pride in its authentic Christmas markets or 'Vánoční Trhy'. These winter wonderlands offer hearty spit-roasted hams, barbequed sausages, pancakes and Hungarian flatbreads topped with garlic, cheese and ketchup. Wash it down with honey wine, hot chocolate or mug of grog (a concoction of rum, water, sugar and lemon). Children will love the opportunity to pet the animals at the stable at Old Town Square and visit two full-size nativity scenes at each of the main markets. Listen to carols from school choirs, and catch the daily Christmas tree light switch on, all flanked by impressive Gothic architecture.
Prague's Christmas markets run from 30th November 2019 to 6th January 2020.
Read our guide to the best luxury hotels in Prague
Basel – Switzerland
Perched on the River Rhine, and considered to be the cultural capital of Switzerland, Basel takes on a particular Yuletide charm. Now in its 42nd year, the market is packed with Swiss culinary delights, such as raclette, fondue, Läckerli (a kind of gingerbread), hot dogs and glühwein. Browse the wares of over 160 Swiss, German and French artisan traders in the charming wooden huts, the majority of which can be found on Barfüsserplatz and Münsterplatz. If you prefer a calmer pace, Basel is ideal. During the day in the early season, there are few queues – visit late afternoon to catch the lights before it gets busy. And thanks to its proximity with France and Germany you have the opportunity to sample a mix of national foods and handicrafts. 
Basel's Christmas markets run from 8th November 2019 to 1st January 2020.