Glasgow's boutique hotel scene is as diverse as the city itself. Whatever your budget, design requirements and location, the city has it all. From luxury B&B, or Victorian listed buildings to modern magnificence, there's plenty of luxury, opulence and elegance to choose from. So read on to find out more about Glasgow's best boutique hotels.
Apex
This modern boutique hotel, wedged between traditional tenement buildings in Glasgow's city centre, is a welcome retreat in the busy city. Only steps away from some of the best shopping, theatre, art galleries and museums in Scotland, it's the perfect place to sojourn. With 104 rooms, there is something for all budgets and needs. From standard twin and double rooms to superior twin and double rooms through to family rooms. But it's the duplex suites that flex the Apex's luxury muscles. Each of their five duplex suites are split over two floors, with open mezzanine levels overlooking some of the best views of the city. Take some time to gaze at the beautiful skyline.
citizenM
Luxury doesn't have to break the bank. This beautiful and modern luxury hotel is as stylish as it is affordable. Designed by Dutch Design Agency Concrete, citizenM Glasgow showcases the best in modern design, colour and fun. Feel like sleeping in a red room? Purple more your style? Change the mood lighting with their innovative tablet MoodPad. It's an easy to use control for your tv, air con, window blinds and of course, the mood lighting. Though they don't have a kettle, twin beds or cots, every room does come standard with XL King-sized beds, luxury bed and bath linen, wall-to-wall windows, rain shower, free movies and wi-fi throughout. Don't forget to head down to canteenM for a bit of lounging around. Order a cocktail at the bar, grab a snack and take a seat on one of the ultra cool sofas or chairs. Who said budget wasn't luxurious!
Z Hotel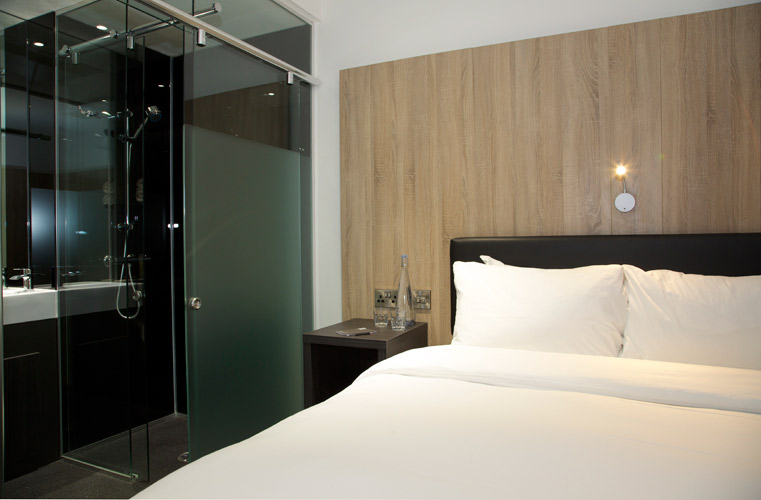 For those looking for an affordable hotel but with boutique style and a central location, the Z hotel on Frederick Street is ideally suited. Right at the heart of Glasgow, this hotel is situated in a converted old print-works, hints of which can be seen throughout the building today. A central light-well showcases original white ceramic tiles and recovered items from the print industry, whilst the 104 contemporary bedrooms may not be the largest in size they are designed to maximise on space and style. The simple but stylish decor features neutral tones, crisp white linens on the beds, leather headboards and clean, modern bathrooms – unpretentious and perfectly suited to easy living. Z Hotel targets 'urbanites' and not tourists, those looking for a genuine experience of staying at the centre of a city. Just two minutes to the Style Mile or the restaurants and bars of the Merchant City, Z Hotel offers the perks of a designer hotel but not at a designer price tag.
Hotel Indigo
This beautiful hotel in the heart of the city centre, was once one of Glasgow's very first power stations. Showing off the opulence in architecture both on the outside and in, the hotel mixes the beauty and composition of the original designs, like high ceilings and original brown brick, with modern splendour and comforts. With a business centre available on site, business travellers will find everything they need to keep them on track. To wind down after a hard day at the office or sightseeing, spend some time at their on-site fitness centre or surf the web with their wi-fi available in all areas. More than just a place to rest, it's an essential part of Glasgow's mercantile history and a key to its transformation into the industrial city it has become. Don't forget to take a walk around the neighbourhood and look up to see the architectural beauty that surrounds.
The Grand Central Hotel
Deep in the heart of Glasgow's city centre, adjacent to Glasgow's Central Station, The Grand Central Hotel shines a light on beauty, opulence and luxury. After its £20 million refurbishment and transformation, it is one of Glasgow's most stylish hotels and winner of 4 Scottish Hotel Awards in 2015, including the Gold Laurel Award. Whether you choose a Deluxe Double, Standard Twin, a Junior Suite or one of their three Executive Suites, your stay will include exquisitely furnishings, large plasma screen tv, fluffy robes and free wi-fi throughout the hotel. More than just the hotel, don't miss the chance to dine at one of Glasgow's top restaurants and sip champagne and cocktails at their award-winning Champagne Central.
Hilton Grosvenor Glasgow
Away from the hustle and bustle of the city centre, this beautiful listed building is at the beating heart of the West-end, across from the Botanic Gardens. Perfect for boutique shoppers, foodies, art and music aficionados and tourists alike, it's a great place to take in the sites and sounds of Glasgow. With easy access to transport, this west-end location isn't an impediment to access attractions. In fact, it's a great way to see another side to this multi-faceted city. Don't forget to spend some time relaxing at the hotel, enjoying beautiful garden views, marble bathrooms, as well as luxurious king sized beds. For a bit more space, their suites offer separate sitting or dining areas, making your stay feel more relaxed.