With an abundance of skyscrapers, there's no shortage of stunning views to be enjoyed over a drink or two in Hong Kong. From modern to traditional, quirky to contemporary, there's a venue to suit every taste, in this iconic city. Here are the cocktail bars you must not miss. 
Read our guide to the best luxury hotels in Hong Kong
Ozone Bar Ritz Carlton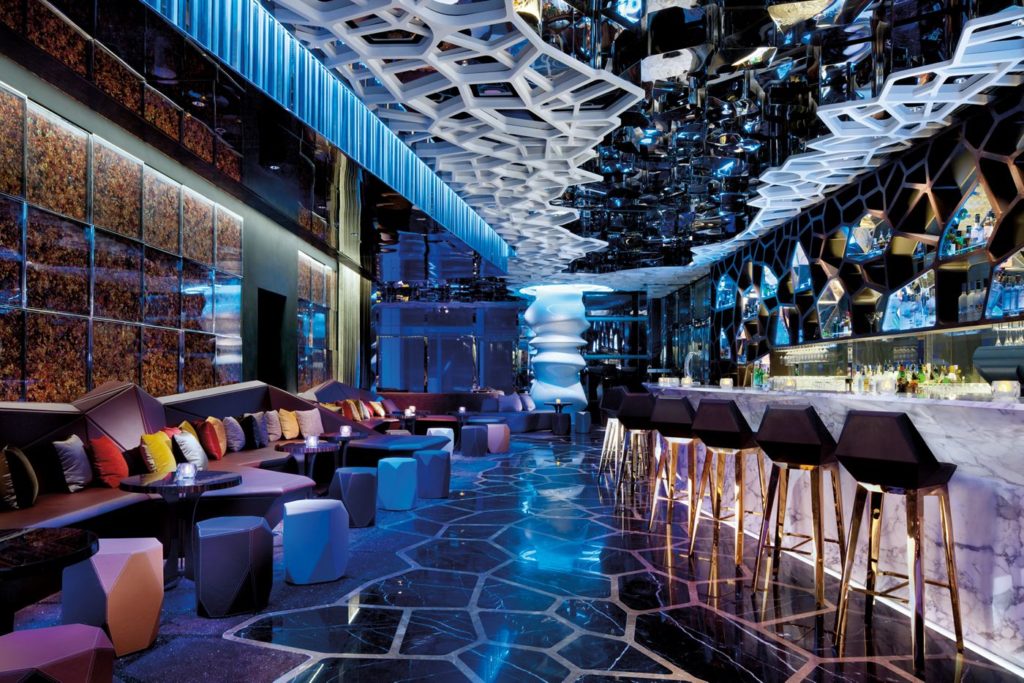 Famed as the highest rooftop bar in the world, here you can drink at an altitude of 480 metres. Found on floor 118 of the esteemed Ritz Hotel, it offers some of the most breathtaking views you'll experience from any bar. Decorated in contemporary glitz, part of the bar area is open to the sky. The food and drinks served here are every bit as good as the vistas, with menus comprising of Asian and Brazilian tapas and innovative bespoke cocktails. Visit for a Sunday Dom Pérignon brunch, and you'll enjoy unlimited champers and Brazilian food.
Café Gray Bar at The Upper House
Pull up a stool at this epic 14 metre stone bar, or find a cosy corner and take a seat on a velvet banquette. Peruse the drinks menu while you enjoy spectacular views over both Hong Kong and Kowloon. Located in The Upper House, this trendy spot is perfect for just drinks, or some tasty snacks from morning till night. Sample the cold water oysters, Tarte flambee or tuck into some fish and chips. There's an extensive wine list, beers and spirits, while signature cocktails include the Hong Kong Highball, Copper Storm and Earl Grey Martini. And don't worry if you're on a detox – immune-boosting tea, home-made smoothies and organic cold-pressed juices are all available to order too.
Sugar at East
Spanning the 32nd storey of this swanky business hotel, is Sugar, one of the most fashionable places in Hong Kong for after-work drinks. It's a 'bar + deck + lounge', uber-cool with the kind of superb 360-degree panoramas that can only come from inhabiting a full floor. Ottomans, couches and soft modern armchairs in understated tones make it all too easy to stay late into the night sampling the cocktails. As darkness falls, the house beats begin, and in summer months, the patrons flock to the wooden decked area to party.
Varga Lounge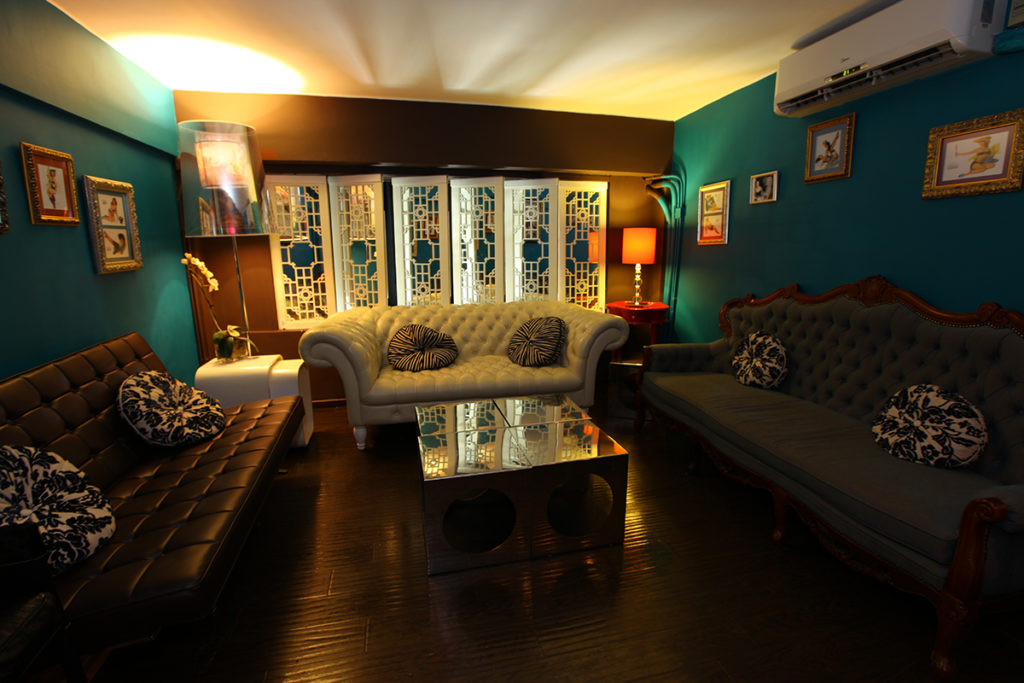 Lively, colourful and sassy, this is a great venue for an intimate party. It's a popular spot for private functions (its private room holds 25), not least due to its fashionable Soho address and long happy hours. Inspired by the pin-up girls of the 1950s and 1960s, glamorous posters adorn the turquoise walls in gilt frames. The nostalgia is echoed in the soundtrack, cocktail lists and menus, while antique style sofas create an upmarket living room feel, allowing patrons to recline in comfort with a passionfruit martini in hand.
Sevva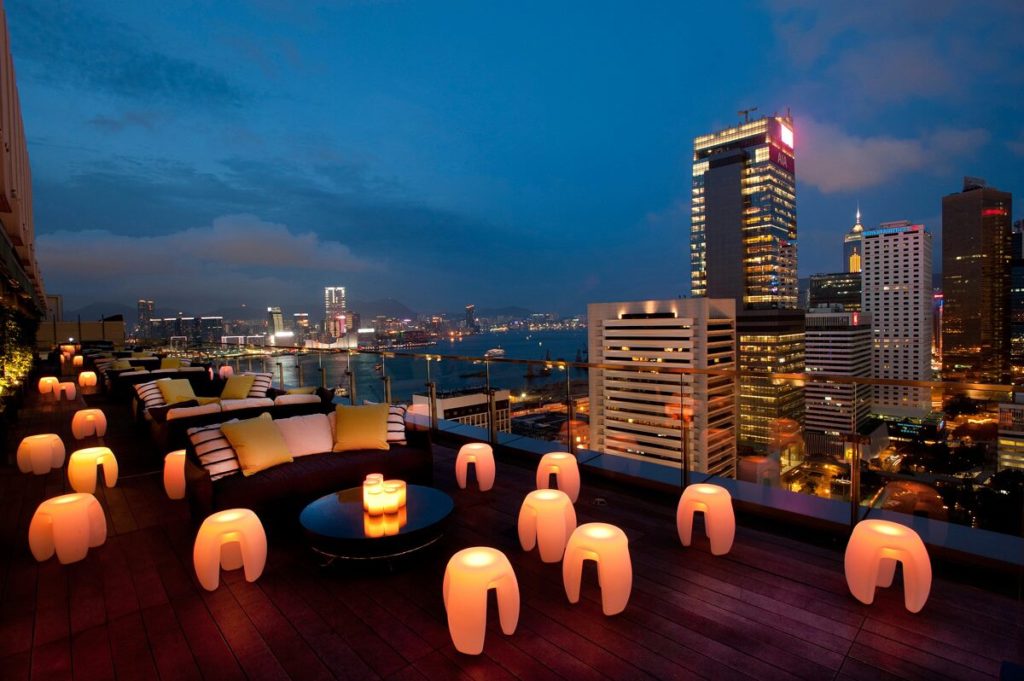 Recently refurbished by owner-designer Bonnae Gokson, this arty destination eatery oozes chic East meets West style. The central kaleidoscopic floral dome is breathtaking, featuring 36 custom-made gypsy chandeliers and 100,000 silk flowers. Sevva's bar, The Taste is glitzy and glamorous, with an alfresco terrace opening up to some marvellous harbour views. Situated on the 25th-storey of Prince's Building it's super central and an art lovers dream with 20th-century works from London's Fine Art Gallery and Gladys Perint Palmer's illustrations.
Madame Fu
If you like your bars with a backstory, this is the place to come. Formerly the Central Police Compound, the Soho venue is themed on a fictional socialite – the Asian answer to the Great Gatsby – who lived in Paris before opening a Shanghai grand salon in the 1930s. Each area is designed to reflect Madame Fu's personas – in addition to the large bar, there's a whisky lounge, private rooms and two open-air verandahs. It's plush and glamorous with more than a hint of art deco, along with plenty of oriental accents and art pieces. With menus offering healthy alternatives, you can even choose from a range of low-calorie cocktails and there's a range of board games for some retro fun.
Ophelia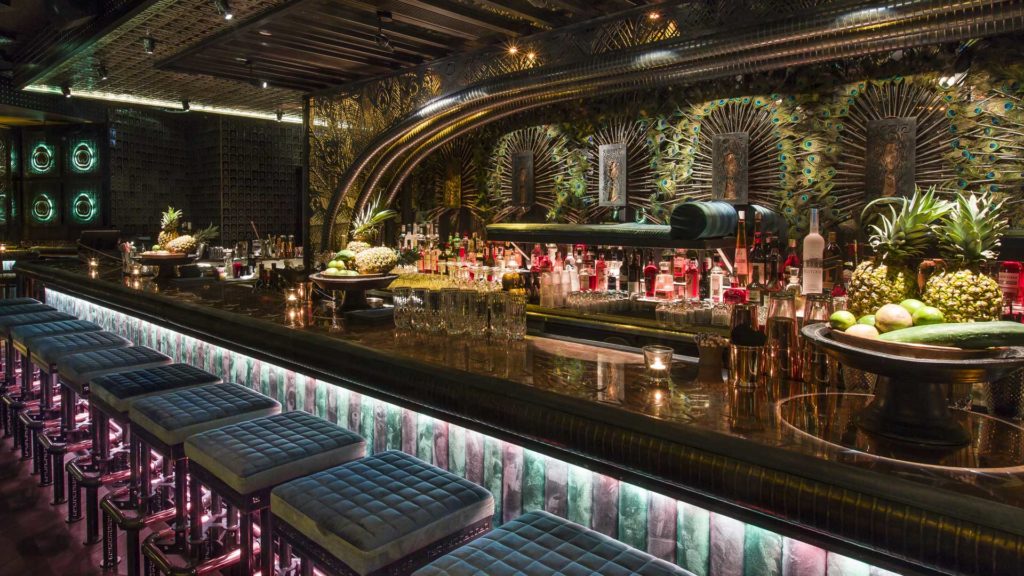 Head to The Avenue, Wan Chai for some of Hong Kong's most exciting nightlife. Evoking the sophistication and vibrancy of a bygone era, Ophelia, owned by Ashley Sutton, is a sight to behold. Rich, sensual dark shades, velvet textiles, palms and ostrich feather motifs are reminiscent of the roaring twenties. The menu is inspired by a cabinet of curiosities made up of aromatics, Asian herbs, spices and fruits with each libation designed to be a voyage of discovery, with The Opium Cage cocktail being a must-try feast for the eyes and tastebuds.
www.diningconcepts.com/restaurants/Ophelia
Jaa Bar
Rumoured to have once been the hideout of Dr Sun Yat Sen, the leader of China's Republican movement, Jaa Bar is nestled off Peel Street, as hard to find as a speakeasy. Intimate at around just 400 sq ft and clubby, the cosy bar is filled with quirky curios. The design is somewhat theatrical – red velvet curtains, chandeliers, red lampshades and rugs. The wooden bar contains drawers filled with items, some of which can be purchased. It's named after its three proprietors: Jamie, Andrea and Anne (JAA) and has it's own signature cocktail, combining berries, vodka and Prosecco. Although it's clandestine location may give an air of exclusivity, this is a super sociable bar where you're sure of a warm welcome.