Check out some of the best designer water bottles and flasks to keep you hydrated throughout the year. From traditional flasks to tech-savvy water purifying bottles, we've got you covered.
LARQ | Movement logo-print stainless-steel bottle 710ml
This self-cleaning flask uses UV C LED technology to eliminate harmful bacteria and viruses and purifies your water in just 60 seconds. Built with vacuum insulation, it also keeps drinks cold and fresh for up to 24 hours. The stainless-steel bottle is also part of Project Earth meaning is better for people, and for the planet.
THE TECH BAR | CrazyCap UV portable water purifier bottle 500ml
This amazing water bottle has heat retention for up to 12 hours, and cold retention up to 24 hours, keeping your drinks at your desired temperature throughout the day. A single charge lasts up to 7 days on this touch-sensitive bottle, which also has automatic UVC cleaning every 4 hours, with 'normal' and 'crazy' sterilisation modes.
PRADA | Logo stainless-steel water bottle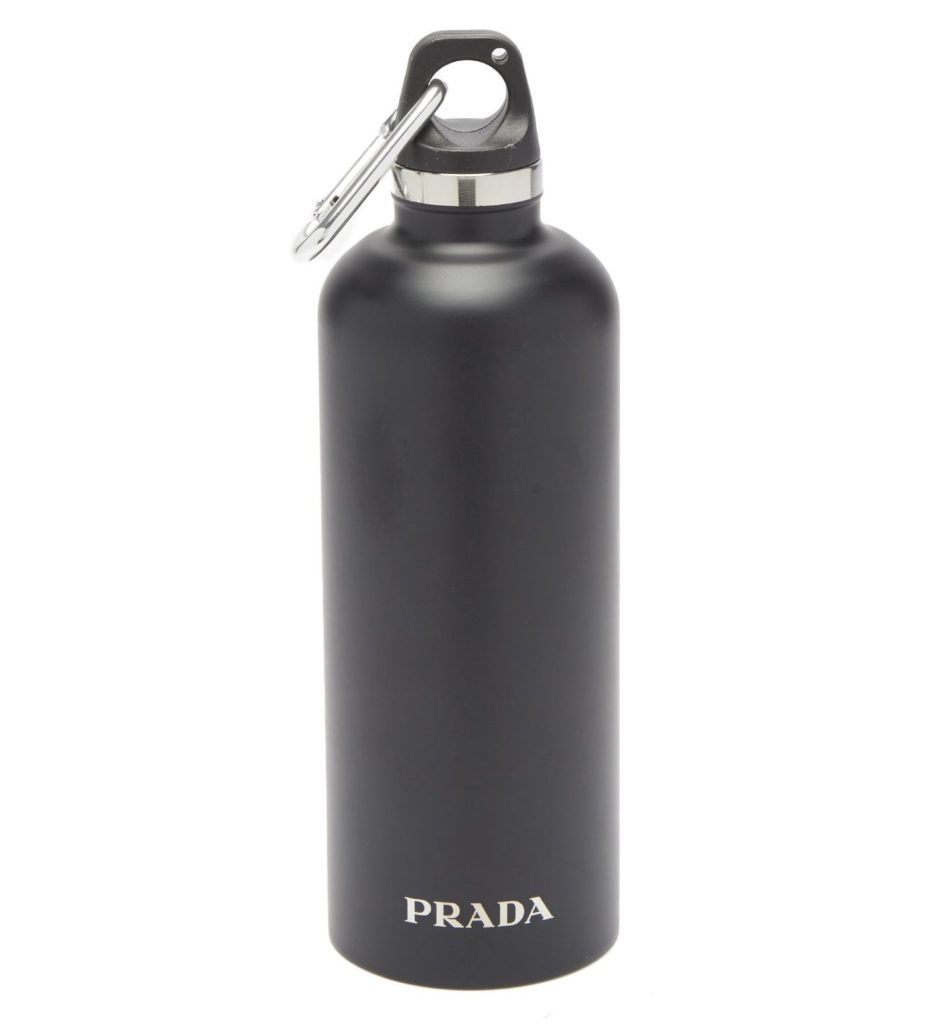 This bottle reflects Miuccia Prada's fascination with functionality, this black water bottle will encourage long weekend walks. It's crafted from stainless steel holding 500ml with a carabiner clip on the screw top, allowing you to attach it to a backpack, and is accented by a logo above the base.
VERSACE | Logo-print aluminium water bottle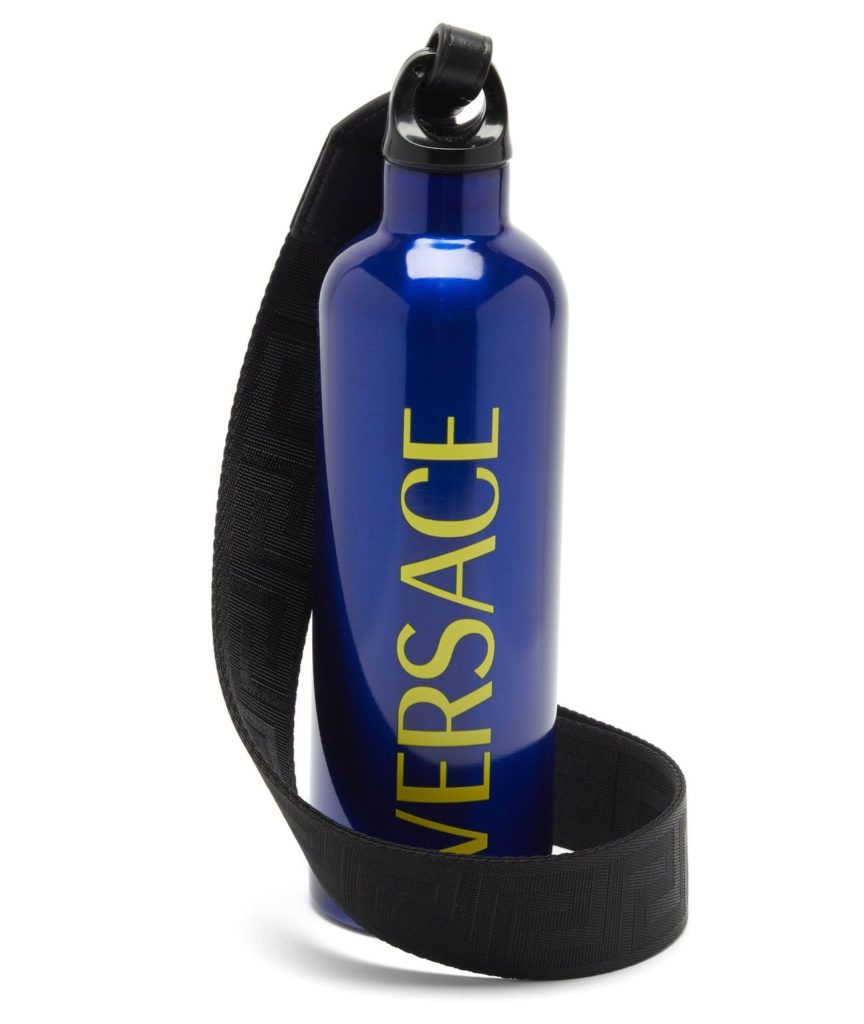 This gorgeous aluminium bottle has a detachable logo-jacquard webbing strap, leather trim making it perfect for carrying around. A perfect companion for work or sport, this reusable water bottle is embellished with Versace's signature logo.
FENDI | Stainless-steel bottle and FF-logo leather case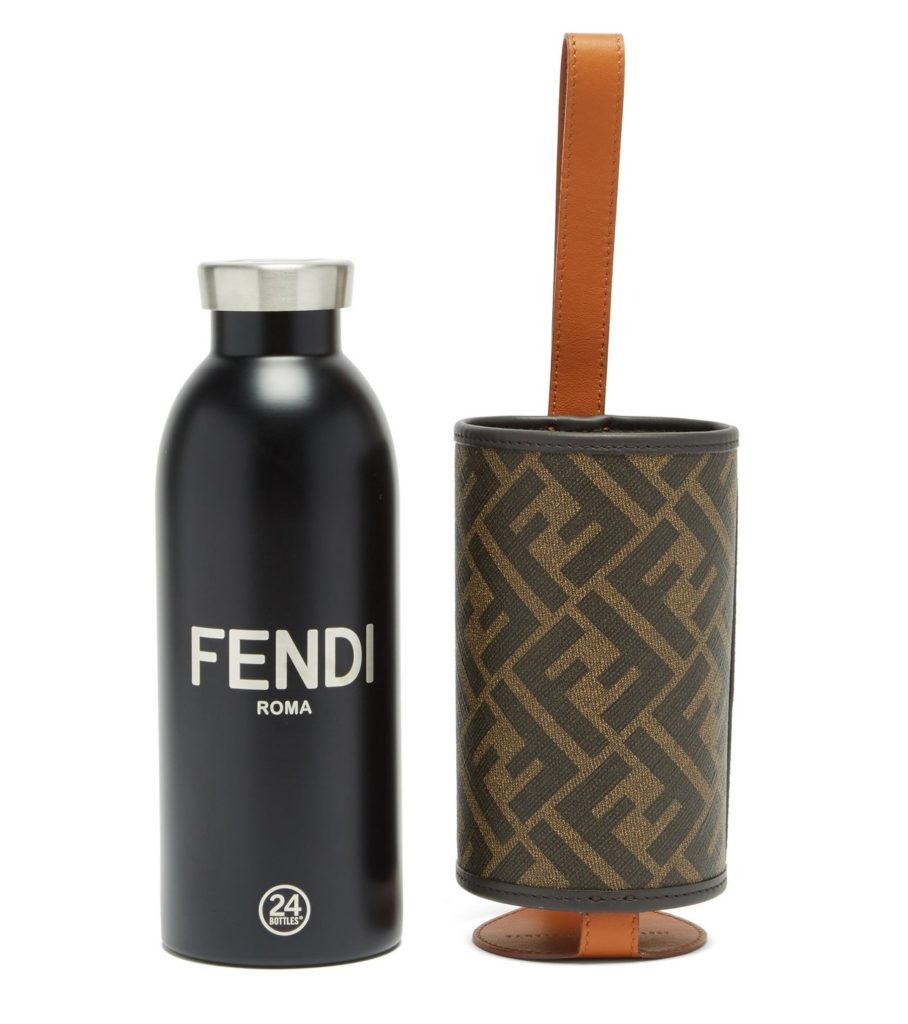 This Fendi water bottle set is part of a collaboration with 24 Bottles – a sustainable drinkware label that seeks to reduce single-use plastic. It's made from stainless steel with a screw-top fastening, and also features a leather holder printed with the iconic FF motif and suspended by a handheld strap.
LOEWE | + Paula's Ibiza leather-trimmed aluminium bottle
This bottle is designed in collaboration with Paula's Ibiza and SIGG. It's made from durable and lightweight aluminium that's printed with a vibrant salamander and has a screw cap that's threaded with a leather strap, so you can attach it to your wrist, tote or carry-on.