Explore our guide to the best luxury Father's Day gifts for 2023, from stylish to practical and comfortable to coffee there's a great selection – so go on and treat your much-deserving dad…….
Forest Essentials
Gentlemen's Gift Box
Forest Essentials is an authentic, traditional skin care brand with its foundations in the ancient science of Ayurveda. A pioneer of Luxurious Ayurveda, today it has become the quintessential Indian beauty brand that combines the ancient beauty rituals of Ayurveda with a stylish, modern aesthetic for a more relevant emphasis on efficacy, sensorial experience and pleasure of usage. Their Forest Essentials Gentlemen's Gift Box is a beautiful collection of high-quality men's facial products, perfect for Father's Day. The products in the box are infused with a blend of Mysore Sandalwood and zesty Orange Peel, providing a refreshing and lightly scented experience for the skin throughout the day. The box includes a Deep Cleansing Face Wash, Replenishing Facial Moisturiser, and Balancing After Shave Spray.
CHARLES TYRWHITT Cotton Classic Raincoat
This elegant raincoat by Charles Tyrwhitt embodies a timeless and refined aesthetic, showcasing a sleek design that is resistant to showers. It features a single-breasted silhouette, making it effortlessly wearable, and boasts a seamless finish with a concealed button-down fastening. The coat is thoughtfully crafted with angled pockets, a single back vent, and a sophisticated suede under the collar, adding a touch of finesse to its overall look.
Derek Rose Pyjamas
These pj's are the perfect gift for a dad who enjoys a combo of comfort and style. The full satin finish offers a touch of luxury whilst the mid-weight pure cotton construction means that they can be worn all year round.
Rampur Select Single Malt Whisky
This is a creamy and malty whisky with notes of vanilla, apricot and apple and comes from the Rampur Distillery who has been making whisky for more than half a century but only launched its first single malt for export in 2016. Beautifully presented, this unusual whisky choice makes a wonderful addition to any drinks cabinet.
Barista & Co French Press
Help your dad kick-start the day with a freshly brewed coffee served in this beautifully crafted coffee press by Barista & Co. The press boasts an increased wall thickness to increase heat retention and strength and its premium 18/8 ergonomic stainless steel frame prevents rusting. The press easily holds up to 8 cups so can be enjoyed with all the family too.
Triumph & Disaster Field Kit
This stylish and functional kit bag by Triumph & Disaster is the ultimate gift for any travelling man on a mission. Compartments for all the travel essentials with an easy access zipped pouch, press stud compartments, brass hardware and soft leather outer. Your dad will thank you for this.
Gucci Bi-fold Wallet
Gucci is known world-wide for its impeccable Italian craftsmanship and style which is highly evident in this bi-fold wallet. Combining a refined aesthetic with off-beat edge the bi-fold wallet features eight interior card slots and two bill compartments. The leather is heat-stamped to create a boar effect and is distinguished by the classic Gucci logo double G gold-toned hardware.
Aesop Departure Travel Kit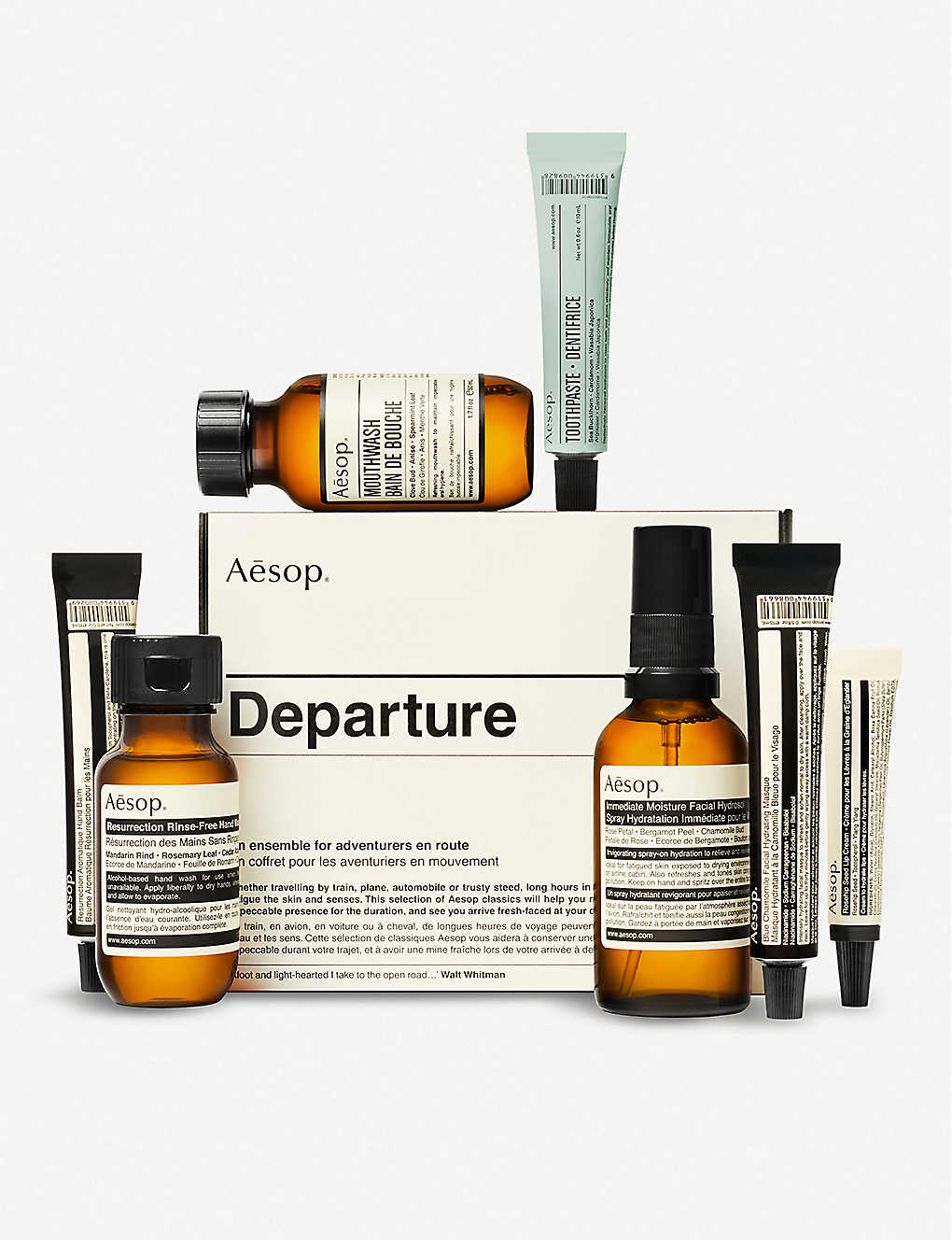 The very best of Aesop conveniently presented in travel size for the dad on the go. The range of products are designed to refresh, replenish and revive the senses – a little touch of luxury to help make your journey even more enjoyable.
Smythson Panama Briefcase
With over 130 years of producing luxury leather goods it is easy to see this experience shine through with this Panama briefcase. Its clean lines, comfortable and adjustable shoulder straps and sleek silhouette make it ideal for everyday use whilst the cross-grain leather exterior exudes a refined finish.
Jaisalmer Indian Craft Gin
Jaisalmer is the first Indian craft gin and is named after the glorious and breathtaking city. The gin pays homage to the imperial age of Maharajas and Maharanis. The gin is a triple-distilled neutral grain spirit, re-distilled in a traditional copper pot stills at a distillery based in the foothills of the Himalayas. The drink retains the classic gin flavour of juniper berries but with a refreshing twist coming from a wonderful blend of hand-picked Indian botanicals.