Don't forget your four-legged or feathered friend when shopping for luxury items. From cosy beds to stylish wearables your pet will look dapper with the latest designer goods. Check out these gorgeous items from labels including Prada, Barbour and Harris Tweed.
Barbour – Quilted Tartan Dog Bed (64cm)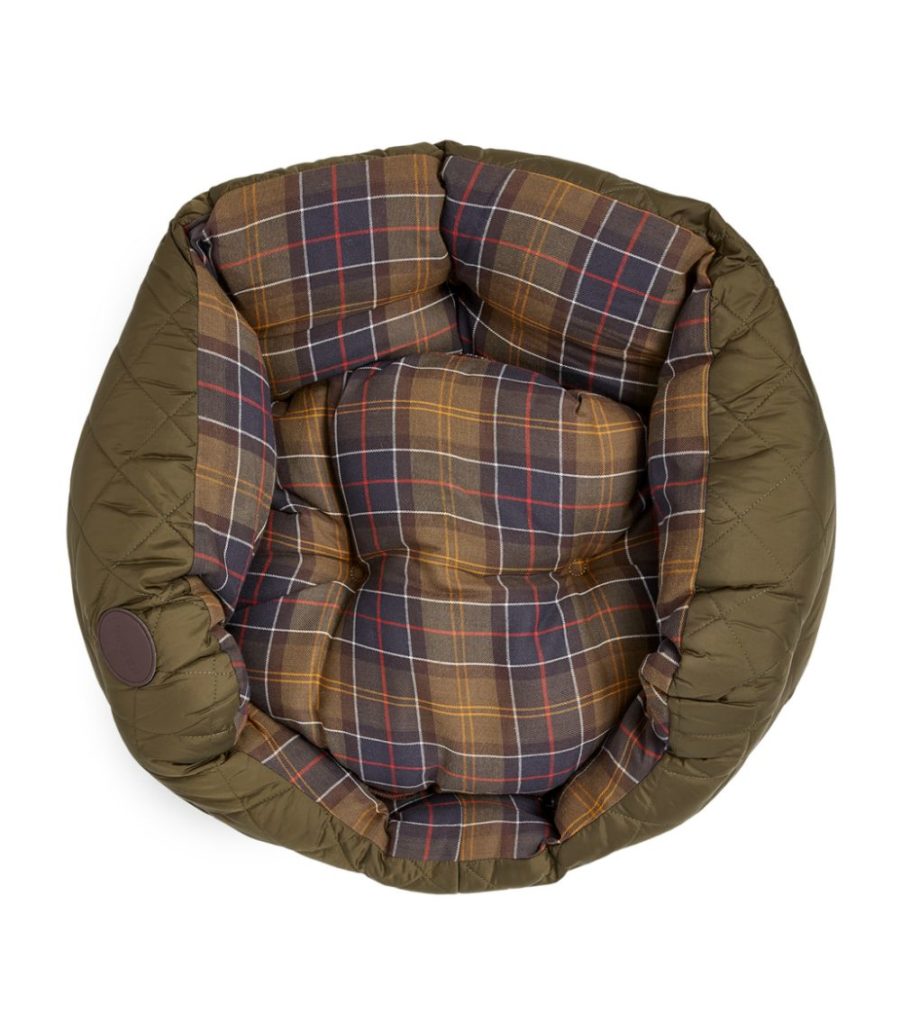 Renowned British outerwear brand Barbour presents this cosy tartan dog bed. The olive green shade is reminiscent of the label's signature jacket, while inside you'll find a comfy removable padded cushion. The durable and easy-to-clean outer ensures longevity and hassle-free maintenance.
Lord Lou – Leather Ascot Dog Collar
This classy and timeless unisex orange collar is crafted in France from high-quality saddle leather. Stitched by hand, each item is coloured with vegetable-based dyes for a long-lasting, super safe and natural finish.
Prada – Logo Pet Collar (Medium)
Adjustable to allow for growth, this Italian made collar has an easy fastening for minimal fuss. It's clipped onto your pet via a buckle to the reverse, with multiple keys for leads and tags. Perfect for the fashion-conscious pooch, this is a great choice for the Prada wearing dog mummy or daddy.
Lord Lou – George Pet Bed (Medium)
Treat your cat or dog to a regal slumber in the form of this detailed hand-carved oak raised bed. Suitable for smaller breeds like the Shih Tzu, Pomeranian, Cairn Terrier or French Bulldog, it was inspired by vintage French Royalty. Velvet upholstery and a plush cushion will delight pets who love a soft feel, however, the textiles are also designed to be practical, resisting stains and wear.
Prada – Hooded Pet Coat (Small-medium)
Prada's coordinating pet range extends to warm winter coats. This one is an extension of the mainline collection and boasts a weatherproof hood and quick-fasten press-stud fastenings for extra comfort. Pop this on ahead of walkies for increased protection from the elements and pair it with the fashion house's aforementioned collar for the full Prada look.
Mutts And Hounds – Stoneham Tweed Donut Dog Bed (Large)
Made in Somerset, this tweed donut bed can be washed in your machine for added convenience and peace of mind in the event of accidents. The soft grey herringbone weave offers a neutral styling that'll match with a range of home decor colour schemes. Buy it for your small to medium-sized breed dog (it best fits beagle and spaniel sizes).
Ysl – Dog Collar In Smooth Leather
YSL presents a perennial simplicity with this all-season plain black leather collar. Adjustable via a gold-tone buckle, the leather itself is 100% super soft lambskin. It's crafted in Italy and comes with a gold-coloured metal loop for leads, lights and tags.
Cheshire & Wain – Beluga Caviar Leather Cat Collar
Another UK brand, the aptly named Cheshire & Wain has designed a purr-fect leather and suede-lined cat collar for the feline in your life. As the collar comes into contact with the natural coat oils through wear, the caviar grain leather becomes darker and richer, maturing life a fine wine. Suitable for pets over four months, it has solid brass hardware, stitched edge detail, a discreet breakaway clip and best of all is presented in a special-edition novelty caviar tin.
Paikka – Slow Feed Bowl Small Size
If your cat or dog has a tendency to gobble their meals too fast, try this 3D design that slows down their eating. It can also be used for water and cooled, by running under a tap for 45 seconds, ensuring their beverage is kept at a refreshing temperature.
Lish – Philip Wool-blend Small Pet Carrier
Not only is this a snug carrier from a stylish London-based brand, but it unzips to become a travel bed, ideal for pets on the move. Simply pop him or her into the wool blend carrier to keep them feeling safe, warm and secure during a journey or shopping expedition.
Maxbone – Abigail Leather Poop Bag Holder
Even poop scooping can be glamorous with a leather bag holder. Holding a full standard roll of pick up bags, you'll never be caught short when you carry one of these. The Abigail features a lobster clasp fastening which can be attached to a holdall, belt, coat, or handbag.
Lish – Hanbury Harris Tweed Tartan Dog Lead
Pair your Lish carrier with a matching Harris Tweed lead. Made from supple Italian leather, it has solid brass fittings and is crafted in Britain by saddle-makers. The classy lead comes in three different sizes to suit all breeds and shapes.
Alessi – Lupita Thermoplastic Resin And Stainless Steel Dog Bowl
Designed by Miriam Mirri, this contemporary pet bowl is made from thermoplastic resin and stainless steel for a bright and fun take on feeding time. A funky white bone makes for an easy grab without too much bending when it's time for a refill. It can be used for food or water.