If you're spending less time in restaurants and more time dining at home right now, it's well worth sprucing up your table wear. Whether entertaining or creating a beautiful environment for your household, these are the must-have linens to decorate your dining room this new year.
La Doublej – Transylvania-Print Linen Tablecloth
Go Scandi with this design from the archives of famed Swiss gallerist Miki Von Bartha. Navy and red Transylvania print offset a traditional crisp white tablecloth, crafted in Italy from textured linen. Multiple motifs bring a vibrancy well suited to indoor or outdoor luncheons.
Les Ottomans – Floral-print Cotton Tablecloth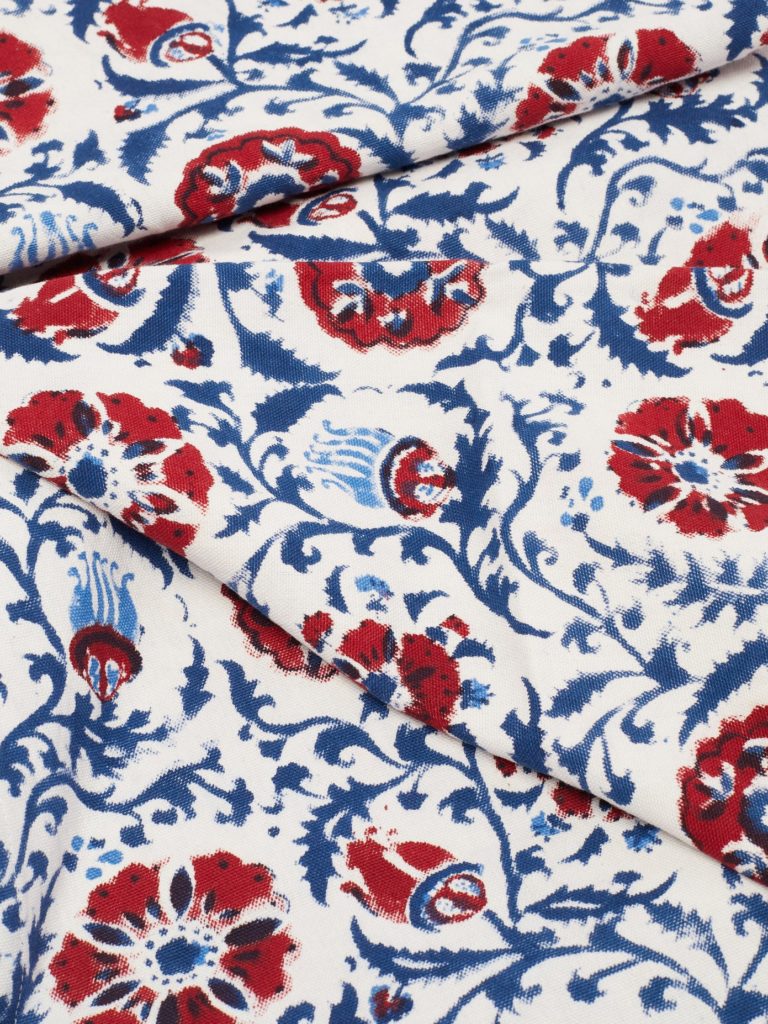 The navy and red themes continue with a floral print from Les Ottomans' maximalist catalogue, perfect for a casual dinner party or picnic. Artisan crafting is evident in the block-printed white and motif strewn pattern, framed with elegantly hemmed edges.
Once Milano – Set Of Six Tasselled Linen Napkins
Dusky hues and textured tassels are the epitomai of boho elegance and bang on trend this season. Here we have an earthy palette of rose, vintage pink and Bordeaux red. The refined 100% lightweight linen napkins and placemats are cut and sewn by hand in Italy.
La Doublej – Set Of Two Botanical-Print Linen Placemats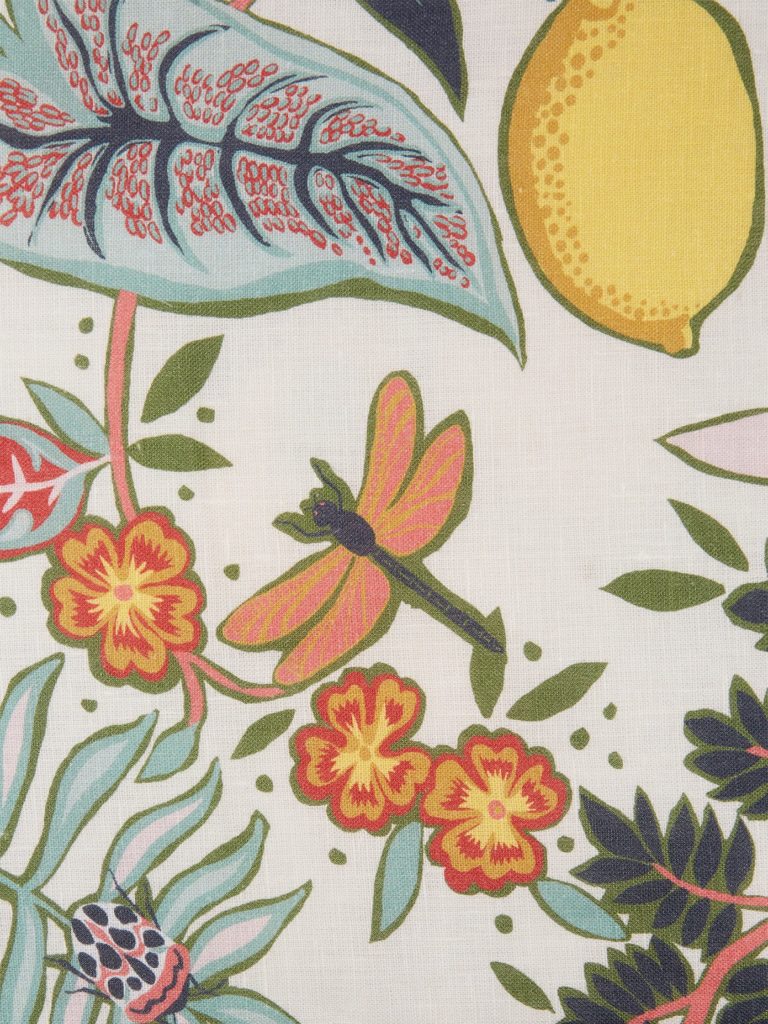 Bring a splash of springlike colour to your mealtimes with these Botanical print motifs. The placemats have been inspired by the label's archive of vintage prints and are crafted in Italy in collaboration with textile producers Mascioni. Made from padded linen, they're completed with a tidy topstitched hemmed edge.
La Doublej – Set Of Two Botanical-print Linen Placemats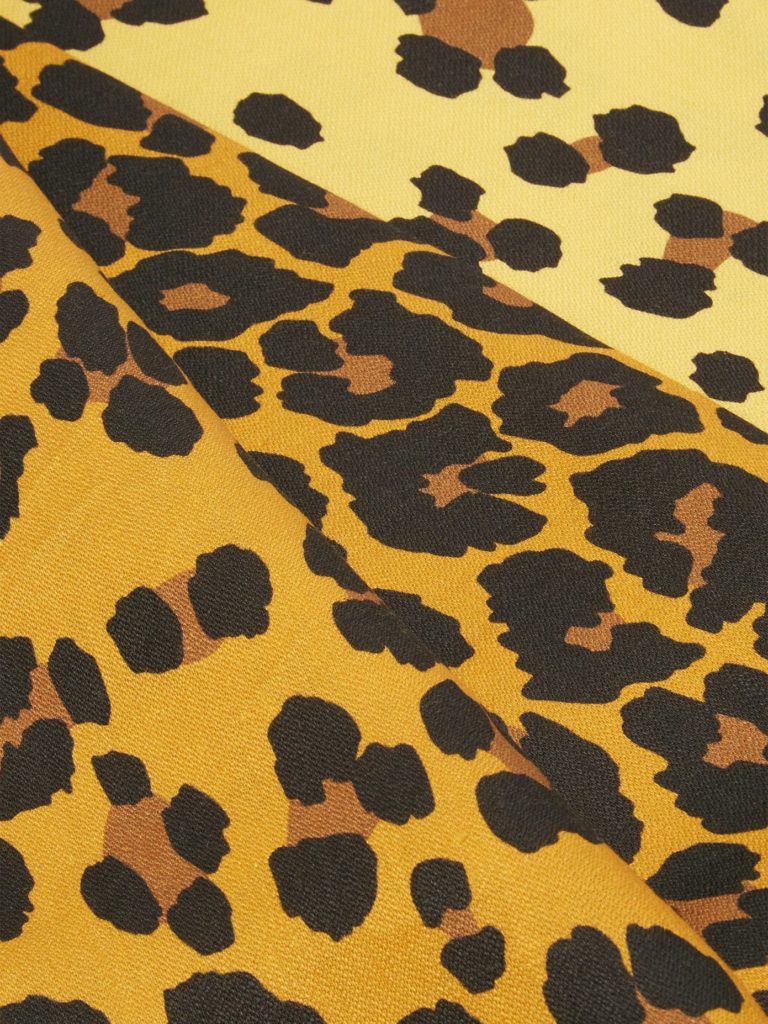 Leopard print oozes a warm timeless glamour and exotic undertone. The yellow linen-sateen tablecloth is a bold statement piece for winter dining, best paired with co-ordinating table wear. Woven and finished by hand, it's large and super soft for both a tactile and visually stimulating experience.
Le Jacquard Français – Bastide Tablecloth
Emulate the sophisticated French style with Le Jacquard's Provencal piece inspired by Indian prints. The wipe-clean cloth is chiefly coloured in a rich olive tone, contrasted by lilac shades and a deep black hem. Style it with other table items from the brand's range.
Soho Home – Linen Rosa Tablecloth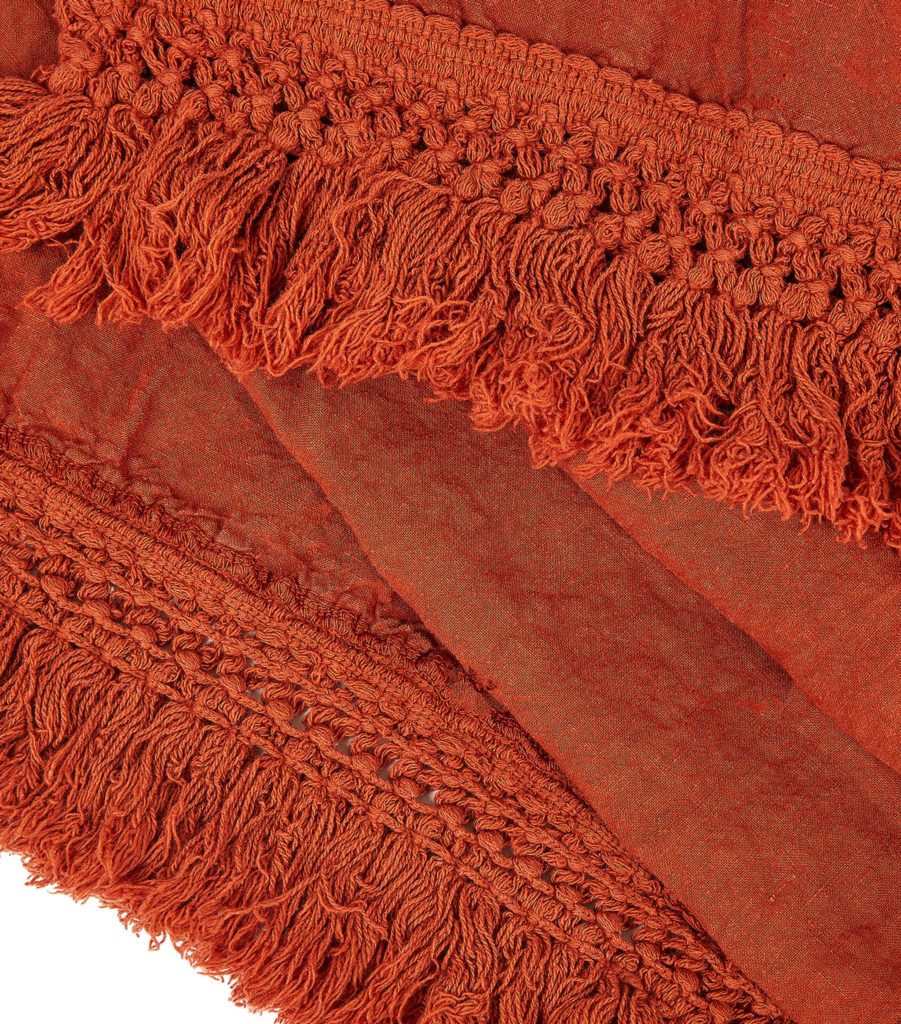 Another boho design, this time from Soho Home, the Linen Rosa is a vintage-esque tassled affair. Machine washable, it's handy for busy households and everyday use. The deep russet hue will quickly transform your table and provide a homely, avant-garde feel to your kitchen-diner.
La Doublej – Karim Placemats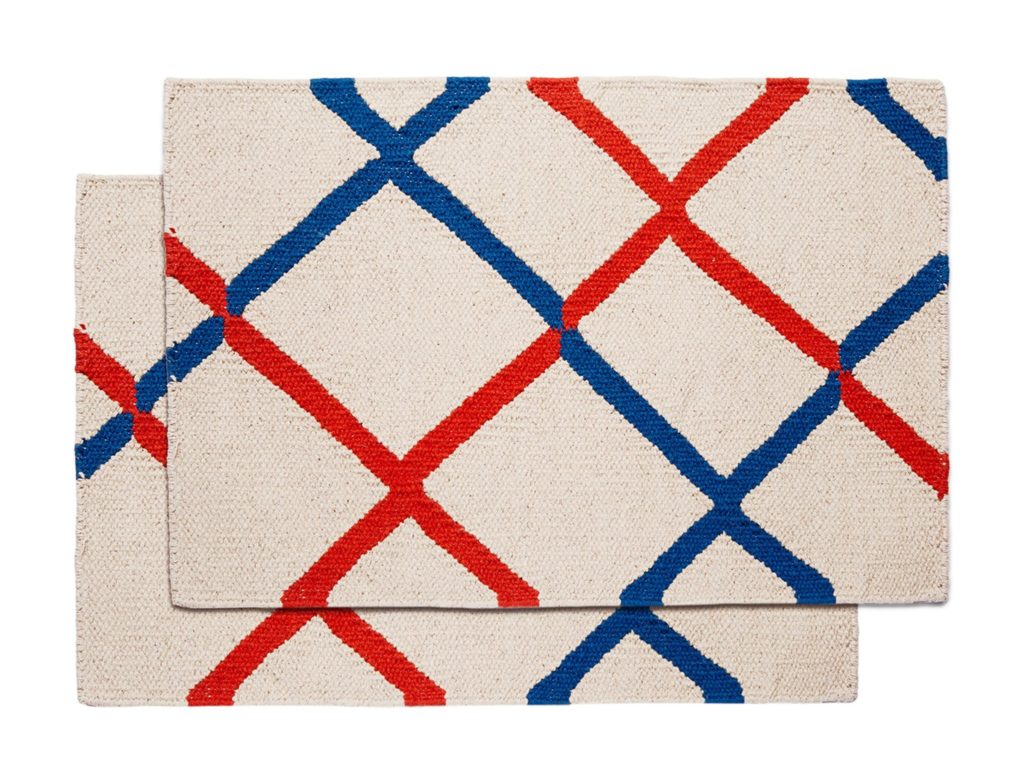 Navy and red make an appearance again, in the shape of these fresh cream criss-cross placemats. Coming in sets of two, they're sufficient for a smaller household. And with a slightly nautical vibe, they're ideally placed to dress a harbourside home or seaside holiday let.
Le Jacquard Français – Palais Royal Tablecloth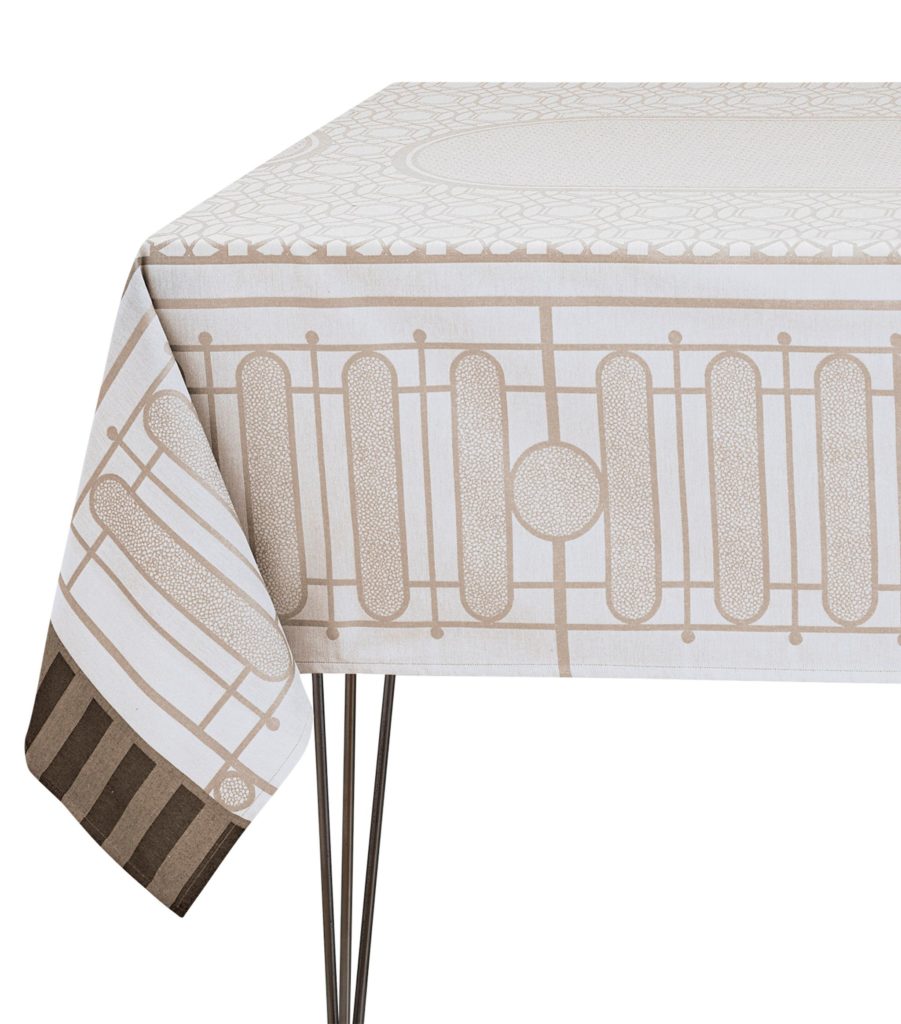 Based on France's 300-year-old landmark, the Palais-Royal, this is an elegant and regal piece. Referencing the palace's galleries, gardens and theatres, it's also reminiscent of Parisian artist Daniel Buren's signature bands. It's a more neutral and muted alternative to Le Jacquard's Bastide tablecloth.
Le Jacquard Français – Nature Urbaine Tablecloth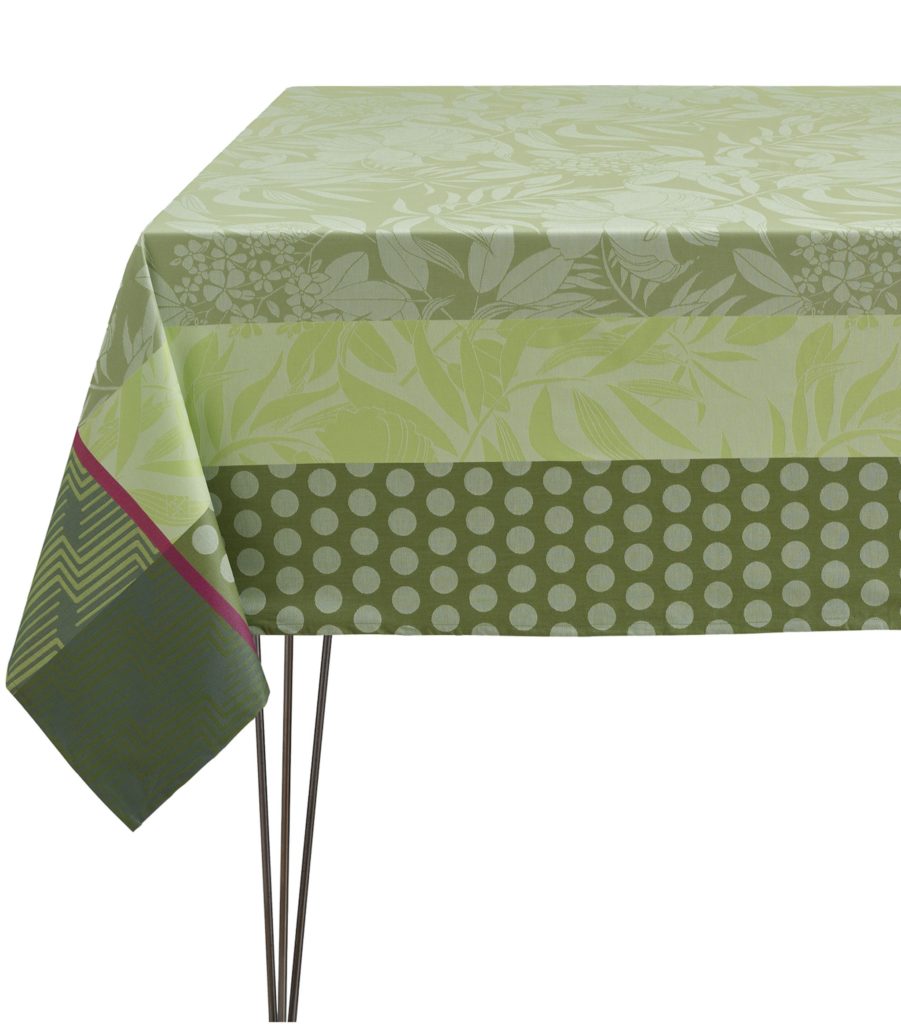 The eco-friendly answer to outdoor dining, this stain-resistant tablecloth will be used time and time again, withstanding the spills and drips of even the most ebullient garden gatherings. Natural floral motifs work with the geomatics to create a playful, yet up to date look for your patio furniture. Matching items are also available to purchase.
Alexandre Turpault – Florence Tablecloth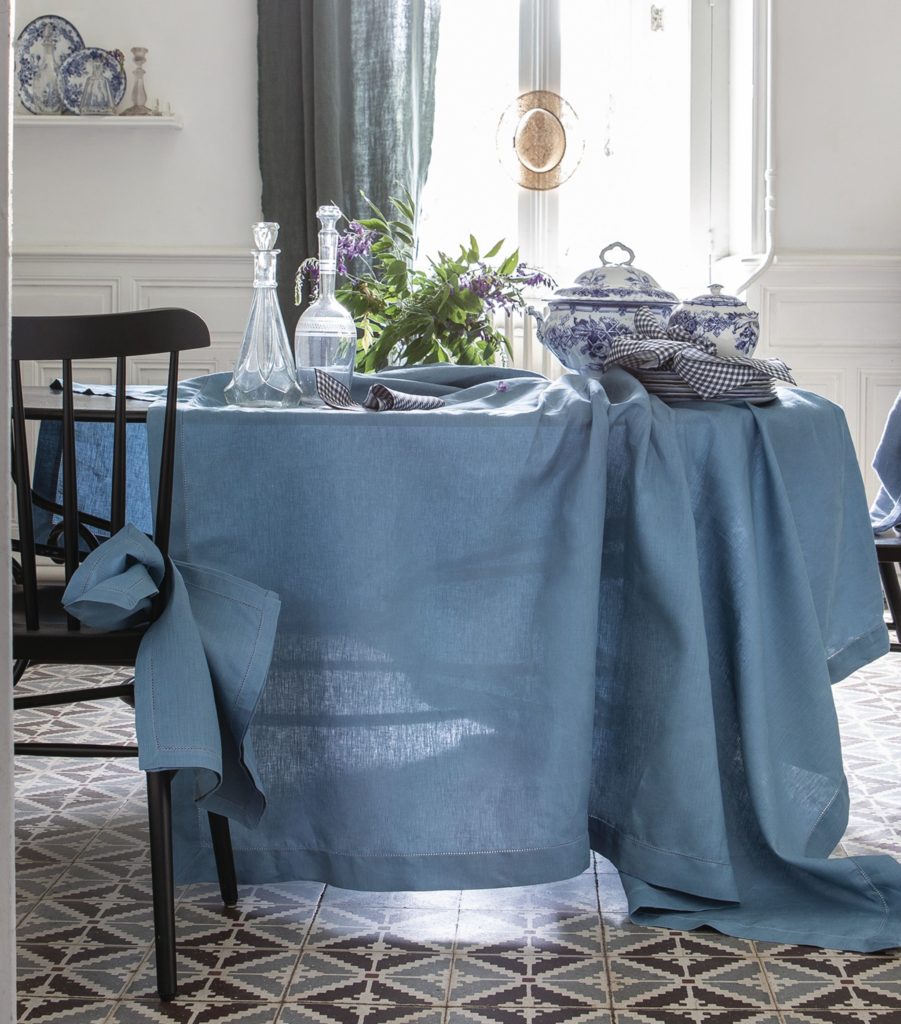 If you want a wrinkle-free table, iron this Turpault piece while wet, to ensure an immaculate, seamless and classic look. The deep Agean blue colour is enveloping and ideal for trendy dinner parties. Handmade in France this luxe machine washable cloth is made from carefully dyed linen.
Vita Kin – Floral-appliqué Linen Dining Set
Make your table a taking point by investing in this fabric dining set made using the traditional Ukrainian embroidery technique of vyshyvanka. Artisan floral appliqué is sewn onto the set of two napkins, placemats and coasters. The linen canvas material is then trimmed with topstitching and a mustard-yellow border for an authentic, unique finish.