At the far eastern reaches of the Dominican Republic, Punta Cana is found where the Caribbean Sea meets the Atlantic Ocean. Here you'll find Cap Cana, an exclusive gated resort which boasts an excellent range of facilities and activities including the Jack Nicklaus signature golf course, windsurfing, kayaking and yachting – and many fine dining restaurants, bars and boutiques. Combine this with shallow shores, crystal-clear waters powder-soft white sands and locally produced rum, and you have a recipe for a paradisaical, quintessential Caribbean getaway.
Yarari Royale
Yarari Royale is one of the finest properties in Cap Cana – a luxury resort in Punta Cana. The nine-bedroom villa works well for families — with one of the bedrooms containing two queens and two twin bunk beds. For those travelling in smaller groups, the villa can be booked as a six, seven or eight-bedroom property, as well as the full nine bedrooms (all of which are en-suite). With a TECHNOGYM, a hot tub, a jacuzzi, an outdoor pool surrounded by plush cabanas, a beach concierge, pickleball/basketball courts, and a games room, guests can be as active as they wish. Full or part catering is provided, according to your preference, with multiple menu options and themed banquets can be prepared by your personal chef and a daily maid and butler service is also provided. Yarari Royale is bright, modern and cutting-edge in design, inviting you to fully relax and let the staff attend to your every need.
Villa Corales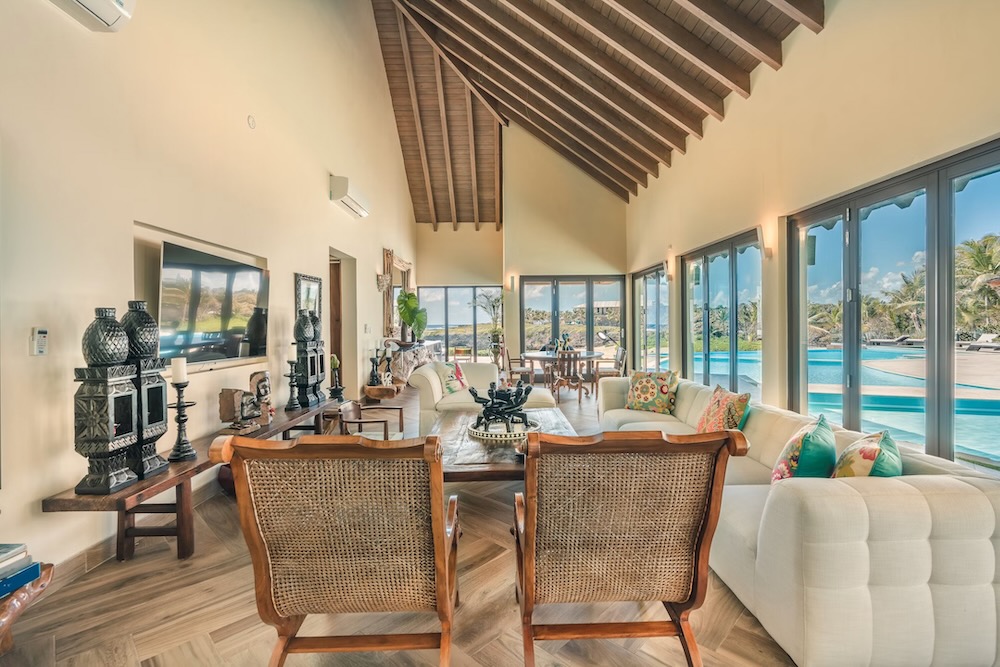 Set in a private gated resort, Villa Corales is a beautiful seven-bedroom villa, spread across multiple pavilions, which can accommodate up to 16 guests., High ceilings and subtle yet stylish décor give a chic feel to the indoor spaces and the airy layout with sprawling sea views bring the outdoors in. With a wrap-around swimming pool, freshwater hot tub, lounge terraces and gazebo dining space and complimentary bar means Alfresco living is the best way to enjoy Corales. The well-manicured lawn extends onto a shallow cliff that juts out spectacularly over the turquoise Caribbean Sea and a private soft white-sand beach complete with sun-loungers can be accessed directly from the villa. For guests who enjoy an active holiday, there is an 18-hole golf course with the gated resort. Or venture slightly further afield to find tennis courts, horse-riding, deep-sea fishing and many different water sports. A dedicated butler, private chef and housekeeper are all available for guests comfort and convenience. This truly luxurious villa is the perfect choice for family reunions, wedding parties or corporate getaways alike.
Sirena Blue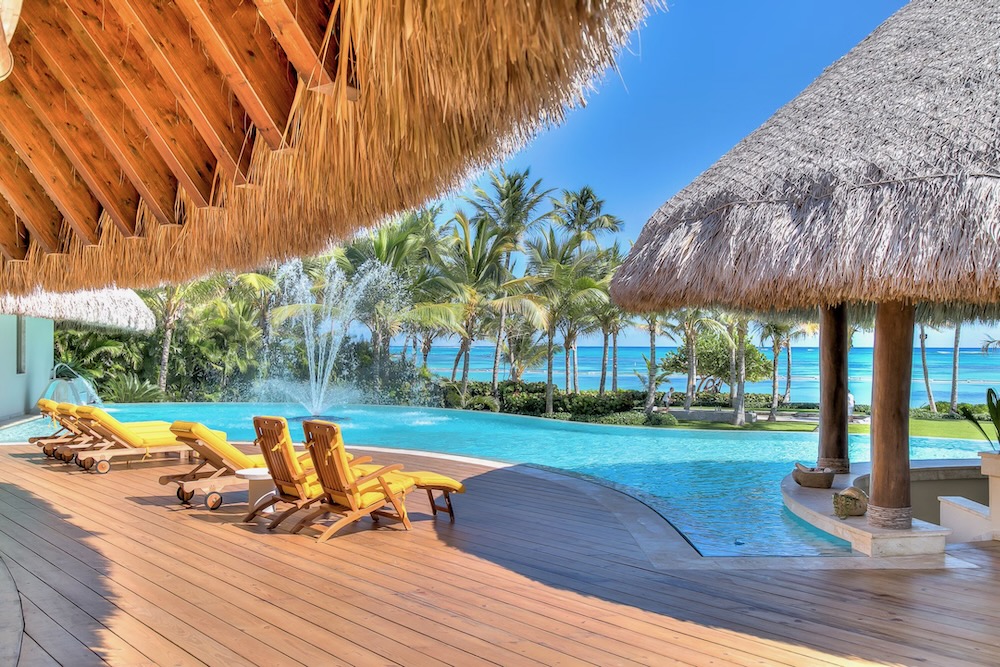 Sirena Blue is a breathtakingly beautiful villa on the glistening shore in Punta Cana. The beachfront home, which presents five themed bedrooms and can accommodate up to 14 guests, was designed by architect Antonio Imbert with sophisticated and colourful interiors curated by Patricia Reid. The vibe of the villa takes inspiration from travelling the world and the inside spaces are almost an adventure in themselves! Outdoors guests will find a large wrap-around swimming pool, with a swim-up bar set under a salient pavilion along with an expansive lounge and dining terraces – equally ideal for entertaining and relaxing. Manicured lawns, beautiful views, grand palms, and the shimmering ocean all add to the natural charm of this luxurious villa. A private chef, butler and concierge are all available for guests' convenience – ensuring that a stay at Sirena Blue is carefree and contented.
Las Hamacas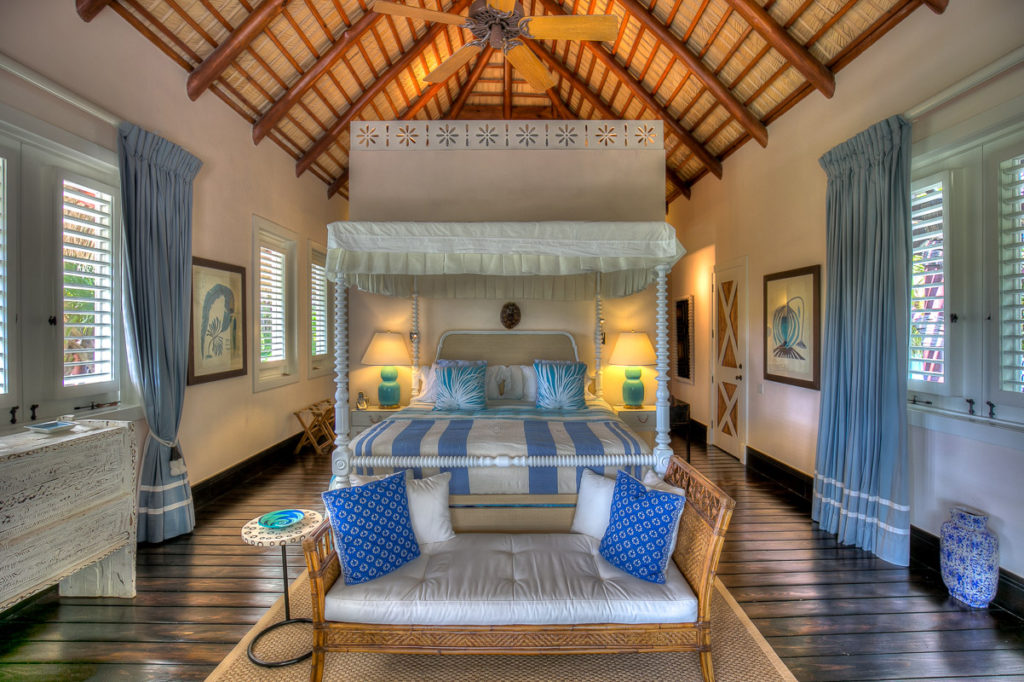 Las Hamacas is an exquisite beachfront villa is the upmarket gated resort of Cap Cana. Featuring six bedrooms, each with en-suite bathrooms and walk-in wardrobes.
Inside the living rooms are spacious and well-designed boasting the latest technology throughout and a games room will provide extra fun. Outdoors guests can enjoy relaxing on the expansive two-level veranda, which is open on all sides and offers sweeping views of the beautiful area and is ideally set up for wining and dining. Guests will find many inviting hammocks, some beachside, on the estate and they are the perfect place to kick back and take some time out. The infinity pool is a real highlight and looks out across the immaculate lush lawns towards the beach where sea kayaking and lots of other water sports can also be enjoyed. This exceptional villa also offers a full-service staff including, a maid, cook and butler service – all the makings for a five-star holiday.
Villa Dominguo
Villa Dominguo is a sleek stylish and extremely spacious villa comprising nine bedrooms, nine bathrooms and can accommodate up to 20 guests. The sizeable swimming pool is at the centre of the villa with poolside loungers, and extensive dining spaces – both inside and out – and all accommodation is considerately designed around it. Guests can take time out to relax in the Jacuzzi, enjoy a shaded game of billiards, or work up a sweat on the villa's volleyball court and private gym. Enjoy a grilled feast with a BBQ or allow the personal chef to cook up exquisite meals designed entirely to individual guests' tastes. A concierge team is available for the convenience and comfort of guests. With all the five-star facilities Punta Cana offers, Villa Dominguo is the stylish home for a five-star holiday in the Dominican Republic.