As winter beckons our thoughts turn to the ski season. Quality, functionality and safety are big considerations for accessories. But looking chic and stylish with the best kit is, after all, part of the joy of ski too. Here are this year's must-have luxury items for the slopes.
The Watch: Richard Mille  RM 67-02 Alexis Pinturault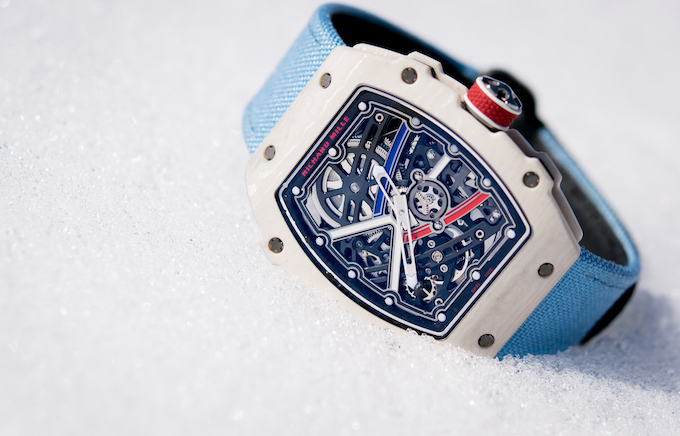 Swiss watchmaking brand, Richard Mille, is known for combining the best in technical innovation with fine craftsmanship. Each timepiece undergoes extensive testing in the most extreme conditions for which the watch was designed to be used with a number of models taking the name of the partner who tests the piece. The slim and compact RM 67-02 is the perfect choice for snow sports enthusiasts. Its composite materials ensure the kind of ergonomic comfort that's made it a favourite with the French Alpine skier Alexis Pinturault who doesn't part with it whether during training or racing down some of the most dangerous slopes in the world. Each case is made up of quartz and carbon, features a defined indented bezel, a bowed back that hugs the wrist, four distinctive protruding screws, gear teeth design unique to Richard Mille and parts polished by both diamonds and the human hand. The RM 67-02 is especially good for winter sports, as its chronometric characteristics enable it to equalise any discrepancies caused by thermal changes. And at a mere 32 grams, this watch won't weigh you down. Nor will it let you down. But with a striking signature aesthetic and fine detail, it will get you noticed on the slopes and après-ski.
The Helmet: Head Stivot Race Carbon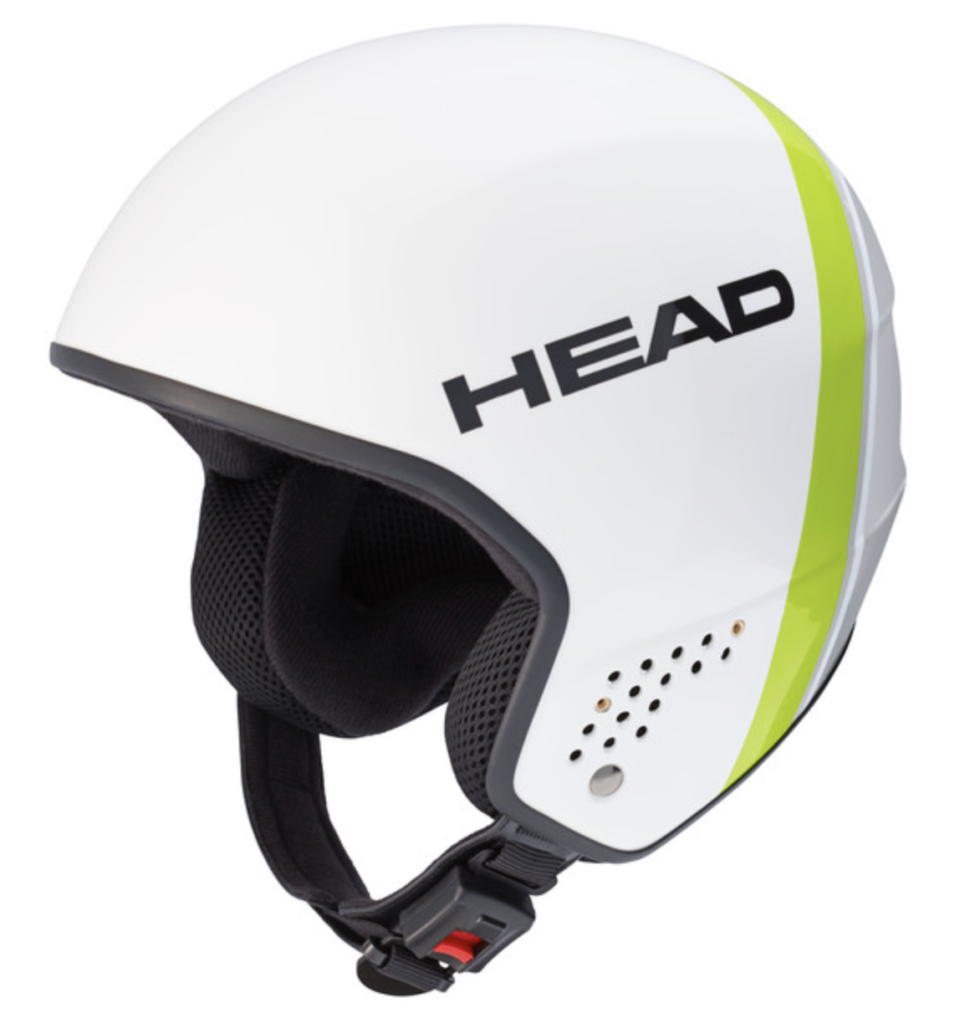 This classic longstanding brand might be most readily associated with tennis, but in fact, manufactures everything from swimwear to racquetballs and has a strong ski and snowboard kit range. If you ski for speed this aerodynamic, dual-density helmet can't be beaten. It's worn by the HEAD world cup rebels, with a full shell constructed from carbon to make it safer, lighter and quieter for the wearer. Soft microfleece lining also provides comfort, keeping out the cold, but also letting any unwanted moisture out (because when you're moving this fast, you're going to break a sweat).
The Goggles: Oakley Airwave
Oakley needs no introduction as a market leader for eyewear. And these are some advanced goggles perfect for ski-jumpers. A built-in widescreen display with HD optics gives you access to height, distance and airtime analytics, along with maps, music and tracking info. Prism technology provides crisp graphics and multiple lenses optimise viewing for a variety of conditions. Check out your performance stats, measure your jumps and search for the best runs in the area. The Oakley Airwave 1.5 Goggles Hyperdrive with Fire Iridium is a computer for your face.
The Video Camera: GoPro Hero8 Black
Get creative with your adrenaline-fuelled footage from the slopes. Go Pro launched its first action camera back in the US in 2002 and now has a range of apps and editing software. Hypersmooth 2.0 stabilisation, built-in mounting, waterproof tech and horizon levelling copes effortlessly with the thrills and spills in real-time. Add night lights, blurring, shredding effects, sound and select from the four available digital lenses or multiple speeds. With this level of kit, your ski experience videos will be even more impressive than the real thing.
The Gloves: Fission SV
Innovative Arc'teryx believes in always finding 'a better way'. Their mountain pro collection has been designed in conjunction with rescue, guide and safety personnel for the ultimate in durability and efficiency. The Fission SV gloves sport a Fortis 1.0 outer, Gortex inserts with leather overlays, a moisture-managing liner, Primaloft insulation and Eco grip control. Easy to slip on and off as they're DWR treated, Fission SV trap heat in and offer a precision fit, while webbing loops enable the gloves to be clipped –  meaning you'll never lose them during a lunchtime fondue pit stop.
The Base Layer: SmartWool Nts Mid 250 Zip Thermal Base Layer
Since relatively humble beginnings making Merino wool socks in the 90s, Smartwool has risen as a sustainable, eco-friendly, tour-de-force in the winter sports world. The designer team is intent on providing performance garments with longevity, making all-day sub-zero adventures cosily possible. This breathable NTS Mid 250 Zip T features a soft interlocking knit that regulates body temperature and resists unwanted odour. Flatlock seams reduce chafing, meaning you can ski longer and harder in comfort. And with a 100% satisfaction guarantee, they're pretty certain you're going to love this base layer.