The southwestern maritime town has seen dramatic change over the past few decades. Once a stronghold of the industrial revolution, it's evolved into being a premier city break destination and star of the small (and occasionally big) screen. Bristol bursts with culture – it has many highly respected leading theatres, gave birth to several famous bands and has a longstanding art scene (this is famously Banksy's hometown). Cafe culture is everywhere, as are a huge variety of bars and top-class restaurants. And while beaches are within reach, you can swim in the sunshine at the city centre lido and spa.
Eat
Wilsons
An unassuming, 24-cover restaurant in Redlands, Wilsons is a gem amongst Bristol eateries. With a Michelin Green Star and their own farm that supplies all of the fruit, veg, and herbs to the restaurant, the set menu is written each week and based around the harvest. Head Chef Jan Ostle helps to create inventive, technical dishes, like Onion custard with smoked eel and pickled onions and Mallard, beetroot and mole nergo, whilst partner Mary heads up the farm and wines.
Bulrush Restaurant
Michelin star hunters look no further. The Bulrush in Cotham may appear unassuming from its understated little blue exterior, but this is a tour de force. Exclusively serving tasting menus (including a vegetarian one), diners here place their taste buds in the capable hands of Chef-Proprietor George Livesey. A simple decor of brick, whitewashed walls and bare floorboards contrasts the creative and deeply imaginative presentation of each dish – this is a good choice for those who enjoy artful edibles.
Kibou
One of four in the UK, this Kibou is found in Clifton Village, a beautiful Japanese kitchen serving bao buns, tempura, donburi, katsu curries, poke bowls, sushi, teriyaki, yaki udon and more. If you can't decide or enjoy a variety of flavours, opt for a sushi platter and a set of sharers. There's a children's menu too, including popular Japanese desserts like mochi ice cream and apple gyoza. And adults can indulge in a few cocktails or some sake. If it's a hot day and you'd rather eat your food outside you can order to go (the bento boxes are ideal for this). Taking inspiration from Tokyo, the venue is colourful and stylish, its entrance flanked by two blossom trees.
Casamia
Expect to be surprised when you dine here because the menus are not published in advance. What you get will depend on the season, the produce and what the inventive team fancy cooking on the in-house fire. What we do know is that it'll consist of approximately 20 (yes, 20) courses, so you'll need to set aside around three and a half hours for the experience. You get what you're given, which is part of the trust dining journey, but means it's not suitable for those with dietary requirements or a dislike of mystery. Lively and often loud, Casamia is a unique night out.
Paco Tapas
This restaurant is beside fellow Michelin star recipient, Casamia, And it comes from the same Sanchez family portfolio. Chef Peter Sanchez-Iglesias brings a slice of Andalucia in the form of vibrant tapas. Dine on the terrace, or at the eight-seater counter overlooking an open grill — the heart of the action. Decorated with period grey tiles and select Spanish prints, there's a sense of sophisticated heritage, echoed in the menus. Choose the Chef's Menu for a tour of Spain and be sure to accompany it with one of Paco Tapas' superb selection of Spanish wines. They also offer chilled sherries served straight from the cask. 
Bianchis
Family owned and run, it's separated into four areas, with each named after the Bianchi sisters: Frances, Anna, Dina and Vittoria. This restaurant is steeped in Italian heritage, Bianchis' wine list is dedicated to the family patriarch Aldo and the kitchen to Nonna. It's found in the Montpelier neighbourhood and serves meals comprising up to five courses, fusing flavours from the homeland along with ingredients from the southwest. Lunch deals – with an optional glass of vino – are hard to beat and the rustic-chic interiors provide a sophisticated backdrop for a meal. And if you just want a natter with friends, pull up a chair at the bar and tuck into some antipasti and aperitivos.
Lido Restaurant
Sliding floor to ceiling glass doors looking out onto the large pool that is Bristol's glamorous lido, provide tables with the best seats in the house. It feels much like being abroad, a far cry from the city's gritty industrial past. Pop in for a pre-dip breakfast, a relaxed lunch post-swim, or dress up for a tapas evening meal. There are a few seats right beside the water, with most indoors, split across two floors. An Italian clay oven is used for cooking sophisticated dishes like oak-smoked Rubio gallega beef, 36 months aged parmesan malfatti and Devon scallops.
Klosterhaus
Found in the landmark Grade I Listed Friary Building at Broadmead, this is a convenient place to stop for lunch during a day's shopping — and a chic outdoor terrace means you can soak up the sun with a glass of vino in hand on a summer's day. The award-winning interior is set out over two floors and includes a collection of stunning art works. German and local craft beers are served courtesy of the Bristol Beer Factory and the food menu focuses on Mittel-European classics and much loved traditional German dishes inspired by Klosterhaus chef, Bjoern Wassmuth's own heritage.
The Primrose Cafe
30 years of custom (under the same ownership throughout) has seen this become one of the city's most sought-after cafes, found in the Clifton Arcade. Food is almost exclusively made on-site and to order, from locally, sustainably and ethically sourced ingredients. Therefore the kitchen can cater to dietary requirements and children's tastes on request. In addition to the main menu of breakfast, brunch, lunch and snacks, there is a blackboard of daily specials. Here you can people-watch in its sunny enclave, or hideaway in the Primrose Cafe's private roof garden at a wrought iron table (the rooftop is open during the summer season).
Lunch at the Artist Residence
Once a factory, this boutique hotel is housed in a Georgian townhouse in the vibrant St Paul's district. But you don't have to be a guest to pop in for lunch at the stylish venue. The Boot Factory is the Artist Residence's all-day eatery, named after its former life. Diners can order brunch, pizza, bar snacks and trendy cocktails, relaxing among the shabby chic, creative surroundings and industrial accents that reflect its heritage. There's a warming fire to cosy up beside and oodles of funky artworks to admire. Bookings are required for brekkie, but after that, it's walk-ins only. 
Do
Bristol Cathedral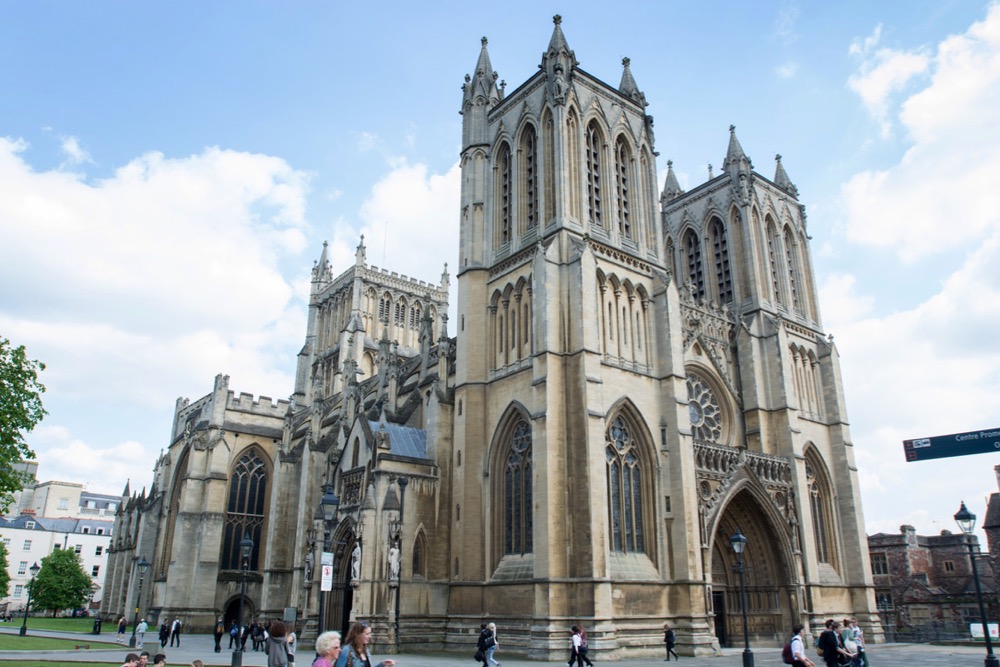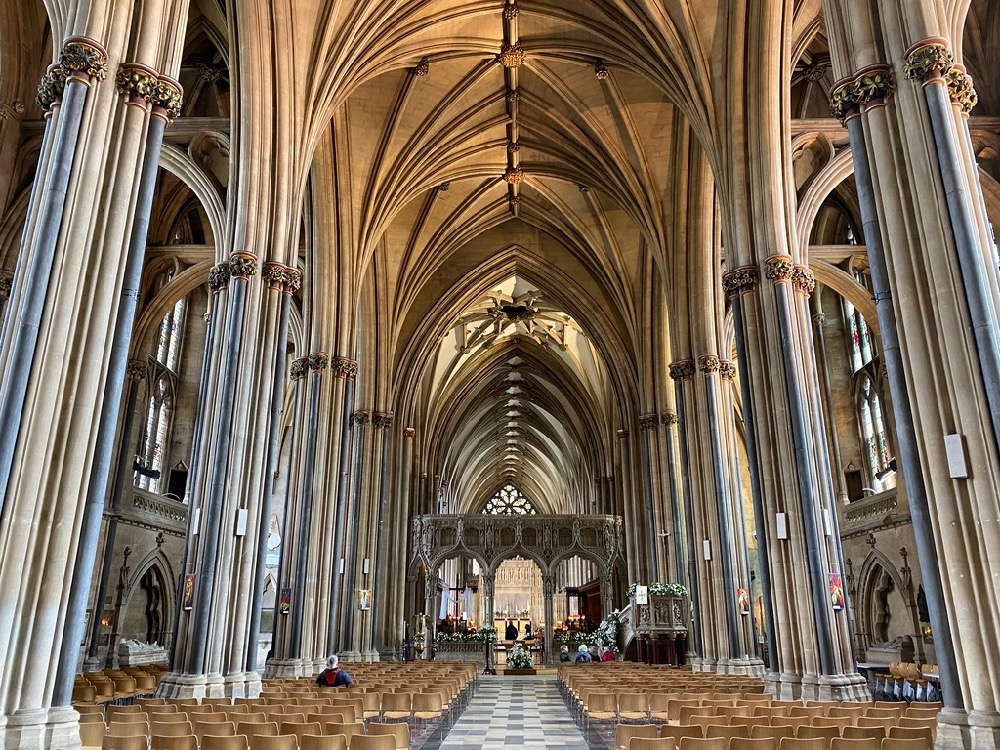 Unique as the nation's only hall church Cathedral, this place of worship is found on College Green. It was once a medieval Augustinian abbey, a heritage that's been reflected in Chapterhouse Gin; a liquor brand inspired by the building and part-funded by the Friends of Bristol Cathedral. Admission is free and the campus comprises a peaceful garden and a cafe. It holds regular film screenings, recitals and concerts, offers guided tours and you can listen to the bell ringing or organ practices if you time it right. The poet John Betjeman once said, "it has one of the best cathedral interiors in England".
Brunel's SS Great Britain
The godfather of the industrial revolution, civil engineer Isambard Kingdom Brunel, displayed two significant feats in Bristol. One was the Clifton Suspension Bridge, the other, was his steamship, the SS Great Britain. Long praised as the city's premier attraction, the site comprises two museums, a historic dockyard, a dry dock and the world's first great ocean liner. Here you can learn more about this game-changing vessel, its design and what life was like for those lucky enough to sail on her. Suitable for ages, the venue also offers occasional ticketed afternoon tea events and calm sensory morning sessions.
Visiting Clifton, Clifton Arcade, Antique Shops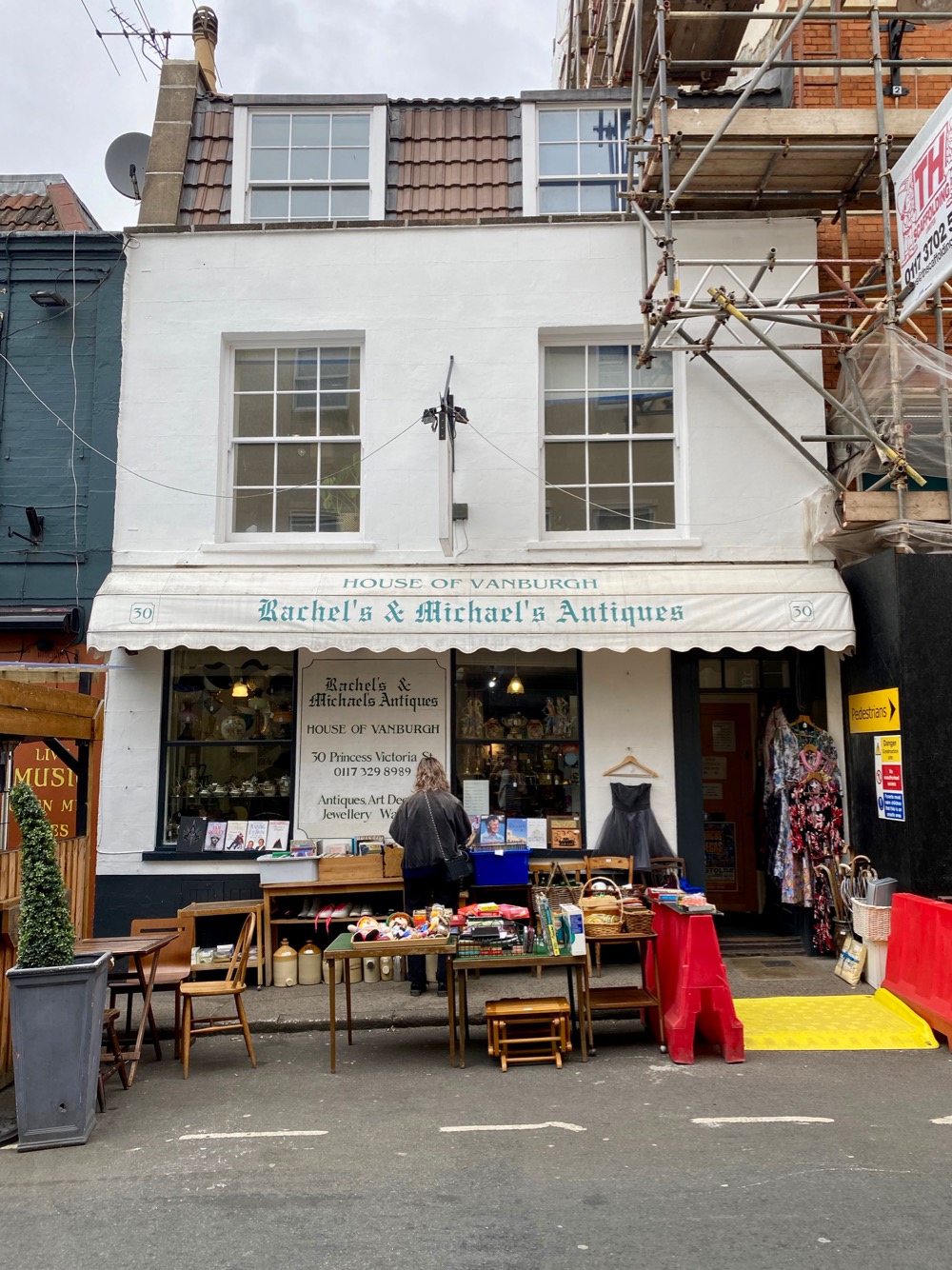 Clifton Village is a wonderful spot to while away an afternoon. Its independent vintage and antique shops are a delight to peruse and it's well worth starting your jaunt at its Victorian Arcade. Here you'll find 17 boutiques selling high-quality gifts, antiques, jewellery and fabrics, in addition to modern art galleries, interior gardens, hairdressers and purveyors of fine teas. On a sunny day, the light streams through the glass ceilings, while on a rainy day you're sheltered from the elements in this charming little enclave of the city. The architecture itself is worth admiring, dating back to the late 19th century and designed by a self-taught architect. 
Clifton Suspension Bridge And Visitor Centre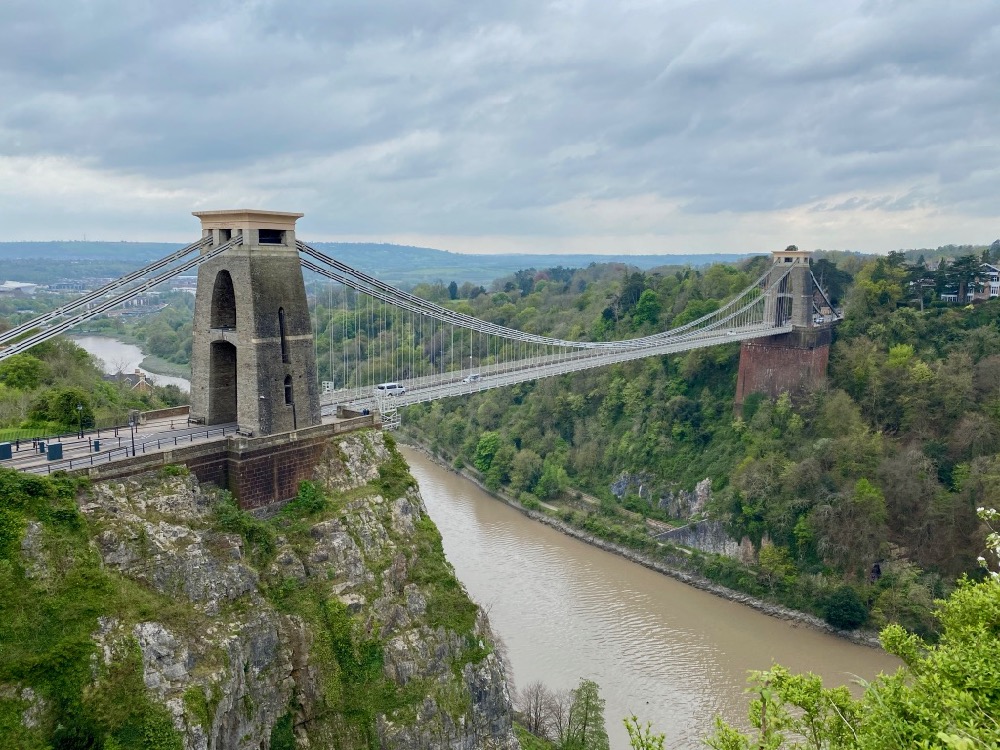 It is the most commonly used landmark for Bristol imagery – the suspension bridge whose feat of engineering brought international admiration several hundred years back. Take a trip away from the city's heart to see it up close and find out more about its implementation and creator, at the free visitor centre, accessed from the North Somerset (Leigh Woods) side. From here you can also join a 45-minute talk and tour of the construction that's provided at weekends. Or you can stroll its span yourself, crossing from Clifton, over the Avon Gorge into the Somerset countryside.
Clifton Observatory And Cave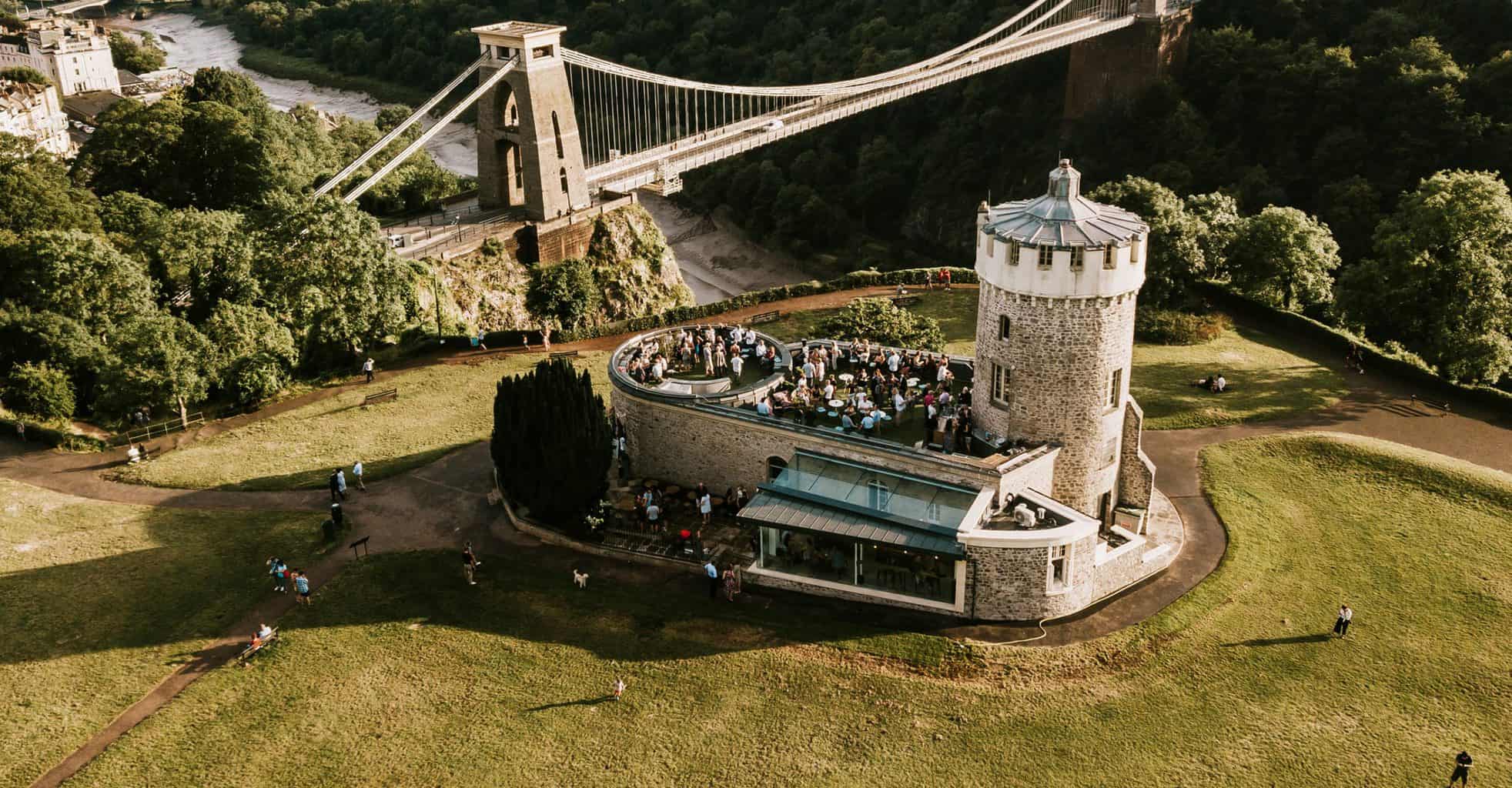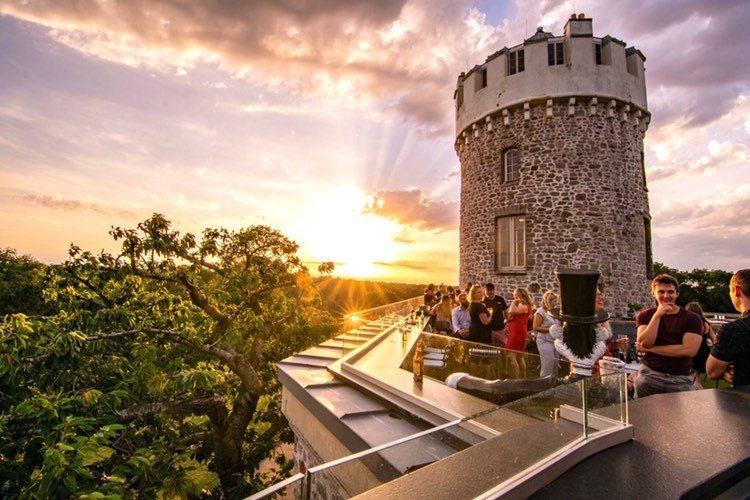 A natural cave that's buried into the limestone cliffs, you may also hear the Giant's Cave referred to as Ghyston's Cave or the Foxhole. Part of St Vincent's Rocks in the Avon Gorge (local folklore says that this is home to mythical giants Goram, Ghyston, and Avona) it's accessed via the Clifton Observatory. To get there you'll take a steep descent through underground passages down 130 steps. Then as you pop out into the cave, you'll be rewarded with epic views across the Gorge. The newly restored venue also includes a museum with the Camera Obscura and the 360 café.
M Shed
This is a tourist attraction encompassing all of Bristol's heritage. From prehistoric times right up until the present day, the happenings of this city are detailed for visitors to peruse. Naturally, there's a large emphasis on its maritime and industrial roots — this building itself is a docklands warehouse on Princes Wharf. And there are some large working exhibits – trains, cranes and boats – outside. Tickets should be booked in advance but are free, with the option of making a £5 (or larger) donation. Toilets, a cafe, buggy park and babycare amenities make it a great choice for young families and there are excellent accessible facilities.
Underfall Yard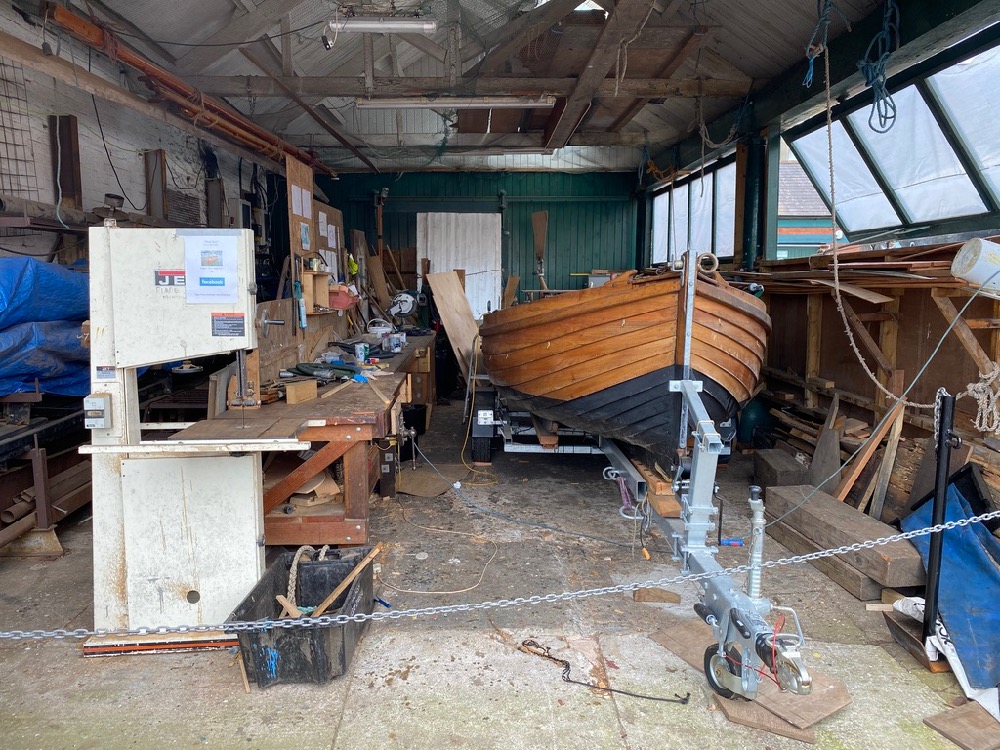 Bristol's Floating Harbour was conceived in 1809, with Underfell Yard a vital component of its challenging creation and maintenance. Now it's also home to boatbuilding, marine engineering and metalworking businesses, as well as the Harbour Master and the Docks Engineer. After funding from a number of sources, a visitor centre was added in 2016, allowing members of the public a glimpse into the workings of this harbour through hands-on displays. The attraction is educational, particularly for those seeking to gain a greater understanding of maritime engineering, and explains concepts like water level management and hydraulic power, through interactive displays.
Arnolfini Gallery
This is another of Bristol's harbourside attractions, but this time it's dedicated to interdisciplinary art practices, rather than industrial processes. The Arnolfini Gallery was first established in 1961, becoming a leading centre for contemporary arts. On Narrow Quay, housed in a Grade II listed and accessible building, it has a range of static displays, temporary exhibitions, workshops and events. Storytelling, spoken word, film (including silent), dance, music and seminal cross-genre performances are all on the programme, with themes of wellbeing and inclusion at the fore. Arnolfini also has a harbourside bar and a renowned book store on site.
Bristol Museum and Art Gallery
Every city has its major big museum and this is Bristol's. Set across three floors, its main permanent exhibitions cover: Egyptian mummies, South West wildlife, dinosaurs, rocks, art, crafts, local and international artefacts, paintings, pottery and glass. Famous names like Grayson Perry often have pop-ups here, alongside emergent local artists and the huge main hall features stunning displays year-round. Ideal for families, there are always extra activities provided during the school holidays, with plenty of opportunities to interact with certain exhibits. Entrance is free, but it's advised to book a timed entry slot before you go. 
Take a Banksy Self-Guided Tour
Arguably the most famous artist of our time and certainly the most mysterious, the enigmatic Banksy is said to hail from the city. In this self-guided tour from the activity organiser Where the Wall, you can discover stories and tales narrated by John Nation, in A Piece Of…BANKSY. You'll see spots you'd never have uncovered by yourself and get an insight into the man, his inspiration and his work. And you can do it at your own pace, on your schedule. The tour – covering 13 locations  – was created during the pandemic and is accessed via your mobile phone and accessible for 24 hours. 
Sleep
Avon Gorge Hotel Du Vin
Clifton Suspension Bridge and the Avon Gorge are among the most iconic landmarks in the city. Stay at the Avon Gorge Hotel Du Vin and you'll be afforded front-row views of them. The heritage building on Sion Hill was once a spa, with its steam pumps, the original marble and stained glass windows preserved as part of the sleek refurbishment. Its White Lion Pub has one of the largest terraces in the southwest, with an urban industrial-chic interior and there's an art-filled cocktail lounge. Goram and Vincent is the main restaurant, featuring an open kitchen replete with coal-fired grills, a smoker and bespoke clay ovens.
Bristol Harbour Hotel & Spa
Set in a Grade-II listed building that once housed the Lloyds and Midland Bank, the interior of this grand hotel was inspired by Jacopo Sansovino's High Renaissance library on St Mark's Square, Venice. Rooms and public spaces have pops of bright colours, fashionable patterned wallpapers and lashings of vintage-esque glamour. Venture below ground to the 'vaults' and the hotel's HarSPA for some hydrotherapy and treatments featuring TEMPLESPA products. Dine on seafood and British classics at Harbour Kitchen and take a seat at the art deco style marble countertop of The Gold Bar speakeasy, for some magical mixes and live tunes from DJs.
Berkley Suites
Also a Grade-II listed property, the Berkeley Suites form a selection of elegant apartments. Guests staying at the suites enjoy access to the private members' club The Square (incorporating the renowned Square Kitchen), as well as the gym and spa facilities at nearby the Nuffield Health club. In-room workspaces, bespoke kitchen units hidden in Georgian style dressers, cinema projectors, Delonghi espresso coffee machines with milk frothers, fluffy bathrobes, Elemis toiletries, Vi-spring beds and video painting installations set these art-focused self-catering apartments apart. The venue has been awarded the Condé Nast Johansens Award for Excellence for two years running now.
The Bristol Hotel
A member of The Doyle Collection, The Bristol offers high standards of service in a thriving location, with 187 guest rooms. It's a modern hotel, overlooking the activity of the city harbour in this stylish, arts-centred district. Picture windows make up the frontage of The River Grille Restaurant, providing diners with front-seat waterside views as they feast on steak and seafood. While The River Lounge serves drinks and afternoon teas with a relaxing ambience. Previously named as the best city break hotel in the South West by The Sunday Times 100 best British Hotels, this is a great base for soaking up the city's many delights.
No 38 Clifton
This hillside Georgian merchant's house looks across to the verdant Downs on one side and Clifton village's colourful houses on the other.12 bedrooms have a gentle maritime theme with bulkhead lamps, trunks, art depicting seafaring and deep blue hues. Bathrooms have REN toiletries, robes and suites have copper or tin soaking baths. Relax beside the log burner in a cosy lounge, or soak up the southern sun on the homely terrace. It's too small for its own restaurant and spa, but breakfast is served in bed, spa treatments can be arranged at the nearby lido and there's a choice of delectable eateries within a stroll.
Hotel du Vin Bristol
Found in a collection of converted sugar warehouses in the city centre, this is one of two Hotel Du Vin in Bristol – the other lies further out at Avon Gorge – As such, it has Grade II listing and is filled with quirky industrial features. Modern amenities found in the 40 bedrooms (set across three floors) include Nespresso machines, air conditioning and premium bedding as standard. Dine out on the terrace in good weather or enjoy the ambience in its award-winning French bistro. And enjoy a beverage or two in the aptly named Sugar House Bar. If you're planning an extra special visit, book the Veuve Clicquot suite with its twin bathtubs, or Harvey's for its private terrace.
Further Details and Getting to Bristol
For full details on visiting Bristol head to the Visit Bristol website visitbristol.co.uk
Bristol is well connected via Bristol Temple Meads train station with the journey time to London taking only 1 hour 30 minutes www.gwr.com.
Bristol Airport is a short 30 minute car journey with the airport offering frequent flights via Easyjet to the rest of the UK and across Europe. www.easyjet.com.