Secluded amongst landscaped gardens that lead onto the stunning Falesia beach one finds The EPIC SANA Algarve. This 5-star resort offers an intimate guest experience, ensconced in nature, close to the sea and beaches, with elegant suites, upscale dining at the spectacular Al Quimia restaurant, and a wellness spa specialising in residential retreats.
When I first heard of the 'EPIC' brand by SANA Hotels, I wasn't sure what to expect. It's sounds bold and intense. Yet there's nothing brash here. On the contrary, the property has a sophisticated ambiance balanced by the typically welcoming Algarve vibe that makes families and couples feel equally welcome.
The resort has thoughtful design with families rooms and one bedroom apartments having access to dedicated all-day dining and pools, whilst couples looking for a more romantic and private experience can book sea-view suites with large terraces in quieter areas of the property.
Natural Enclave
The EPIC SANA Algarve captures the essence of the Southern Portugal. It's landscaped grounds are punctuated with swimming pools, sun terraces and private corners, like days beds set in the shade of pines.
It's a spectacular setting
The gardens lead onto pine forests that in turns leads to the cliffs and the unspoilt beach, reached by wooden stairs
The EPIC SANA Algarve has 162 Rooms, 24 Garden Suites and 43 Resort Suites, as well as studios and family-friendly 'Suite Home' one bedroom apartments.
I stayed in a Deluxe Suite, with a terrace that overlooked the gardens, pine trees and onto the Atlantic Ocean.
Spacious, at 64m2, the suite included a bedroom, with private bathroom with (walk-in/Rain Shower) shower unit and bathtub, a living room, separated from the bedroom by a sliding door and a social bathroom. The living room features a sofa bed. So a suite can accommodate up to 3 adults (3rd person on the sofa bed) or 2 adults + 2 children up to 12 years of age, on the sofa bed. It's possible to have an extra cot too.
Dining in Portugal, especially in the south is always a treat
The local produce from the ocean and the countryside makes for some memorable meals, and the eating at the EPIC SANA Algarve is no exception. Options include the high-quality Abyad buffet restaurant; fresh Italian favourites at Lima; as well as gourmet fine dining restaurant Al Quimia.
Al Quimia Restaurant
It's always a pleasure to be surprised in this job – to enjoy a meal or a stay without any expectations and just to be totally 'wowed'. Well that was my experience at Al Quimia.
Executive Chef Luís Mourão, Sous Chef Ivo Bráz and the team create a wonderfully refined and elegant evening of fine food paired with exceptional Portuguese wines.
I experienced a magical evening, dining al fresco, overlooking the gardens and Atlantic pines
The restaurant has been exquisitely designed. The sophisticated interiors, flawless presentation, crafted Portuguese cuisine together with world-class Portuguese wines (selected by sommelier Hugo Ribeiro) combine to create an unforgettable evening.
This is a relaxed family resort and I wasn't expecting to walk into a Michelin standard restaurant, one that showcases the diversity and quality of Portuguese produce.
I opted for SYZYCY fish & seafood tasting menu.
Pre-starters included tiny tacos, a fun and creative way to set the scene for a fresh and tasty, light yet indulgent evening.
Homemade carob bread was super – crispy outside and super fluffy inside – a wonderful reference to the local region, where these ancient trees punctuate the landscape.
The main dishes included oyster, blue lobster, scallops, crab, cardinal prawns, and sea bass – quite spectacular!
Other gourmet tasting menus focused on local meat, as well as vegetarian dishes too.
Bluum Bar
The creativity continues in the on-trend Bluum Bar, specialising in molecular cocktails. The bar also has an active programme of events during the holiday seasons that include cocktail workshops, Gin workshops with pairings, live music and theme parties.
LIMA 'Cucina & Cocktails'
Family friendly dining is equally elegant at this relaxed Italian-style restaurant designed by interior architect Nuno Rodrigues.
Oak tables and chairs, hand painted tiles set the scene for a Mediterranean experience, with Portuguese produce and homemade pastas.
Wellness & Spa
Each 5-star EPIC SANA property has a Sayanna Spa & Wellness area offering guests access to impressive spa and fitness facilities, as well as complete range of treatments.
The EPIC SANA Algarve, with secluded accommodation, spread across the property, is ideally suited to offering dedicated areas for wellness retreats that can also include hiking, adventure activities and fitness.
The resort also boasts five outdoor swimming pools (two for children) and an indoor swimming pool, Kid's club, and sports complex.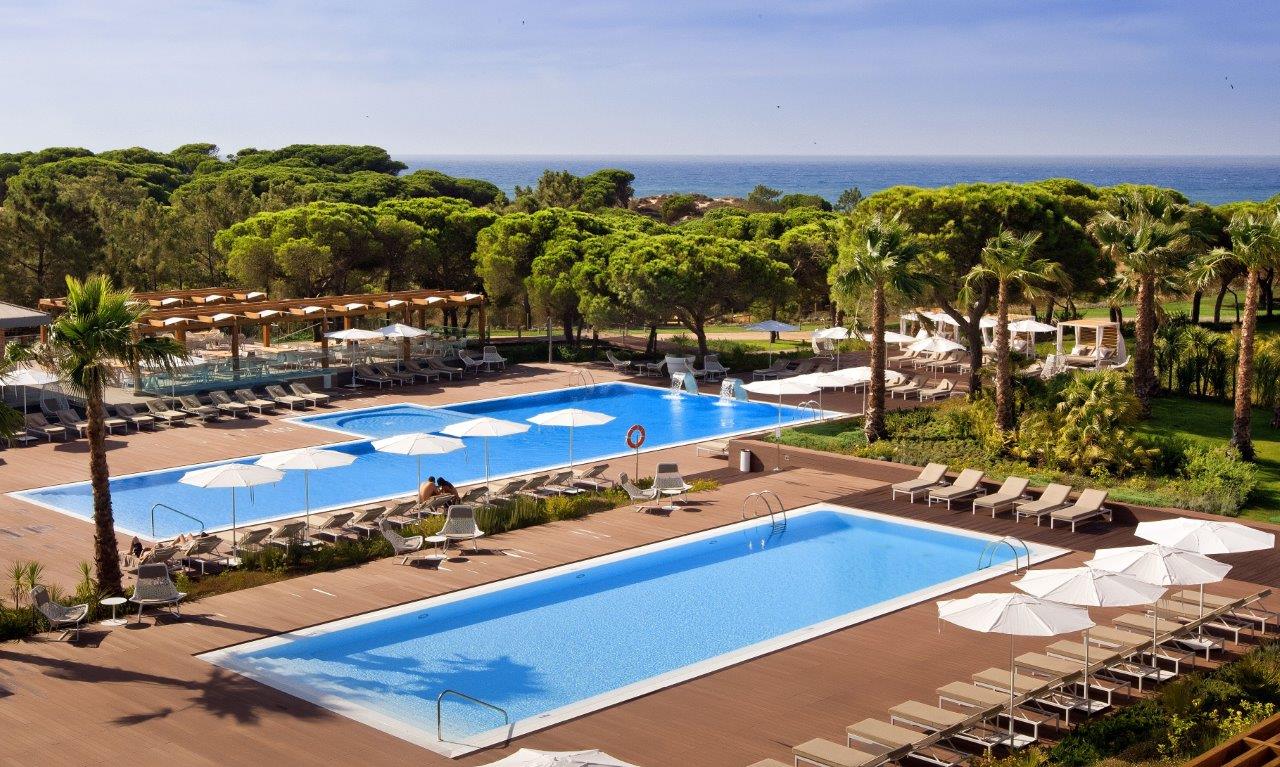 Attractions
Nearby attractions include the charming and historic towns of Faro old town, Tavira and Loule. In addition, golf is close by as well as of course, some of the Algarve's best beaches.
Information
The EPIC SANA Algarve Hotel reopens on February 16th 2021 – and offers 100% flexibility with bookings.
Address:
Pinhal do Concelho, Praia da Falésia,
Olhos de Água
8200-593 Albufeira, Portugal
Tel: +351 289 104 300
Email: info.algarve@epic.sanahotels.com
Website: https://www.algarve.epic.sanahotels.com/en/