The new 673-room Grand Palladium Costa Mujeres Resort & Spa is an upscale Caribbean resort that is particularly well-suited to families and multi-generational holidays, writes Andrew Forbes.
This spectacular property is part of Palladium Hotels' flagship Costa Mujeres all-inclusive resort, framed by beautiful nature, lush vegetation and coral beaches, about 30 minutes' drive north of Cancun, on Mexico's Caribbean coast.
The entire sea-facing resort encompasses 1146 luxury hotel rooms across two new five-star hotels – the 673-room family-friendly Grand Palladium Costa Mujeres Resort & Spa, and the 473-room adults-only TRS Coral Hotel, member of The Leading Hotels of the World; the world-class Rafa Nadal Tennis Centre Costa Mujeres; an impressive luxury spa & wellness centre; as well as an elegant resort village.
You can read our Profile Review of the TRS Coral Hotel, a Leading Hotels of the World property, here.
This upscale Costa Mujeres resort was officially inaugurated this spring and is one of most luxurious and sophisticated all-inclusive hotels in the Caribbean.
Grand Palladium Costa Mujeres Resort & Spa takes family holidays to the next level. Stunning pools, landscaped gardens and a white sandy beach makes for a spectacular setting.
The natural environment is reflected in the resort's contemporary architecture, with innovative use of vertical gardens; as well as a central lagoon that allows guests to shuttled from room to restaurant or from spa to bar aboard skippered electric boats. It's a fun way to get around if you don't fancy walking or taking one of the chauffeured buggies.
All-Inclusive Reimagined
Forget any preconceptions you might have about all-inclusive. No tacky plastic wrist bands and no watered-down drinks here. This property offers 5-star services, dining and accommodation, yet with the convenience of all-inclusive. Dining encompasses Mexican, Italian, Asian, and international favourites – there's restaurants and bars for all tastes.
Drinks are premium, dining includes a la carte signature restaurants, and resort wide access is made easy thanks to an elegant fabric designer wrist band that's also one's magnetic guest room key.
Guest suites are well designed and elegantly furnished – and expect a large terrace. In addition to the suites, there are fabulous swim-up suites and also duplex loft suites.
Families can also expect lots of thoughtful touches for their kids from beack kits, to their own towels and robes.
If you're looking to experience VIP service then opt for the Family Selection for an enhanced premium experience with access to the best sports facilities, fine-dining restaurants, an upgraded all-inclusive offering and also access to select facilities as the adults-only TRS Coral Hotel.
The Grand Palladium features 7 restaurants and 4 swimming pools, one of them exclusively for children. There's also kids' clubs.
Spa & Wellness
In addition, the resort offers impressive spa facilities, luxury water circuit and extensive treatment list at the world-class Zentropia Palladium Spa & Wellness centre.
It's a two-storey, dedicated space with an immense water-circuit, a sun terrace, infinite pool, juice bar, steam room, ice cave, salt cave, sauna and lots more.
The treatment rooms are elegant too – all you could want from a luxury spa.
Resort Village
The village is the social heart of the Costa Mujeres resort, where all guests can enjoy the diverse range of restaurants, bars, kids' clubs and more. There's an amphitheatre for live music, and even an architectural chapel for blessings and destination weddings.
Come sundown, there's even a little corner of Vegas in in this beautiful part of Mexico too – at the impressive show dinner at the Chic Cabaret Restaurant. This spectacular dinner show is a must to book.
Activities
The setting, at the north east of Mexico's Yucatan peninsula is a place of real natural beauty. Make the most of the Caribbean location with activities such as snorkelling, and diving.
If you're looking for the Caribbean as it used to be, the pristine protected beaches and the island national park of Isla Contoy are a very short excursion away – magical.
The Grand Palladium also has the best tennis facilities of any hotel in the world – its adjacent to the new Rafa Nadal Tennis Centre Costa Mujeres with eight clay tennis courts, a football pitch, a paddle court, gym, a Rafa Nadal exhibition & shop, and a bar/cafeteria. Here specialist coaches, from the Rafa Nadal Academy by Movistar in Manacor, provide unique tennis programmes for all ages, which have been developed by Nadal and his technical team.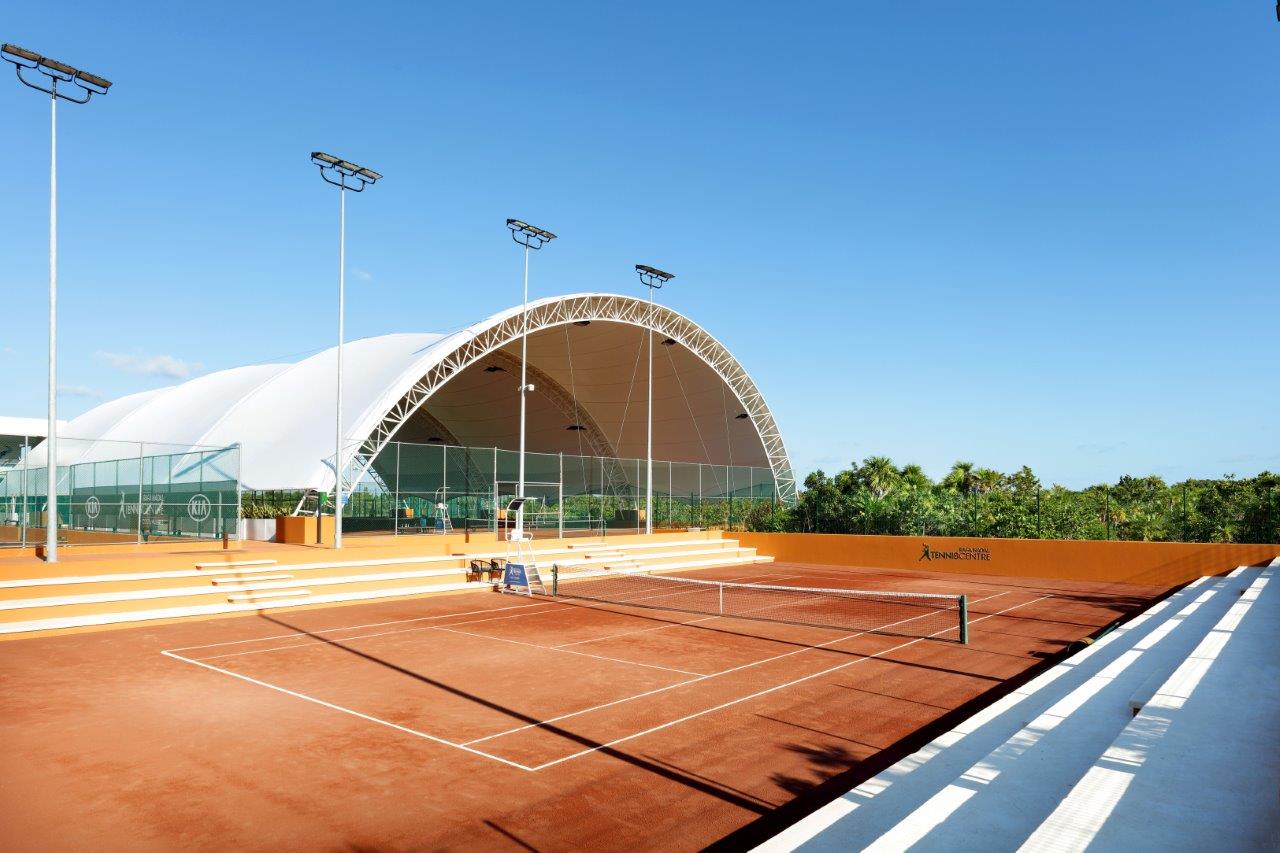 Read more about the Rafa Nadal Tennis Centre Costa Mujeres here.
Information
Palladium Hotel Group is a world-leading Spanish hotel group with 48 hotels in six countries: Spain, Mexico, Dominican Republic, Jamaica, Sicily (Italy) and Brazil and multiple brands: BLESS Hotels, The Royal Suites Hotels, Grand Palladium Hotels & Resorts, Palladium Hotels, Palladium Boutique Hotels, Fiesta Hotels & Resorts, Ushuaïa Unexpected Hotels, Ayre Hoteles, Only You Hotels, as well as licensed brand Hard Rock Hotels.