A Luxury Collection Hotel & Spa, where romance is in the air
From the sensuality of Spain to the allure of Portugal, it's probably unsurprising that the Iberian Peninsula has been such an inspiration to romantic writers, painters and musicians over the centuries; and has become nowadays such a popular destination for romantic breaks.
An hour's drive or so east from Lisbon is the UNESCO World Heritage city of Évora. This ancient, evocative place is brimming with charm and history from Roman, Moorish and Medieval times. A striking Roman temple for the Goddess Diana can be found in the city centre, many of its decorative ionic columns still standing, reaching towards the clear blue sky; whilst at another turn one can catch sight of beautiful, romantic Renaissance and Baroque architecture.
What to Expect
Close to Évora, I discovered the 'Convento do Espinheiro', a Luxury Collection Hotel & Spa. A rambling former convent, with historic cloisters, secluded patios and expansive grounds, it feels just right for a romantic break, wedding or honeymoon.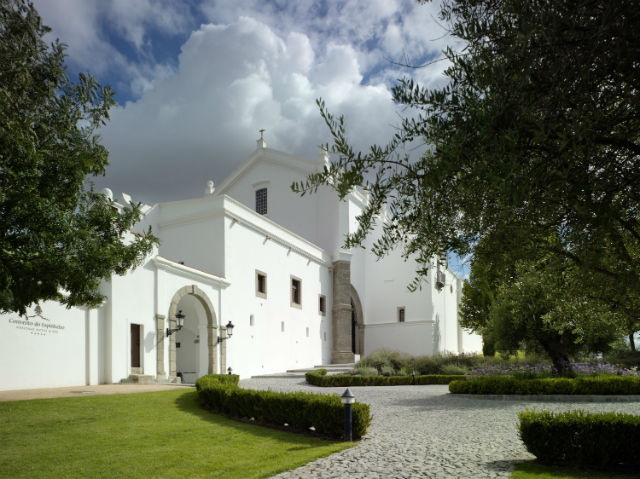 The property is a few minutes' drive out of town, down a quiet, country road passing olive groves and meadows.
Pulling up at the main entrance, the property is impressive. The fairy-tale style architecture has been painstakingly restored, and the grounds are manicured.
Check In and Welcome
A member of the reception team greeted me and took my luggage. Once inside reception, a local mint liqueur was offered, served from a vintage bottle chilling in a champagne bucket.
My file was already prepared and check in was swift. I was then taken to my modern, 'Design' Guest Room in one of the new wings, overlooking the gardens.
The Room
The resort has 92 guest rooms, with 6 different categories of room, including 6 large suites. The standard 'Heritage' rooms, as well as the cavernous 'Deluxe Suites' and the Duplex 'Royal Suite' are in the original 15th century convent, and feature classic styling and period detailing.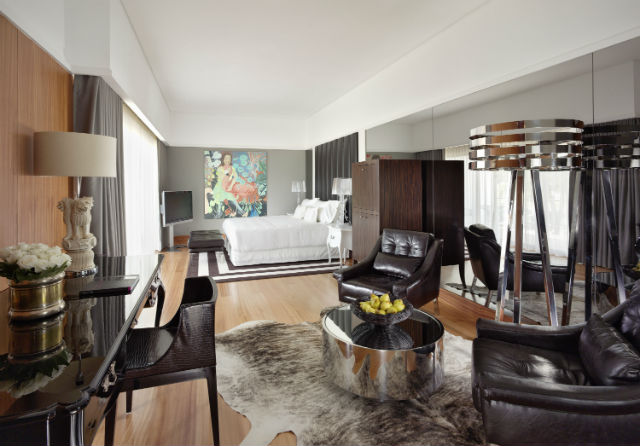 The contemporary 'Design' and 'Grand Deluxe' guest rooms are in the striking new wings. The corridors have muted lighting, a sensual feel with heavy curtains covering the walls, Venetian mirrors over elegant console tables in the outside room vestibules, and beautiful rosewood guest room doors and rosewood panelling in the room entrances.
My room had a 1950s Hollywood style with plenty of glamour – a far cry from the simple accommodation of the nuns!
It felt spacious, at almost 40 square metres, and had a king-sized bed immaculately prepared with crisp, flawless linens and embossed cotton pillow covers. The mattress was very comfortable, but it would have been nice to have had a deep mattress topper too.
There's a minibar but no Nespresso coffee machine or kettle for making tea.
Starck 'Bourgie' table lamps were either side of the bed, whilst opposite was a desk with chrome standard lamp, and an animal skin-print covered chair.
In front of the floor to ceiling terrace windows are two vintage style easy chairs, and a reflective low coffee table.
The overall look is sexy, bold and confident, quite a contrast with the classical, ecclesiastical setting of the convent, but it worked well.
The view from the room, over the private terrace with seating, is to the garden courtyards and olive groves beyond.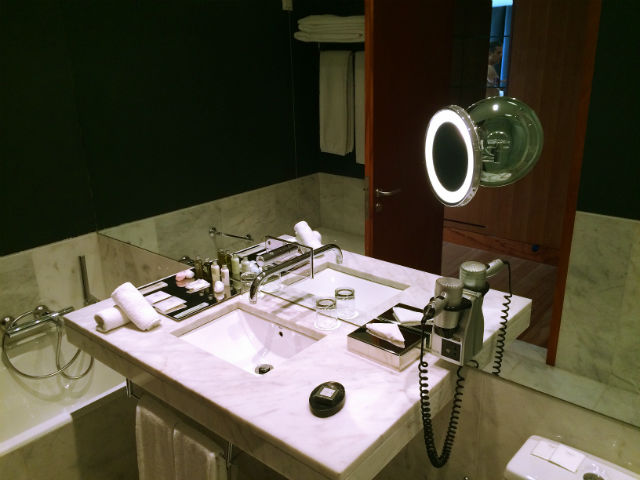 The bathroom was large, with both a full-sized bath tub and a double sized walk in shower, with large sliding door, so no water spilled out onto the floor. Toiletries were 'Green Deep' by Water L'eau, including bath and shower gel, shampoo, conditioner, body lotion, large wrapped soaps, and all the other little details that matter like cotton tips, vanity items etc.
The bathroom was designed to work well and be comfortable. It also had a W.C. with one of those Asian electric loo seats that leave you feeling, well, with a spring in your step afterwards! Other clever details included an illuminated vanity mirror, and a heated wall mirror, just in case things get steamy!
Welcome Amenity
My welcome amenity included a bottle of gourmet extra virgin olive oil, pressed from olives from the convent's own estate, as well as a beautiful hardback book detailing the history of the property, its restoration and conversion to a hotel & spa.
The Rest of the Hotel
The Espinheiro convent has so many different aspects, from the outside pool and bar, the summer lunch spot with wood burning pizza oven, and a spa.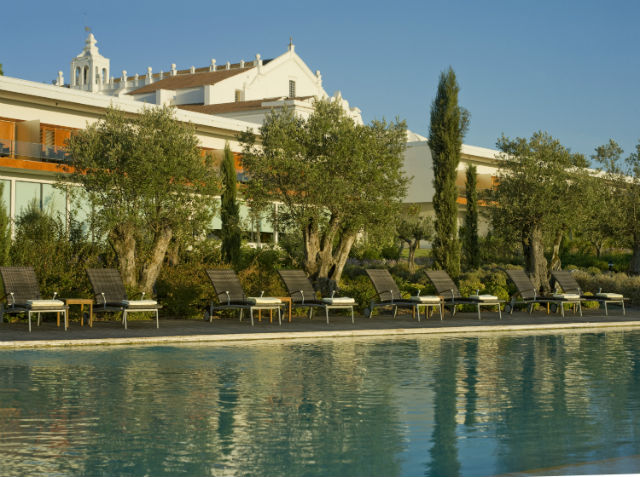 The convent played a strategic role in the history of Portugal and has its own church of national historical importance. Recently restored, this ornate space is truly stunning, with extraordinary Portuguese decorative tiled walls, each scene telling a story, as well carved and inlaid marble work and an extravagant baroque alter, dripping in gold.
It is a truly unique location to renew vows or for getting married.
The Spa
The Hotel's 'Diana Spa', named after the town's Roman Temple offers world-class treatments created by E'SPA, as well as offering an indoor pool, Jacuzzi, Turkish bath, sauna and gym – all offering views out across the estate. Access to the pool and spa circuit is included in the room rate.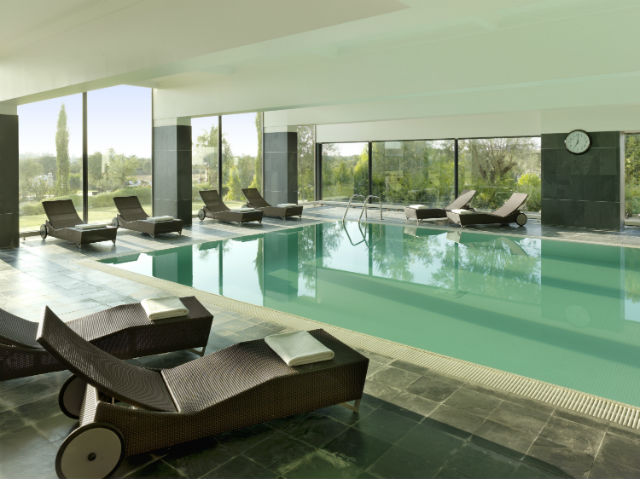 The spa is ideal for a little pampering after exploring the city's sights, and a great preparation for an evening of indulgence.
Dinner & Drinks
If the sexy guest room hasn't got your pulse racing, or the pampering in the spa didn't get you in the mood, then cocktails in the pulpit bar are sure to start the evening well. There is a sociable cocktail bar, as well as a large salon with plenty of deep, comfy sofas to sink into, whilst sipping a glass of Portuguese sparkling wine.
The adjacent 'Divinus' restaurant is a heavenly setting for dinner. With its compelling, carved stone vaulted ceiling, lit by thoughtfully placed spot lights and flickering candles, it is a memorable setting. The menu is modest but features robust and beautifully presented dishes that attempt to cater for most tastes, from hearty game, to Atlantic fish and local poultry. There's a good wine list, and friendly service from a knowledgeable staff.
Breakfast
At the Convento do Espinheiro one starts the day in true 5 star style. The Breakfast buffet, included in the rate of the Design Room, is served in the main restaurant and I couldn't fault it.
Generous selection of cold cuts, local and international cheeses, breads, croissants, cakes, preserves, local delicacies as well as international breakfast items. There was also an 'egg station' with chef, happy to prepare omelettes, freshly scrambled eggs etc. to go with the good selection of hot food presented in food warmers. A la carte items also available.
Plenty of sweet treats too, including those delicious Portuguese cream tarts!
What made it Special?
Convento do Espinheiro really is somewhere special. It is safe to say it's a divine setting for a special break or event. To get the most from your stay, take advantage of the hotel's complimentary daily tour of the property, offering insight into its history.
In addition there are regular free wine tastings, held in the atmospheric gothic wine cellar, where the hotel's Sommelier offers some of the local Alentejo wines.
For an added touch of romance during your stay one can order fresh flowers champagne and other treats for your suite.
The Negatives
The property is clearly best enjoyed if you have your own transport, or a rental car. It is well positioned to explore the Alentejo region, noted for its gastronomy and wineries. But without a car it might feel a little isolated, although the restaurants and bars of the town are only a 10 minute cab ride away.
The Finances
Rooms start from 155 euro per night, incl. breakfast in low season, but can rise to over 1,000 euro.
Would I Recommend it?
I most definitely would. The property is a stunning resort and I found it a great location to feel pampered and relaxed. It's truly romantic and has the facilities and space for an unforgettable celebration, whether wedding, party or honeymoon!
It's also well positioned for a road trip across Portugal taking in the hot destinations of Lisbon and Porto.
Address: Convento do Espinheiro, Evora, 7000, Portugal
Tel: (+351) 266 788 200
Web: www.conventodoespinheiro.com
Review carried out by Andrew Forbes